aka Mutronics: The Movie
---
USA. 1991.
Crew
Directors/Creature Effects Supervisors – Screaming Mad George & Steve Wang, Screenplay – Jon Purdy, Based on the Comic-Book Bio-Booster Armoured Guyver by Yoshiki Takaya, Producer – Brian Yuzna, Photography – Levie Isaacks, Music – Matthew Morse, Miniature Effects Supervisors – Wyatt Reed, Special Effects Supervisor – Michael Deak, Mechanical/Pyrotechnic Effects – FX Concepts Ltd (Supervisor – Ken Tarallo), Production Design – Matthew C. Jacobs. Production Company – The Guyver Productions.
Cast
Jack Armstrong (Sean Baker/The Guyver), Vivian Wu (Mizky Segawa), Mark Hamill (Max Reed), David Gale (Fulton Balcus), Michael Berryman (Lisker), Jeffrey Combs (Dr East), Willard Pugh (Colonel Castle), Greg Daik (Dr Tetsu Segawa)
---
Plot
Hoods pursue and kill Dr Tetsu Segawa as they try to obtain The Guyver, an alien artifact in his possession. His daughter Mizky learns of her father's death. Sean Baker, a colleague from Mizky's aikido class who fancies her, overhears this and follows her to the crime scene. He is beaten up by hoods and his face happens to fall onto The Guyver where it has been dropped in a nearby alley. It absorbs itself into his skin and causes him to grow a metal armoured suit that has incredible strength and is invulnerable to damage. Sean is forced to use the Guyver suit to protect Mizky as Fulton Bacus, head of the Chronos Corporation, comes, wanting the secrets of the Guyver and the alien genetic engineering technology behind it.
---
The Guyver is an American film adapted from a Japanese manga. The manga first appeared in 1985 and has since stretched to some 21 volumes. The manga was also turned into The Guyver: Out of Control (1986), a short OVA anime film, and then an animated tv series The Guyver: Bio-Booster Armor (1989-92), which developed a cult following, and a lesser regarded follow-up series Guyver: The Bioboosted Armor (2005-6). This film version was the first in a spate of American adaptations of manga and anime that came out following the cult success of Akira (1988). It was followed soon after by adaptations of Fist of the North Star (1995) and Crying Freeman (1995), as well as planned live-action adaptations of Akira and Mai the Psychic Girl that never emerged.
The Guyver was the directorial debut of makeup artist and surrealist Screaming Mad George [real name Joji Tani], whose effects work has been showcased in the likes of the A Nightmare on Elm Street films, Society (1989), Bride of Re-Animator (1990) and Freaked (1993) to name a few. His co-director Steve Wang is also a makeup man and has worked on the likes of The Monster Squad (1987) and Gremlins 2: The New Batch (1990) and subsequently became an employee of the Patrick Tatopoulos Studios.
The film is disappointing. It has not been designed as anything more than a showcase for the two directors' mutual creature creations. These admittedly are a good deal of fun – particularly impressive is the multi-tentacular creature that Mark Hamill is transformed into near the end and the giant-sized dragon creation that David Gale turns into.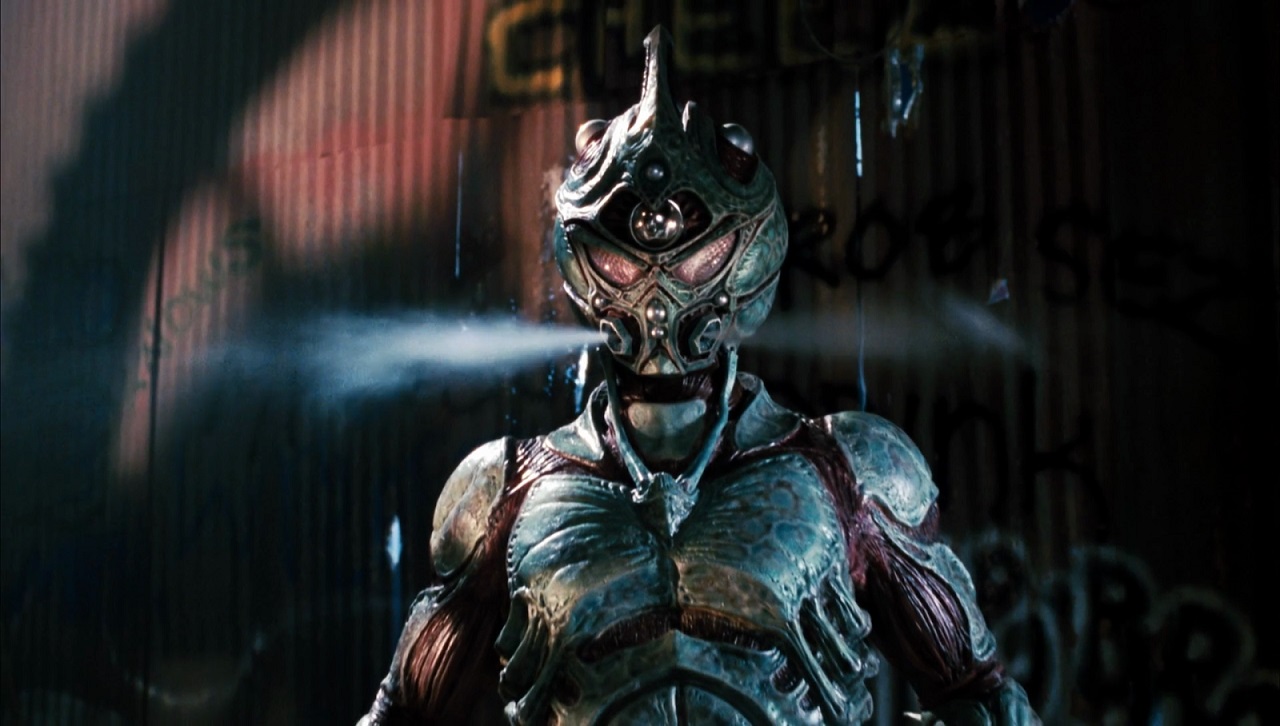 Screaming Mad George and Steve Wang are both of Asian ethnicity and are obviously fans of anime and Oriental chop suey pulp. They leap into the kung fu acrobatics and the superhero battles with the greatest of enthusiasm – some battles go on for about ten minutes at a time. Unfortunately, the film has no higher expectation than this and remains wholly down at the level of cartoon superheroics. It seems further cramped by its low-budget, which fails to allow it to expand its superheroics much beyond a series of fights in back alleys.
Among the cast, Mark Hamill takes a turn as an obsessive law enforcement man. Best of all is David Gale of Re-Animator (1985) fame who gets into the over-the-top villainy with considerable relish. Heroine Vivian Wu went onto a respectable acting career, notably in Peter Greenaway's The Pillow Book (1996) and 8½ Women (1999).
Steve Wang, directing solo this time, made a sequel, Guyver: Dark Hero (1994). Wang also directed the entertainingly silly Kung Fu Rascals (1993), another power-suit superhero film Drive (1996) and episodes of the Mighty Morphin Power Rangers tv series. Screaming Mad George has yet to return to the director's chair.
---
---