---
Crew
Director/Story/Producer – Steve Wang, Screenplay – Nathan Long, Based on the Manga Created by Yoshiki Takaya, Photography – Michael Wojciechowski, Music – Les Claypool III, Computer Graphics Imaging – John Teska, Creature Effects Supervisors – Moto Hata & Steve Wang, Production Design – George Peirson. Production Company – Biomorphs, Inc./L.A. Hero.
Cast
David Hayter (Sean Baker), Kathy Christopherson (Cori Edwards), Christopher Michael (Commander Atkins), Bruno Giannotta (Arlen Crane), Stuart Weiss (Professor Marcus Edwards), Billi Lee (Mizky), Alisa Merline (Brandi), J.D. Smith (Doug), Wes Deitrick (Gus Volker)
---
Plot
In L.A., Sean Baker continues to fight crime in his alien power armour as The Guyver. On tv, Sean sees a news report about an archaeological dig and realises that the markings on the cave walls are the same drawings he has been sketching. He hitchhikes to the dig in Utah where he is befriended by Cori, the daughter of the dig head, the unconventional archaeologist Professor Marcus Edwards. Cori gets him a job on the site. As Sean discovers, Kronos Corporation and the Zoanoids have an interest in the dig and are Professor Marcus's secret backers. As Sean fights off Zoanoid attacks as The Guyver, the dig team uncover a powerful alien artifact in the cave that is sought by the Zoanoids.
---
The Guyver (1991) was an American film adapted from a Japanese manga Bio-Booster Armor Guyver (1985- ). The manga first appeared in 1985 and has since stretched to thirty plus volumes. The manga was adapted by the Japanese into The Guyver: Out of Control (1986), a short OVA anime film, and then an animated tv series The Guyver: Bio-Booster Armor (1989-92), which developed a cult following, and a lesser regarded follow-up series Guyver: The Bioboosted Armor (2005-6). The Guyver was a US-made, English-language film version co-directed by Steve Wang and Screaming Mad George who both came from a makeup effects backgrounds.
The Guyver film didn't receive many good reviews but was evidently of sufficient popularity that Steve Wang was able to mount this sequel, this time operating without Screaming Mad George as his co-director (or for that matter George even working in his usual makeup effects category). The role of Sean has been recast with David Hayter. There is some continuity to the first film with references back to the Kronos Corporation, while in the early scenes we see Sean breaking up with an Asian girlfriend whom we presume is meant to be Vivian Wu's Mitzky.
The creatures look reasonably imaginative in their design, as does the Guyver suit. The main problem with the film is that try as it might the creatures end up looking rubbery whenever they move. Not to mention that the later scenes throw in some crappy morphings (which ws considered the cutting edge visual effect back in 1994). The biggest problem though is that Steve Wang is not adept at choreographing the fight scenes. All that we get are a series of standard sparring scenes with stunt people exchanging martial arts blows and the odd acrobatic flip. This is a film that would have been improved to no end by Wang hiring a proper fight choreographer and/or had an action director for these scenes.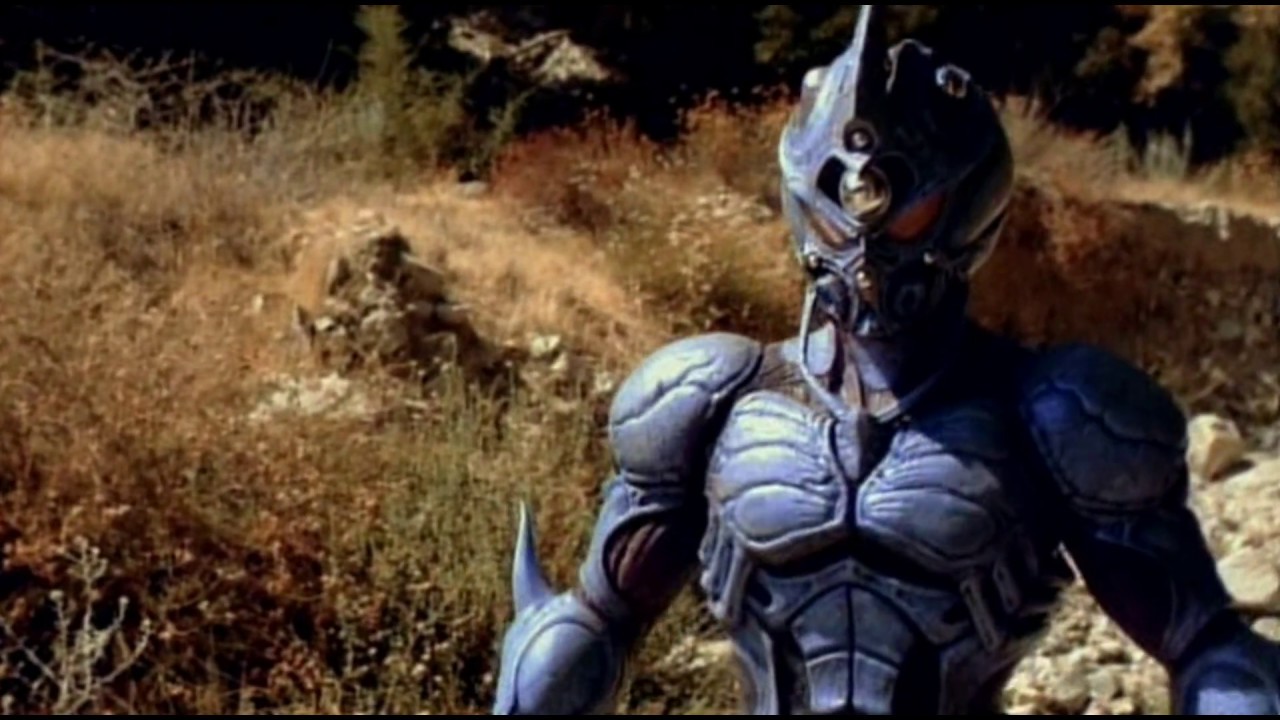 The other problem with the film is that Wang takes a not terribly interesting way to get there. The first film was a standard superhero origin story followed by lots of battles with the alien bad guys. By contrast, Guyver: Dark Hero is a film about … an archaeological dig. We get one rubber monster fight scene at the start and then nothing else for another 45 minutes. The time in between is spent setting up the attraction between David Hayter and Kathy Christopherson and lots of time running around the dig, which consists of a single cave set. In terms of the film we have come to watch – expectations of a power-suit superhero kicking rubbery alien monster butt – this is on the underwhelming side, not to mention dull. The director's cut I saw had a runtime of 123 minutes (which was cut to 96 minutes in the original release), which drags everything out waaay longer than it needs to be.
Steve Wang also directed the entertainingly silly Kung Fu Rascals (1993), another power-suit superhero film Drive (1996) and episodes of the tv series Mighty Morphin Power Rangers (1993-9).
Lead actor David Hayter has gone onto assorted acting roles, mostly voice acting in various animated tv series. His greater prominence has been as a screenwriter on high-profile films such as X-Men (2000), The Scorpion King (2002), X-2 (2003) and Watchmen (2009) and as director of the werewolf film Wolves (2014).
---
---