---
Crew
Directors – Anna Boden & Ryan Fleck, Screenplay – Anna Boden, Ryan Fleck & Geneva Robertson-Dworet, Story – Anna Boden, Ryan Fleck, Meg LeFauvre, Nicole Perlman & Geneva Robertson-Dworet, Based on the Comic-Book Created by Gene Colan & Stan Lee, Producer – Kevin Feige, Photography (3D) – Ben Davis, Music – Pinar Toprak, Visual Effects Supervisor – Christopher Townsend, Visual Effects – Animal Logic (Supervisor – Paul Butterworth), Cantina Creative, Digital Domain (Supervisor – Dave Hodgins), Framestore (Supervisor – Christian Kaestner), Industrial Light and Magic (Supervisor – Craig Hammack, Animation Supervisor – Adrian Millington), Rising Sun Pictures (Supervisor – Malte Sarnes), Scanline VFX (Supervisor – Nick Crew), SSVFX (Supervisor – Ed Bruce), totalVFX (Supervisor – Trent Claus) & Trixter (Supervisor – Domini Zimmerle), Special Effects Supervisor – Dan Sudick, Prosthetic Makeup Effects – Legacy Studios (Supervisors – Shane Mahan & Lindsay McGowan), Production Design – Andy Nicholson. Production Company – Marvel Studios.
Cast
Brie Larson (Carol Danvers/Vers/Captain Marvel), Samuel L. Jackson (Nick Fury), Ben Mendelsohn (Talos/Keller), Jude Law (Yon-Rogg), Annette Bening (Supreme Intelligence/Dr Wendy Lawson), Lashana Lynch (Maria Rambeau), Clark Gregg (Agent Phil Coulson), Djimon Hounsou (Korath), Lee Pace (Ronan), Gemma Chan (Minn-Erva), Azari Akbar (Monica Rambeau), Rune Temte (Bron-Char), Algenis Perez Soto (Att-Lass)
---
Plot
On the planet Hala, Vers is a member of the Kree Starforce under Commander Yon-Rogg, fighting against the alien Skrull. While on a mission, Vers is captured by the Skrull. They attempt to probe her mind, revealing memories of an Earth Air Force pilot Carol Danvers that were previously unknown to her. She escapes down to Earth, landing in Los Angeles in the year 1994. Her attempts to call Yon-Rogg to be rescued attract the attentions of S.H.I.E.L.D. agent Nick Fury. As Vers becomes caught up in a furious fight against Skrull shapeshifters, Fury believes her story. He joins her in tracking down Dr Wendy Lawson, one of the figures from her memories, who was killed during the launch of an experimental ship design. In the midst of the battle between Skrull and Kree, both seeking Lawson's secrets, Vers begins to discover the true identity that has been hidden from her.
---
Captain Marvel is the latest in Marvel Comics phenomenally successful assault on the box-office. Since 1998, we have seen the likes of Blade (1998), X-Men (2000), Spider-Man (2002), Daredevil (2003), Hulk (2003), The Punisher (2004), Elektra (2005), Fantastic Four (2005), Man-Thing (2005), Ghost Rider (2007), Iron Man (2008), Thor (2011), The Avengers (2012), Guardians of the Galaxy (2014), Ant-Man (2015), Deadpool (2016), Doctor Strange (2016), Black Panther (2018), Venom (2018), Black Widow (2021), Eternals (2021), Shang-Chi and the Legend of the Ten Rings (2021), and various sequels to almost all of the above, as well as the tv series' Agents of S.H.I.E.L.D. (2013-20), Daredevil (2015-8), Agent Carter (2015-6), Jessica Jones (2015-9), Luke Cage (2016-8), The Defenders (2017), Inhumans (2017), Iron Fist (2017-8), The Punisher (2017-9), Runaways (2017-9), The Falcon and the Winter Soldier (2021- ), Hawkeye (2021- ), Loki (2021- ), WandaVision (2021- ), Moon Knight (2022- ), Ms Marvel (2022- ) and She-Hulk: Attorney at Law (2022- ).
Captain Marvel has quite a complicated genesis as there are several comic-book superhero characters with the same name – and things are even further complicated by the film's deciding to mix and match various of them. The original Captain Marvel was not even a Marvel Comics character. This was a male superhero who appeared in 1940 in Whiz Comics from Fawcett Publications. This concerned young Billy Batson who was granted the ability to turn into the super-powered Captain Marvel after saying the magic word "Shazam". Captain Marvel proved popular during its day and there was even a twelve-chapter serial version produced with Adventures of Captain Marvel (1941) starring Tom Tyler. However, National Comics (later to become DC Comics) sued Fawcett and claimed that Captain Marvel was a blatant copy of Superman and Fawcett was forced to end the Captain Marvel comic-book in 1953.
Taking advantage of the fact that Fawcett's copyright on the name had lapsed, Marvel Comics then launched their own character called Captain Marvel in 1967. The Marvel version of Captain Marvel had his own comic-book for several years, although this was not successful. In the original incarnation, Captain Marvel was a male alien Mar-Vell, a Kree spy who adopts the guise of scientist Walter Lawson on Earth. He uses his superpowers to aid humans where a mispronunciation of his name leads to the nickname Captain Marvel. Despite several revamps, the character did not catch on and was only sporadically published before being killed off in The Death of Captain Marvel (1982).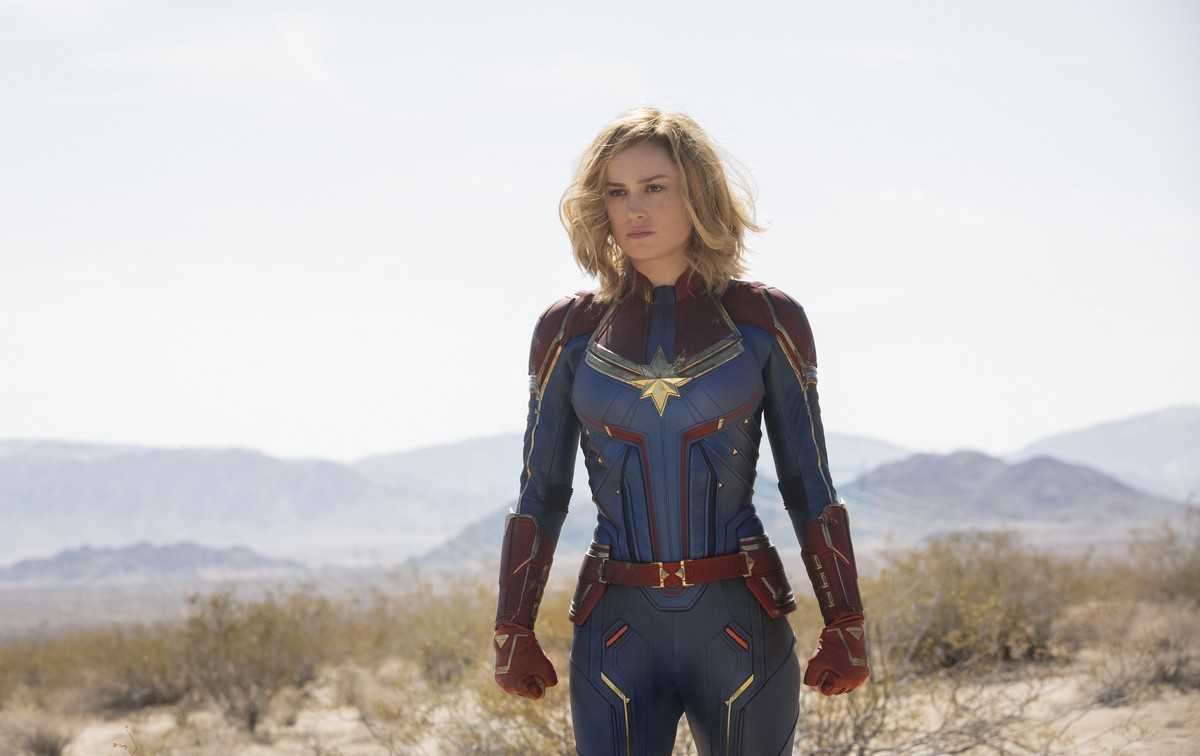 There were several characters who subsequently adopted the mantle of Captain Marvel. The first of these was Monica Rambeau (who appears in the film as Carol Danvers' non-super-powered best friend), a Louisiana police officer who gained powers after being exposed to extra-dimensional energy. She was introduced in 1982, went on to lead The Avengers at one point and was subsequently renamed Photon and then Spectrum. The next Captain Marvel was Mar-Vell's son Genis who made sporadic appearances after being introduced in 1996. In 2004, Genis went insane and destroyed and then recreated the universe, which caused him to have a sister called Phyla who then became Captain Marvel, before renaming herself Quasar and Martyr and joining the Guardians of the Galaxy.
We then come to Carol Danvers who had first appeared as a non-super-powered supporting character in the Captain Marvel comics back in 1968. She became the superheroine Ms Marvel after an explosion of a super-science device causes her DNA to merge with Captain Marvel's granting her super-powers and was spun off in the title Ms Marvel in 1977. Ms Marvel joined The Avengers, although Carol has also adopted other names such as Binary and Warbird at various points. There are at least three other characters who have all used the title Ms Marvel. Danvers took over the mantle of Captain Marvel in 2012. After this point, the role of Ms Marvel was inherited by Kamala Khan, the first Muslim superhero.
To add to the confusion during all of this, DC Comics resurrected the original Captain Marvel. DC purchased the rights to the character from Fawcett and created a new line of comics beginning in 1973. Because Marvel had claimed the copyright on the name Captain Marvel, they were forced to call the character Shazam. Shazam became a member of the Justice League and underwent assorted redesigns. The character enjoyed sufficient popularity that he was adapted into a live-action tv series The Shazam/Isis Hour (1974-6) and more recently the live-action film Shazam! (2019), which came out only four weeks after Captain Marvel.
There have been various public pushes for equality in recent years – "Why hasn't Pixar featured a woman hero?", "When are we getting the first female Doctor Who?" and so on. Captain Marvel was launched after similar campaigns – "Why hasn't Marvel made any films with woman superheroes?" and "Why hasn't Marvel made a film with a woman director?" It is understandable in light of this that the Captain Marvel film goes with the current comic-book incarnation of the character rather than the original male version. Mar-Vell is still present but has also been given a sex change to become Annette Bening's scientist Wendy Lawson with no mention of her engaged in any activities as a superhero. It is unclear why Marvel went with incarnating Carol Danvers as Captain Marvel rather than Ms Marvel – perhaps it was simply that that was her current comic-book incarnation or else their wanting to keep Ms Marvel back for a future Kamala Khan film?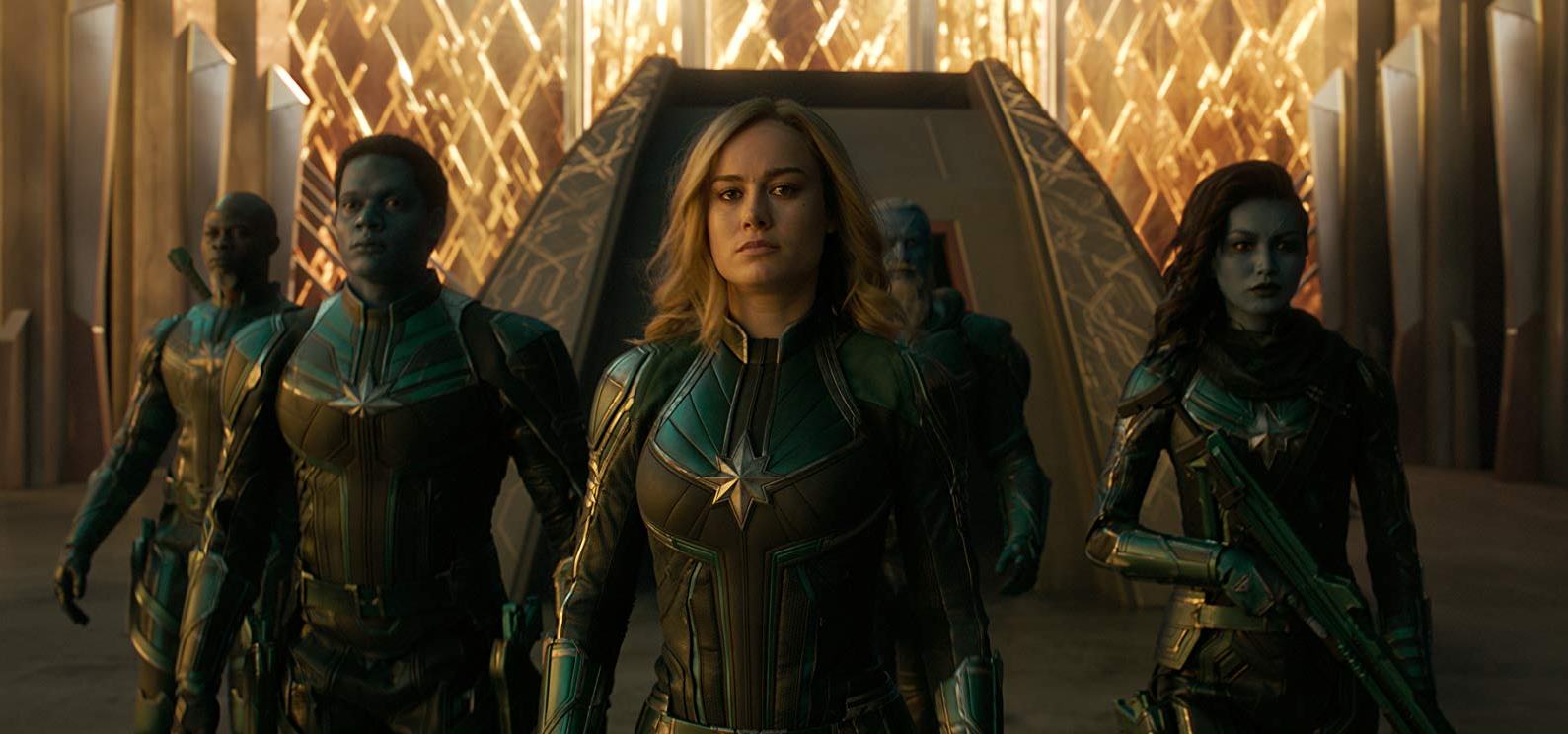 Captain Marvel opened to some of most mixed reviews of any Marvel film. Seeing it after the initial hubbub, I had to be certain whether much of this was just fanboy whining – displeasure at seeing the traditional male provenance giving way to women – and view the film in its own right. The news is I didn't hate Captain Marvel. I didn't come out praising it to the high heavens either but it sufficiently held my interest.
The directors this time are the duo of Anna Borden and Ryan Fleck who had previously made the non-genre likes of Half Nelson (2006), Sugar (2008), It's Kind of a Funny Story (2010) and Mississippi Grind (2015). The screenplay is notedly women-driven, coming from Geneva Robertson-Dworet who previously wrote the Tomb Raider (2018) reboot, Nicole Perlman who wrote Guardians of the Galaxy, and Meg LeFauvre known for animated fare such as The Good Dinosaur (2015) and Inside Out (2015).
Where I felt Captain Marvel lacking was when I ended up making comparisons. DC previously did the female superhero thing with Wonder Woman (2017) and the results had been quite triumphal. When Gal Gadot went into action and kicked ass, you cheered along with her. Equally, DC had also incarnated Supergirl (2015-21) on tv screens with shining strength in the form of Melissa Benoist. Brie Larson gets to kick ass here but there is never much of the film where she lights it up as something larger than life or has you cheering her on, it is just another Marvel film with typical superheroic action.
The other film you end up comparing this to is Guardians of the Galaxy. The opening scenes with the team of mercenaries and Brie Larson in action are not dissimilar to Guardians but again these seem just regular action scenes and lacking in any of the natural humour that James Gunn gave them. The film also has a highly confusing first twenty minutes that introduces Brie Larson as an operative who we assume is part of a military unit on another planet, see her going into action and then being captured, before a bewildering jump to also show her in an Earth identity as Carol Danvers. (This is notedly a background and origin story quite different to any of the previous Captain Marvel incarnations). All of this does eventually make sense but it also gives us a film where for a good half of the way in we are confused about who or what the heroine actually is.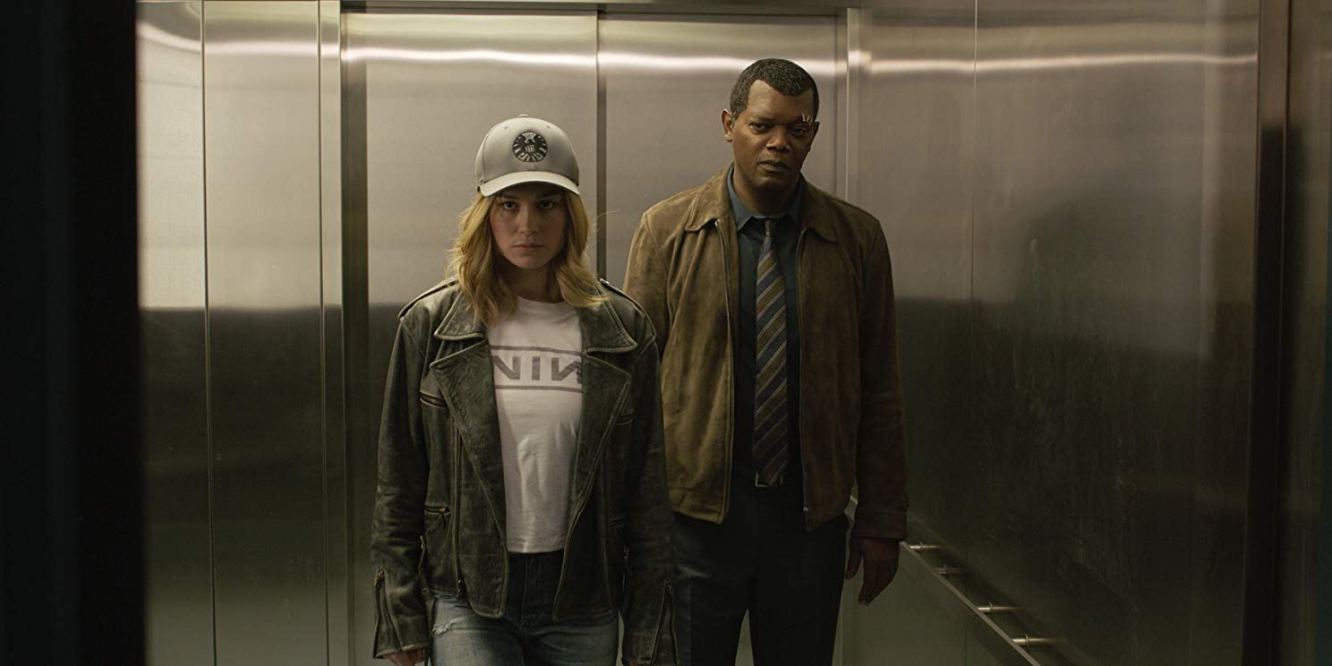 There is an enjoyable enough scene with Brie Larson fighting a shapeshifter aboard a train – even if the sequence makes one think of the far superior one in Spider-Man 2 (2004). On the other hand, the later superheroics seem by the numbers. It also seems distractingly off having Ben Mendelsohn voice the lead Skrull where for some reason Maldelsohn delivers the part in a Cockney accent. What does give the film a lot more life in the second half is a mid-film twist that turns many of the sympathies that one had assumed up to that point on their head.
Brie Larson has been on my radar ever since his breakout role in the sensational Room (2015). I would have thought she would have been a great natural presence as Captain Marvel but here she seems quiet, demure and doesn't fill the part with much. The show gains a whole lot of life when Samuel L. Jackson enters and brings his characteristic laidback sarcasm with him. Jackson's presence at least gives the film a lot more natural energy than it had up to that point.
It also gives Samuel L. Jackson the most active and substantial role of any of the MCU films he has appeared in to date. This does allow the film opportunity to pay lots of fanservice with cute bits of continuity callback – both Jackson and Clark Gregg appear with more hair; we see Jackson coming up with the name 'The Avengers Initiative'; and learn how he lost his eye. Another nice touch is the fact that the opening Marvel Studios animated 3D logo that usually offers a montage of the studio's superheroes has been replaced by a montage of shots of Stan Lee in tribute after Lee passed away four months before the film came out – although he was still around to make a cameo on the train where is seen reading the script for the Kevin Smith film Mallrats (1996).
By far the most amusement the film has is in its constant nods to 1990s culture with Brie Larson initially landing in the middle of a Blockbuster store and then jury-rigging communications equipment from an equally defunct Radio Shack store. Azari Akbar makes reference to watching The Fresh Prince of Bel-Air (1990-6). There are some cute jokes about constantly having to wait for 90s era technology to load or trying to access the internet. There is a great soundtrack of 90s music hits, while Brie spends much of the film wearing a Nine Inch Nails t-shirt and being redressed by Samuel L. Jackson for looking too grunge.
Brie Larson next appeared as Captain Marvel in Avengers: Endgame (2019) and Shang-Chi and the Legend of the Ten Rings (2021)
---
---