---
Crew
Director – Dave Green, Screenplay – Josh Appelbaum & Andre Nemec, Producers – Michael Bay, Andrew Form, Brad Fuller, Scott Mednick & Galen Walker, Photography (3D) – Lula Carvalho, Music – Steve Jablonsky, Visual Effects Supervisor – Pablo Helman, Visual Effects – Industrial Light and Magic, Lola VFX & Shade VFX (Supervisor – Bryan Godwin), Special Effects Supervisor – J.D. Schwalm, Production Design – Martin Laing. Production Company – Platinum Dunes/Nickelodeon/Gama Entertainment Partners/Smithrowe Entertainment/Mednick Productions.
Cast
Noel Fisher (Michelangelo), Alan Ritchson (Raphael), Jeremy Howard (Donatello), Pete Plozek (Leonardo), Megan Fox (April O'Neill), Stephen Amell (Casey Jones), Will Arnett (Vernon Fenwick), Tyler Perry (Dr Baxter Stockman), Brian Tee (Shredder), Peter D. Badalamenti (Splinter), Tony Shalhoub (Voice of Splinter), Sheamus (Rocksteady), Gary Anthony Williams (Bebop), Laura Linney (Chief Rebecca Vincent), Brad Garrett (Voice of Krang), Brittany Ishibashi (Karai), Dean Winters (Bartender)
---
Plot
The Turtles have allowed cameraman Vernon Fenwick to take the credit for saving New York City in order to keep their existence hidden. Shredder is about to be transferred by the authorities when the Turtles get word that the prison transport is about to be hijacked. They go into action but are unable to prevent Shredder from being teleported away by Krang, an alien head from Dimension X that exists in a robot body. Krang wants Shredder's help in obtaining the three pieces of the Arc Capacitor that will allow him to open the way between dimensions. Shredder is given a mutagenic ooze that he uses to transform two dim-witted lackeys into animal mutants. When they learn about the ooze, this causes a split between the Turtles. Raphael and Michelangelo decide to conduct a raid into police headquarters to get the sample back in the belief that this will allow them to become humans. In doing so, they are exposed and seen by the police. They are joined by corrections officer Casey Jones, who is trying to recapture Shredder. Together they try to stop Shredder locating the parts that will allow him to complete Arc Capacitor.
---
The Teenage Mutant Ninja Turtles were one of the great pop culture phenomena of the 1980s and led to a popular animated tv series and three live-action films, plus other assorted variants (see below). However, nobody had good things to say about the recent live-action reboot Teenage Mutant Ninja Turtles (2014). It failed on so many levels. It felt like a property that was being handled by a bunch of suits who were only looking to its marketability and with no feel for the material. The Turtles were given an ugly makeover that turned them into sinister oversized creatures that looked like they came from a monster movie rather than a bunch of culture savvy teen heroes who happened to have green skins. The presence of Michael Bay as producer seemingly also mandated that the film be delivered as a series of frenetic action set-pieces. Almost anyone who was a fan of the original tv series hated it.
What should not be overlooked is that the Teenage Mutant Ninja Turtles reboot was a box-office success, earning $190 million in the US. Thus we received a sequel with Teenage Mutant Ninja Turtles: Out of the Shadows. The film is stuck with an unappealing legacy from the first film – the oversized turtle designs that lacked any of the likeability that the original creations had; a bitchy non-acting Megan Fox miscast as April Jones. That Out of the Shadows chooses to run with this particular sow's ear and come out winningly is all the more in its favour. Much of which can be laid at the door of director Dave Green, who had previously made the forgettable Earth to Echo (2014).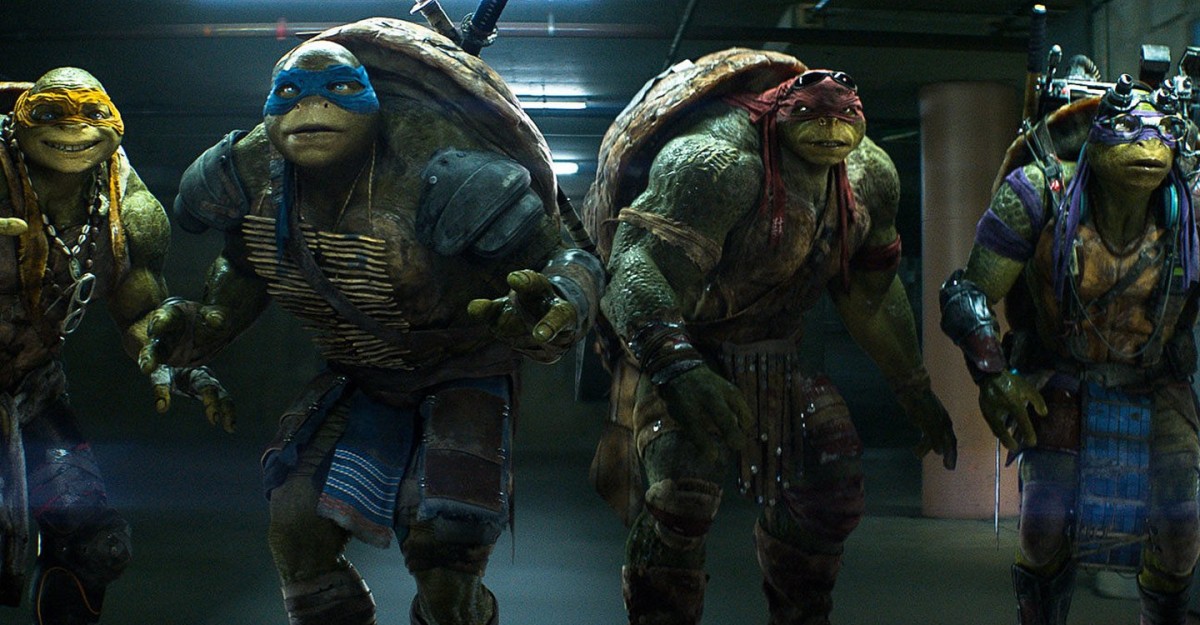 Against all expectation one had going in, Out of the Shadows manages to make its mix of elements work. It largely achieves this by doing the one thing that the 2014 film seemed to neglect – it sets out to emulate the mood and feel of the original animated series. Thus the turtles are recalibrated with emphasis on the teenage aspect – skateboarding, eating pizza, shouting out "cowabunga". It is not that these things were not there in the 2014 film rather it felt like they were grafted on as an afterthought because someone realised that that was the fanbase the film was pitched to expected them; by contrast, Out of the Shadows feels like it is made by fans of the cartoon series (perhaps a first you could say about any of the live-action films) and embrace its comic-book spirit.
Thus we get a bunch of characters familiar to the cartoon series that have never appeared in the films. One criticism I would make of the 1990s live-action films is that beyond the creation of the Turtles themselves, they could almost be mundane martial arts films and seemed to wilfully avoid many of the more science-fictional plots and larger-than-life villains of the tv series other than Shredder and The Foot. Here we get the first screen appearances of the two mutant dimwits Bebop and Rocksteady, while there is also Krang, the invader from Dimension X. We also get a new Casey Jones in the presence of Stephen Amell, alias Green Arrow of tv's Arrow (2012-20).
There are other even more obscure references – the plot fighting for the ooze that has mutagenic properties (and its creation of two mutated animal monsters) resembles the plot for the first live-action sequel Teenage Mutant Ninja Turtles II: The Secret of the Ooze (1991) and correspondingly when Stephen Amell wanders into a bar, there is Vanilla Ice playing on the jukebox (after Ice made a cameo in a nightclub the Turtles invaded in the second film).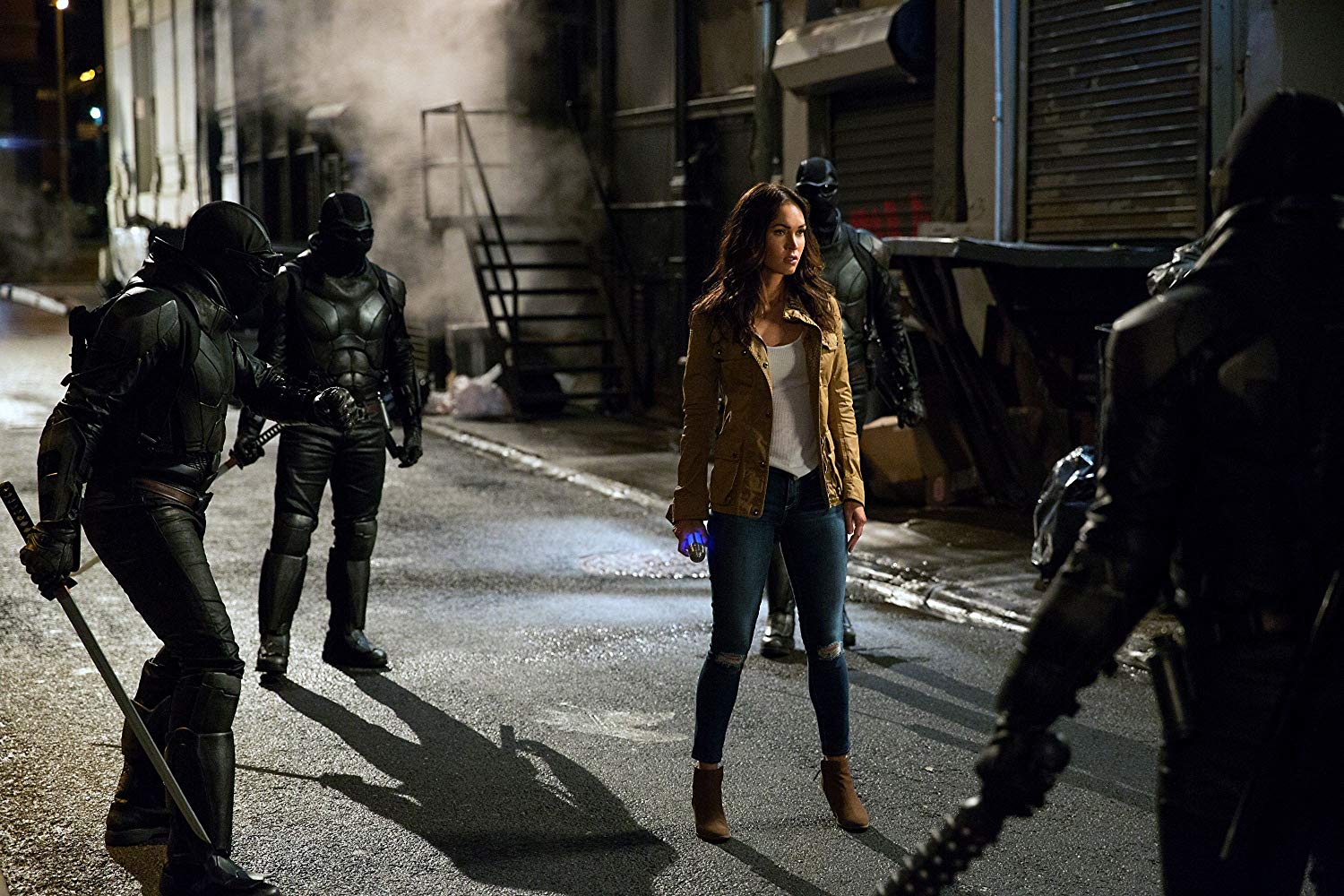 One of the downsides of the film's legacy is that it was made by Michael Bay, who produces both this and the original via his Platinum Dunes production company. This suffers very much from Michael Bay-ism – that is to say that whenever action is happening on the screen, everything is hurtling at a frenetic pace (and coming at you in 3D) such that it reaches a point of information overload. Every venture to the Turtles lair is packed with an insane amount of detail, while the inside of the garbage truck has lit up screens in every corner of the frame. Dave Green does craft one exhilarating action sequence – where the Turtles jump out of a plane without parachutes and land on a passing cargo plane, followed by a sequence where they are forced to land the plane as it is disintegrating in mid-air, followed by their engaging in a battle against Bebop and Rocksteady while being dragged down a river.
The Teenage Mutant Ninja Turtles were originally popularised in an animated tv series Teenage Mutant Ninja Turtles (1987-96), which lasted for ten seasons of 193 half-hour episodes. This led to three live-action films:- the not bad Teenage Mutant Ninja Turtles (1990) and two indifferent sequels, Teenage Mutant Ninja Turtles II: The Secret of the Ooze (1991) and Teenage Mutant Ninja Turtles III (1993). The Turtles were subsequently revived in the live-action tv series Ninja Turtles: The Next Mutation (1997-8), which had the novelty of introducing a female Turtle Venus de Milo, but this was highly unpopular and lasted for only 26 episodes; a further animated series Teenage Mutant Ninja Turtles (2003-9); the animated film TMNT (2007); the animated crossover film Batman vs Teenage Mutant Ninja Turtles (2019); a further animated tv series Rise of the Teenage Mutant Ninja Turtles (2018-20), which led to one film spinoff with Rise of the Teenage Mutant Ninja Turtles: The Movie (2022); and Teenage Mutant Ninja Turtles: Mutant Mayhem (2023). Turtle Power: The Definitive History of the Teenage Mutant Ninja Turtles (2014) is a documentary about the Turtle phenomenon.
---
---