---
Crew
Directors – Anthony Russo & Joe Russo, Screenplay – Christopher Markus & Stephen McFeeley, Producer – Kevin Feige, Photography (3D) – Trent Opaloch, Music – Alan Silvestri, Visual Effects Supervisor – Dan Deleeuw, Visual Effects/Animation – Cinesite (Supervisor – Andy Morley), Digital Domain (Supervisor – Kelly Port), Industrial Light and Magic (Supervisor – Russell Earl, Animation Supervisor – Kevin Martel), Method Studios (Supervisor – Greg Steele), Rise Visual Effects Studios (Supervisor – Oliver Shulz) & Weta Digital (Supervisors – Matt Aitken & Charlie Tait), Visual Effects – Cantina Creative (Supervisor – Stephen Lawes), DNEG (Supervisor – Graham Page), Framestore (Supervisor – Patric Roos), lola VFX (Supervisor – Trent Claus) & Technicolor VFX (Supervisor – Doug Spilatro), Special Effects Supervisor – Dan Sudick, Makeup Effects/Live Action Specialty Suits – Legacy Effects (Supervisors – Shane Mahan & Lindsay McGowan), Production Design – Charles Wood. Production Company – Marvel Studios.
Cast
Robert Downey Jr. (Tony Stark/Iron Man), Josh Brolin (Thanos), Chris Hemsworth (Thor), Benedict Cumberbatch (Dr Steven Strange), Mark Ruffalo (Bruce Banner/Hulk), Tom Holland (Peter Parker/Spider-Man), Zoe Saldana (Gamora), Paul Bettany (Vision), Chris Pratt (Peter Quill/Star-Lord), Chris Evans (Steve Rogers/Captain America), Elizabeth Olsen (Wanda Maximoff/Scarlet Witch), Don Cheadle (James Rhodes/War Machine), Chadwick Boseman (T'Challa/Black Panther), Scarlett Johansson (Natasha Romanoff/Black Widow), Tom Hiddleston (Loki), Karen Gillan (Nebula), Peter Dinklage (Eitri), Dave Bautista (Drax), Pom Klementieff (Mantis), Bradley Cooper (Voice of Rocket Raccoon), Vin Diesel (Voice of Groot), Terry Notary (Cult Obsidian), Tom Vaughan-Lawlor (Ebony Maw), Benedict Wong (Wong), Danai Gurira (Okoye), Sebastian Stan (Bucky Barnes/Winter Solider), Gwyneth Paltrow (Pepper Potts), Carrie Coon (Proxima Midnight), Michael Shaw (Corvus Glaive), Letitia Wright (Shuri), Idris Elba (Heimdall), Anthony Mackie (Sam Wilson/Falcon), Benicio Del Toro (The Collector), Samuel l. Jackson (Nick Fury), Ross Marquand (Red Skull/Stonekeeper), William Hurt (Secretary of State Thaddeus Ross)
---
Plot
Thanos is searching for the five all-powerful Infinity Stones. He is planning to use them to eliminate a large percentage of the universe's population so that the resources can be enjoyed by those that remain. Thanos attacks a ship containing Thor and Bruce Banner, during which Loki is killed. Bruce falls down to Earth, landing in Dr Strange's Sanctum Sanctorum. At Banner's urging, Strange contacts Tony Stark, warning him that Thanos is coming. Immediately after, Thanos's lieutenants arrive in New York, attempting to take the Time Stone that Strange wears. As they bodily snatch Strange, Tony and Spider-Man jump aboard their retreating spaceship. Elsewhere, Thanos's lieutenants try to seize the Mind Stone that forms the basis of Vision's artificial intelligence. After fighting them off, this prompts the rest of The Avengers to settle their differences. They head to Wakanda to attempt to use the advanced Wakandan technology to separate the stone from Vision's mind. Meanwhile, The Guardians of the Galaxy find Thor floating in space. They split up with Thor, Groot and Rocket Raccoon travelling to Niavellir to find the dwarf Eitri who can build a battle-axe capable of defeating Thanos. At the same time, Star-Lord, Gamora and Drax set out to stop Thanos from obtaining The Collector's stone, only for Gamora to face her worst fear – being recaptured by her father Thanos.
---
Marvel Comics are huge on the screens in the 2000s/2010s with adaptations of works such as Blade (1998), X-Men (2000), Spider-Man (2002), Daredevil (2003), Hulk (2003), The Punisher (2004), Elektra (2005), Fantastic Four (2005), Man-Thing (2005), Ghost Rider (2007), Iron Man (2008), Captain America: The First Avenger (2011), Thor (2011), Guardians of the Galaxy (2014), Ant-Man (2015), Deadpool (2016), Doctor Strange (2016), Black Panther (2018), Venom (2018), Captain Marvel (2019), Black Widow (2021), Eternals (2021), Shang-Chi and the Legend of the Ten Rings (2021) and various sequels to these, as well as the tv series' Agents of S.H.I.E.L.D. (2013-20), Daredevil (2015-8), Agent Carter (2015-6), Jessica Jones (2015-9), Luke Cage (2016-8), The Defenders (2017), Inhumans (2017), Iron Fist (2017-8), The Punisher (2017-9), Runaways (2017-9), The Falcon and the Winter Soldier (2021- ), Hawkeye (2021- ), Loki (2021- ), WandaVision (2021- ), Moon Knight (2022- ), Ms Marvel (2022- ) and She-Hulk: Attorney at Law (2022- ). Almost all of these have spun off sequels and risen to the top of the box-office in their respective years.
With The Avengers (2012), Marvel conducted a unique experiment. Plots building up to this had been threaded throughout films since 2008. It brought these strands together and united all of the superheroes that Marvel had created on screen at that time to battle as a team. It was a huge success. Marvel and director Joss Whedon went on to do the same with Avengers: Age of Ultron (2015). Avengers: Infinity War was the third of Marvel's Avengers films.
Infinity War is a different Avengers film to the preceding two entres for several reasons. It marks the passing of the mantle from Joss Whedon, who had directed the first two Avengers film, to brothers Joe and Anthony Russo who had previously worked in the MCU as the directors of Captain America: The Winter Soldier (2014) and Captain America: Civil War (2016). It also introduces several new characters into The Avengers – Doctor Strange, Black Panther (who had joined The Avengers in Civil War but is technically appearing in his first Avengers film here), as well as integrates the Guardians of the Galaxy into the wider MCU, plus has a mid-credits teaser that tips the hand for the introduction of Captain Marvel.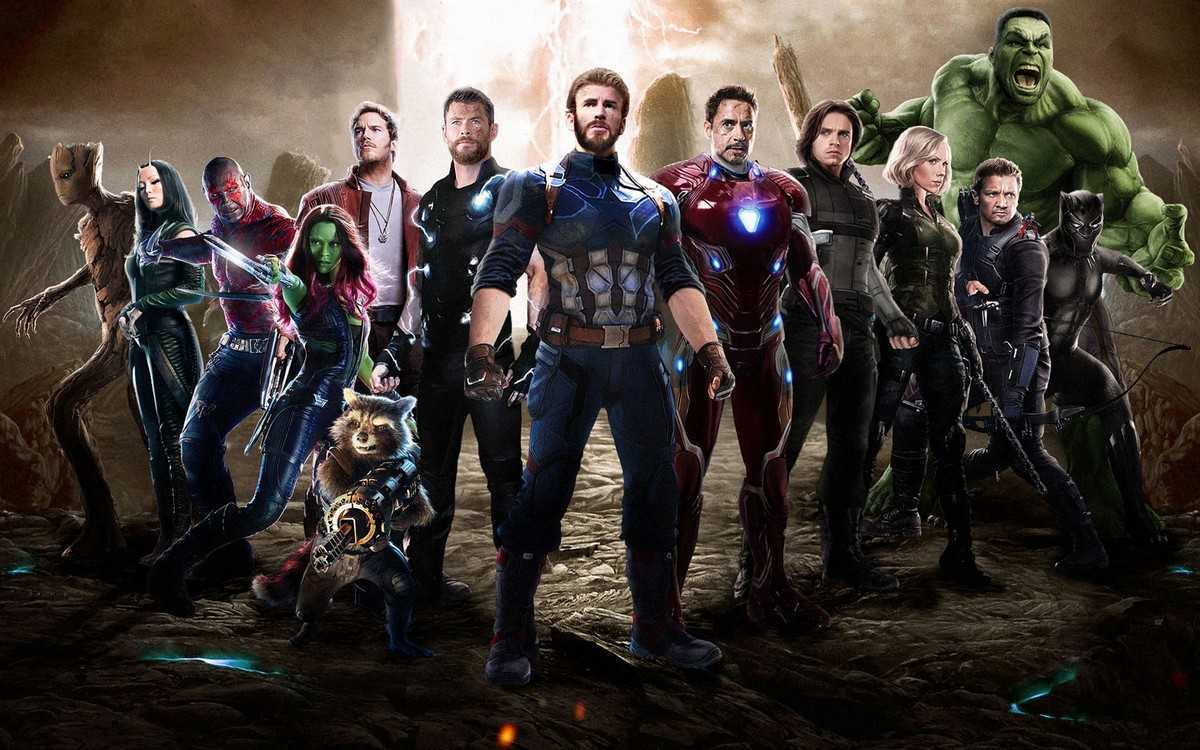 The film also kills off a number of major ongoing characters, two of them in the prologue alone (although this being a comic-book film, death is more like a temporary absence from work due to illness). It also reaches a cliffhanger that wipes out a substantial number of others (although this fails to feel particularly devastating as you know for certain that is will be reversed in Avengers: Endgame (2019), the sequel).
The pitch that Avengers: Infinity War came with was that it united all of Marvel's screen superheroes to date on screen. (Almost all – strangely absent from the line-up is Hawkeye and one of the more recently introduced Ant Man, although, as is explained in Ant-Man and the Wasp (2018) released two months later, this was because Scott Lang was on home detention and this becomes a set up for his playing a key role in the sequel). The upshot of this is that we end up with a massive cast list involving some thirty plus ongoing characters. This presents some problems in giving all of the characters screen time and the plot does a very busy juggle between numerous locations – New York City, Scotland, Wakanda, aboard one of Thanos's spaceship, aboard the Guardians' ship and several different planetary locations – as The Avengers are thrown together in different combinations.
The size and busyness of the plot has its disadvantages. One of these is that it is constantly spinning from location to location and team-up to team-up such that it all starts to blur together. It does well in the early sections in New York where the Russo Brothers borrow a leaf from Joss Whedon and have the heroes trading quips over The Hulk's failure to transform, Dr Strange's gravitas, Tom Holland's chirpy Spider-Man turning up in the middle of action and he and Iron Man tossing off lines about rescuing 'the wizard', or in the scenes aboard the Guardians' ship where Chris Pratt feels that he has to compete with Thor.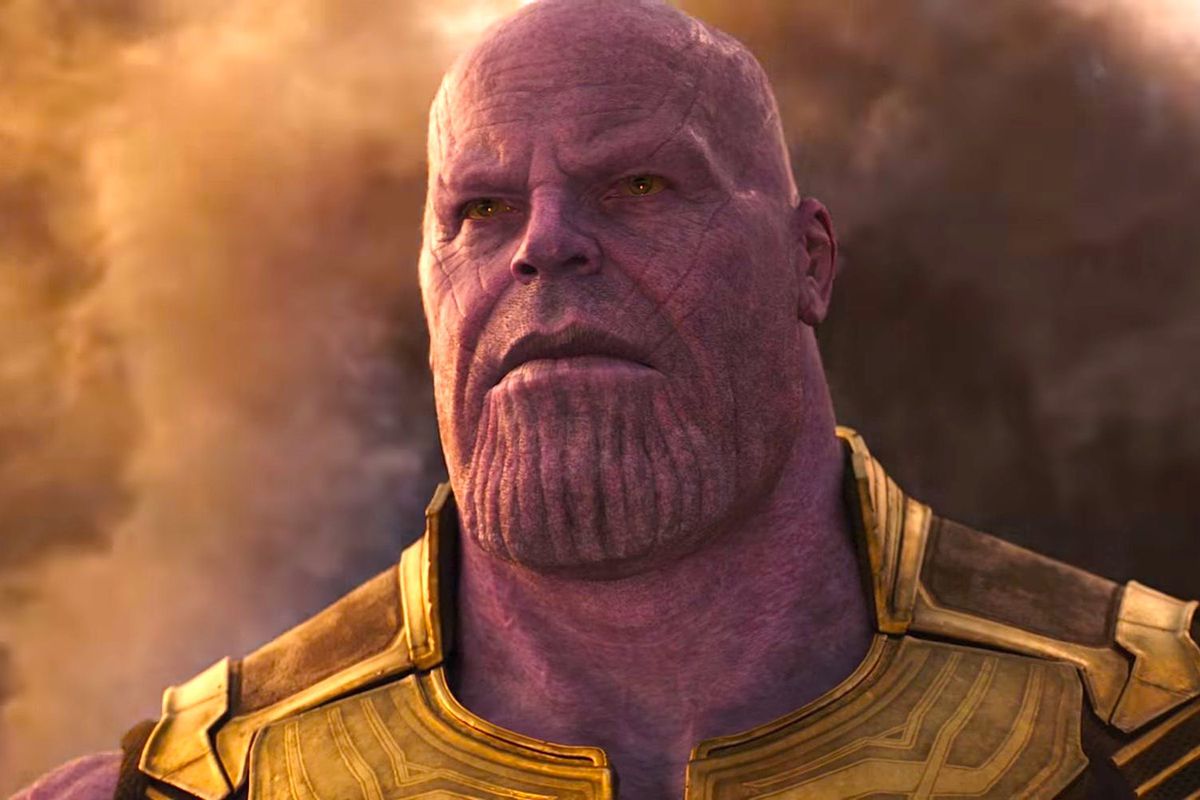 On the other hand, once the action begins proper, the humour and quips drop off. The Russo Brothers hit their peak with Captain America: Civil War, the climax of which had hands-down the best superheroic action battle of the entire MCU. The mistake here is the thinking that audiences loved it so who not give them even more of the same.
Unfortunately, it doesn't operate like that and as a result Avengers: Infinity War manages to drag its superheroic battles out for over three-quarters of an hour (some third of its running time). The overall feeling about halfway through becomes one of ennui where everything starts to blur into a sameness and the feeling that one has it all seen before. The criticism I would make is that usually I come out of a superhero film with at least one action sequence that made me go "wow" but there is not a single standout sequence here just a single undistinguished blur.
The one thing that Infinity War does well is when it comes to its villain. Marvel have built up to Thanos since 2012 (even earlier than that if you see the Easter Eggs where they had been laying the seed for the Infinity Stones plot). Being cast as a purple giant can surely be said to be cartoon caricature of a role but a motion-captured Josh Brolin does great things with the part, taking the opportunity to play to the gallery. Much of this is standard stuff for super-villains but the MCU super-villains have been singularly bland and single-dimensional even when played by some big name actors – Cate Blanchett, Jeff Bridges, Ben Kingsley, James Spader, Robert Redford. The exception is Loki who became such an audience favourite he turned into more of an anti-hero.
Marvel tv shows like Daredevil and Jessica Jones have created some astonishing villains with Vincent D'Onofrio's Kingpin and David Tennant's Killgrave – even lesser villains like David Wenham in Iron Fist or Mahershala Ali's Cottonmouth and Alfred Woodard's Mariah Dillard in Luke Cage stand out head and shoulders above anything in the Marvel films. Marvel finally get it right on the screen here and Thanos is a super-villain who shines in his glory. Brolin's single best scene is the one where he is asked to sacrifice his most loved thing, a scene that has a genuine pathos and tragedy. Only a month later, Josh Brolin did a grand slam and appeared as the equally memorable Cable in a further Marvel adaptation Deadpool 2 (2018).
(Winner for Best Supporting Actor (Josh Brolin) at this site's Best of 2018 Awards).
---
---