---
Crew
Director – Allan Arkush, Screenplay – John Hill, Producer – Michael Phillips, Photography – Charles Rosher Jr, Music – John Williams, Visual Effects – Albert Whitlock, Mechanical Effects – Robbie Blalock, Bud Ewing, Whitey Krumm & Jamie Shourt, Additional Special Effects – John Stirber, Makeup Effects – Stan Winston, Production Design – John W. Corso. Production Company – Universal.
Cast
Andy Kaufman (Val-Com 17845), Bernadette Peters (Aqua-Com 89045), Barry Diamond (CatSkil 5602), Jack Carter (Voice of CatSkil), Ron Gans (Voice of Crimebuster), Kenneth MacMillan (Max), Randy Quaid (Charly), Melanie Mayron (Susan Gort), Christopher Guest (Calvin Gort)
---
Plot
While standing on a factory repair shelf, Val-Com 17485, a robot valet, and hostess robot Aqua-Com 89045 strike up a conversation. Joined by the malfunctioning humour robot CatSkil 5802, they decide to go out and explore the world beyond the factory window. During the journey, Val and Aqua begin to discover feelings for one another.
---
Heartbeeps has a bad movie reputation. It was one of the peculiarities that emerged in the wake of the post-Star Wars (1977) science-fiction boom. Apparently it was greenlit after a focus group found that the most popular characters in Star Wars were the two robots. It was also intended to see if wacky comedian Andy Kaufman, later immortalised in Milos Forman's biopic Man in the Moon (1999), could carry a theatrical vehicle.
The studio hated it, and tried to re-edit it to give it a more upmarket commercial pace. Released with little promotion, the film was a major flop on release and Kaufman later ended up apologising for it (it having singlehandedly torpedoed his budding movie career). I may be about the only person out there it would seem that likes the film. Stan Winston did end up being nominated for an Academy Award for his robot makeup effects however.
Heartbeeps sets out with one of the dippiest ideas imaginable – a robot romance – and manages to make it work in ways that are quite delightful. The opening scenes with Andy Kaufman and Bernadette Peters standing on the shelf looking out a big picture window wondering about the world achieve a peculiarly touching kind of innocence. There are charms to the film's deadpan absurdities and wide-eyed innocent view of the world, which come relayed in computer jargonese.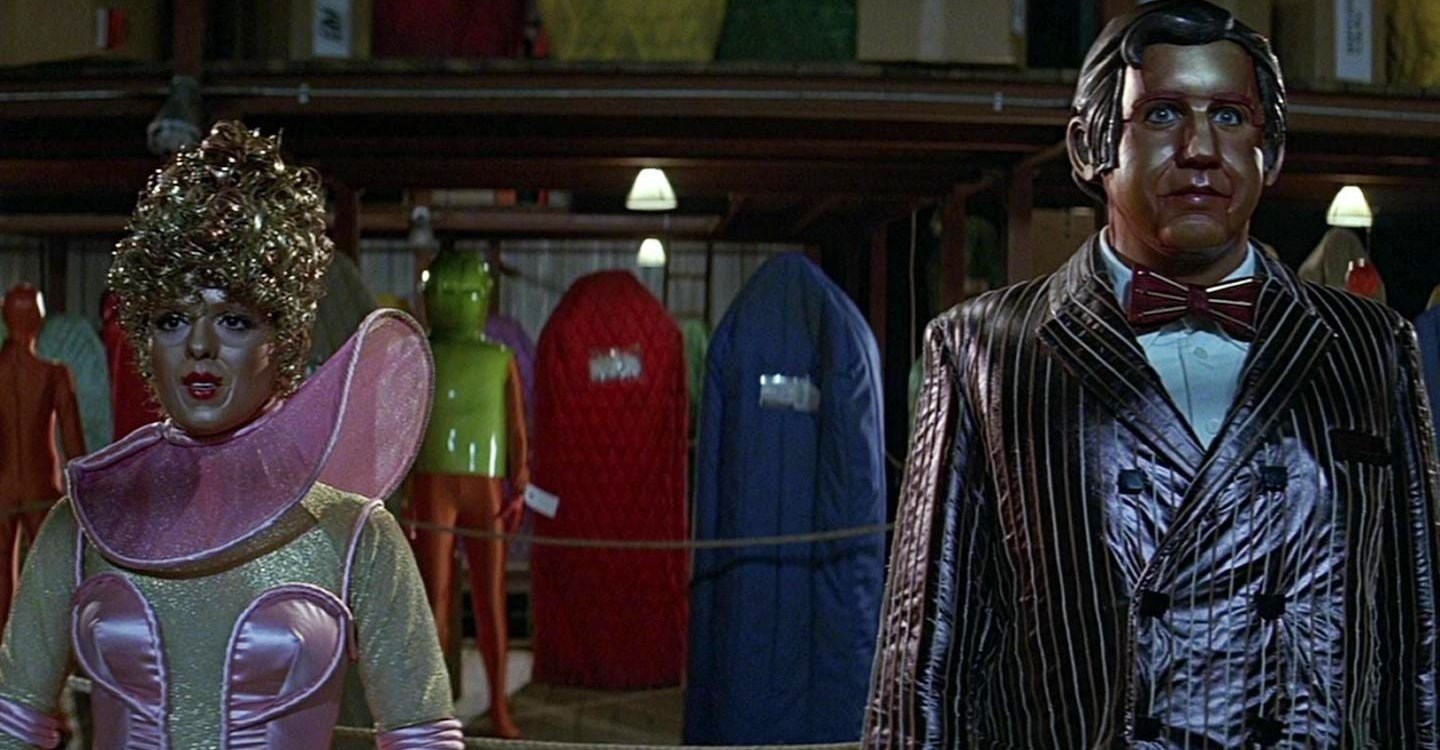 Andy Kaufman and Bernadette Peters both give appealingly naive performances, although Kaufman's nasally ingenuous voicing would probably have worn on the nerves if the film had gone on much longer. Less appealing is the wisecracking Catskil (although the relationship that grows between Catskil and the baby robot Phil-Co is rather sweet) and the regulation quoting Crimebuster. John Williams's score is an experiment that tries hard but fails to make anything interesting out of bleeps and electronic noises.
Director Allan Arkush seemed to have a promising career at New World Pictures for a time, directing or co-directing the likes of Hollywood Boulevard (1976), Deathsport (1978) and the cult Rock'n'Roll High School (1980). The flop of Heartbeeps sealed Arkush's career as a film director and he has subsequently worked as a director in television, mostly notably the fairytale spoof Prince Charming (tv movie, 2000) and as a producer/director on Crossing Jordan (2001-7) and Heroes (2006-10).
---
---