(In-Lyu-Myeol-Mang-Bo-Go-Seo)
---
South Korea. 2012.
Crew
Producers – Choi Hyeon-muk, Kim Myeong-eun & Oh Yeong-hun, Music – Mowg. Production Company – Zio Entertainment/TimeStory Group.
A Brave New World
Crew
Director – Yim Pil-sung, Screenplay – Lee Hwan-hee & Yim Pil-sung, Photography – Jo Sang-yun.
Cast
Ryoo Seung-bum (Yoon Seok-woo), Go Joon-hee (Kim Yoo-min), Kim Roi-ha (Father), Lee Kan-hee (Mother), Hwang Hyo-eun (Sister)
The Heavenly Creature
Crew
Director/Screenplay – Kim Jee-won, Story – Park Seong-hwan, Photography – Kim Ji-yong.
Cast
Kim Kang-woo (Park Do-won), Park Hae-il (Voice of RU-4), Song Young-chan (Chairman Kang), Jung Jae-jin (Abbott), Kim Gyu-ri (Hye-joo), Kim Seo-hyung (Min), Jo Yoon-hee (Ji-eun)
Happy Birthday
Crew
Director – Yim Pil-sung, Screenplay – Jang Jong-ah & Yim Pil-sung, Story – Park Su-min, Photography – Man Na-yeong.
Cast
Jin Ji-hee (Park Min-seo), Lee Seung-joo (Father), Song Sae-byeok (Uncle Hwan), Ryu Seung-soo (Male News Anchor), Lee Young-eun (Female News Anchor), Doona Bae (Adult Min-seo)
---
Plot
A Brave New World:– Nerdy Yoon Seok-woo stays home alone as his parents go away on vacation. He takes Kim Yoo-min out on a date. However, trash has wound its way into the feed used for animals before they are processed as meat, causing a deadly infection in the food chain that turns everybody around them into zombies. The Heavenly Creature:– Park Do-won, a technician at UR Robotics, is called to a Buddhist monastery where the monks have become upset with an RU-4 robot among the group that claims to have found enlightenment. They want him to classify it as a malfunction but Do-won is unable to find anything wrong with the robot. Happy Birthday:– Young Park Min-seo is upset when she accidentally damages one of her father's beloved pool balls. She finds a website that allows her to order a replacement. Just then there is a worldwide panic as a vast planetoid is found to be on a collision course with Earth and they are all forced into survival shelters.
---
Doomsday Book is a South Korean anthology loosely arranged around disaster or at least futuristic scenarios. The middle segment comes from the internationally renowned Kim Jee-won, known for films such as The Quiet Family (1998), A Tale of Two Sisters (2003) and I Saw the Devil (2010), before brought to the US to make the Arnold Schwarzenegger action film The Last Stand (2013). The junior partner Yim Pil-sung, who directs two of the three segments, had made the non-genre Antarctic Journal (2005) and two films that give fairytales horror reworkings with Hansel and Gretel (2007) and Scarlet Innocence (2014).
The first segment A Brave New World is a zombie piece of sorts. Initially, Yim Pil-sung focuses on images designed to evoke disgust – food being eaten in closeup, food being processed, cattle being slaughtered, overflowing sinks and garbage bins. This is interspersed with the story of hard-done by Ryoo Seung-bum, who would appear to be the Korean equivalent of an otaku, and images on tv that are intended as a parody of the bloviating pundits you usually get on cable talkshows. The piece then segues into a zombie outbreak after infected meat enters the food chain. The zombie scenes are average and the rest of the segment seems more haphazard than making a point. There is the mildly satiric end scene when Ryoo's family return from their holiday to be attacked as they enter the apartment and as they lie dying on the floor the father goes on about how his collection of prize alcohols has been spilt and his mother about how Ryoo has not tried on the pair of pants she bought back for him.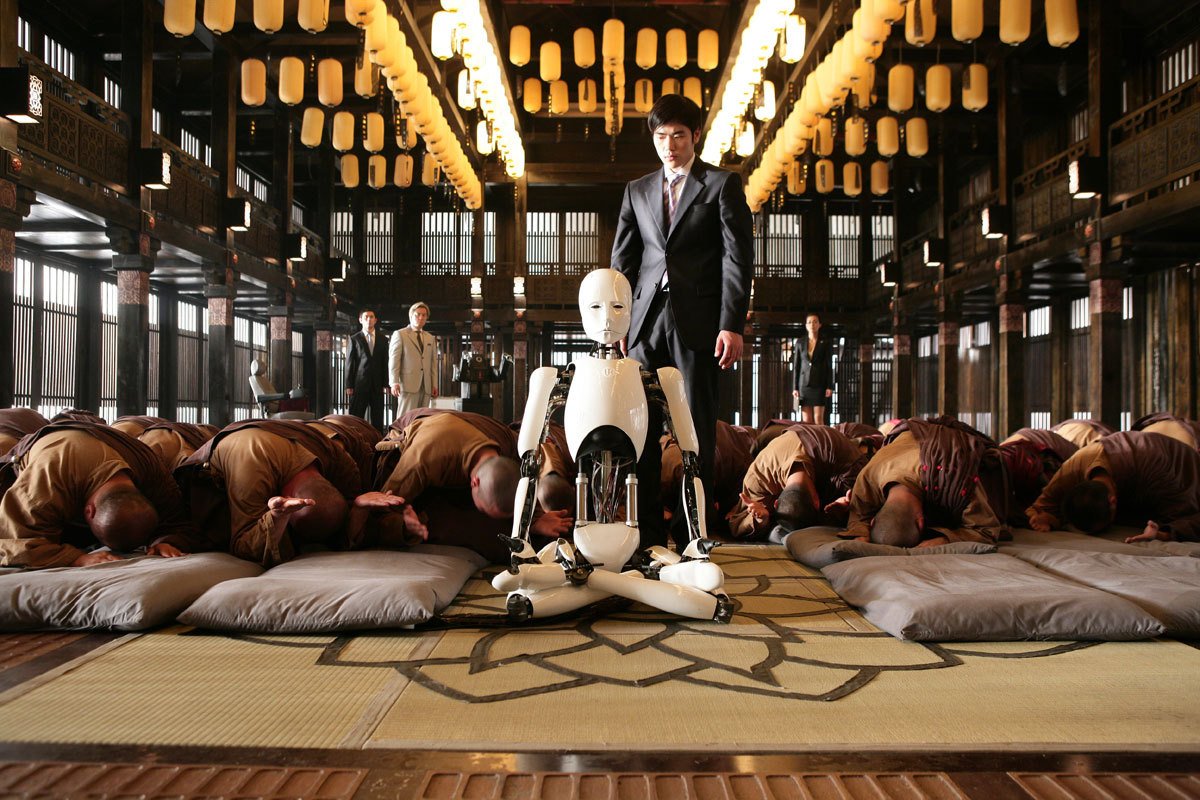 Kim Jee-won's The Heavenly Creature is the best episode of the collection. This could easily be one of Isaac Asimov's Robot stories – indeed, the design of the robot seems to have been taken directly from I, Robot (2004) – although perhaps even more so the source might have been the Robert Silverberg story Good News from the Vatican (1971) wherein a robot becomes pope. The piece is a play on what would happen if a robot logically determined that it was the culmination of the Buddhist aspiration for enlightenment. The story holds some fascinating debates about the nature of Artificial Intelligence and religion, before reaching a saddening but perfectly logical conclusion.
The final episode Happy Birthday, also from Yim Pil-sung, is a head-scratcher. A young girl loses her father's prize billiard ball and orders another from a website. Soon after, a giant astral body is discovered in the sky heading towards Earth. In the end, the rogue planetoid is revealed to be a giant billiard ball from the online order, which turns out to have been an alien package delivery outfit. Like A Brave New World, this seems all over the place. There are also more images that set out to parody tv talkshow pundits and news anchors. The epilogue of the film where the family finally emerge from the fallout shelter does feature the only recognisable face – Doona Bae, who later found fame as a regular for the Wachowskis in Cloud Atlas (2012), Jupiter Ascending (2015) and Sense8 (2015-8), as the grown-up version of the young girl.
---
---