---
Crew
Director – Herman Hoffman, Screenplay – Cyril Hume, Based on the Short Story by Edmund Cooper, Producer – Nicholas Nayfack, Photography (b&w) – Harold Wellman, Special Effects – Irving Block, Louis DeWitt & Jack Rabin, Production Design – Merrill Pye. Production Company – Pan Productions.
Cast
Richard Eyer (Timmy Merrinroe), Phillip Abbott (Dr Merrinroe), Diane Brewster (Mary Merrinroe), Harold J. Stone (General Swayne), Robert H. Harris (Professor Allerton), Dennis McCarthy (Colonel Machlin)
---
Plot
Young Timmy Merrinroe finds a disused robot in his scientist father's laboratory, brought back from the future during a time travel experiment. His father allows him to repair it. The robot Robbie becomes Timmy's playmate but Timmy soon finds that its conscience mechanism is a hindrance to his mischief making and uses his father's super-computer Univac to remove it. However, Univac has been invaded by an alien intelligence that wants to take over the world and proceeds to turn Robbie hostile.
---
One might be mistaken for thinking that The Invisible Boy was another entry in the Universal Invisible Man series. Instead, it is a follow-up of somewhat tenuous connection to Forbidden Planet (1956). Or rather, it is a film designed solely to highlight Forbidden Planet's mechanical scene-stealer Robbie the Robot.
The film was made by Forbidden Planet producer Nicholas Nayfack who set up his own company Pan Productions and employed Forbidden Planet writer Cyril Hume and the same special effects team to make this quasi-sequel. There is a vague explanation of Richard Eyer's uncle having brought a Robbie kitset back from the future during a time travel expedition and a still from Forbidden Planet that features in the background. But there endeth connection with the 1950s classic.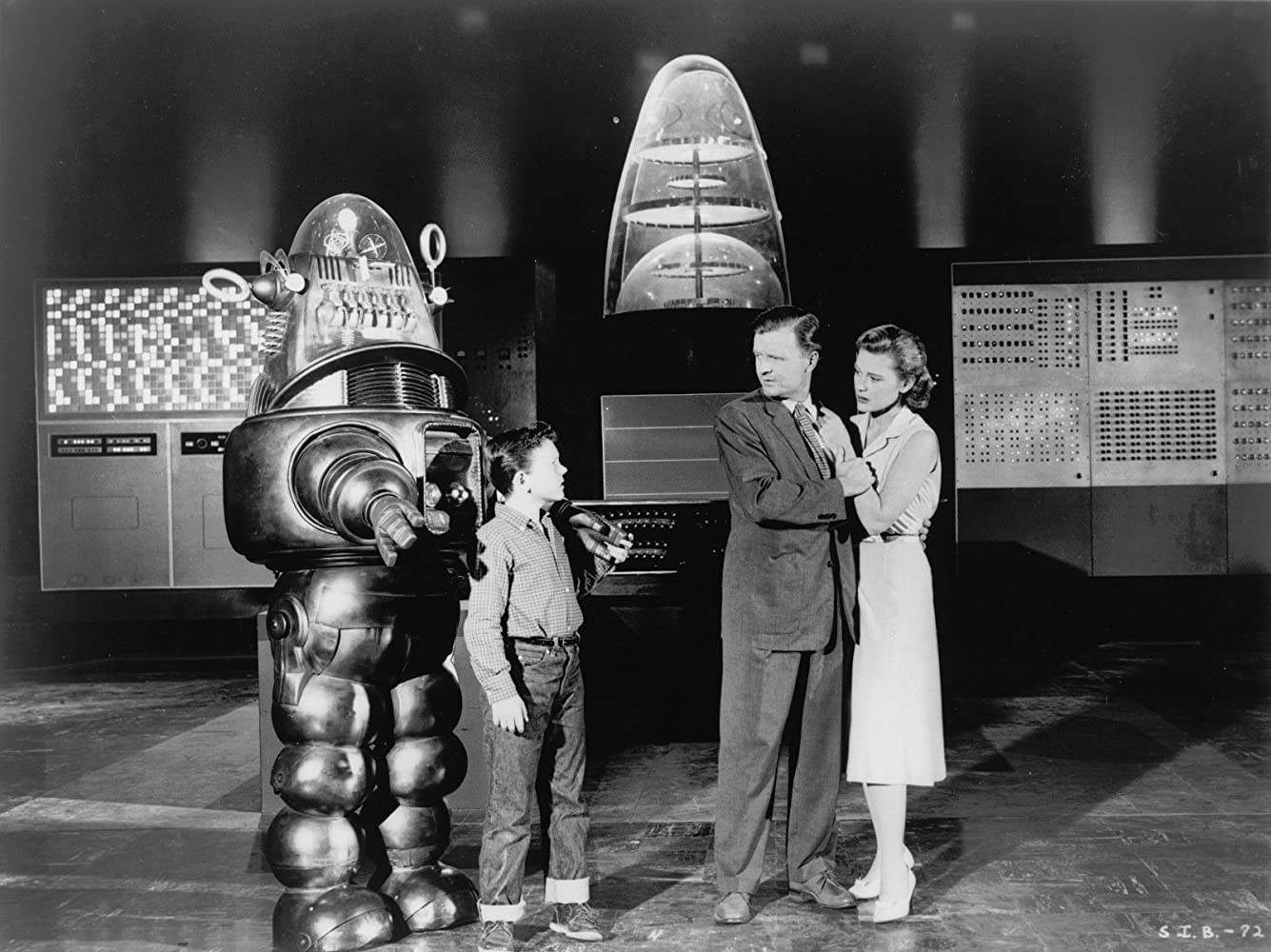 The Invisible Boy is a much more adolescent-intended effort than Forbidden Planet ever was. That said, it is an amiably charming piece of juvenalia. It succeeds with some delightful displays of gadgetry and effects, although its focus is usually around the level of juvenile malarkey rather than the cosmic sense of wonder that Forbidden Planet conjured. There is certainly nothing of Forbidden Planet's mind-stretching vistas of super-science.
The title is a misnomer, as this is a film about Robbie the Robot and a sinister computer takeover and falls closer into the genre of films like Colossus: The Forbin Project (1969) than anything to do with invisibility. Richard Eyer does briefly become invisible to justify the title but this is otherwise of little relevance to the story.
---
---