---
USA. 1981.
Crew
Directors – Barry Crane, Sidney Hayers & Sigmund Neufeld Jr, Screenplay – Glen A. Larson, Adaptation – Francesca Turner, Producers – Jeff Freilich, Frank Lupo & Gary B. Winter, Photography – Frank P. Beascoechea, Ben Colman & Mario Di Leo, Music – Stu Phillips, Theme – Glen A. Larson & Stu Phillips, Visual Effects – Universal Hartland (Supervisors – David M. Garber & Wayne Smith), Art Direction – Sherman Loudermilk, William Taliaferro & Fred T. Tuch. Production Company – Glen A. Larson Productions/Universal.
Cast
Kent McCord (Captain Troy), Barry Van Dyke (Lieutenant Dillon), Robyn Douglass (Jamie Hamilton), Lorne Greene (Commander Adama), Wolfman Jack (Himself), Roger Davis (Andromus), Robert Reed (Dr Donald Martinson), Robbie Rist (Dr Zee), John Colicos (Count Baltar), Peter Mark Richman (Colonel Briggs)
---
Plot
The Galactica fleet discovers Earth in the present-day – only to find that the Cylons have also followed them. Captain Troy and Lieutenant Dillon are despatched to talk to nuclear physicist Donald Martinson and obtain his help by gathering scientists to defend the Earth against the Cylon threat. Arrested as anti-nuclear demonstrators, Troy and Dillon befriend novice tv journalist Jamie Hamilton who helps them understand Earth culture. Troy and Dillon are then despatched to find a crashed Cylon fighter, only to find that the Cylons have stumbled into a Halloween party.
---
Battlestar Galactica (1978-9) was a tv series that was quickly thrown together to exploit the runaway success of Star Wars (1977). Among even those souls desperate enough for a fix of more Star Wars that they became fans of Battlestar Galactica, the short-lived follow-up series Galactica 1980 (1980) was almost universally reviled. Battlestar Galactica was cancelled in early 1979 after a single season run, largely due to the cost of producing to it but was then suddenly revived as Galactica 1980. Galactica 1980 was made solely because the network needed a mid-season replacement to fill their 1980 schedule and the series only lasted ten episodes.
At the same time, Universal had had some success in international markets with two films cut from re-edited episodes of the first series – Battlestar Galactica (1978), which was essentially the pilot episode, and Mission Galactica: The Cylon Attack (1979) taken from the two-parter The Living Legend. Producer Glen A. Larson then recut the initial three-part Galactica 1980 episode Galactica Discovers Earth and one episode of the subsequent series, the two-parter The Night the Cylons Landed, for cinematic release outside of America as Conquest of the Earth here.
The resulting film is very dire indeed. The first season of Battlestar Galactica was the most expensive tv series ever made at the time because of its changing weekly intergalactic locale. The contemporary Earth setting in Galactica 1980 was an obvious way of cutting back costs by shooting down the block instead of another planet. This need not have been a creative drawback – the Jon Pertwee seasons of Doctor Who (1970-73) had successfully done exactly the same thing. What small successes Battlestar Galactica had had came from piggybacking on the success of Star Wars but Conquest of the Earth reduces the intergalactic escapades to such dreary fare as inter-city car chases (where first time driver Barry Van Dyke laughably manages to stunt drive a car on two wheels for several city blocks) and a pathetically self-parodistic sequence where a Cylon turns up at a Halloween party and is taken for one of the partygoers. Indeed, such a scene – where the Cylon is reduced to intimidating a horrendously overacting Wolfman Jack – marks a low point in anything they ever represented as a threat.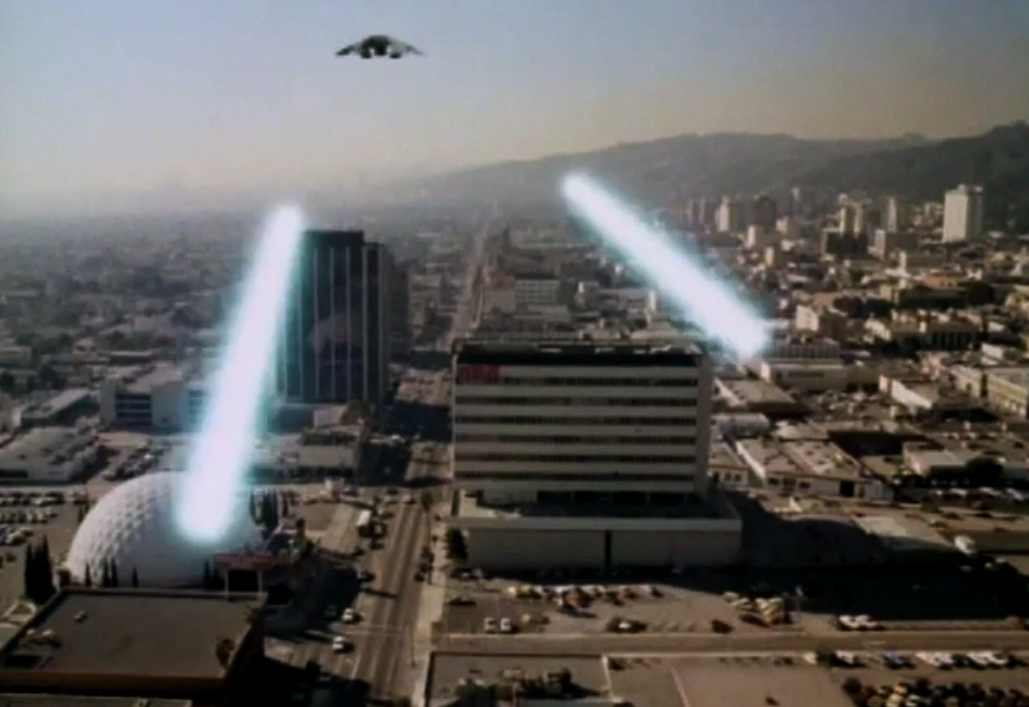 The combination of two partial plots into one 90-minute feature is fitful. (Why here and in Mission Galactica, which were both re-edited from two-part stories, Glen A. Larson did not leave the original two-parter as it was and saw the need to add another whole episode and then cut them down to feature-length running time, is a puzzle). It does result it a number of continuity gaps. The film, for instance, never cares to delineate the difference between the two different teen genius characters that were played by Robbie Rist in the series. The first story suddenly peters out in the midst of the cop chase and we then take up what seems like several weeks later – in the interim, Jamie Douglass has taken to referring to Barry Van Dyke as 'honey' and 'darling'. In the first film, Glen A. Larson took care enough to have new scenes filmed but Conquest of the Earth has such a cynical view of its audience, the assumption seems to be that these things would not be noticed.
There are minor moments of humour with some of the culture clashes but these are stolidly played by the intensely serious Kent McCord and lantern-jawed quarterback Barry Van Dyke. The main culture clash element seems to consist of the introduction of super-gadgetry for the purpose of a quick laugh at the expense of stock types – Air Force pilots being stunned by the disappearance of two Viper fighter-planes or a biker gang being flabbergasted and crashing when Kent McCord and Barry Van Dyke take to the air on their flying bikes.
Battlestar Galactica was later reworked for tv as the excellent Battlestar Galactica (2003-9). This produced three individual releases with the mini-series Battlestar Galactica (2003) and the spinoff films Battlestar Galactica: Razor (2007) and Battlestar Galactica: The Plan (2009), as well as the prequel series Caprica (2009-10) and a further prequel web-series Battlestar Galactica: Blood & Chrome (2012).
---
Galactica Discovers Earth here:-
The Night the Cylons Landed online in two parts (Part 1 here):-
Part 2 here:-
---