---
Crew
Director/Producer – Kurt Neumann, Screenplay – Lawrence Louis Goldman, Story – Irving Block, Photography (b&w) – Karl Struss, Music – Paul Sawtell & Bert Shefter, Special Effects – Irving Block, Jack Rabin, William Reinhold & Menad von Mulldorfer, Production Design – Theobold Holsopple. Production Company – Regal Films Inc.
Cast
Jeff Morrow (Dr Les Gaskell), Barbara Lawrence (Vera), John Emery (Dr Eliot Hubbell), George O'Hanlon (Professor Arnie Culver), Morris Ankrum (Dr Albert Stern)
---
Plot
The Air Force shoot a UFO down over the Gulf of Mexico. A giant block-like metallic construct emerges from the crash site and begins destroying power plants across the countryside and absorbing their energy. The machine is nicknamed Kronos by the media. Scientists realize that it is an energy accumulator sent by aliens from a dying planet with the intent of sucking the Earth's energy supplies dry to replenish their own.
---
Kronos is a 1950s alien invader film. There is a potentially good and original film here. The image of a giant matte black cubic construct marching across the countryside devouring energy, no matter how illogical it may seem, is a potent one that resonates with all manner of images of technology rampant. Unfortunately, the film is a far less interesting one than that. It tries hard but the model effects are too poor to create an effective picture of the menace – the model of the Kronos is just not big enough to be of effectively threatening size.
Both the direction and the script are dull, something further hampered by the cast – Jeff Morrow of This Island Earth (1955) fame is perhaps the most stolid and resolutely dull of the long list of wooden genre leading men in the 1950s. The weak script even manages to throw in the good old staple of people possessed by alien intelligence.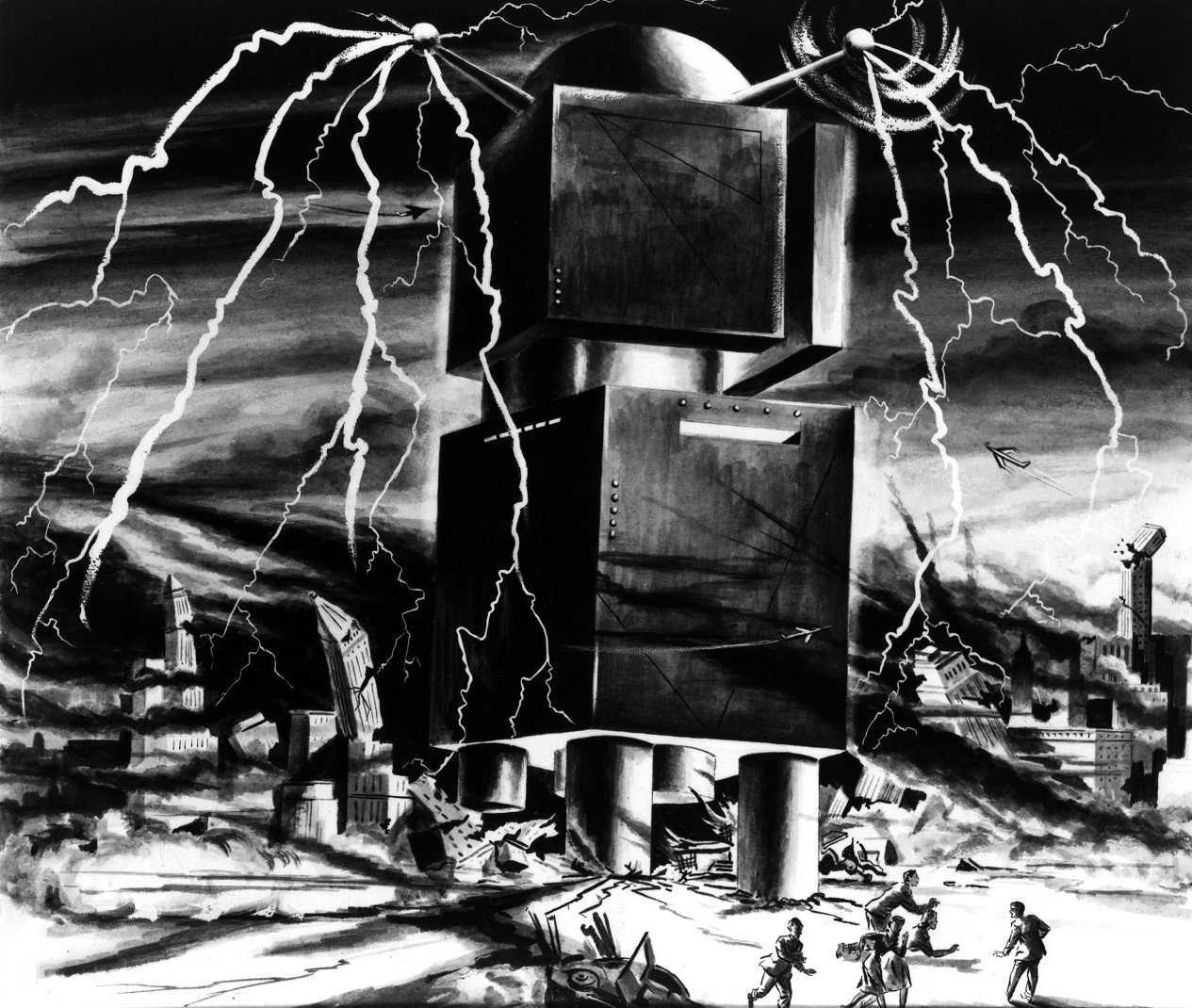 Ultimately, Kronos can only be praised for what it could have been – if it had had a Jack Arnold at the helm (as it is, the desert setting offers echoes of the Arnold oeuvre), it may have had enough to transcend its routineness, but it never does.
Kurt Neumann's other genre films are:– several of the Johnny Weissmuller Tarzan films – Tarzan and the Amazons (1945), Tarzan and the Leopard Man (1946) and Tarzan and the Huntress (1947) and one with Lex Barker Tarzan and the She-Devil (1953); Rocketship X-M (1950), the first space exploration film of the 1950s Golden Age; the Arabian Nights fantasy Son of Ali Baba (1952); the mad scientist cheapie She Devil (1957); and the classic monster movie The Fly (1958).
---
---