---
USA. 1988.
Crew
Director – Stephen Chiodo, Screenplay/Producers – Charles Chiodo, Edward Chiodo & Stephen Chiodo, Photography – Alfred Taylor, Music – John Massari, Visual Effects – Fantasy II (Supervisor – Gene Warren Jr), Special Effects Supervisors – Jim Kagel & Mark Sullivan, Makeup Effects – Dwight Roberts, Production Design – Charles Chiodo & Philip Dean Foreman. Production Company – Chiodo Bros.
Cast
Grant Cramer (Mike Tobacco), Suzanne Snyder (Debbie Stone), John Allen Nelson (Deputy Dave Hansen), John Vernon (Sheriff Curtis Mooney), Michael Siegel (Rich Terenzi), Peter Licassi (Paul Terenzi), Royal Dano (Farmer Green)
---
Plot
A circus marquee materialises on the edge of town. Out of it emerges a troupe of sinister clowns who start zapping people into candyfloss cocoons. Teenager Mike Tobacco and his girlfriend are witness to the clowns' appearance and try to alert authorities. Instead, Mike is arrested for wasting police time.
---
Killer Klowns from Outer Space is a family production. It comes from the Chiodo family. The Chiodo brothers – Charles, Stephen and Edward, in decreasing order of age – grew up as teens via Famous Monsters of Filmland (1958-82) magazine and later broke into the industry as creature and makeup effects artists. They are probably most noted as having produced the title denizens of Critters (1986) and sequels, and most recently the puppets in Team America: World Police (2004). They have worked on other films like The Sword and the Sorcerer (1982), Tim Burton's very first short film Vincent (1982), Gremlins (1984), Pee-Wee's Big Adventure (1985), Ernest Scared Stupid (1991), Freaked (1993), Screamers (1995), Tales from the Hood (1995), The Stupids (1996) and Dinosaur (2000), among others.
Being the Chiodos' area of expertise, the clown effects here are expectedly very good. The most effective moments in the film come in playing their grinning innocuousness against type – particularly good is one moment where a clown lures a little girl away from her mother with hand tricks while hiding a mallet behind its back. The design of the gadgets has a witty garishness and there are some natty trick effects – the scene where bigoted sheriff John Vernon is turned into a ventriloquist's doll being one particularly ghoulish effect.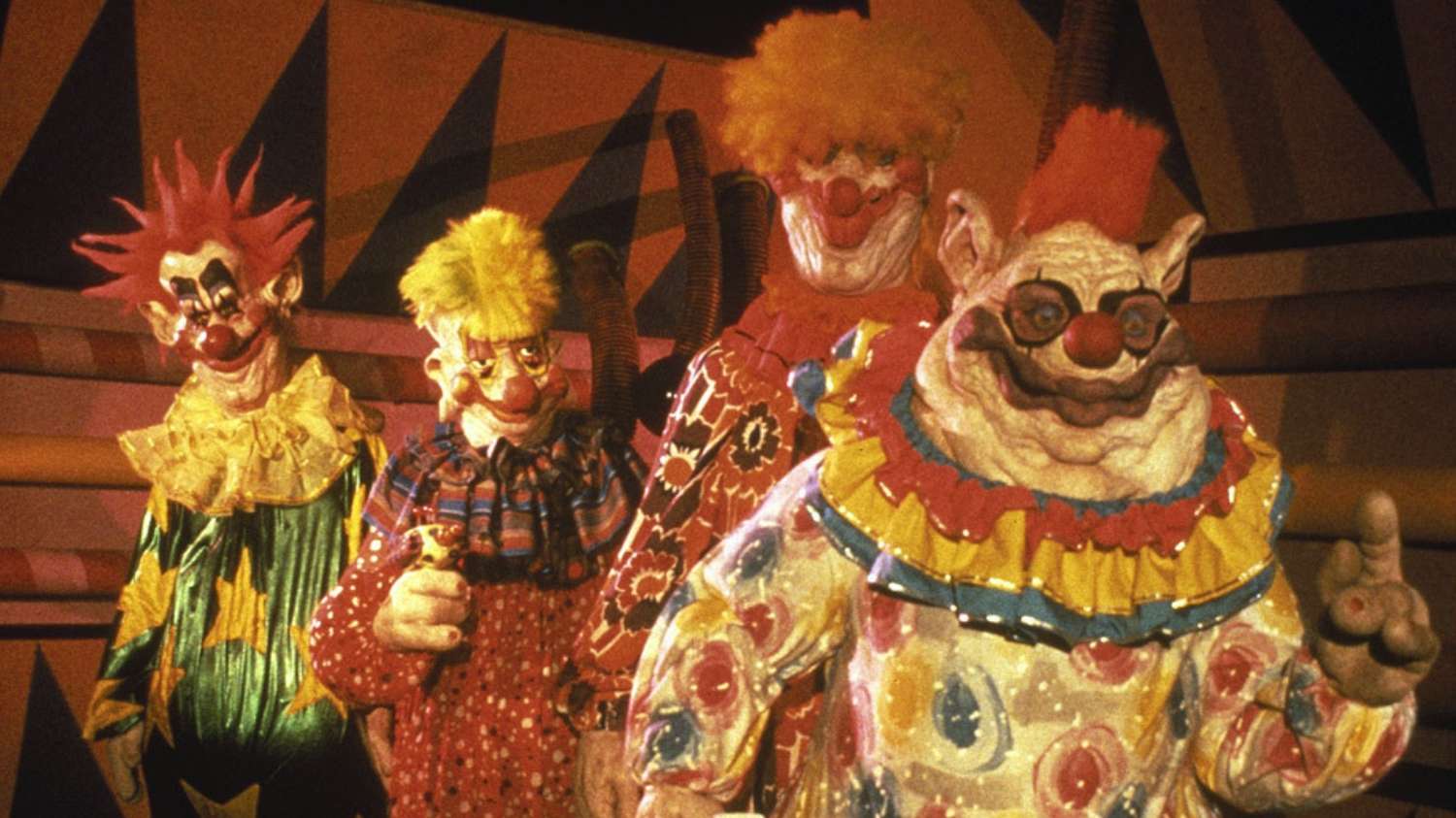 On the other hand, the film becomes increasingly strained in trying to interpolate carnival themes towards sinister purpose – a tracker dog made out of balloons or devouring hand-silhouette animals. The idea fails as parody, because all the film becomes is a formulaic run through of genre clichés with a novelty insert. There is nothing to it beyond the basic gimmick of the title concept.
At other times, the film can be fairly idiotic – the two dumb characters in their ice cream truck are a particular irritation. It is so taken for granted that all alien invaders want to invade and package humans as fast food by now that the film feels no need to offer any explanation why.
---
Trailer here
---