---
Crew
Director – John Landis, Screenplay – Brent Forrester, Based on Books Created by Harry Allard & James Marshall, Producer – Leslie Belzberg, Photography – Manfred Guthe, Music – Christopher Stone, Visual Effects Supervisor – Walter Hart, Visual Effects – Available Light, Ltd. (Supervisor – John T. Van Vliet), Image G (Supervisor – John Rider), Matte World Digital (Supervisor – Craig Barron), Optical Illusions, Inc. (Supervisor – Jeff Matakovich), Stop Motion Animation – Chiodo Brothers Productions, Inc. (Supervisors – Charles Chiodo, Edward Chiodo & Stephen Chiodo), Special Effects Supervisor – Martin Malivoire, Aliens Created by Steve Johnson's XFX, Inc., Production Design – Phil Dagort. Production Company – New Line Cinema/Savoy Pictures.
Cast
Tom Arnold (Stanley Stupid), Jessica Lundy (Joan Stupid), Bug Hall (Buster Stupid), Alex McKenna (Petunia Stupid), Mark Metcalf (Colonel Neidermeyer), Matt Keeslar (Lieutenant Neal), Frankie Faison (The Lloyd), Bob Keeshan (Charles Sender), Harvey Atkin (Deli Guy), Christopher Lee (Evil Sender), Jenny McCarthy (Glamorous Actress)
---
Plot
Stanley Stupid is shocked to find that someone has stolen the garbage from his cans after he puts them out at the curb. He determines to find out who is responsible. After waiting and watching, he discovers a garbage truck and follows it, finding a massive conspiracy where everybody's garbage is being stolen. When Stanley does not return, his children Buster and Petunia think he has been kidnapped and go to the police. Stanley's wife Joan misinterprets the note they leave and thinks that the children have been kidnapped by the police. Stanley's trail of the garbage trucks takes him to the dump where rogue army Colonel Neidermeyer is conducting an illegal sale of advance weapons to bidders. Niedermeyer sees Stanley as a dangerous spy and send trained experts to eliminate him. However, Stanley succeeds in inadvertently eliminating the killers via a series of accidents. Stanley thinks that the garbage theft is part of a conspiracy that ties back to when he was working for the Postal Service and found it deeply suspicious that mail was being returned to someone called Sender. And so the family decide they must break into the museum in search of the head villain Charles Spender.
---
The Stupids is a film based on a series of children's books by James Marshall and illustrator Harry Allard. The books consist of The Stupids Step Out (1974), The Stupids Have a Ball (1978), The Stupids Die (1981) and The Stupids Take Off (1989). The books centre around a family named Stupid who take everything literally with the stories being a series of gags that play out around their misinterpretations of everyday things. The books apparently accrued some upset from concerned parents groups who thought that their message was derogatory to the notion of family.
This film version of The Stupids was made by John Landis. Landis emerged as a director during the 1970s and has almost always specialised in comedy. Landis's peak came around 1978-83 with hits like National Lampoon's Animal House (1978), The Blues Brothers (1980), An American Werewolf in London (1981) and Trading Places (1983). Landis's stumble came with the manslaughter charges arrayed over (and ultimately dismissed) for culpability in the deaths on the set of his segment of Twilight Zone – The Movie (1983). Subsequent to that, Landis's films seem hit or miss – with increasing comedy flops like Three Amigos (1986), Oscar (1991), Beverly Hills Cop III (1994), Blues Brothers 2000 (1998) and Susan's Plan (1998). (A list of John Landis's other genre films is at the bottom of the page).
The Stupids must be counted among these flops for Landis, accruing Golden Raspberry nominations for Worst Film, Worst Director and Worst Screenplay and Tom Arnold winning for Worst Actor. The film only earned $2.5 million at the box-office, a mere tenth of its budget of $25 million.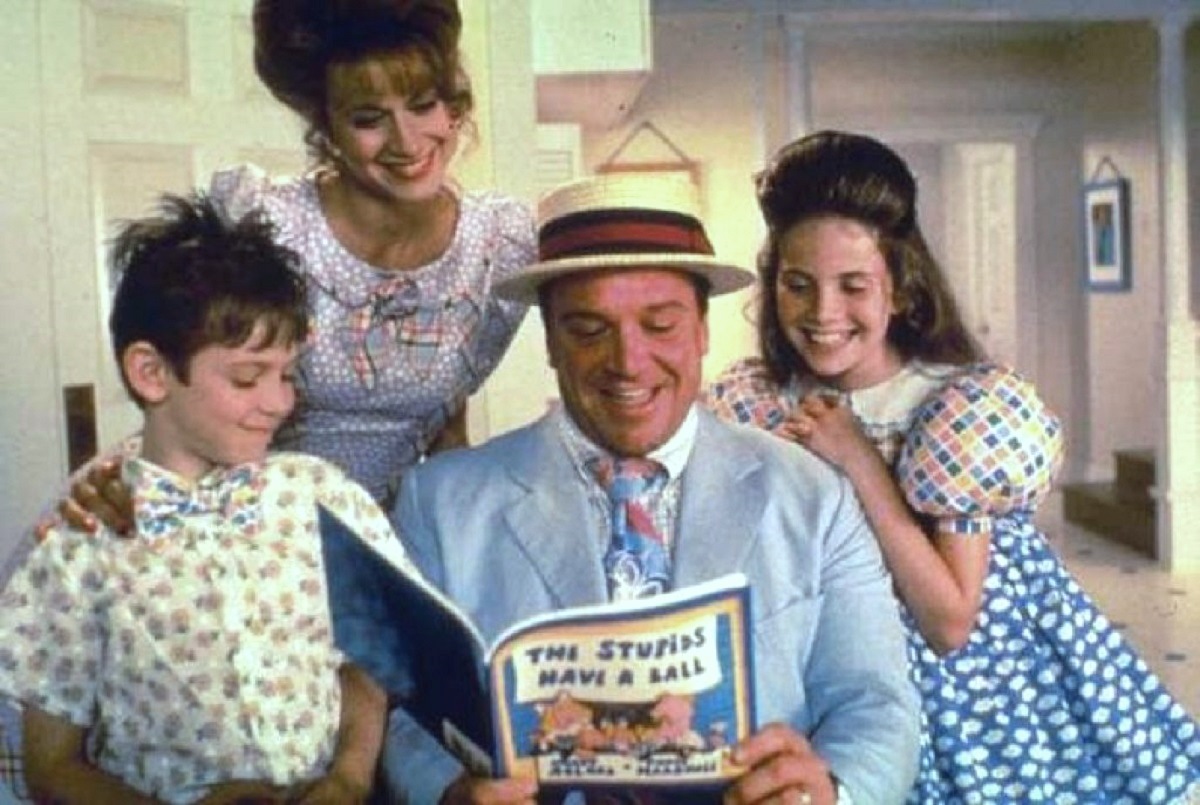 The Golden Raspberry Awards and the film's lack of popularity notwithstanding, I liked The Stupids. The film takes place inside a mind-spinningly surreal world – maybe the closest you might come is the same one in Pee-Wee's Big Adventure (1985) or the hyper-real suburbia of Tim Burton's Edward Scissorhands (1990). The film has a strange deadpan normalcy the likes of which I have never seen anywhere else before. For quite some way in, your mind is boggling as you are trying to get some grasp on where the film is coming from. In the introductory scenes, Tom Arnold is flipping out thinking that the empty garbage cans means that his trash has been stolen by someone; we see Bug Hall taking his goldfish in a tank for a walk; where Tom Arnold and Jessica Lundy sit down to breakfast, she with a teabag in her cup and he with a bag of coffee dunked in his; or where we see the kids looking for their missing parents and opening the washing machine and toilet seat lid.
The entire film operates on a series of logical leaps that only seem to make sense in the mind of a mad person – the kids deciding their father has been kidnapped and going to the police; the mother then interpreting the note they leave to believe that the kids have been kidnapped by the police. There are deliriously silly moments – like when Jessica Lundy is driving in her car talking into a microphone: "Note to self – must buy a handheld recorder rather than talking into the garage door opener." Or where Tom Arnold finds the car won't start and announces that he is going to give the battery mouth-to-mouth resuscitation.
The film's inspired height is the visit to the museum where Tom Arnold and Alex McKenna stray into the planetarium and think that they have died and gone to Heaven and encounter a cleaner named Lloyd (Frankie Faison) and think that he is The Lord, while Jessica Lundy and Bug Hall enter an elevator and think it is a time machine as it transports them to the prehistory floor filled with dinosaur skeletons. The film has a level of wackiness where almost nothing seems too much for it. We even get visits from aliens and an intelligent Stupid family cat and dog (cheap CGI effects). It is a long time since one has watched a film that has inhabited such a strange headspace.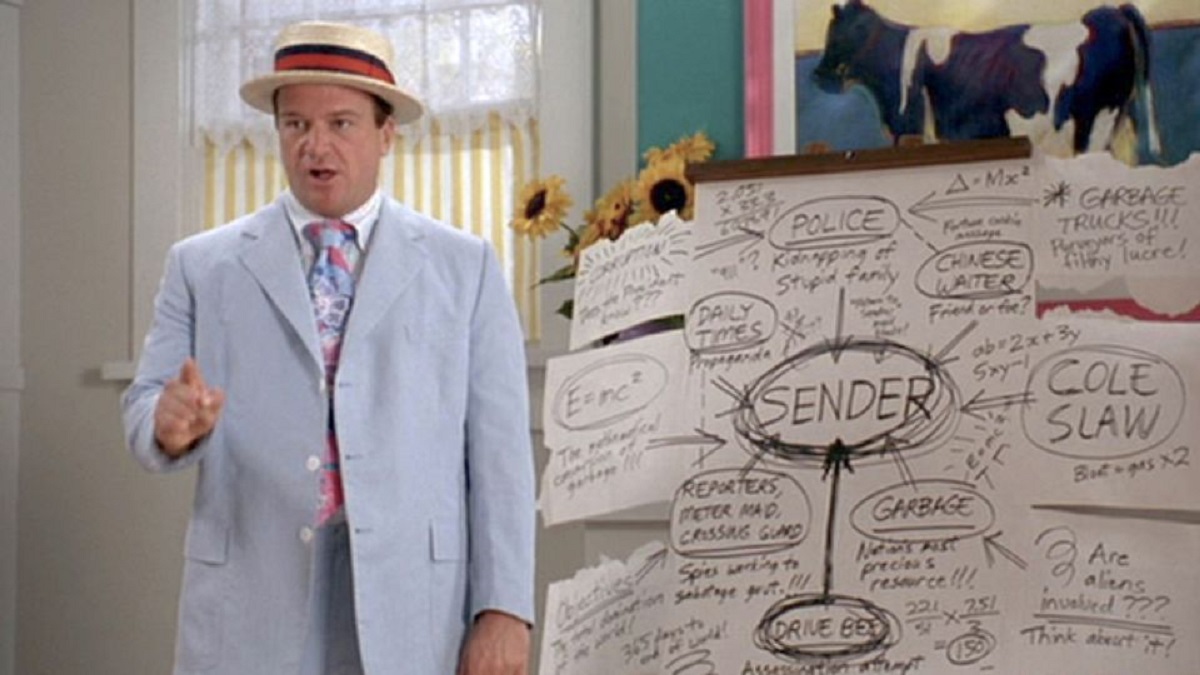 There are undeniable times where the film drags and fails to hit these surreal heights. One is the extended sequence where the military send various assassins to eliminate Tom Arnold, which degenerate into too much physical slapstick that seems like low rent Mr Bean, as well as a climax with the Stupids wandering through a warehouse of soldiers shooting and end up defeating them without any awareness of what they are doing. There is also the visit to the tv studio with lots of silly nonsense with Jessica Lundy turning an Applause switch on and off during Jenny McCarthy's interview on a talkshow thinking it is the light switch.
Tom Arnold's performance is played at a level of smiling happy cheer – all through an obtrusive tan that looks applied out of a bottle. Arnold also gets to do a song about how he is his own grandfather due to family in-breeding but this is introduced out of the blue and feels more like they decided to include it even though it had no place in the film.
John Landis's other genre films include:- the monster movie parody Schlock (1973); An American Werewolf in London (1981), the infamous first segment of Twilight Zone – The Movie (1983), the famous MTV video for Michael Jackson's horror movie homage Thriller (1983), the lame spy comedy Spies Like Us (1985), episodes of Amazon Women on the Moon (1987), the vampire film Innocent Blood/A French Vampire in America (1992), Blues Brothers 2000 (1998) and a comedy version of the story of the historical grave robbers Burke & Hare (2010). Landis has also produced various genre tv series such as Weird Science (1994-6), Honey I Shrunk the Kids (1997) and The Lost World (1999).
---
Trailer here
---