---
Crew
Director – Neil Marshall, Screenplay – Charlotte Kirk & Neil Marshall, Producer – Daniel Konrad-Cooper, Photography – Luke Bryant, Music – Christopher Drake, Visual Effects – Fimgate Finland (Supervisor – Martin Malmqvist), Lanczos, Nopia Oy Ltd & Studio Rift, Special Effects Supervisor – Paul Stephenson, Makeup Design – Nora Koltai, Production Design – Monika Estvan. Production Company – Rather Good Films/Trigger Films/Ashland Hill Media Finance/Scarlett Productions/Business Finland Audiovisual Production Incentive.
Cast
Charlotte Kirk (Captain Kate Sinclair), Jonathan Howard (Sergeant Tom Hook), Jamie Bamber (Major Roy Finch), Hadi Khanjanpour (Kabir), Kibong Tanji (Corporal Jade Lafayette), Mark Strepan (Corporal Kip Wilks), Leon Ockenden (Sergeant Oswald Jones), Troy Alexander (Trooper Dave Bromhead), Adam Bond (Private Eddie Serano), Harry Taurasi (Trooper Vince Hughes), Mark Arends (Private Dwayne Everett)
---
Plot
In 2017, Captain Kate Sinclair, a fighter pilot with the British Air Force, is flying a mission over Afghanistan only to be shot down. She parachutes out safely but is forced to flee from rebel gunmen. She seeks refuge in the depths of an old Soviet bunker. However, gunfire from the pursuing insurgents bursts open a series of containers, unleashing monsters stored there. Kate makes an escape and is found by a team from the nearby US military outpost. She is granted refuge there by Major Roy Finch but her story doubted. That is until the base comes under furious attack by the monsters from the bunker. As autopsy reveals, the creatures appear to have been genetically engineered as alien-human hybrids by the Soviet military.
---
Several years ago, British director Neil Marshall was a name on the rise. Marshall appeared with the modest werewolf film Dog Soldiers (2002) and then impressed in a big way with the underground horror The Descent (2005). This was followed by the quite good likes of the post-holocaust film Doomsday (2008) and the non-genre historical film Centurion (2010). However, the 2010s were marked by Marshall's disappearance off the radar into directing only tv episodes and the Bad Seed episode of the anthology Tales of Halloween (2015).
Around the 2020s was the point that Marshall's career became blotted by controversy. First there was his directing the much hated reboot of Hellboy (2019), which ended up with reports of on-set fighting between Marshall and the producers and his lead actor. Next there came Marshall's involvement with British actress Charlotte Kirk, who ended caught up in a high-profile sex scandal where it was not clear if she was shaking studio executives down or it was a genuine instance of her being take advantage of, but ended up forcing the resignation of some powerful names. This did result in one film, the witch persecution film The Reckoning (2020), directed by Marshall, starring Kirk and written by the two of them. The Lair is their follow-up, again directed by Marshall, starring Kirk and written by both of them
Neil Marshall likes to make films with strong and kickass female leads – the all-female line-up of The Descent, Rhona Mitra in Doomsday, Kirk as the vengeful wife in The Reckoning. The big believability pill The Lair asks us to swallow from the opening scene is Charlotte Kirk as a fighter pilot. Certainly, the RAF has had a handful of female fighter pilots flying since the early 2000s. However, as soon as she is landed on the ground in Afghanistan, Marshall has Kirk almost singlehandedly wiping out a small mob of insurgents in hand-to-hand and gun combat, using the seemingly superhuman fighting skills that usually turn up in superhero or Steven Seagal films.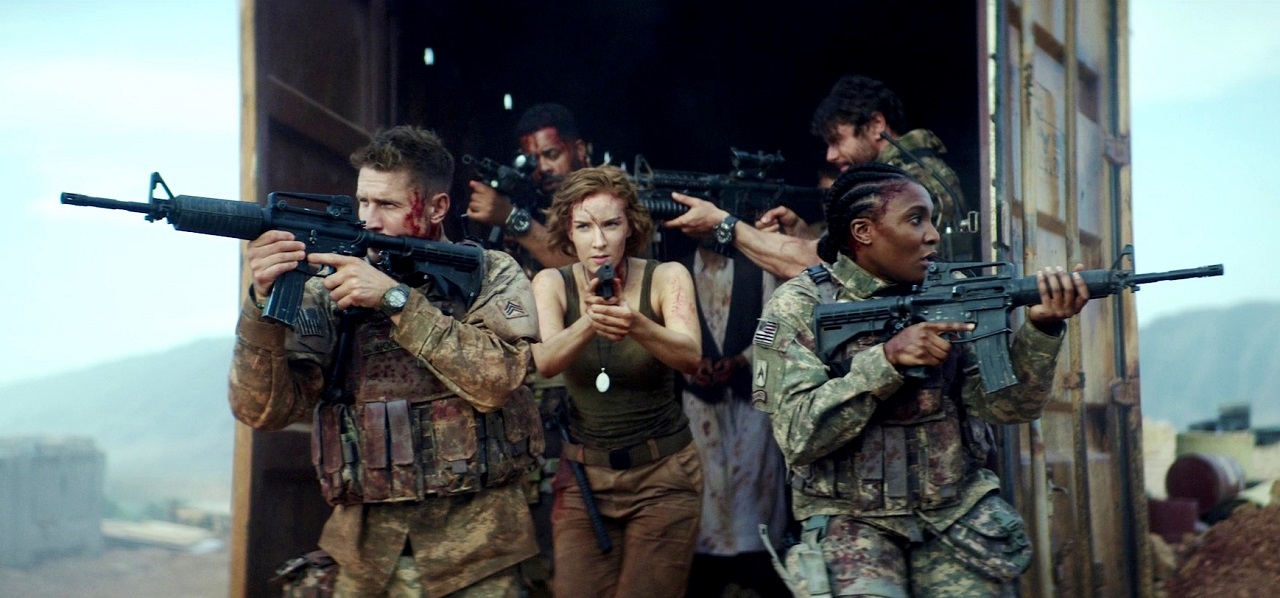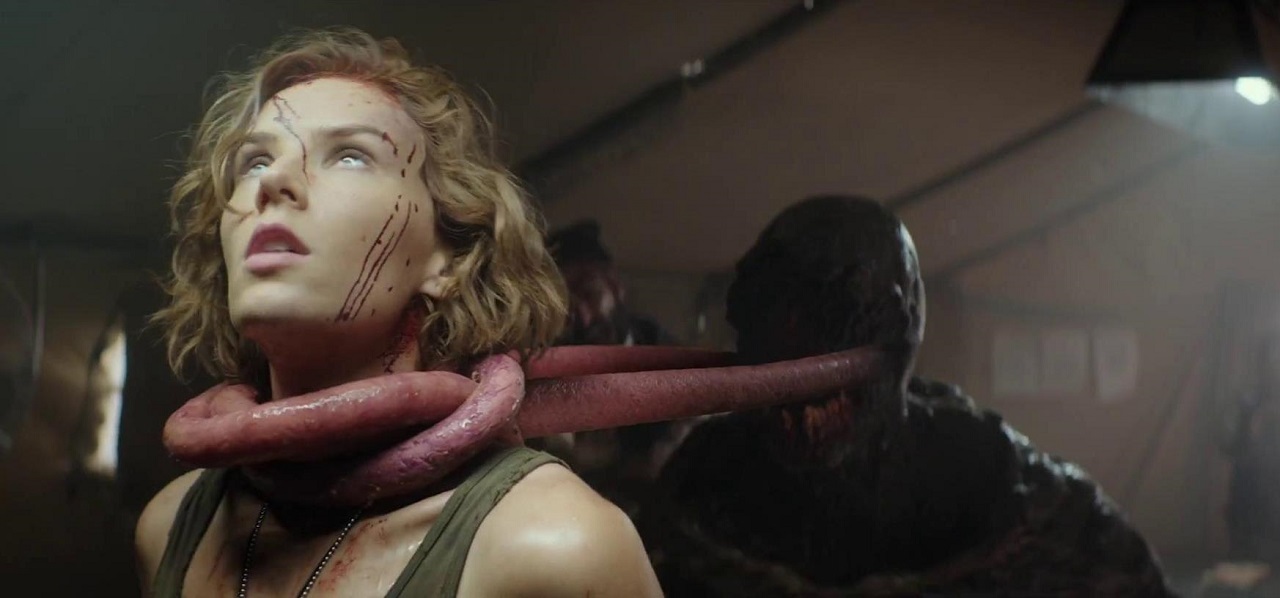 It may be a measure of how toxic the Charlotte Kirk name became as a result of the scandal that she has not had any acting work outside of what she has done with Marshall since The Reckoning. There is a tendency when you read something like the Charlotte Kirk story to review the gossip rather than the performance she gives where in most cases people start looking for any opportunity to make snarky comments. In this case though, she presents a remarkable lack of conviction anywhere throughout the film.
That said, a far worse performance than Kirk comes from Jamie Bamber, the British actor best known as Captain Apollo on tv's Battlestar Galactica (2003-9), who doesn't appear to have had much of an acting career since then. Bamber goes completely over-the-top playing the Southern general and has a death scene that can be guaranteed to leave you laughing.
Marshall's forte when he gets his teeth sunk into a film is making tough survival action pieces about tight fighting units in action – Dog Soldiers, The Descent, Centurion, and the early sections of Doomsday, which all films feature a small group of people fighting for their survival against a tough, relentless enemy. Here he gives us a standard military ensemble – the film even stops still at one point to do a tour of the army base and characterise each of the soldiers by their quirks. That said, most of the characters end up being blank and anonymous.
Mostly, The Lair is another variant on the Monster Movie patented by Alien (1979). Marshall does offer up the interesting twist of making the film a crosshatch of Alien and Zulu (1964), the historically-based film in which a small detachment of British soldiers fought off an overwhelming army of attacking African natives. This side of things is something that Marshall delivers with a reasonable ferocity with action that takes place on a modest-sized scale. There are some okay creature effects where they demonstrate a nifty, if biologically absurd, trick of firing out multiple tongues to strangle people.
---
Trailer here
---