---
Crew
Director/Screenplay – Neil Marshall, Producers – David E. Allen, Christopher Figg & Tom Reeve, Photography (some scenes b&w) – Sam McCurdy, Music – Mark Thomas, Visual Effects/Makeup Effects – Image FX (Supervisor – Bob Keen), Physical Effects Supervisor – Harry Wiessenhaan, Production Design – Simon Bowles. Production Company – Kismet Entertainment Group/The Noel Gay Motion Picture Company/The Luxembourg Film Fund/Victor Film Co/Carousel Pictures/Dog Soldiers Ltd
Cast
Kevin McKidd (Private Cooper), Sean Pertwee (Sergeant Wells), Emma Cleasby (Megan), Liam Cunningham (Captain Ryan), Darren Morfitt (Spoon), Leslie Simpson (Terry), Chris Robson (Joe), Thomas Lockyer (Bruce)
---
Plot
A troop of British territorial soldiers are on a training exercise in the remote Scottish highlands when they are savagely attacked by wild animals. They are aided by Megan, a zoologist, who explains that they are being attacked by werewolves. As the werewolves close in, the survivors barricade themselves into a nearby farmhouse with a dwindling supply of ammunition to hold their attackers off.
---
Dog Soldiers is a British/Luxembourg-made werewolf film that arrives with a modest degree of acclaim. It certainly made the name of director Neil Marshall who has since gone onto a highly promising career as a genre director. (See below for Neil Marshall's other films).
Conceptually Dog Soldiers emerges as though someone had decided to rework Walter Hill's Southern Comfort (1981), which was about an under-armed troupe of soldiers on a training mission being hunted by Cajuns, but with werewolves instead of Cajuns. As a no-punches-held-back, no pretensions piece of visceral horror, Dog Soldiers is rather enjoyable. Nothing particularly startling or conceptually inventive is done with the premise. Rather all that director Neil Marshall does is gets in there and shoots, bangs and splatters his show at a fast and satisfying pace. The climactic scenes where the werewolves do finally break into the house are particularly well sustained, and the film rarely ever slows down elsewhere.
You get the impression that Neil Marshall has done some time in the British territorials and Dog Soldiers is clearly written with an insider's knowledge of the way infantry army operates. (Almost all of Neil Marshall's films are brutal, bare hands survival stories, usually featuring a group of soldiers as heroes).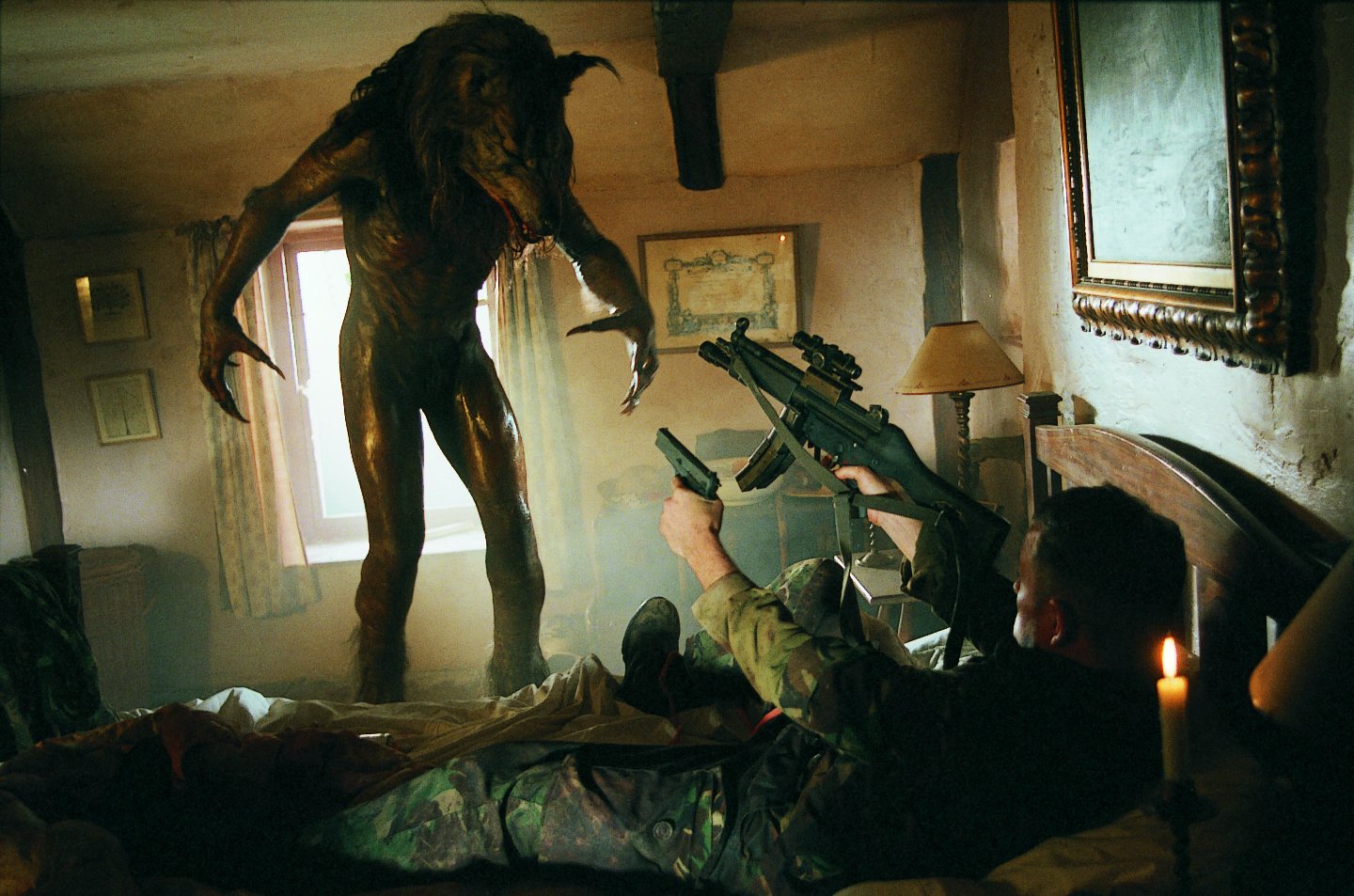 Particularly good upon Marshall's part are some of the characterisations of the men who are all drawn with simple but convincingly credible strokes. There is a standout performance from Sean Pertwee as the tough-as-nails sergeant of the group, although the show is in large part captured by Kevin McKidd, who does an excellent job of portraying an ordinary man who rises to become the leader of the group.
Dog Soldiers is produced by Christopher Figg, the man behind Clive Barker's equally low-budgeted British horror miracle Hellraiser (1987). In terms of the modest acclaim that Dog Soldiers received in the international marketplace, the Hellraiser comparison is not inapt. To further extend the Barker connection, Dog Soldiers also has some effective two-metre tall werewolves and convincingly gory splatter effects from Bob Keen, the man who supervised the transformations for Hellraiser.
Neil Marshall subsequently went onto make the excellent, better-budgeted The Descent (2005) about potholers encountering creatures underground, the futuristic plague film Doomsday (2008), the non-genre historical action film Centurion (2010), the Bad Seed episode of Tales of Halloween (2015), the reboot of Hellboy (2019) and the witch persecution film The Reckoning (2020) and the monster movie The Lair (2022). Marshall has also produced the horror film Dark Signal (2016) and the reboot of tv's Lost in Space (2018- )
(Nominee for Best Makeup Effects at this site's Best of 2002 Awards).
---
---