---
Crew
Director – Neil Marshall, Screenplay – Andrew Cosby, Based on the Comic Book Created by Mike Mignola, Producers – Lawrence Gordon, Carl Hampe, Yariv Lerner, Lloyd Levin, Matt O'Toole, Mike Richardson, Les Weldon & Philip Westgren, Photography (3D) – Lorenzo Senatore, Music – Benjamin Wallfisch, Visual Effects Supervisor – Steve Begg, Visual Effects – Digital District Canada Inc. (Supervisor – Christopher Maslen), Goodbye Kansas Studios (Supervisors – Jesper Kjolsrud & Cameron Scott), Mr. X (Supervisors – James Cooper & Chris MacLean), Nu Boyana FX (Supervisor – Martin Georgiev), Nvizible (Supervisor – Richard Clarke), Rhythm & Hues Studios (Supervisor – Rajeev B.R.), Rise South (Supervisor – Dominik Trimborn), Rise Visual Effects Studios (Supervisor – Markus Deegan) & Worldwide FX (Supervisor – Vesselina Georgieva), Special Effects Supervisor – Ivo Jivkov, Creature Design & Makeup Effects – Joel Harlow, Production Design – Paul Kirby. Production Company – Lawrence Gordon-Lloyd Levin/Dark Horse Entertainment/Nu Boyana/Campbell Grobman Films.
Cast
David Harbour (Hellboy), Sasha Lane (Alice Monaghan), Ian McShane (Professor Broom), Milla Jovovich (Nimue), Daniel Dae Kim (Major Ben Daimio), Stephen Graham (Grungagh), Alistair Petrie (Lord Adam Glaren), Sophie Okenedo (Lady Hatton), Troy James & Emma Tate (Baba Yaga), Thomas Haden Church (Lobster Johnson), Penelope Mitchell (Ganeida), Brian Gleeson (Merlin), Mark Stanley (King Arthur), Mario de la Rosa (Esteban Ruiz/Camazotz)
---
Plot
Hellboy is sent to England by Professor Broom to aid The Osiris Club in their hunt for a giant. During the course of this, Hellboy learns from a seer that Broom had originally been sent to kill him when he was born. Hellboy's assignment with The Osiris Club proves to be a trap during which the members seek to kill him but he survives. He is then sent by the Bureau of Paranormal Research to stop the attempts to revive Nimue, the Blood Queen, which involve bringing together her body parts that were severed and spread to different locations by King Arthur. The operation pairs him with fellow agents Alice Monaghan, an operative who has medium-like abilities since being snatched by fairies as a child, and Ben Daimio who resents Hellboy and plans to kill him.
---
The Hellboy comic-book first appeared in 1994, the creation of Mike Mignola, and has since become one of the top-selling titles for Dark Horse Comics. Hellboy came to the screen with Guillermo Del Toro's Hellboy (2004) starring Ron Perlman in the title role, which was followed by an even better sequel Hellboy II: The Golden Army (2008). There were sporadic plans for a Hellboy 3 but these never solidified. Ron Perlman and many of the actors from the live-action films did however make two animated spinoffs with Hellboy Animated: Sword of Storms (2006) and Hellboy Animated: Blood and Iron (2007).
The rights to Hellboy eventually passed to Nu Image and its now bankrupt partner company Millennium Pictures, formed by former Cannon Films associate Avi Lerner. Millennium have a habit of buying up the rights to previously successful properties and spinning off further, almost always more cheaply made and inferior sequels, remakes or reboots as witness the likes of The Wicker Man (2006), Day of the Dead (2008), It's Alive (2008), Rambo (2008), The Bad Lieutenant – Port of Call: New Orleans (2009), Conan the Barbarian (2011), The Mechanic (2011), Texas Chainsaw (2013), Leatherface (2017) and Rambo: Last Blood (2019).
To handle Hellboy, Millennium employed British director Neil Marshall. Marshall first appeared with the werewolf film Dog Soldiers (2002). With his next film, the word of mouth hit of the caving horror film The Descent (2005), Marshall was held up as the hope of the genre. Marshall subsequently went on to make the fairly solid post-holocaust film Doomsday (2008) and the non-genre historical film Centurion (2010) but then spent the rest of the 2010s in a limbo of stalled projects or directing episodes of television shows like Game of Thrones (2011-9), Hannibal (2013-5), Constantine (2014), Westworld (2016-22) and Lost in Space (2018-21), plus one of the episodes of the horror anthology Tales of Halloween (2015).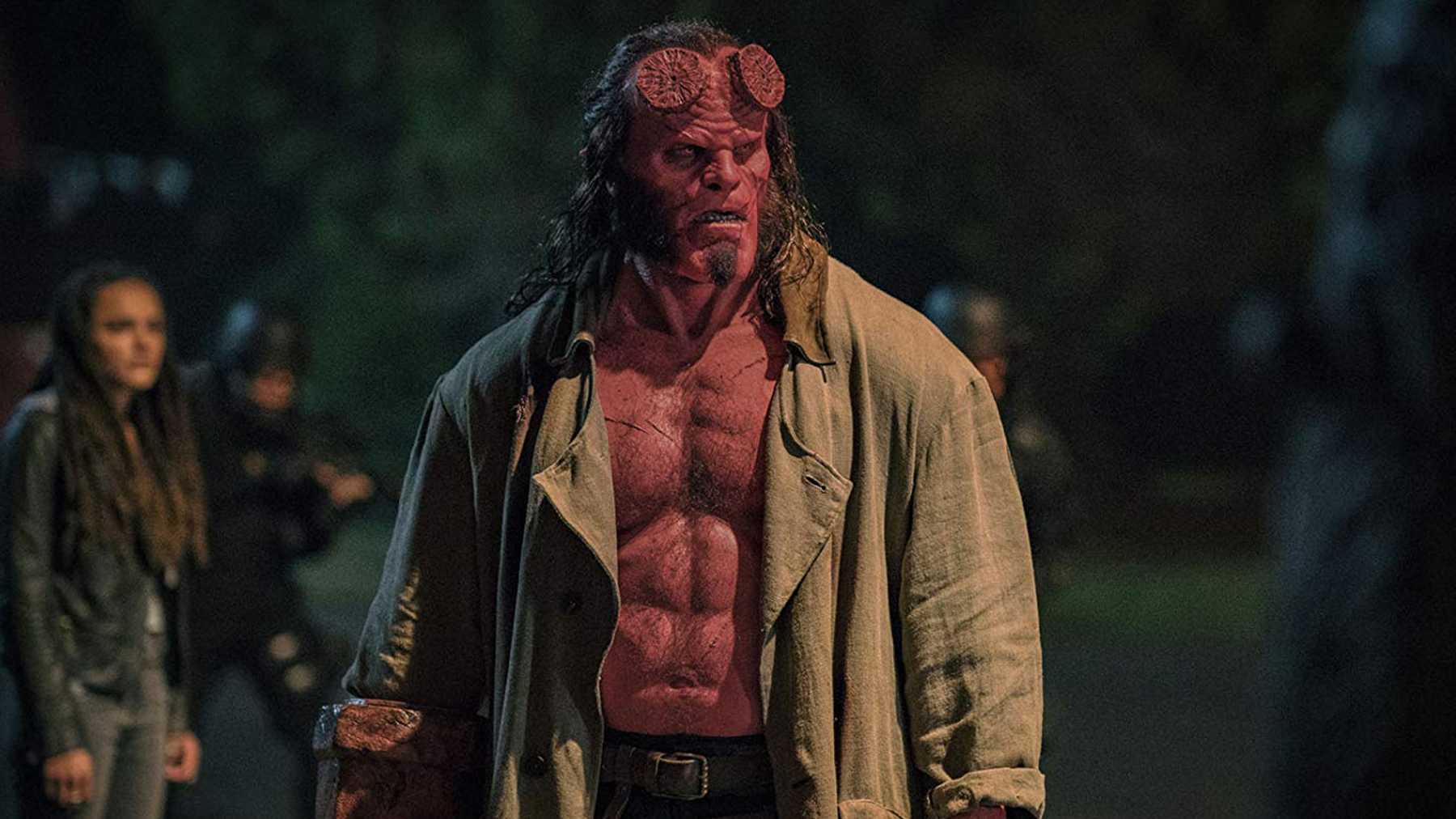 The Hellboy reboot is unlikely to raise Neil Marshall's profile any. The ambitions were clearly there – Mike Mignola even signed on as a producer, wrote original drafts of the script and spoke proudly about how this version would take Hellboy back towards the comic-books and something grittier. We can even see that Millennium were angling to create a series of Hellboy films – leaving Nimue's fate open-ended and dangling plot elements like the vengeful Baba Yaga and the way the end is set up to introduce other characters like Abe Sapien.
However, the result was to all accounts a problem production. An article published by The Wrap, details allegations that the producers overrode Neil Marshall's instructions on set, fired his original cinematographer and fought over the design of the tree, along with other claims of the script being rewritten during filming by the actors and clashes between Marshall and star David Harbour. It should also be noted that the article does not feature any direct quotes from any of these sources and the only quoted statements come from one of the producers' lawyers denying the allegations.
Expectedly, Hellboy ends up a mess. I am not familiar with the comic-books so cannot speak to as to how well it treats the source material in contrast to the Del Toro films. On the other hand, this definitely has far more of a comic-bookish tone than the other films and more of an action emphasis. Much of the plot has been streamlined to a hurtling rush from one creature encounter to the next. Often it feels like set-pieces – in particular a good part of the first thirty or so minutes with Hellboy fighting a vampire lucha libre in the ring, the giant hunt in England – that exist with only remote connection to what the main plot is actually about. The rest of the film feels like one where action and effects set-piece (which consists of some at times so-so CGI) drive the show and everything else is arranged around them.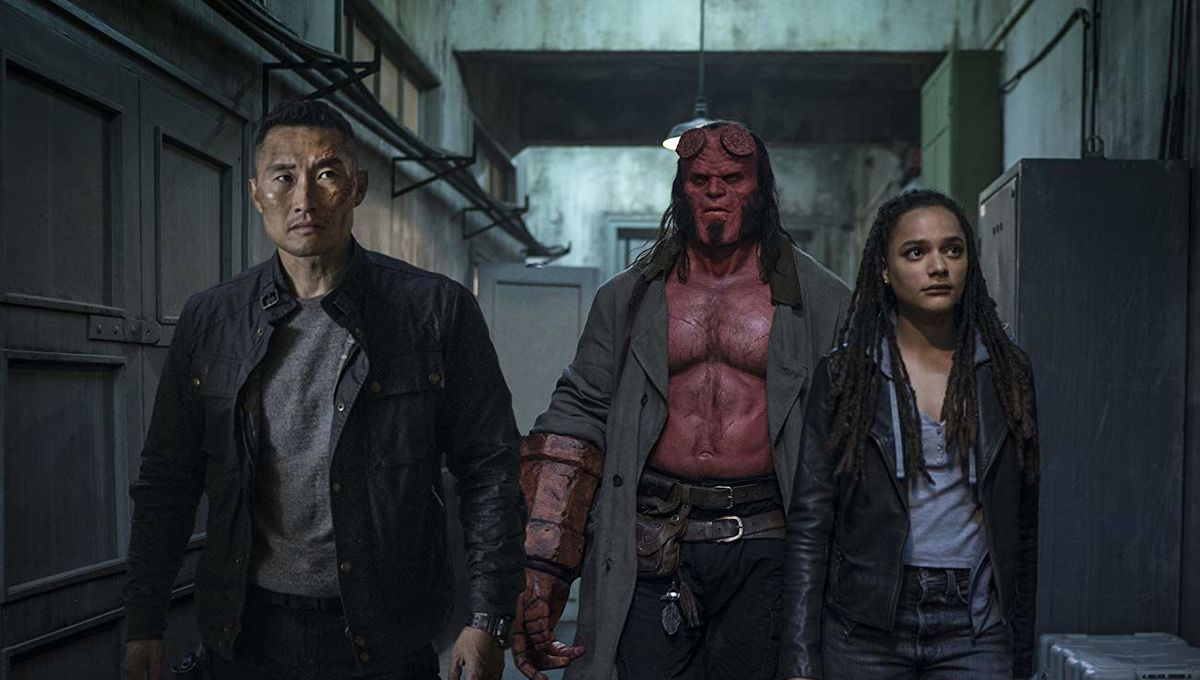 The worst part of the film is the casting of David Harbour, better known as the sheriff in tv's Stranger Things (2016- ). He makes for a dumpy Hellboy and fairly much kills the part whenever he opens his mouth. Harbour gives us Hellboy as a mopey slacker in a shabby trench coat where all of the dialogue is delivered in a grumpy sad sack monotone that could not feel more at opposite remove from Ron Perlman's dry sarcasm.
And that brings us to the dialogue, which is in a word excruciating. It feels like dialogue that is written by someone whose only prior experience is writing for inane sitcoms and who has been given orders to turn everything into a snappy one-liner – you can almost feel the characters pause as they wait for the laugh track to kick in. The lines grate on the ear the same way that fingernails on a blackboard do. The coming apocalypse is described as "If we weren't here, this would be Satan's holiday home." Hellboy redresses Nimue: "It's not going to work because I'm a Capricorn and you're fucking nuts!"
Neil Marshall next went on to make the witch persecution film The Reckoning (2020), which failed to improve things any, followed by the monster movie The Lair (2022).
---
---