---
Crew
Director – John Llewellyn Moxey, Teleplay – Peter S. Fischer, Producer – William Allyn, Photography – Arch Dalzell, Music – Laurence Rosenthal, Art Direction – Paul Sylos. Production Company – ABC Pictures International.
Cast
Michael Cole (Allen Miller), Janet Margolin (Karen Miller), Van Heflin (Senator George), Edward Asner (Barstow), Harry Guardino (Howard Drumm), Michael Larrain (Pete Sanderson), Kent Smith (Gus Iverson), Philip Bourneuf (Dr Tyler), Barbara Babcock (Shelley Drumm), Sondra Blake (Woman in Subway)
---
Plot
In the future, the US has mandated that couples only be allowed to have one child. The Population Control agency has been established to police this. Allen and Karen Miller have moved to New York City to hide the fact that she is pregnant a second time – their first child died shortly after birth but the law still mandates that they cannot have another. Allen comes under police investigation when he presents false identity papers and Karen is arrested shortly after. Due to Karen's well-connected brother Howard, all this is required by law is that she have an abortion. Allen refuses and they make a decision to become fugitives. Pursuing them is the determined Population Control inspector Barstow.
---
The Last Child was one of the early works from Aaron Spelling who went on to produce hit tv shows like Fantasy Island (1976-84), The Love Boat (1977-86), Charlie's Angels (1976-81) and Beverly Hills 90210 (1990-2000), among others. Before he became better known, Spelling dipped his producing toes into a number of genre tv movies, principally of the horror variety with the likes of Crowhaven Farm (1970), The House That Would Not Die (1970), How Awful About Allen (1970), A Taste of Evil (1971), Satan's School for Girls (1973) and Cruise Into Terror (1978), as well as the sf films The Love War (1970) and A Cold Night's Death (1973)
I had always assumed that The Last Child was a quick tv movie knockoff of the theatrically released Z.P.G. (Zero Population Growth) (1972), which has an almost identical plot about a future where childbirth is outlawed and a pregnant couple become fugitives. Contrarily, I find in researching it that The Last Child was released six months before Z.P.G. had its worldwide premiere so there goes that theory.
There is however undeniable comparison to be made between the two films. I can't really argue that The Last Child is a lesser copy of the other but instead I can reverse the argument and say that it feels like an embryonic telling of the ideas that Z.P.G. more successfully put into place. Z.P.G. has a number of holes and absurdities but what you cannot argue it does well is imaginatively convey many aspects of its future. By contrast, The Last Child has zero interest in its future – it is just the contemporary world, fashions, vehicles and locations but with the addition of a society where childbirth is outlawed. There's no sense of it taking place in a future, no sociological context given as to how such a totalitarian society might have come about. The only other aspect of the future that does get thrown in is the bit about people having their Medicare cut off at the age of 65, although you suspect that that is only there to provide a plot twist once Van Heflin is introduced.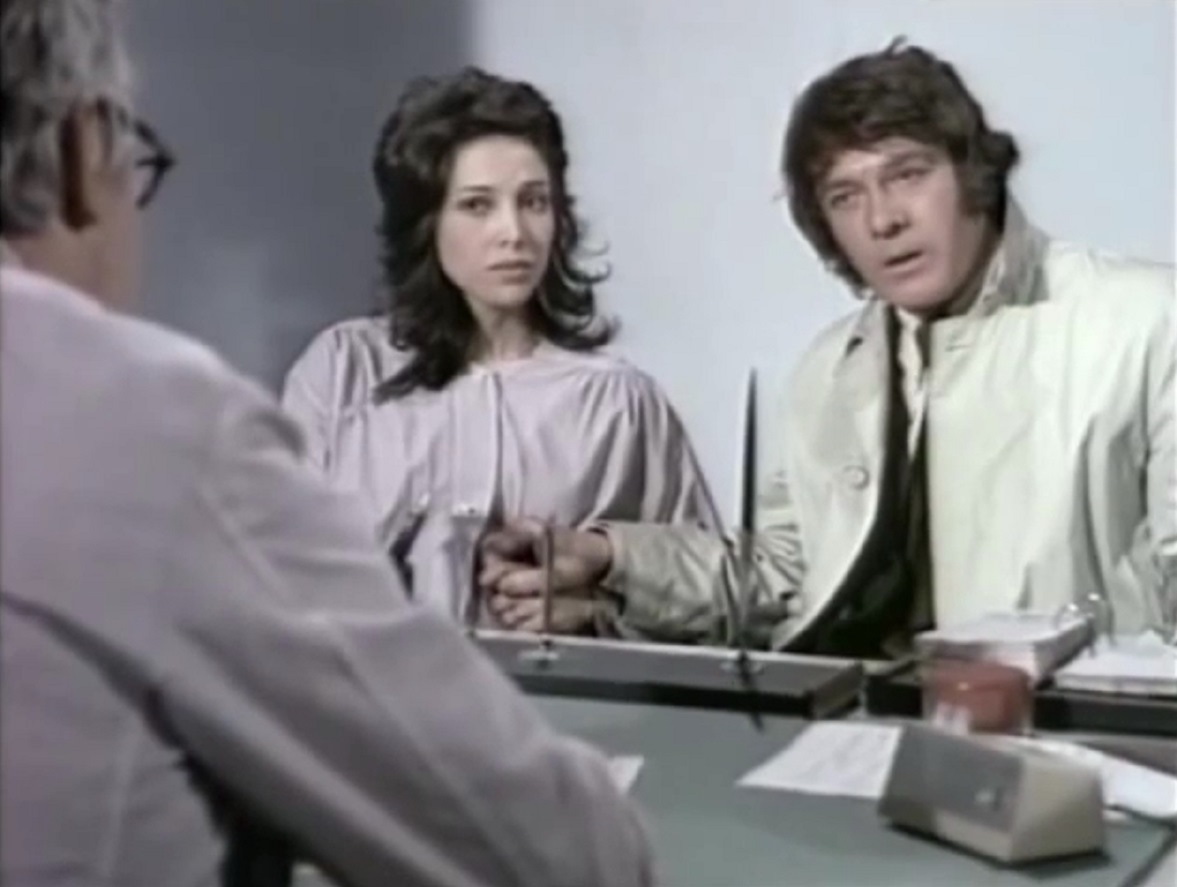 In actuality, The Last Child is not a dystopian film or a prognostication of a likely future so much as it feels like an illustrated argument. The film was made when Roe vs Wade was still in the courts (although would not be decided until after the film aired) and the issue of the right to abortion was a hot button topic in the US. What we have is something that essentially operates like an episode of The Twilight Zone (1959-63) where a character wakes up to find they are in a world where one essential things has changed with horrifying results (and just like The Twilight Zone, there is never any real concern about why).
In this case, what we have is a dramatised Right to Life argument where we are meant to be shocked that we have suddenly woken up in a world where childbirth is not exactly outlawed but where we are presented with a contrived set of circumstances whereby the state can forcibly afflict an abortion on a pregnant woman. There is a scene in the doctor's office where father of the child Michael Cole reacts in anger "How do you sleep at night?" and the doctor (Philip Bourneuf) replies with an uncomfortable twinge "Not very well," which seems inserted to make these very points. Looking back at the film from an era where abortion services are widely available and with this author being on the Freedom of Choice side of the fence, it feels hard to get outraged about these scenes as they were clearly intended to make audiences of the era.
Outside of its essential politicised thesis, The Last Child does not work very well as a film. It starts promisingly – the scene where the woman in the subway is found to be pregnant and arrested holds a sharp realism that seems to throw us into this world with some effect but thereafter things dissipate. The entire plot seems set up to have Michael Cole and Janet Margolin on the run as fugitives with a then unknown Edward Asner as the pursuing bad guy but even then the film lacks any real interest in creating suspense out of the situation. It is only right at the very end that we get a single car chase. Instead, as soon as they go on the run, the couple by whopping coincidence choose seats on a train right next to retired politician Van Heflin who becomes their benefactor and protector whereupon the third act of the film slows right down as they barricade up at his mansion.
Director John Llewellyn Moxey had started directing in the early days of the English horror cycle with films like City of the Dead/Horror Hotel (1959) and went onto numerous other works on US television including The House That Would Not Die, A Taste of Evil and the pilot for Charlie's Angels for Spelling, and elsewhere other tv movies like the classic The Night Stalker (1972), Gene Roddenberry's Genesis II (1973), Where Have All the People Gone (1974), The Power Within (1979), No Place to Hide (1981), I, Desire (1982), The Cradle Will Fall (1983).
The Last Child was the first script of Peter S. Fischer who became a prolific tv writer mostly on crime shows. Fisher is probably most famous as the creator of the tv series Murder, She Wrote (1984-95).
---
---