---
Crew
Director – Arnold Laven, Screenplay – Pat Fielder, Story – David Duncan, Producers – Arthur Gardner & Jules V. Levy, Photography (b&w) – Lester White, Underwater Sequences Directed by Paul Stader, Underwater Photography – Charles S. Weltham, Music – Heinz Roemheld, Special Effects Created by August Lohman, Special Effects Designed by Edward S. Haworth, Makeup – Abe Haberman, Art Direction – James Vance. Production Company – Gramercy Pictures
Cast
Tim Holt (Commander Twillinger), Hans Conreid (Dr Rogers), Audrey Dalton (Gail McKenzie), Gordon Jones (Sheriff Josh Peters), Mimi Gibson (Sandy McKenzie)
---
Plot
People in the vicinity of a naval base on the edge of California's inland Salton Sea are turning up dead. Scientists discover the existence of a giant prehistoric mollusc creature beneath the waters.
---
The Monster That Challenged the World is a variant on the 1950s atomic monster movie. It competently, if unremarkably, shuffles the basic tropes established by The Beast from 20,000 Fathoms (1953) and Them! (1954). By now, other atomic monster movies had started exhausting most of the giant-sized possibilities offered by the animal and insect kingdom and the film's idea of a giant mollusc seems rather insipid.
There is no atomic explanation offered but this could easily be an atomic monster and follows the formula in every other way – it is found on an army base near where atomic tests are being conducted, it appears following an unnatural cataclysmic event (an earthquake) and it leaves (never explained) radioactive gloop behind.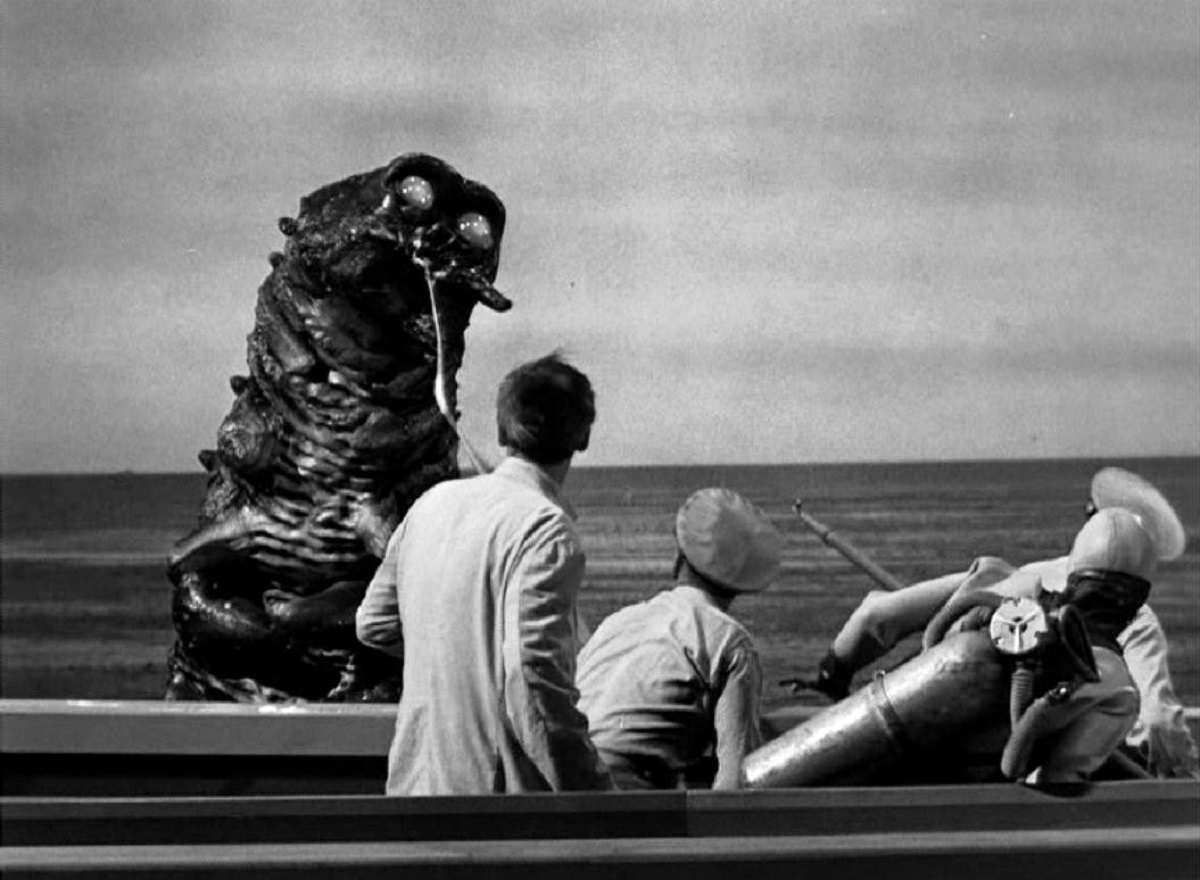 The Monster That Challenged the World chugs along more competently than some of its B budget peers, although is ultimately too prosaically conducted to be terribly interesting. There is a little too much running around the canals during the latter half – which provide visually interesting locations but are exploited for little drama. The monster looks interesting but is glassy-eyed in closeup. There is a promising venture down to the bottom of the lake to discover its lair but this is not milked for much suspense and is a dull set-piece. There is however a much better, more interestingly sustained sequence later with the monster emerging in the lab and menacing a mother and daughter. Other than that, The Monster That Challenged the World seems a run-of-the-mill variant on the 1950s atomic monster movie.
Director Arnold Laven mostly directed Westerns or worked in tv. His one other genre entry was the psycho film Without Warning! (1952). The story for the film comes from David Duncan who also wrote the English-language version of Rodan the Flying Monster (1956) and the original screenplays for The Black Scorpion (1957), Monster on the Campus (1958), The Thing That Couldn't Die (1958), The Leech Woman (1960), The Time Machine (1960) and Fantastic Voyage (1966).
---
---