(Kiseijuu: Kanketsuhen)
---
Crew
Director – Takashi Yamazaki, Screenplay – Ryota Kosawa & Takashi Yamazaki, Based on the Manga Parasyte by Hitoshi Iwaaki, Producers – Genki Kawamura, Keiichiro Moriya & Takahiro Sato, Photography – Shoichi Ato, Music – Naoki Sato, Visual Effects Supervisor – Kiyoko Shibuya, Production Design – Yuji Hayashida & Eri Sakushima. Production Company – Robot/Toho.
Cast
Shota Sometani (Shinichi Izumi), Eri Fukatsu (Ryoko Tamiya), Ai Hashimoto (Satomi Murano), Nao Omori (Shiro Kuramori), Tadanobu Asano (Goto), Hirofumi Arai (Uragami), Kazuki Kitamura (Takeshi Hirokawa), Jun Kunimura (Detective Hirama)
---
Plot
Following the death of his mother, teenager Shinichi Izumi continues a one-person war to eliminate the rest of the parasites with the aid of Migi, the parasite that possesses his right hand. The parasites have taken over city hall and hold a debate about whether they should eliminate Shinichi. Ryoko Tamiya urges caution as she is seeking coexistence with humanity. She has even adopted a child in an effort to become more human-like. She obtains the services of journalist Shiro Kuramori to follow Shinichi but Shinichi spots Kuramori and shows him the truth. Rogue elements at city hall then despatch Goto, an assassin who has five parasites controlling his body, to eliminate Shinichi and Kuramori.
---
Parasyte was a manga created by Hitoshi Iwaaki, first appearing in Morning Open Zokan magazine in 1988 before moving to Afternoon magazine a few issues later. The series continued until 1995 and runs to twelve volumes in English translation. The manga concerns Shinichi Izumi, a high school student who is infected by a parasite that takes over his hand with the two forming a partnership as they fight the other parasites that are intent on taking over the Earth. This was adapted into a live-action film Parasyte Part 1 (2014) by Takashi Yamazaki who followed that with this film, released five months later. Premiering three weeks before the first film came out was also the twenty-four episode anime series Parasyte – The Maxim (2014-5).
I enjoyed Parasyte Part 1 for the outlandishness of its effects – it could be The Thing (1982) relocated to a Japanese high school. The surprise about it is that Parasyte Part 2 trims back the effects and actually makes a much better film. Parasyte Part 2 is more character driven and there are some great arcs concerning Shinichi having to deal with the loss of Migi. Not to mention that it turns around to make us question everything about the first film. By the time it comes to military opening fire and the wholesale slaughter of the parasites you have moved from the first film where they were monsters to feel sympathy for them.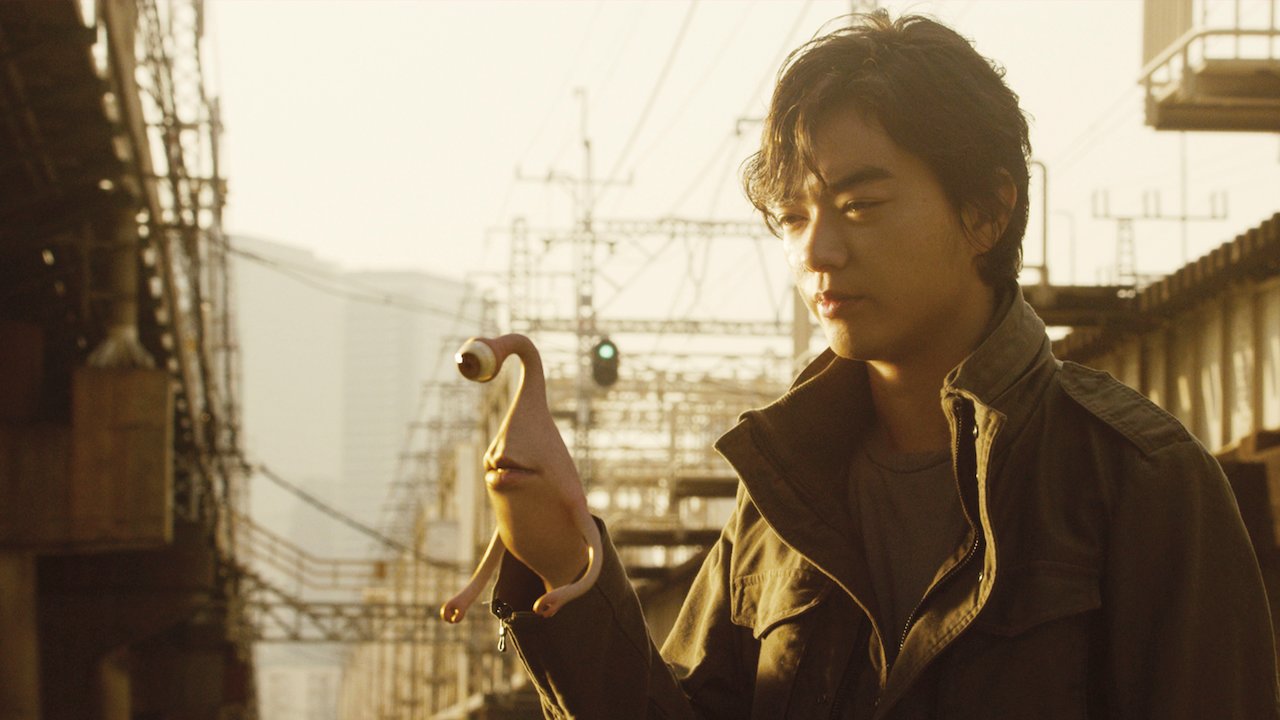 The best of these arcs is the character of Miss Tamiya (played by Eri Fukatsu), an outright villain in the last film, who is here becoming more human, arguing for cooperation and integration, even adopting a human baby and trying to teach herself to smile. The finest scene in the film is the one where journalist Nao Omori snatches the baby and threatens to drop it from a bridge at the zoo, where she quietly reveals her humanity in contrast to his hostility before stabbing a tentacle through him and gently taking the baby back and shielding it as the military open fire on her.
It is not that the creature effects are not there. They are just not given the big set-piece emphasis they were in the first film. There are still some fine effects with Shota Sometani being pursued by the assassin Goto whose body is controlled by five parasites, where Shota knocks off the head only for another of the parasites to crawl around and replace it and stand the body back up to continue the chase. In another scene, Eri Fukatsu is pursued by several attackers, turns to reveal a hollow cavity where her face is whereupon her pursuers are eliminated by the shards of her face piercing through them like bullets and then reattaching themselves to her. Or a great scene where Shota is attacked by Goto in the car, which crashes through the roadside fence and down a cliff just as Migi stretches out an elongated hand to the railing above to pull him free from the falling car.
Takashi Yamazaki who had previously made the science-fiction film Juvenile (2000) before having some success with the time travel action film Returner (2002) and going on to the live-action big-screen remake of the anime tv series Space Battleship Yamato (2010). Yamazaki also made Stand By Me Doraemon (2014), an animated spinoff from the popular anime series, and had a series of hits with the non-genre family films Always – Sunset on Chrome Street. Subsequent to this, Yamazaki made a further manga adaptation Destiny: The Tale of Kamakure (2017) and the animated films Dragon Quest: Your Story (2019) and Lupin III: The First (2019).
---
---