---
Crew
Director – Matthew Vaughn, Screenplay – Jane Goldman & Matthew Vaughn, Based on the Comic-Book The Secret Service by Dave Gibbons & Mark Millar, Producers – Adam Bohling, David Reid & Matthew Vaughn, Photography – George Richmond, Music – Henry Jackman & Matthew Margeson, Visual Effects Supervisor – Steve Begg, Visual Effects – Baseblack, Jellyfish Pictures (Supervisor – Philip Dupree), Nvizible (Supervisor – Matt Kasmir), Panton Creative (Supervisor – Chris Panton), Peerless (Supervisor – Paul Round) & Prime Focus World (Supervisor – Marc Jouveneau), Special Effects Supervisor – Steven Warner, Prosthetics Supervisor – John Schoonraad, Production Design – Paul Kirby. Production Company – 20th Century Fox/Marv Entertainment/Cloudy Productions/TSG Entertainment.
Cast
Taron Egerton (Gary 'Eggsy' Unwin), Colin Firth (Harry Hart/Galahad), Samuel L. Jackson (Richmond Valentine), Mark Strong (Merlin), Michael Caine (Arthur), Sofia Boutella (Gazelle), Sophie Cookson (Roxie Morton), Mark Hamill (Professor James Arnold), Samantha Womack (Michelle Unwin), Geoff Ball (Dean Baker), Edward Holcroft (Charlie), Hanna Alstrom (Princess Tilde), Bjorn Floberg (Scandinavian Prime Minister), Jack Davenport (Lancelot), Nicholas Banks (Digby), Jack Cutmore-Scott ((Rufus), Nicholas Agnew (Nathaniel)
---
Plot
The agent codenamed Lancelot is killed during a mission for the Kingsman secret service. Feeling responsible for the death, agent Harry Hart delivers a medal to his widow that contains a number on the back that she or her son can call if she ever needs a favour. Seventeen years later, her son Gary or 'Eggsy' has grown up an unemployed slacker. He is arrested after an incident where he goes joyriding in a stolen car. He uses the occasion to call the number on the back of the medal and is released from custody by Hart. Hart has been given orders to recruit a new Lancelot after the latest has been killed. After demonstrating his fighting prowess by defeating a gang of thugs seeking revenge against Eggsy, Hart persuades Eggsy to try-out for the Kingsmen. They are taken to a secret location where Eggsy and the other recruits are placed through a tough training regimen designed to eliminate all but one. At the same time, the agency realises they are on the trail of tech tycoon Richmond Valentine who has just released a SIM card that allows free access to mobile and internet networks worldwide. The Kingsmen discover that Valentine has also implanted key international figures with chips that can cause their heads to explode. This brings Valentine's up against the Kingsmen. They must go into action to defeat Valentine as he plans to activate the SIM card, allowing control of people all around the world.
---
Kingsman: The Secret Service was the fifth directorial film from British director Matthew Vaughn. Vaughn first appeared as a producer on several of Guy Ritchie's early films before making his directorial debut with Layer Cake (2004), a British crime film very much in the Ritchie mould. He first gained attention here with the fine adaptation of Neil Gaiman's Stardust (2007). This set Vaughn on a Hollywood career where he has primarily been associated with comic-book adaptations, starting with Kick-Ass (2010) and followed by X: First Class (2011) and now Kingsman, as well as acting as producer on other comic-book adapted properties such as Kick-Ass 2 (2013), X-Men: Days of the Future Past (2014) and Fantastic Four (2015), as well as Silent Night (2021), while he was at one point also listed to direct Thor (2011) before dropping out. Vaughn co-writes with Jane Goldman who has tuned the scripts for each of his films since Stardust, as well as other works such as The Woman in Black (2012), The Limehouse Golem (2016) and Miss Peregrine's Home for Peculiar Children (2016).
Kingsman is based on the comic-book The Secret Service (2012-3), which ran for six issues and was written by Dave Gibbons and Mark Millar. Millar in particular is a major name in comic-books and has delivered some classic titles including DC's Superman: Red Son (2003) and Marvel's The Ultimates (2002-4) and Civil War (2006-7). In recent years, there have been a number of films adapted from Millar's works including Wanted (2008), although that bore little resemblance to Millar's original work, and his previous collaboration with Matthew Vaughn on the Kick-Ass films. The Ultimates also formed the basis of the two animated Marvel films Ultimate Avengers (2006) and Ultimate Avengers II (2006), while there was also an animated adaptation of Superman: Red Son (2020) and the live-action tv series adaptation of Jupiter's Legacy (2021)..
Though Mark Millar has signed on as a producer, Matthew Vaughn and Jane Goldman have made a number of changes to the comic-book. Here they introduce the Kingsmen as a private security agency, whereas in the comic-book the agency is simply the existing British intelligence service MI6. Much emphasis has been placed on the importance of being a gentleman – to the extent the film's website even includes the rules of being a gentleman, while a menswear line was released as a promotional tie-in for the film.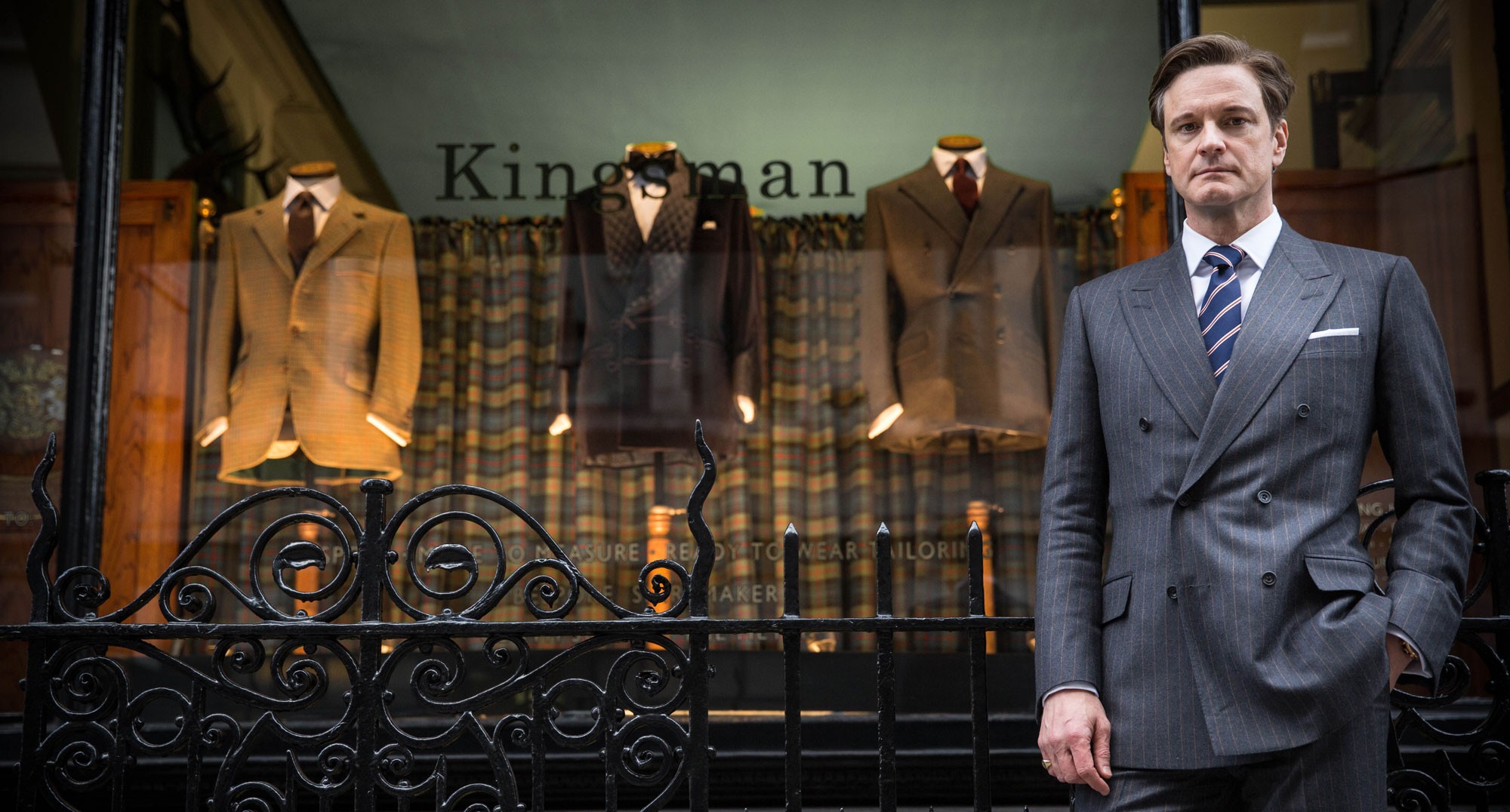 The names of characters have all been changed – in the comic-book, the villain was James Arnold who had a scheme that is replicated here but also involved abducting real-world celebrities. The only celebrity appearance we get here is an Obama lookalike, while the villain has been given a new name and James Arnold is now the scientist who is crucial to the scheme (and is played by Mark Hamill, which is an in-joke in that Hamill was the first celebrity to be kidnapped by the villain in the comic-book). The character of the henchman Gazelle was also a man in the book and is recast with Sofia Boutella here. There are also no codenames based on the Arthurian legends in the comic-book.
Matthew Vaughn stated that he regarded Kingsman as a way of reinventing the spy film. This was at its height during the 1960s with the James Bond films, the popularity of which led to a great many imitators and increasingly sillier copycats. The original Bond films however put down an imprint that has become the staple of the genre. After being reduced to parody throughout the 2000s with Austin Powers, International Man of Mystery (1997) and sequels and a host of mostly silly copycat spy parodies such as the Agent Cody Banks, Johnny English and Spy Kids films, Matthew Vaughn welcomely gives the spy film its balls back.
His film is no less a parody in its own way but it is also one that creates a suspension of disbelief in its own reality, which is not the case with Austin Powers et al, which draw audience-winking attention to their deliberate unreality. It is also a film that is very meta-aware in terms of genre and features several witty pieces of dialogue to this extent – like a scene with Michael Caine asking Taron Egerton why he called his dog JB and cycling through the possible answers – James Bond? Jason Bourne? before finally arriving at Jack Bauer (although the funniest conversation is the one with Colin Firth trying to find movie parallels to describe Taron Egort's makeover). Not to mention that the presence of Michael Caine is a nod to his appearing in the fine trilogy of Harry Palmer spy films in the 1960s – see Billion Dollar Brain (1967).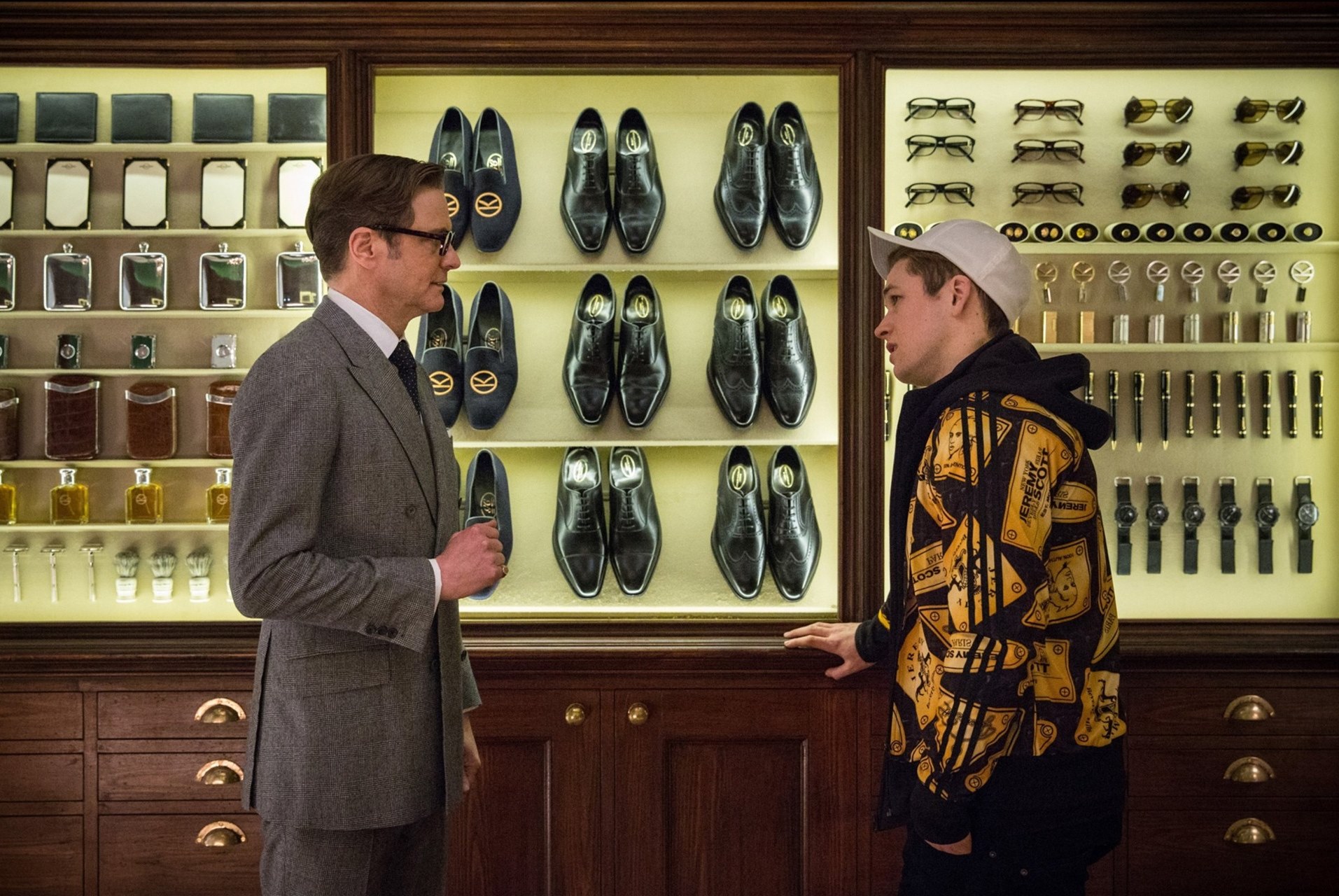 Part of the charm of the film – just like the recent Paddington (2014) – is its tongue-in-cheek celebration of its own Britishness. This is a film that makes a virtue of aspects of a British gentleman's life such as bespoke tailoring and Saville Rowe, Ascot and top hats, of taking the time to explain what oxfords and brogues are, where classic pieces of London life like the black cab secretly act as remote control cars and the brolly every British civil servant carries contains a bulletproof forcefield.
Although it was the something that was diluted through successive recastings of the role, James Bond always drew its image of the spy from the British private school and gentlemen's club snobbery – where the quality of the martini, one's hand at the baccarat table and the available woman in bed was as important as matters of state. Patrick MacNee's John Steed in the subsequent cult tv series The Avengers (1962-9) was a parody of the upper-class British gentleman as spy, going into action with umbrella, bowler hat and suit, greeting the most ridiculous of threats with perfectly droll understatement and good manners.
By contrast to these, Colin Firth is the spy as British civil servant – perfectly suited, umbrella at side and pair of horn-rimmed glasses (which of course brings back association with Caine's Harry Palmer) – although absent from this version is Patrick MacNee's jolly unflappable cheer and Bond's louche playboy demeanour. In the central role of Harry, Colin Firth plays the droll understatement to impeccable perfection. The trailer that went out with Firth in suit and glasses eliminating a roomful of thugs sold the film completely.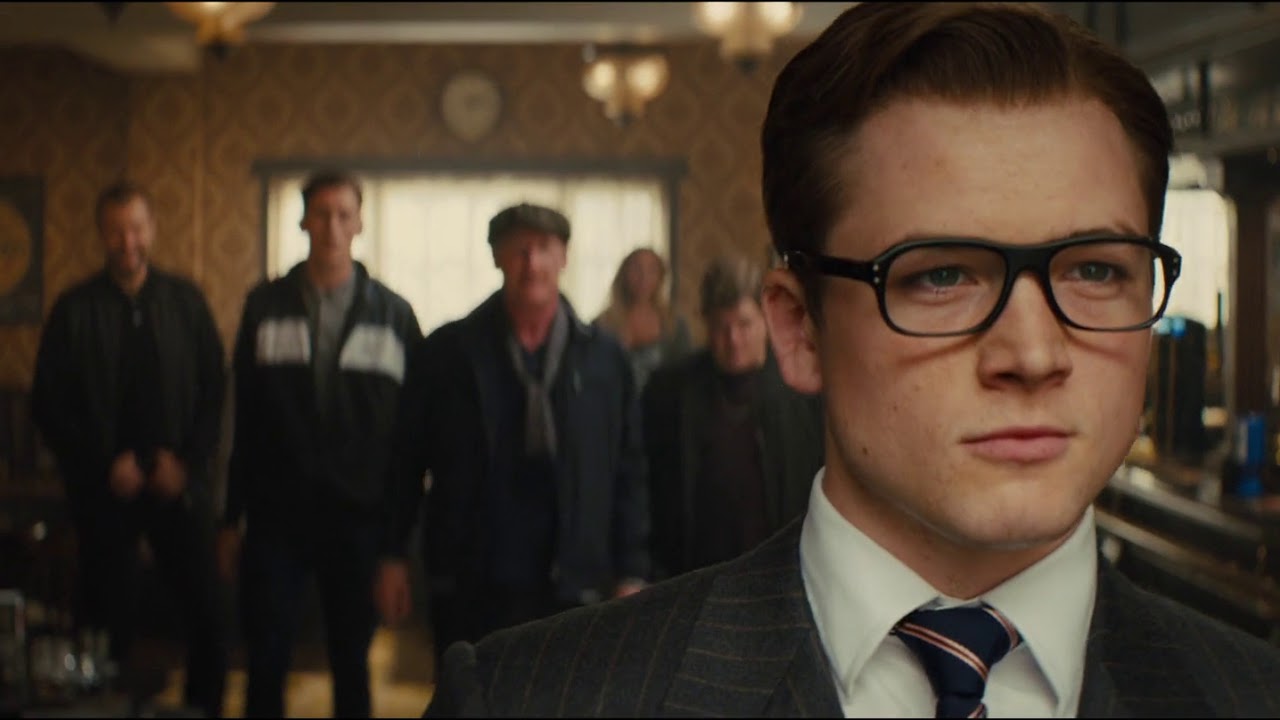 Kingsman: The Secret Service is at its best during the training sequences; slightly less so when it travels down more routine paths in taking on the villain (Samuel L. Jackson for some reason playing with a lisp). Here the film follows a standard plot of many of the modern spy film parodies – one is reminded in particular of Agent Cody Banks (2003) and Stormbreaker (2006) – with the young recruit undergoing a tough training regimen.
The film's pleasure turns out to be whenever Matthew Vaughn allows the action sequences to explode – from Sofia Boutella going into dazzlingly lithe action with razor-tipped leg prostheses to the aforementioned sequence with Colin Firth taking on thugs in the pub or eliminating dozens of attackers in a church to a breathlessly seat-edge skydiving sequence and Tagon Egort's run through the villain's headquarters at the end. The film completely rocks it in this regard. It also proves to be an absolute Q gadgeteers paradise. That and the perfectly droll sense of slyly mocking its own Britishness makes for an irresistible mix.
Matthew Vaughn and the same cast made a sequel with Kingsman: The Golden Circle (2017) and Vaughn is due to make a third film with the prequel The King's Man (2021).
(Nominee for Best Director (Matthew Vaughn), Best Adapted Screenplay and Best Actor (Colin Firth) at this site's Best of 2015 Awards).
---
---