---
Crew
Director – Frank Longo, Screenplay – Stuart Gibbs, Story – Stuart Gibbs & Russ Ryan, Producers – Craig Perry, Ash Shah & Warren Zide, Photography – Alan Caso, Music – Teddy Castellucci, Visual Effects – Stargate Visual (Supervisor – Sam Nicholson), Special Effects Supervisor – Dave Kelsey, Production Design – Charles Breen. Production Company – Zide Perry/Silver Nitrate.
Cast
Ali Landry (Kate Carson/Repli-Kate), James Roday (Max Fleming), Desmond Askew (Henry), Eugene Levy (Professor Jonas Fromer/Repli-Jonas), Todd Robert Anderson (Felix), Ryan Alonso (Derek Waters), Kurt Fuller (President Chumley)
---
Plot
Max Fleming is an assistant to Professor Jonas Fromer in the genetics department at Springdale University. He is working long hours on perfecting the Hyper-Replicator that will allow the cloning of any living thing placed inside it. Max bemoans to his co-worker/best friend Henry that he has no love life. Just then he meets the gorgeous Kate Carson, a journalist sent to cover their work. While there, Kate accidentally cuts herself. Unaware, Max places a slide with drops of her blood on it inside the Hyper-Replicator. He is startled to wake in the morning and find a clone of Kate in the lab, blank and innocent in all ways. Taking her back to their apartment, Henry decides it would be cool if they taught her to think and act like a guy does. However, after having a Kate that only watches sport, eats pizza and constantly wants sex, Max decides this may not be a good thing. He finds himself falling for the real Kate. However, keeping the fact he has clone of Kate a secret proves a major headache, not to mention creates chaos when the two get mixed up.
---
National Lampoon (1970-98) was the satirical American magazine, contrived with a sense of black and deeply offensive humour that made it a major institution during its heyday of the 1970s and early 80s. This was spun off into live theatre and records, which brought to prominence names like Chevy Chase, Bill Murray, Harold Ramis and John Belushi, among others. The magazine then lent their name to the hit film National Lampoon's Animal House (1978), after which a whole host of films bearing the National Lampoon name were spun out, the most well known of which were the Chevy Chase starring National Lampoon's Vacation (1983) and sequels. Repli-Kate comes with the legend 'National Lampoon Presents …' The poster also proudly announces that the film is "from the producers [Craig Perry and Warren Zide] of American Pie (1999)."
Repli-Kate comes with the vibe of a film like Weird Science (1985) or perhaps Virtual Sexuality (1999), comedies in which handwave science is somehow able to create the perfect girl/guy. Or maybe you could imagine some kind of collision between Multiplicity (1996) or perhaps Four Sided Triangle (1953) and the frat rat comedy patented by National Lampoon's Animal House (or American Pie). Here the handwave science is able to make a copy of James Roday's object of desire Ali Landry. Much predictable comedy ensues, all pitched at a fairly PG-rated level, mostly consisting of a series of energetic sequences based around identity confusion between the two copies of Ali. Ai Landry does a reasonable job in either role.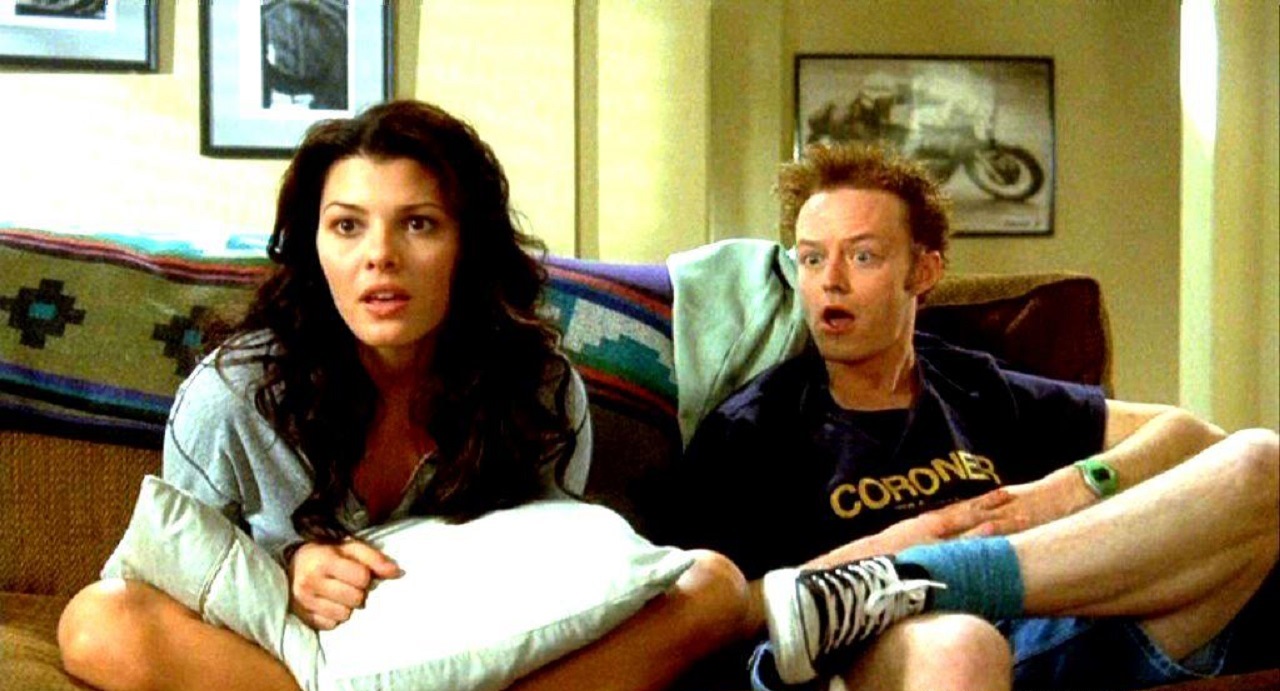 There's also a running gag about how Desmond Askew teaches the clone to act like a guy, which reverses sex role cliches and has her acting like a boorish jerk pursuing typical male pursuits, while James Roday is the one protesting against the constant requests for sex and saying he has a headache, It is all put together with a fair energy that never falters, nor ever topples over into the crass. It is in the end lightweight, fairly predictable and quickly forgettable.
Repli-Kate was directed by Frank Longo who works most of the time in the industry as an editor. The only other film Longo has directed was Contacting the Light (2008), a documentary about a woman's claims of alien abduction.
---
---