---
USA. 1996.
Crew
Director – Harold Ramis, Screenplay – Ramis, Lowell Ganz, Mary Hales, Babaloo Mandel & Chris Miller, Story – Miller, Producers – Ramis & Trevor Albert, Photography – Laszlo Kovacs, Music – George Fenton, Visual Effects – Boss Film Studio (Supervisor – Richard Edlund), Production Design – Jackson DeGovia. Production Company – Columbia.
Cast
Michael Keaton (Doug Kinney), Andie McDowell (Laura Kinney), Harris Yulin (Dr Owen Leeds), Richard Masur (Del King), Eugene Levy (Vic), John de Lancie (Ted), Ann Cusack (Noreen)
---
Plot
Doug Kinney is feeling overworked and that he never seems to have enough time to spend with his family. One day, while working at the Gemini Institute, he is approached by Dr Owen Leeds who offers a solution to his problems – cloning. Doug allows Leeds to make a clone of him. He takes the clone home, keeps in the guesthouse and then sends it to work in his place so that he can spend time doing the housework. When this too becomes overwhelming, he has a second clone made that represents his feminine side and loves doing housework. However, the two clones gather together to create a third clone which, due to their diluted genetic material, emerges as a drooling idiot. Keeping the clones hidden from his wife and others proves a major task. When Doug goes away on holiday, leaving the clones in charge, things spiral out of control.
---
Multiplicity is a comedy from actor Harold Ramis. Ramis originally started out as an actor on the famous SCTV (1976-81) comedy series, which led to various film parts. At the same time, Ramis also began to make a name as a comedy writer with scripts for the likes of National Lampoon's Animal House (1978), Meatballs (1979), Stripes (1981) and Back to School (1986), before he co-wrote and starred in the huge hit of Ghostbusters (1984). Ramis also began a tentative directorial career around the same time with various comedies like Caddyshack (1980), National Lampoon's Vacation (1983) and Club Paradise (1986). Ramis never flowered as a director until that joyous comic gem of Groundhog Day (1993). Following Multiplicity, Ramis went onto direct the likes of Analyze This (1999), Bedazzled (2000), Analyze That (2002), The Ice Harvest (2005) and Year One (2009).
Multiplicity sort of inverts the premise of Groundhog Day – where Groundhog Day had the same man experiencing the same events over and over, Multiplicity has people experiencing the same man over and over. Multiplicity is also a disappointment coming straight after Groundhog Day. Harold Ramis has a less tight hand on the material. It is too safe a comedy, only amiable where it feels it should have been uproarious.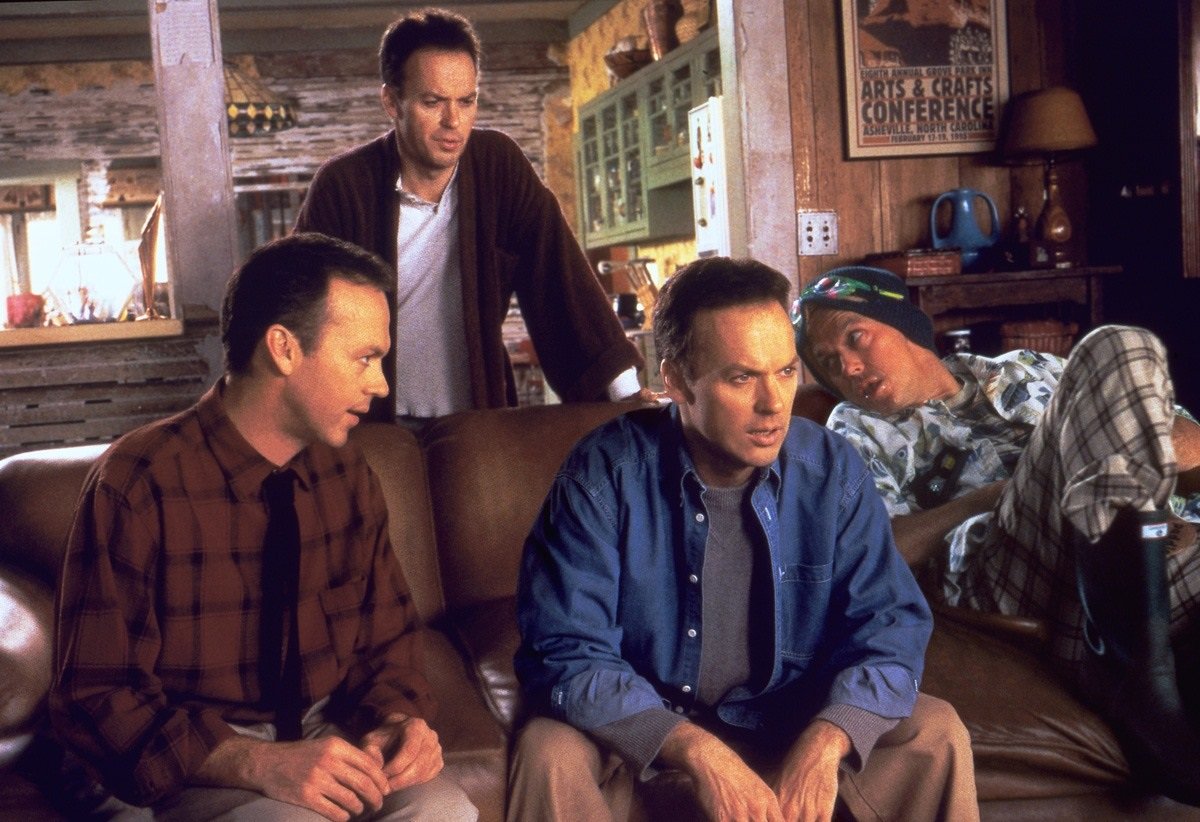 Multiplicity is certainly not an unlikable film. There are several scenes – like where the first two Michael Keatons try to avoid being spotted at the restaurant, or where Andie McDowell accidentally contrives to have sex with all three clones – that are very funny. Michael Keaton has a ball with the various parts, especially that of the effeminate clone and the vegetable – it is a highly accomplished performance upon his part. The technical triumph that allows all four personalities to interact is flawless.
While it is technically a science-fiction film, Multiplicity only uses its science-fiction to fantasy ends. The cloning premise is conducted with an off-screen sleight of hand that avoids any technical explanation. The script never deigns to explain why, for instance, each of the clones develops a different personality – surely if it were the same person being cloned each time what you would end up with would be an identical person? Or why, when it is stated that each of the clones has the memories and experiences of the other, the effeminate clone goes to pieces when asked to provide technical details at work – surely he would have the same abilities to carry the job off as the original? The script never addresses any of the ethical problems raised – if, for example, a clone were made of you, how would you (considering that you and it are the same person) feel if the sole purpose of being created was to be a menial slave doing housework and the jobs the other you could not be bothered to?
(Nominee for Best Actor (Michael Keaton) and Best Special Effects at this site's Best of 1996 Awards).
---
---