---
USA. 2002.
Crew
Director – Jay Roach, Screenplay – Michael McCullers & Mike Myers, Producers – John S. Lyons, Eric McLeod, Demi Moore, Mike Myers, Jennifer Todd & Suzanne Todd, Photography – Peter Deming, Music – George S. Clinton, Music Supervisor – John Houlihan, Visual Effects Supervisor – David D. Johnson, Sharks With Lasers – Edge Innovations, Special Effects Supervisor – Mike Meinardius, Makeup Effects – Michele Burke & Kurtzman Nicotero Berger EFX Group Inc (Supervisors – Howard Berger, Robert Kurtzman & Greg Nicotero), Production Design – Rusty Smith. Production Company – Gratitude International/Team Todd/Moving Pictures.
Cast
Mike Myers (Austin Powers/Dr Evil/Johan 'Goldmember' van der Smut/Fat Bastard), Beyoncé Knowles (Foxxy Cleopatra), Verne Troyer (Mini-Me), Michael Caine (Nigel Powers), Seth Green (Scott Evil), Michael York (Basil Exposition), Robert Wagner (No 2), Mindy Sterling (Frau Farbissina), Fred Savage (No 3), Nobu Matsuhisa (Mr Roboto)
---
Plot
Austin Powers is about to be knighted by the Queen for finally capturing Dr Evil but is saddened when his father, the famous spy Nigel Powers, fails to turn up to the ceremony. He then receives news that his father has gone missing. All evidence points to the person behind the disappearance being Johan van der Smut, a mad Dutchman with a fetish for gold who has even has his own genitalia replaced with gold, which has led to the nickname 'Goldmember'. Austin travels back in time to 1975 to stop Goldmember. He returns with CIA agent Foxxy Cleopatra as the escaped Dr Evil, who has brought Goldmember forward in time, plans to implement Goldmember's scheme to draw an asteroid made of gold towards Earth with a tractor beam.
---
Goldmember was the third of the Austin Powers films. The first of these, Austin Powers, International Man of Mystery (1997), was a very funny spoof of both the milieu of the James Bond films and more pointedly of the outmodedness of the Swinging Sixties superspy playboy image in the 1990s. The films made a cult out of their giddy cod-1960s nostalgia, with British colloquialisms like 'shag' becoming adopted into common usage in the US and phrases like "shag-adelic", "Bee-have" and "Ooooh yeah, baby" now having gone on into pop-culture recognition.
At the height of their popularity though, the Austin Powers films became a victim of their success. With the amiable second film, Austin Powers: The Spy Who Shagged Me (1999), the satire on the James Bond films had almost entirely disappeared and the film was dominated by the tone of surreal wackiness and schoolboyish scatological humour. Here it has become the entirety of the film.
For Austin Powers in Goldmember, everyone has been reunited – Austin, Dr Evil, a sulking Seth still trying to find the acceptance of his father, Mini-Me (who does a very cute turnaround to become a Mini-Austin), an unnecessary cameo from Fat Bastard, and all the familiar henchpeople. The film adds a couple of new characters – singer Beyoncé Knowles making her screen debut as a passable Pam Grier homage named Foxxy Cleopatra; a new villain – Mike Myers playing a fourth character, the titular Goldmember, in an outrageous Dutch accent; and the neat touch of casting Michael Caine as Austin's father – a tribute in that in the 1960s Caine played the horn-rimmed bespectacled, Cockney spy Harry Palmer that directly became the model for the Austin Powers look. (See Billion Dollar Brain (1967) for further detail about the Harry Palmer films).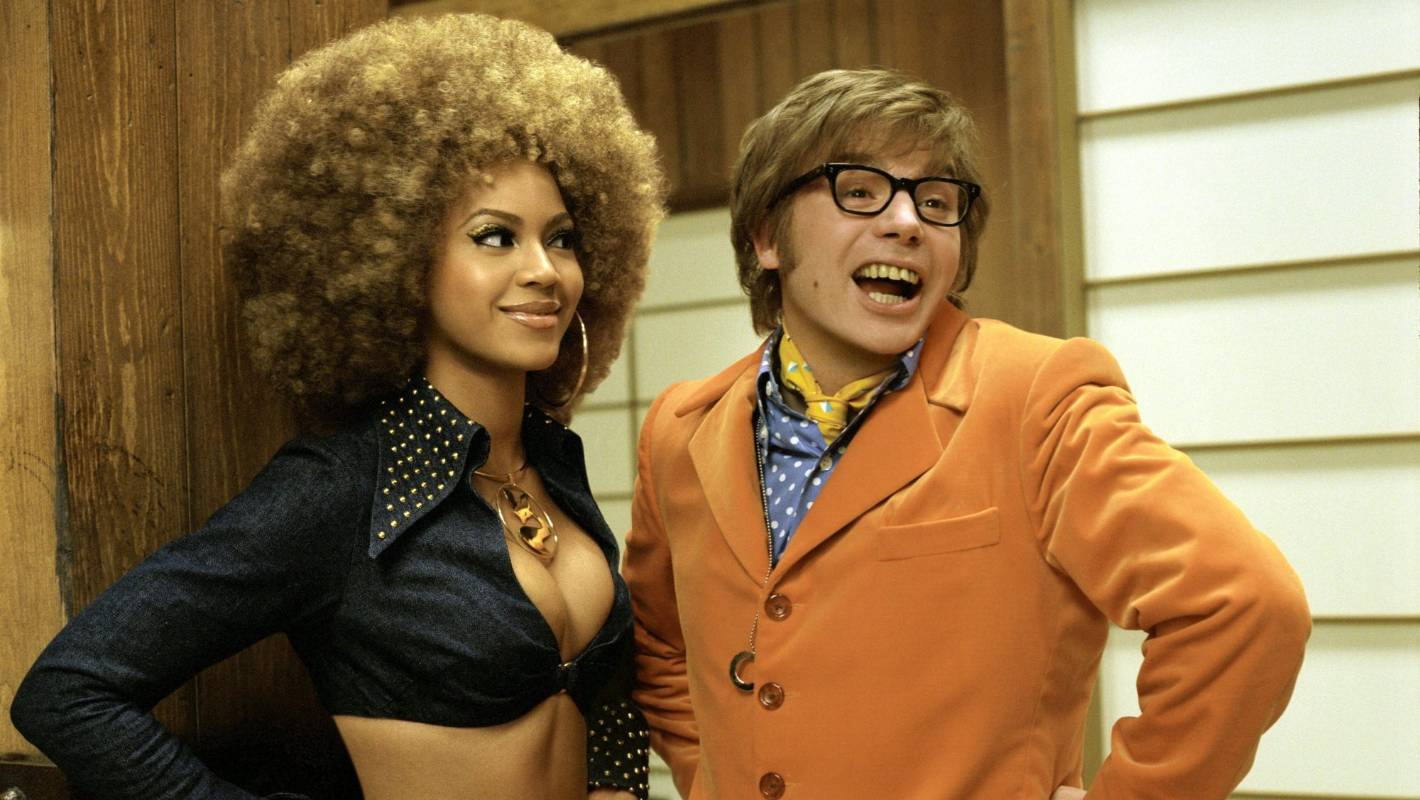 Needless to say, with so many characters sharing screen time, Austin Powers in Goldmember seems crowded. In fact, what it resembles (albeit in a far more intendedly spoofy way) is one of Joel Schumacher's Batman movie franchise monstrosities, Batman Forever (1995) and Batman & Robin (1997). In Schumacher's entries, the number of funny face characters that inhabited the previous Tim Burton Batman films was increased to the point where the films became a chaotic jumble more akin to a three-ring circus. Although the central difference between the Austin Powers and Batman films is that one actor is playing almost all the characters on screen here. While the Austin Powers franchise started as a parody of the James Bond films, now Mike Myers' preening, indulgent screen antics have outgrown everything else to the point that they dominate the entire show. There is almost nothing else to the film other than Mike Myers doing funny voices and scatological impressions with shadow silhouettes and peeing statues.
The film stabs in the general direction of quoting various other movies – vague intimations of James Bond films such as Goldfinger (1964), the Japanese sojourn of You Only Live Twice (1967) and the submarine incursion of The Spy Who Loved Me (1977), and other films such as The Silence of the Lambs (1991), Mission: Impossible II (2000), Godzilla movies, Blaxploitation cinema and The Matrix (1999)-styled wire-flying stuntwork. That said, none of it amounts to any particularly pointed spoof of any specific film scene so much as it seems a giddily effervescent silliness that occasionally careens in the direction of previous cinematic styles.
More importantly, none of it ever coalesces into a plot – you never find out what Dr Evil's scheme with the asteroid is meant to achieve, while the film flips over the place so much so that it is hard to tell which scenes are meant to be taking place in 1975 and which in the present. (It is never particularly clear, for instance, how Goldmember manages to kidnap Austin's father in the present-day before Dr Evil has brought him forward in time).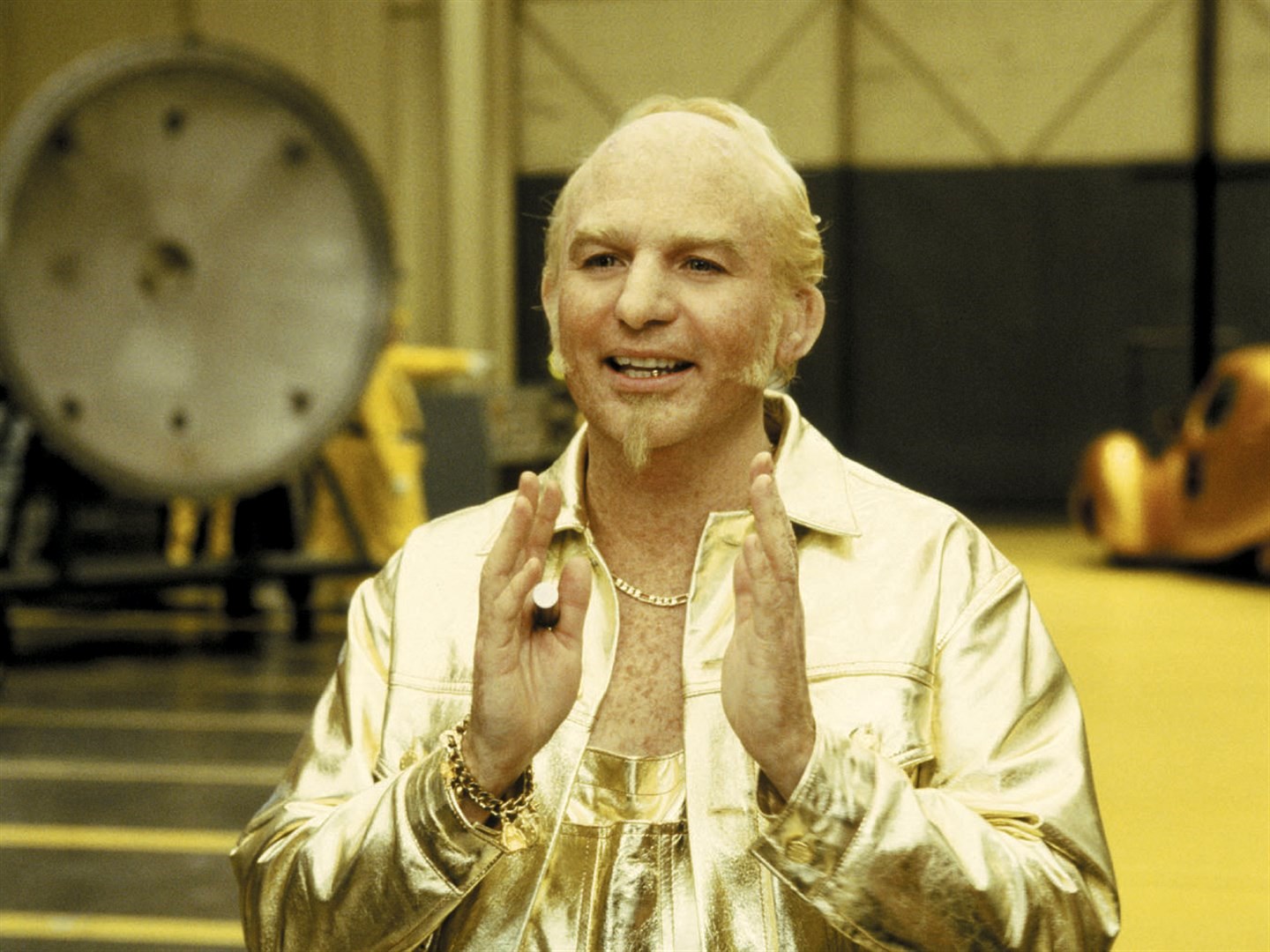 There are great many jokes breaking down the figurative fourth wall – characters referring directly to the screen, scatological humour playing around with partially obscured subtitles. There is a cute opening sequence set around the filming of an Austin Powers movie, which features some hilarious cameos from Tom Cruise playing Austin, Kevin Spacey as Dr Evil, Danny DeVito as Mini-Me, Gwyneth Paltrow, Britney Spears (as a fembot who gets her head blown off – yeah!!!!), and Steven Spielberg and Quincey Jones behind the camera, plus a cameo mid-film from tv's flavour of the week The Osbournes (something that will date the film quickly) and a very funny surprise appearance from John Travolta at the end of the film.
Overall though, Austin Powers in Goldmember seems a self-congratulatory film – and one where the wacky off-the-wall cuteness and playing to the camera is blatantly undercut by plugs for Taco Bell and the likes. The Austin Powers franchise has become an idea whose cuteness has outgrown itself – now would be a good time for the Austin Powers series to place itself into voluntary retirement.
(No. 6 on the SF, Horror & Fantasy Box-Office Top 10 of 2002 list).
---
---