---
Crew
Director – Barry Sonnenfeld, Screenplay – Robert Ramsey & Matthew Stone, Based on the Novel by Dave Barry, Producers – Barry Sonnenfeld, Tom Jacobson & Barry Josephson, Photography – Greg Gardiner, Music – James Newton Howard, Music Supervisor – Dawn Soler, Visual Effects – Industrial Light and Magic (Supervisor – Stephen Rosenbaum), Special Effects Supervisor – Michael E. Doyle, Animatronic Toad – Rick Lazzarini/The Character Shop, Production Design – Garreth Stover. Production Company – Jacobson Company/Sonnenfeld-Josephson/Worldwide Entertainment.
Cast
Tim Allen (Eliot Arnold), Rene Russo (Anna Herk), Stanley Tucci (Arthur Herk), Jason Lee (Puggy), Janeane Garofalo (Officer Monica Romero), Patrick Warburton (Officer Walter Kramitz), Tom Sizemore (Snake Duprez), Johnny Knoxville (Eddie Ledbetter), Denis Farina (Henry Di Salvo), Jack Kehler (Leonard Ferroni), Ben Foster (Matt Arnold), Zooey Deschanel (Jenny Herk), Dwight 'Heavy D' Myers (Agent Pat Greer), Omar Epps (Agent Alan Seitz), Sofia Vergara (Nina), D.J. Qualls (Andrew Ryan), Michael McShane (Bruce), Daniel London (John), Lars Arentz Hansen (Leo), Andy Richter (Jack/Ralph Pendick)
---
Plot
Eliot Arnold is a former top reporter with the Miami Herald who has quit to start a not-very-successful advertising agency. Eliot' son Matt borrows his car to go and conduct a prank where he 'kills' classmate Jenny Herk with a squirt gun as part of a campus game. At the same time, two hitmen arrive to wipe out Jenny's father and things start to go wrong. As the police are called, Matt and Jenny, as well as Eliot and Jenny's mother Anna, are attracted to one another. Things continue to spiral out of control as two moronic lowlife punks take Jenny and her father hostage along with a nuclear weapon. Eliot, Anna, Matt, the hitmen, two cops, a homeless nature lover, the FBI and the Russian Mafia become caught up in a frenetic chase to stop them before the bomb detonates.
---
In recent years, Barry Sonnenfeld has emerged from a cinematographer on various A-budget films to become a mainstream comedy director. Sonnenfeld first appeared as a director with The Addams Family (1991) and then went onto other hits such as Addams Family Values (1993), Get Shorty (1995) and Men in Black (1997). All of these are enjoyable light comedy films, even in the cases of the Addams Family films, ones that come with a subversively kinky bite. Alas, soon after this, Sonnenfeld began to go increasingly astray, making universally detested efforts such as Wild Wild West (1999), Men in Black II (2002) and RV (2006), where the confident comic assurance of the earlier films became buried under misguidedly overblown effects sequences and crude, noisy slapstick chaos.
Big Trouble came sandwiched in between the flops of Wild Wild West and Men in Black II. It is the only one of Barry Sonnenfeld's films so far to have been a complete washout at the box-office. The problem here was simply the ill-fortune of its timing. Big Trouble was shot in 2001 and scheduled for release toward the end of that year. However, in September of 2001 along came the attack on the World Trade Center and suddenly nobody could find the idea of a comedy about inept thugs getting aboard a passenger plane with a bomb funny anymore. Big Trouble was yanked from its schedule and barely even given a release in April of 2002, before being dumped straight to video.
Even had Big Trouble not been plagued by its coincidence to 9/11, one suspects it would not have been much of a hit anyway. In truth, it is not a particularly funny film. Barry Sonnenfeld has adapted a 1999 novel by syndicated humourist Dave Barry but is under the impression that he is trying to make a Coen Brothers comedy filled with blackly spiralling errors and character's misinterpretations. Unfortunately, Sonnenfeld lacks the black bite of the Coens – his only tone is one of loud, caterwauling slapstick chaos and he lacks any concept of subtlety. At the film's silliest point, Sonnenfeld gives us Stanley Tucci chasing maid Sofia Vergara around the house, trying to suck her toes.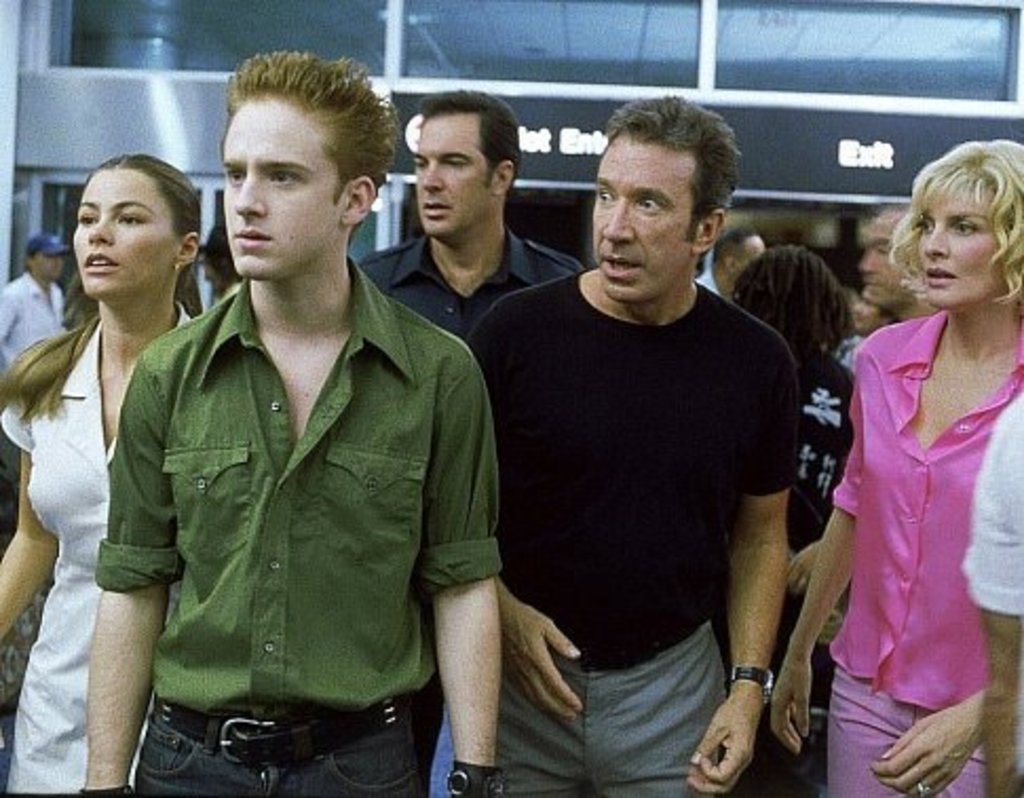 To its advantage, Big Trouble is not as bad a film as either Wild Wild West or Men in Black II were. It emerges sort of as a conceptual collision between Kiss Me Deadly (1955), the classic film nor thriller about the hunt for a nuclear package, and the ensemble slapstick comedy It's a Mad Mad Mad Mad World (1962). Certainly, with its large moderately well known cast running about, Big Trouble feels like it should have been a lot funnier than it is. You can almost see the bite that lurks beneath the surface but Sonnenfeld's handling is far too bland and the film fails to amount to anything of significance.
None of the cast give performances of any note, the exception being the great and underrated Janeane Garofalo, who has the ability to give a withering look that can cut through crap at 40 paces and always provides a fine presence in a film no matter how much the rest of it fails.
Barry Sonnenfeld's other genre films include The Addams Family (1991) and Addams Family Values (1993), Men in Black (1997), Wild Wild West (1999). Men in Black II (2002), Men in Black 3 (2012) and Nine Lives (2016). Sonnenfeld also produced the witty spoof James Bond tv series Secret Agent Man (2000), the live-action superhero spoof The Tick (2001-2), the tv series Pushing Daisies (2007-9) about a man with resurrection powers, the Lemony Snicket tv series A Series of Unfortunate Events (2017-9), the revival of The Tick (2017-9) and Schmigadoon! (2021- ) about a magic town that operates like a musical, and on cinema screens the Gothic children's film Lemony Snicket's A Series of Unfortunate Events (2004), the Disney animation spoof Enchanted (2007) and its sequel Disenchanted (2022), the animated Space Chimps (2008) and Men in Black: International (2019).
---
---