aka Pluto Nash
---
Crew
Director – Ron Underwood, Screenplay – Neil Cuthbert, Producers – Martin Bregman, Michael Scott Bregman & Louis A. Stroller, Photography – Oliver Wood, Music – John Powell, Visual Effects Supervisor – Nick Davis, Visual Effects – Cinesite (Europe), The Computer Film Co, Flash Film Works, The Mill Film Co, The Moving Picture Co & R!ot Pictures, Miniatures – Cinema Production Services Inc (Supervisor – Michael Joyce), Special Effects Supervisor – Gary Elmendorf, Production Design – Bill Brzeski. Production Company – Castle Rock Entertainment/Warners/Village Roadshow Pictures/NPV Entertainment.
Cast
Eddie Murphy (Pluto Nash), Rosario Dawson (Dina Lake), Randy Quaid (Bruno), Joe Pantoliano (Morgan), Jay Mohr (Tony Francis/Anthony Frankowski), Luis Guzman (Felix Larranga), Victor Varnado (Kelp), John Cleese (James), Peter Boyle (Rowland), Pam Grier (Pluto's Mother), James Rebhorn (Belcher), Illena Douglas (Mona Zimmer), Burt Young (Gino), Jacynthe Rene (Babette), [uncredited] Alec Baldwin (Michael Marucci)
---
Plot
In the year 2050 in Little America on The Moon, former smuggler Pluto Nash saves his good friend Tony from being killed by mobsters over unpaid debts. In return, Pluto agrees to take over Tony's bar. Seven years later and he has built the bar into Club Pluto, the most popular nightclub in Little America. When Pluto rejects a buyout offer from thugs working for crime kingpin Rex Crater, they blow the club up. Pluto, waitress Dina Lake and Pluto's android bodyguard Bruno go on the run, trying to avoid Crater's assassins and to find the enigmatic Crater himself.
---
Eddie Murphy is one of the great modern comedy talents. Eddie Murphy was one of the first superstar African-American comics at a time when there was only Richard Pryor out there before him. Other Black American comics like Chris Rock, Martin Lawrence and Chris Tucker have all built on the shoulders of Murphy's success. Murphy always gives his films a natural energy and charisma, something that manages to enliven even his bad films. Aside from that, Murphy has a talent for playing multiple roles and adopting disguises that makes him a modern successor to comic geniuses such as Alec Guinness and Peter Sellers. Some of his films – Coming to America (1988), The Nutty Professor (1996) and The Nutty Professor II: The Klumps (2000) – shine with Murphy's extraordinary dexterity for mimicry and disguise. Even Murphy's appearance in animated films such as Mulan (1998) and Shrek (2001), where he is limited to voice work only, are occasions where he manages to fairly much steal the show.
Certainly, Murphy's career is filled with a number of peaks and dips. There have been huge hits such as 48 Hrs. (1982), Trading Places (1993), Beverly Hills Cop (1992), The Nutty Professor and Dr Dolittle (1998), but these have also been followed by flops such as The Golden Child (1986), Harlem Nights (1989), Boomerang (1992), The Distinguished Gentleman (1992), Meet Dave (2008), Imagine That (2009) and A Thousand Words (2012). 2002 was a particularly bad year for Murphy with flops like The Adventures of Pluto Nash, I Spy (2002) and Showtime (2002), with Murphy even being nominated by the Golden Raspberry Awards as Worst Actor of the year for all three films.
Certainly, The Adventures of Pluto Nash did not seem a promising film. Its release had been promised since 2000 and delayed due to re-editing by a studio that clearly did not know what to do with it. When it was finally released in mid-2002, it was dumped into theatres by the studio without promotion. With a budget that reputedly exceeded the $100 million mark and it only earning $4.5 million in domestic US box-office rentals, The Adventures of Pluto Nash proved a colossal flop. There was a universally negative critical reaction, confirmed by its Golden Razzie nomination. For release outside of America, it was ever so cautiously retitled – with The Adventures of – being removed from the title and it sent out as just Pluto Nash, as though that would make any particular difference in its marketability.
Not unexpectedly, the film is a mess. The surprise about it is that there is the glimmer of a good science-fiction film inside. It has the feel of something that started out as a serious science-fiction film, as some type of action thriller set on The Moon. (In fact, the idea of a film set around a near future Moonbase/Moon-colonized setting has a good deal of potential. Think of what a hard technologist like James Cameron could do with the setting).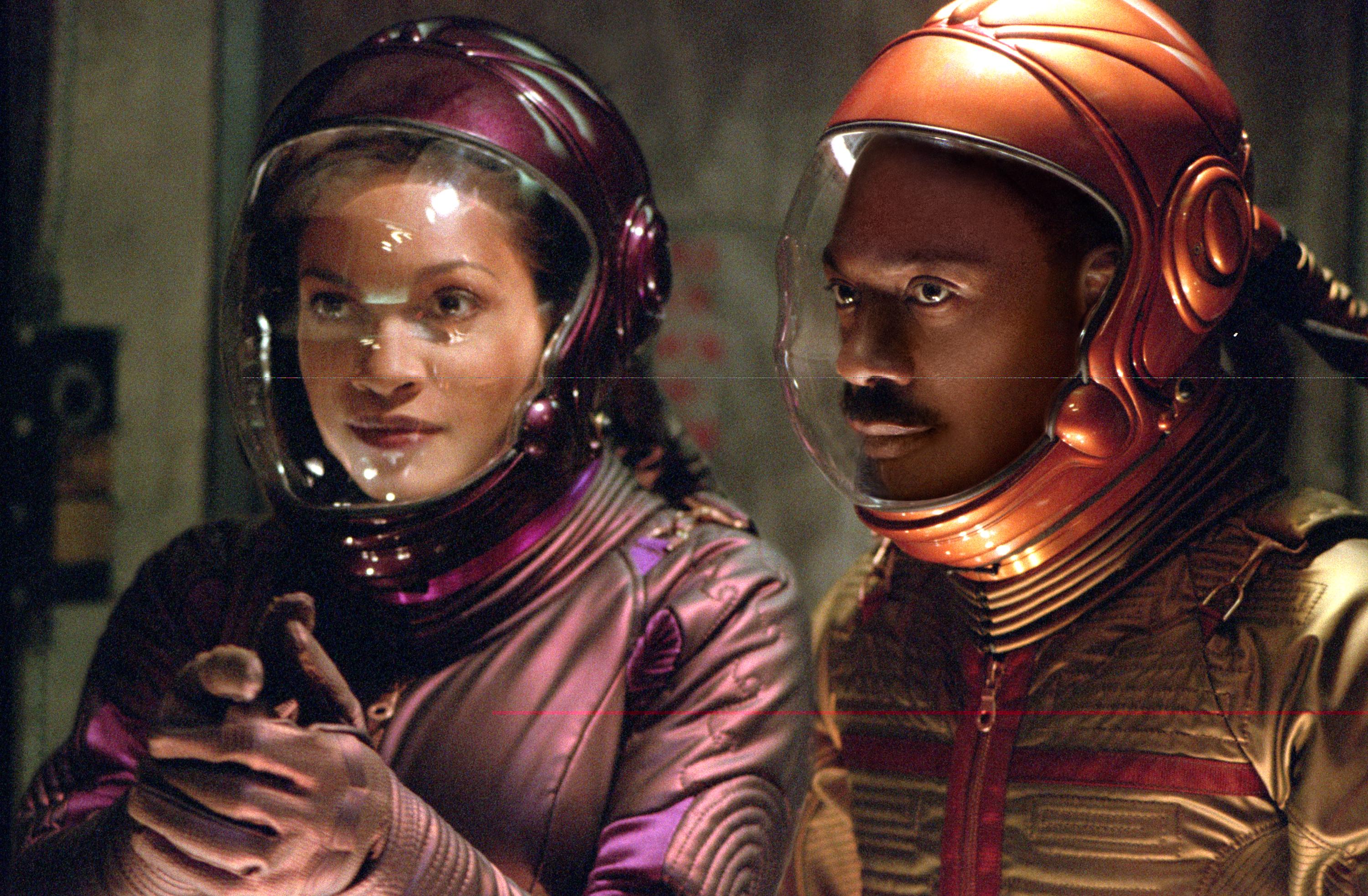 The great surprise of the film is how seriously it takes the Lunar setting – another film, for instance, would have played it for comedy and thrown in a bunch of ugly mug alien heavies. Pluto Nash instead concentrates on creating a credible Lunar culture. The pans up through the various levels of the Lunar underground have an impressive degree of detail. There are some nice touches – a visit to the science-fiction literary trope of the New You body shop and the intriguing problem of requiring police records in order to get a new body, the orchestra that is revealed to be one man at a keyboard or the Hillary Clinton banknotes, and the journey along the Lunar highway with signs indicating the way to the tourist site of the Neil Armstrong landing.
Oh, there are the usual sound effects in a vacuum, on the other hand, the film does an impressive job of showing a scientifically realistic explosive decompression – none of the usual nonsense about people's heads exploding and eyeballs bulging out of their sockets. Someone has even gone to the extent of looking up their Lunar geology enough to know what a rill is. These are details that show that at least someone in the writing and creative department knows their science-fiction and cares enough to add such touches.
And there are oddly effective poetic images – like that of Randy Quaid's android carrying Eddie Murphy and Rosario Dawson's unconscious bodies across the Lunar surface after their air passes out, only for his batteries to die and he left frozen holding two bodies, outlined against the rising of the Earth in the background; or where Eddie Murphy journeys across the highway and opens the window-roof of the car so that they can make a romantic journey under the starlight.
On the other hand, the rest of The Adventures of Pluto Nash sinks. It feels exactly like something that started out as a hard science-fiction Moon colony script and then ended up being put through the studio ringer and squeezed out of shape into being an Eddie Murphy comedy. The elements of Lunar thriller and Eddie Murphy comedy do not gel. Much of the thriller aspect is played for ungainly comedy, while at the same time the surprisingly serious emphasis on the setting almost entirely quashes the comedy. There are not many occasions when the natural infectiousness of Eddie Murphy's persona and his trademark monologues are allowed to emerge. It is a role that could have been played by anybody, even a non-comedy actor.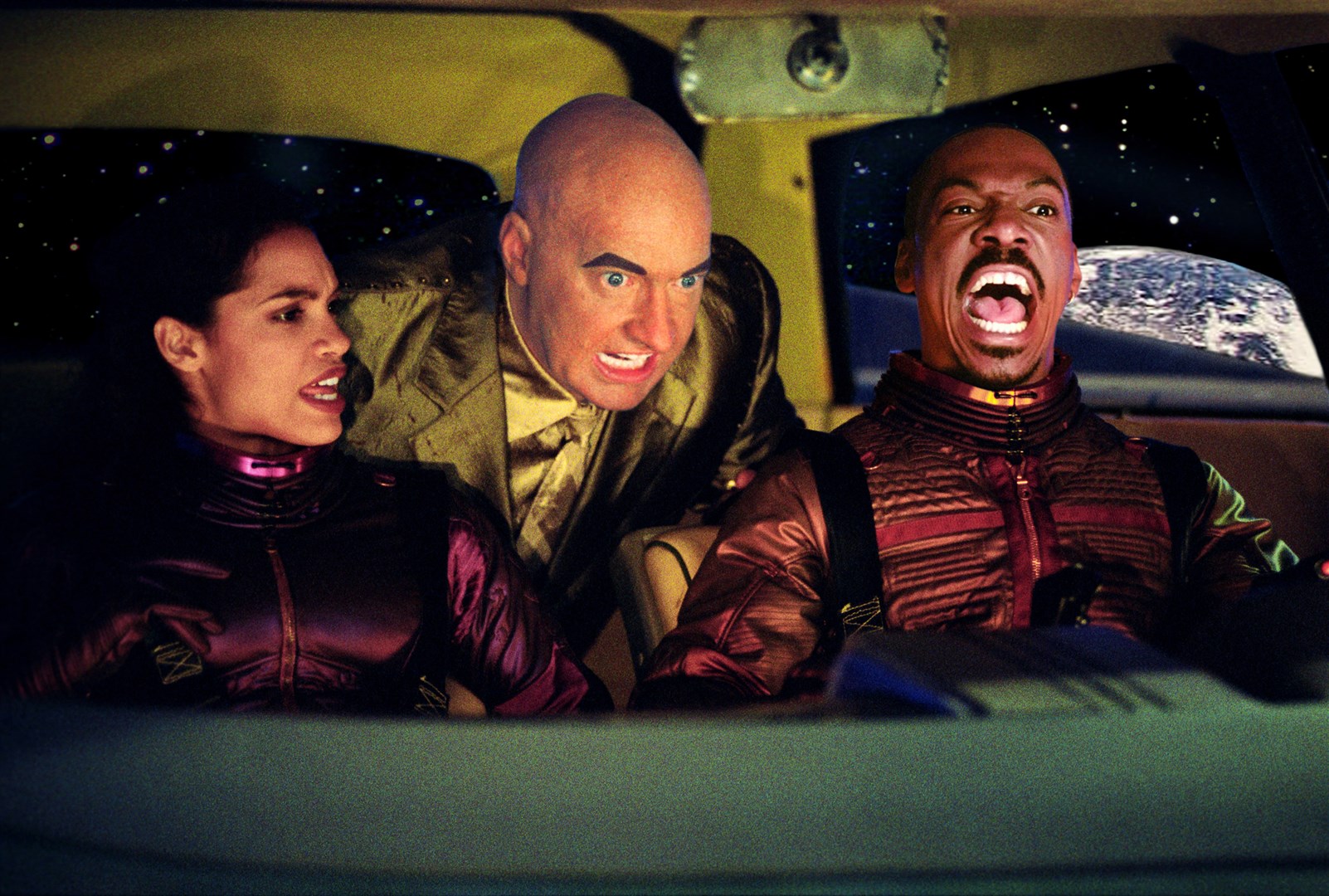 For all its credibility in creating background, the film fails to mount a terribly interesting plot – in other circumstances, this would only be a fairly flaccid, second-rate Vegas underworld thriller. At times it is surprisingly reminiscent of the underrated Moon Zero Two (1969) – both were films set on The Moon and feature a surprisingly serious plot that ended up being played for comedy; both featured a hero involved in smuggling who gets caught up in a plot by a big criminal to muscle in on Lunar territory; and both feature the hero and heroine making a journey by vehicle across the Lunar surface and a fight with thugs in the airless void.
One of the major things that brings The Adventures of Pluto Nash down is anything whatsoever to do with the androids. Certainly, Randy Quaid's performance has its occasional amusements. Despite the credible depiction of a Lunar society elsewhere, the android scenes are played for crude and illogical anthropomorphic behaviour at every other opportunity – they give sarcastic lip and refuse to be helpful to their owners and even worse demonstrate horny behaviour with Randy Quaid constantly being tempted by Murphy's French maid android Jacynthe Rene and even being found with her on his sitting on his knee at one point. The film's absolute low point is a scene where Randy Quaid is pursued through a casino by a horny female-personalitied one-armed bandit robot.
The Adventures of Pluto Nash was directed by Ron Underwood. Underwood has been a director of several genre associations. He debuted with the excellent monster movie Tremors (1990) and then passed through banal mainstream hits such as City Slickers (1991), the amiable afterlife light fantasy Heart and Souls (1993) and the Geena Davis comedy Speechless (1994). The entirely miscalculated remake of Mighty Joe Young (1998) proved Underwood's slide downwards and is something only confirmed by the massive flop of The Adventures of Pluto Nash and the purportedly even worse In the Mix (2005) subsequently.
The sad fact about The Adventures of Pluto Nash is that Ron Underwood doesn't seem sure what type of film he is wanting to make – a science-fiction film, an action film or an Eddie Murphy comedy. Both Tremors and Heart and Souls contained a dexterous blend of fantasy elements and comedy, The Adventures of Pluto Nash misses that altogether. Furthermore, Underwood's action scenes are poorly directed. Following such a failure, Underwood has been left directing holiday season tv fodder such as Santa Baby (2006), The Year Without a Santa Claus (2006), Holiday in Handcuffs (2007) and Santa Baby 2: Christmas Maybe (2009) and thereafter spending the 2010s making episodic television.
---
---