USA. 1997.
Crew
Director – Stuart Gillard, Screenplay – Greg Erb & Craig Mazin, Story – Greg Erb, Craig Mazin & Orin Aviv, Producer – Roger Birnbaum, Photography – Steven Poster, Music – Michael Tavera, Visual Effects Supervisor – Barry Watkins, Visual Effects – Cinesite Digital Film Center (Supervisor – Carlos Arguello), Perpetual Motion Pictures (Supervisor – Richard Malzahn), Planet Blue, Pop Film (Supervisors – Rocco Gioffre & Stuart Robertson), Pure Light Images (Supervisor – Michael P. Ferriter), Rainmaker Digital Pictures & Simex Digital Studios (Supervisor – Nick Bates), Miniatures – Sessums Engineering, Special Effects Supervisor – Jeff Jarvis, Makeup Effects – Thomas Burman, Production Design – Roy Forge Smith. Production Company – Roger Birnbaum Productions/Gold-Miller/Caravan Pictures.
Cast
Harland Williams (Fred Z. Randall), William Sadler ('Wild Bill' Overbeck), Jessica Lundy (Julie Ford), Beau Bridges (Bud Nesbitt), Jeffrey DeMunn (Paul Wick), Peter Onorati (Gary Hackman), James Pickens Jr (Ben Stevens)
---
Plot
NASA is having problems with the control guidance system in Pilgrim, the planned first manned Mars landing, with navigator Gary Hackman always managing to crash the lander in simulations. They approach the systems designer, the ultra-nerdy Fred Z. Randall, who sees that the problem is Hackman's lack of competence. In trying to prove that this is not the case, Hackman ends up cracking his skull. In order to allow the mission to go ahead, NASA's only recourse is to substitute Fred as navigator. In training, Fred proves a bumbling idiot. As Pilgrim launches, Fred continually gets under the skin of the self-important mission commander 'Wild Bill' Overbeck, nevertheless manages to charm co-pilot Julie Ford.
---
RocketMan – not to be confused with the subsequent Elton John biopic RocketMan (2019) – was a comedy made largely for children and released through Disney, although failed to have much success. Somebody somewhere clearly had the notion that the unknown Harland Williams would be the next major thing in comedy and created a vehicle around him. At the time, the Canadian-born Williams had developed a name as a stand-up comic, appeared in an HBO special and made two minor film appearances in Dumb and Dumber (1994) and Down Periscope (1996). Williams has since gone onto various other minor parts film since RocketMan, but has yet to win another leading role. These days, Williams does voice work in animation.
Harland Williams has clearly modelled his comic persona on Pee-Wee Herman. Pee-Wee Herman is very much a character that polarises audiences between hatred or kitsch adoration. That said, Williams's nasal ingenuousness is incredibly annoying. RocketMan is almost an uncredited remake of the Don Knotts vehicle The Reluctant Astronaut (1967), which had Knotts as a bumbling idiot working at NASA who ends up being chosen for a mission. In both films, the comedy consists of slapstick centred around said idiot's wake of chaos at the NASA facilities.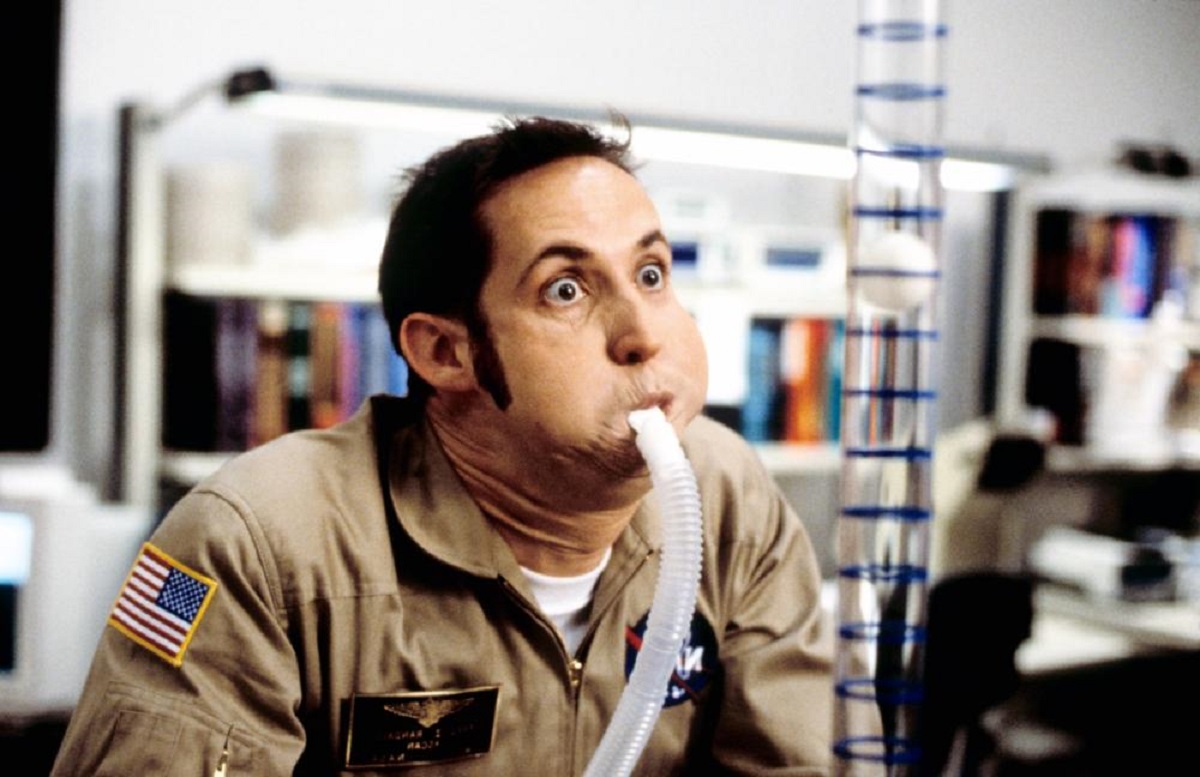 RocketMan only exists as a series of slapstick scenes – a g-force centrifuge goes off its cradle and crashes through the complex; Harland Williams undergoes a training exercise where he must blow to keep a ping-pong ball afloat but sends the ball bouncing around the lab; lots of irritating scenes aboard the shuttle with Williams conducting baby noises, Cowardly Lion impressions and singalongs of The Whole Wide World; and some extremely infantile and predictable gags with flush toilets and getting haemorrhoid cream mixed up with tubes of food paste.
The Martian surface sequences are technically proficient but again only put toward slapstick purposes – Harland Williams fouling up pompous mission commander William Sadler's dream of planting the flag on the Martian surface, and the inevitable scene where Williams and Sadler are forced to buddy up on an airtube and Williams farts into it.
Within genre material, director Stuart Gillard has also made the Disney tv movie Return of the Shaggy Dog (1987), Teenage Mutant Ninja Turtles III (1993), the monster tv mini-series Creature (1998), the Disney Channel films The Scream Team (2002), Twitches (2005) and Twitches Too (2007), the tv movie remake of The Initiation of Sarah (2006), WarGames: The Dead Code (2008), the tv mini-series adaptation of Philip Jose Farmer's afterlife books Riverworld (2010), the tv movie Avalon High (2010) and the tv movie Girl vs Monster (2012).
---
---