---
Crew
Director – Patrick Read Johnson, Screenplay – Patrick Read Johnson & Scott Lawrence Alexander, Story – Patrick Read Johnson & John Lau, Producer – Luigi G. Cingolani, Photography – James L. Carter, Music – David Russo, Visual Effects – Whiz-Bang Effects (Supervisor – John Knoll), Miniature Supervisors – Carl Horner Jr & Terry Huud, Enforcer Drone Robotics – Hamilton Prototypes, Special Effects Supervisor – Frank Ceglia, Makeup Effects – Criswell and Johnson Effects (Supervisors – John Criswell & Greg Johnson), Production Design – Tony Tremblay. Production Company – Smart Egg Pictures/Luigi G. Cingolani.
Cast
Douglas Barr (Sheriff Sam Hoaxley), Royal Dano (Wrench Muller), Ariana Richards (Kathy Hoaxley), J.J. Anderson (Brian), Wayne Alexander (Vern Pillsbury), Gregg Berger (Steve W. Klembecker), Fred Applegate (Deputy Russell Pillsbury), Patrika Darbo (Mrs Vanderspool), Kevin Thompson (Lieutenant Blaznee), Jimmy Briscoe (Captain Bipto), Tommy Madden (Giggywig), Debbie Lee Carrington (Dr Ziplock), Tony Cox (Corporal Pez)
Voices
Kevin Thompson (Lieutenant Blaznee), Jeff Winkliss (Bipto), Tony Pope (Giggywig), Joe Alaskey (Ziplock), Bruce Lanoil (Corporal Pez)
---
Plot
A radio station in the small town of Big Bean, Illinois, does a commemorative Halloween broadcast of Orson Welles's 1938 'War of the Worlds' radio play. This is picked up by a spaceship of real Martians who have become lost on their way to a war with Aldebaran and think that Earth is now the intended invasion target. However, when they arrive in Big Bean, the locals mistake the Martians for Halloween trick-or-treaters.
---
Blame it all on Steven Spielberg. After Close Encounters of the Third Kind (1977) and E.T. – The Extra-Terrestrial (1982), aliens were never the same again – they were made nice and no longer threatening. After our love affair with Spielberg and child-like wonder wore off, the only aliens that visited us are either hip, unserious or parodies of B-movie aliens – see the likes of ALF (1986-90), My Stepmother is an Alien (1988), Earth Girls Are Easy (1989), Coneheads (1993) and 3rd Rock from the Sun (1996-2001).
Spaced Invaders came in a year that threatened to hold a minor spate of Martian invader movies, although most of the projects, including the long-promised one based on the Mars Attacks bubblegum cards that would eventually end up as the Tim Burton Mars Attacks! (1996), fell by the wayside, with the exception of this and a dismal adaptation of Frederic Brown's Martians Go Home (1990) that hardly anybody saw. What is interesting about these films is that they were made in full awareness of their impossibility – ie. that there is no prospect of any intelligent life on Mars meaning that the only possible tone for them to take was as parodies of former Martian invader cliches, something that says much about the currently eviscerated state of the science-fiction film.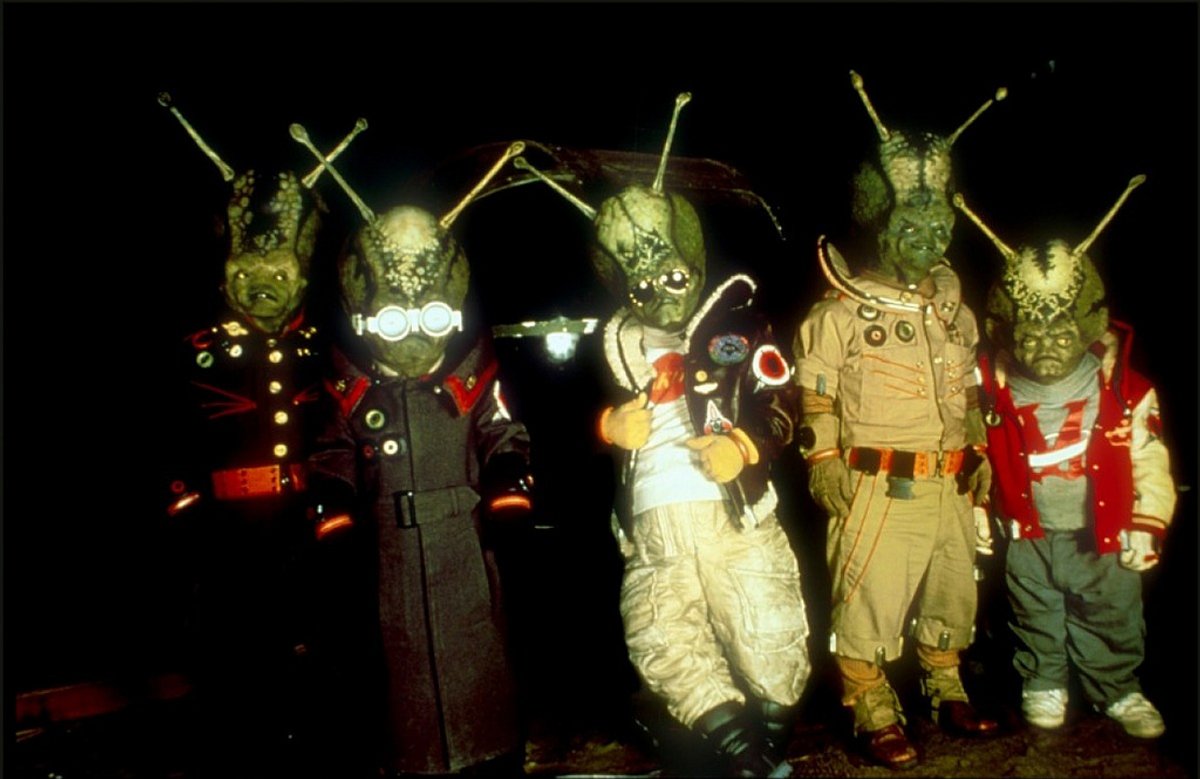 Spaced Invaders, which was bankrolled by Disney, is a sad failure. It did no box-office and nobody liked it. It has some good model effects and some highly convincing heads for the Martians but the technical quality on show only tends to highlight the sheer waste that the rest of the film is. It would be more consolable if Spaced Invaders were simply a bad film made cheaply, but that it is a bad film made expensively makes it seem even more of a waste.
The cleverness of the face-masks for the Martians is entirely undercut by the pratfalling inanity of the characters. The film operates on a level of lowbrow humour – it thinks creatures in strange masks spouting colloquialisms is humour – a scene with the Martians around a campfire singing "Oh give me a home where the asteroids roam" and one of them tapping his red boots and chanting "I want to go home" is dire. Worse the film repeats the slapstick caricaturisation of little people as being unable to do anything except trip up or, when in a group, hit each other all the time. There is nothing more to Spaced Invaders than a series of slapstick routines. There is however an intelligent performance from Ariana Richards who would go onto Jurassic Park (1993) fame a couple of years later.
Patrick Read Johnson went onto direct several other films including Baby's Day Out (1994), Angus (1995), the children's ghost story tv movie When Good Ghouls Go Bad (2001) and '77 (2017) about Star Wars fandom, which is based on Johnson's own childhood. Johnson has also written DragonHeart (1996).
---
Trailer here
Full film available online here:-
---