---
USA. 1999.
Crew
Director – Donald Petrie, Screenplay – Deanna Oliver & Sherri Stoner, Based on the TV Series Created by John L. Greene, Producers – Jerry Leider, Robert Shapiro & Mark Toberoff, Photography – Thomas Ackerman, Music – John Debney, Visual Effects Supervisors – Phil Tippett & John T. Van Vliet, Zott & Lizzie Monster Character Animation – Tippett Studio (Supervisors – Tippett & Craig Hayes), Visual Effects/Animation – Available Light (Supervisor – Van Vliet), Mars Sequence – Dream Quest Images (Supervisor – Tim Landry), Additional Visual Effects – Buena Vista Imaging, Hammerhead Productions Inc, Illusion Arts (Supervisors – Syd Dutton & Bill Taylor), Rainmaker Digital Pictures (Supervisor – Chris Kutcka), Station X Studios LLC (Supervisor – Meni Tsirbas), Roto Rooter Miniatures – 4 Ward Productions, Previsualization – Pixel Liberation Front & Team Work, Special Effects Supervisor – Mark Ratliff, Animatronic Effects – Amalgamated Dynamics (Supervisors – Alec Gillis & Tom Woodruff Jr), Production Design – Sandy Veneziano. Production Company – Disney.
Cast
Jeff Daniels (Tim O'Hara), Christopher Lloyd (Uncle Martin), Elizabeth Hurley (Grace Channing), Daryl Hannah (Lizzie), Wallace Shawn (Dr Elliott Coleye), Christine Ebersole (Lorelei Brown), Michael Lerner (Mr Channing), Shelley Malil (Felix), Ray Walston (Annitar)
---
Plot
TV news director Tim O'Hara is returning from a newscast that has gone wrong along with his object of affection, his boss's daughter Grace Channing, when he sees a UFO crash on a Santa Barbara beach. The occupant of the craft quickly shrinks the UFO and Grace dismisses it as a toy. The Martian occupant then takes human form, becomes invisible and sneaks into the back of Tim's car, travelling home with him. The Martian reveals himself to Tim and Tim allows him stay. Soon however Tim find his life overwhelmed by the Martian's zany abilities and different perspective on the world. To others Tim passes the Martian off as his Uncle Martin, while he tries to gather filmed proof of the Martian's existence for the scoop of the century. At the same time, Tim must deal with Grace, who, after discovering the truth, is determined to get the same scoop for herself, as well as government scientists who want to capture Martin, not to mention the spaceship's self-destruct mechanism that is about to detonate in a matter of hours.
---
My Favorite Martian was an amiable sitcom that emerged in the fall of 1963. (The series may well have taken its inspiration from the recent Visit to a Small Planet (1960) with Jerry Lewis). Ray Walston was cast as the zany Uncle Martin, a Martian visitor who turns the life of newspaper reporter Tim O'Hara (Bill Bixby in his first leading role) upside down. The series was conceptually slight and soon came to wear out its limited potential, although it did manage to stay on the air for three seasons and a total of 107 episodes. The major influence it had was that it popularised the sitcom idea of wacky extraterrestrials who fail to understand human culture and turn the lives of ordinary humans upside down that was used by later tv series such as Mork and Mindy (1978-82), ALF (1986-90) and 3rd Rock from the Sun (1996-2001).
This film version of My Favorite Martian joined a host of other big screen adaptations of 1960s and 1970s tv shows that came out in the 1990s-2000s. Others included the likes of The Addams Family (1991), The Beverly Hillbillies (1993), The Fugitive (1993), Car 54, Where Are You? (1994), The Flintstones (1994), The Brady Bunch Movie (1995), Flipper (1996), Maverick (1996), Mission: Impossible (1996), Leave It to Beaver (1997), The Saint (1997), The Avengers (1998), Lost in Space (1998), The Mod Squad (1999), Wild Wild West (1999), Charlie's Angels (2000), I Spy (2002); Scooby-Doo (2002), Starsky & Hutch (2004), Thunderbirds (2004), Bewitched (2005), The Dukes of Hazzard (2005), The Honeymooners (2005), Miami Vice (2006), Transformers (2007), Get Smart (2008), Speed Racer (2008), Land of the Lost (2009), Star Trek (2009), The A-Team (2010), Yogi Bear (2010), Dark Shadows (2012), The Sweeney (2012), 21 Jump Street (2012), The Equalizer (2014), Jem and the Holograms (2015), The Man from U.N.C.L.E. (2015), Dad's Army (2016), Baywatch (2017), CHiPs (2017), Fantasy Island (2020) and The Munsters (2022).
Alas, My Favorite Martian feels not as though it were being mounted by fans of the original – which was hardly a cult item – but by a group of people strip-mining pop culture in search of a product that came with a built-in merchandising crowd. As with almost all of the abovementioned films, My Favorite Martian seems but a pale shadow of the original.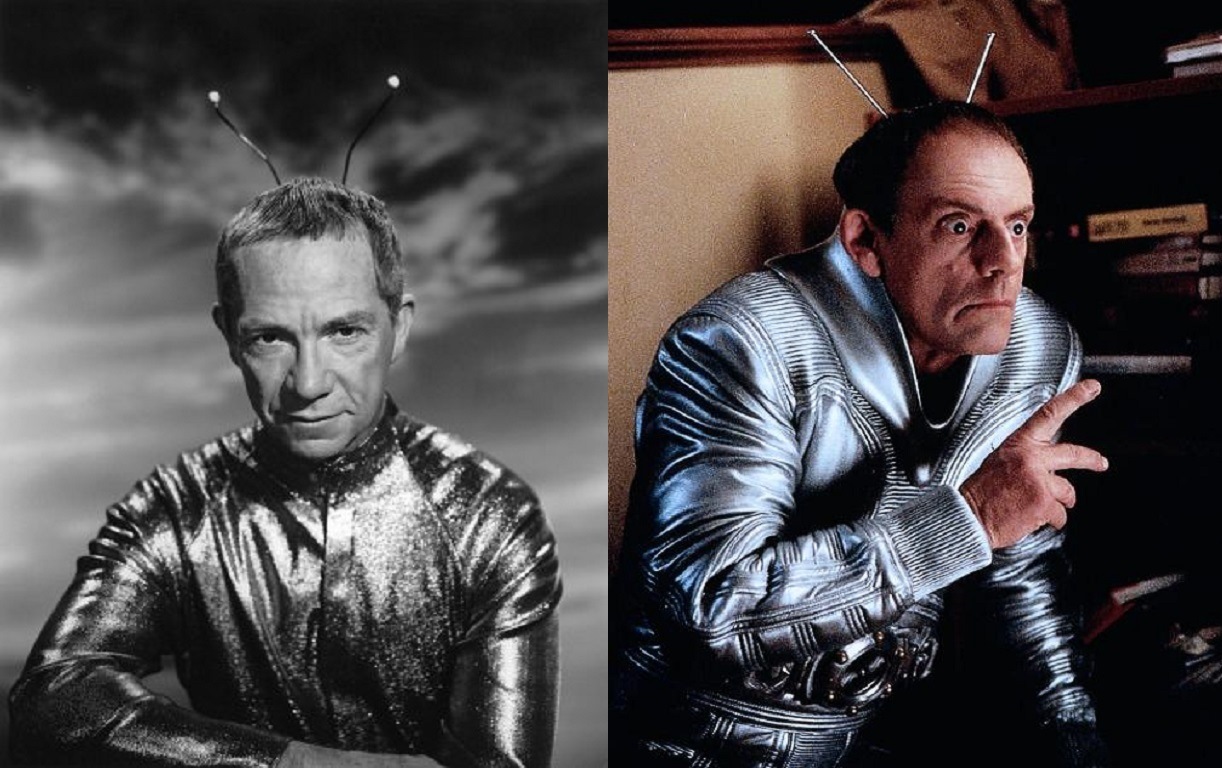 My Favorite Martian has only been slung together as a series of gags centred around the basic theme of a wacky alien visitor come to stay. The original series was never much more than that either but the film inflates the amiable structure of a half-hour sitcom with a great deal of slapstick and cheap CGI gags. There is a cute opening gag with a Martian Lander coming to the edge of a rock and reporting seeing nothing back to Ground Control, only for the camera to pan up and over the rock to show a Martian city buzzing with life beyond. Alas the best gag comes before the film even starts.
The single most annoying part about the film is The Suit. In this regard, the film reminds of Disney's then-recent Flubber (1997), which bumped the basics of The Absent-Minded Professor (1961) up with cutsie robots and CGI morphing flubber. Now we have the addition of an annoyingly cutsie morphing spacesuit. While Christopher Lloyd's Uncle Martin demonstrates a complete innocence's view of Earth culture, The Suit contrarily drops pop culture reference and in-jokes like they were going out of fashion – colloquial gags about Tiger Woods, Jimmy Hoffa, Elvis, "Arnold and Jean-Claude" and The Spice Girls. Not to mention witless slapstick sequences with it dancing and wiggling its butt and developing a case of lust for a swimsuit. The only tone throughout the film is that of manic slapstick.
The dubious highlights are scenes with Jeff Daniels trying to hide Christopher Lloyd's detachable limbs under sofa cushions and a sequence with a miniaturized car racing down through the sewers pursued by a Roto-Rooter and emerging out of a toilet bowl. The CGI effects look disappointingly cut-rate and cheap. Christopher Lloyd plays to the gallery with the eye-rolling that has become his trademark, while Elizabeth Hurley overacts badly.
Director Donald Petrie is best known for Chick Flicks and romcoms like Miss Congeniality (2000), How to Lose a Guy in 10 Days (2003) and My Life in Ruins (2009). Petrie's other genre efforts are the comic-book adaptation Richie Rich (1994) and the incredibly unfunny Lindsay Lohan teen comedy Just My Luck (2006).
---
---