---
Crew
Director – J.D. Dillard, Screenplay – J.D Dillard & Alex Theurer, Producers – Eric B. Fleischman, Sean Tabibian & Alex Theurer, Photography – Ed Wu, Music – Charles Scott IV, Visual Effects Supervisor – Salvatore Sciortino, Visual Effects – Kelvin Optical, Special Effects Supervisor – Joel Hebner, Makeup Effects – Prell Charusanti, Production Design – Susannah Honey. Production Company – Diablo Entertainment.
Cast
Jacob Latimore (Basjir 'Bo' Wolfe), Seychelle Gabriel (Holly), Dulé Hill (Angelo), Storm Reid (Tina Wolfe), Sasheer Zamata (Georgi), Cameron Esposito (Luna), Michael Villar (Packy), Brandon Johnson (Ramone), Mane Andrew (Maurice), Frank Clem (Mr Granger)
---
Plot
Bo is young street magician living in L.A. He has to support his younger sister Tina following the death of their mother. To do so, he has had to turn to working as a courier for the drug dealer Angelo. During one of his street performances, Bo meets Holly who leaves him her number. The two go out and attraction blossoms. At the same time, Angelo begins to draw Bo deeper into his operations, including making him party to a brutal crackdown on a rival dealer Maurice.
---
Sleight was a directorial debut for African-American director J.D. Dillard. Sleight gained great word of mouth after its premiere at the Sundance Festival and was given a theatrical release by Blumhouse in April 2017. Dillard subsequently went on to direct the desert island monster movie Sweetheart (2019) and script for Stray (2019), both horror films.
We have had a number of films about stage magicians in the last few years with the likes of The Illusionist (2006), The Prestige (2006) and Now You See Me (2013). Sleight is another. What is different about it is that it takes place with a young African-American hero from a lower socioeconomic setting and amid the setting of L.A.'s drug culture. In these scenes, Sleight does nothing that we haven"t seen before, playing with familiar easy arcs – the young innocent dragged into a dangerous criminal world; the deal that goes wrong and he finding himself in over his head and having to pay back far more than he is capable of obtaining. Essentially, it is the same plot we had in Nicolas Winding Refn's Pusher (1996). All of that said, J.D. Dillard has a soft, quiet tone that makes it work. The three principal actors – Jacob Latimore, Seychelle Gabriel and Dulé Hill – all give convincing performances. These are clearly names that are going places.
These scenes occupy a good two-thirds of the film, interspersed with the occasional cuts back to Jacob Latimore performing as a street magician. The weirdest aspect comes in the latter quarter of the film when Latimore decides to uses his magic to stand up to gang leader Dulé Hill who has abducted his sister. We have seen throughout that he has a device planted in his arm that this allows him to conduct levitations, including one scene where we see him causing two AA batteries to float up out of his hand.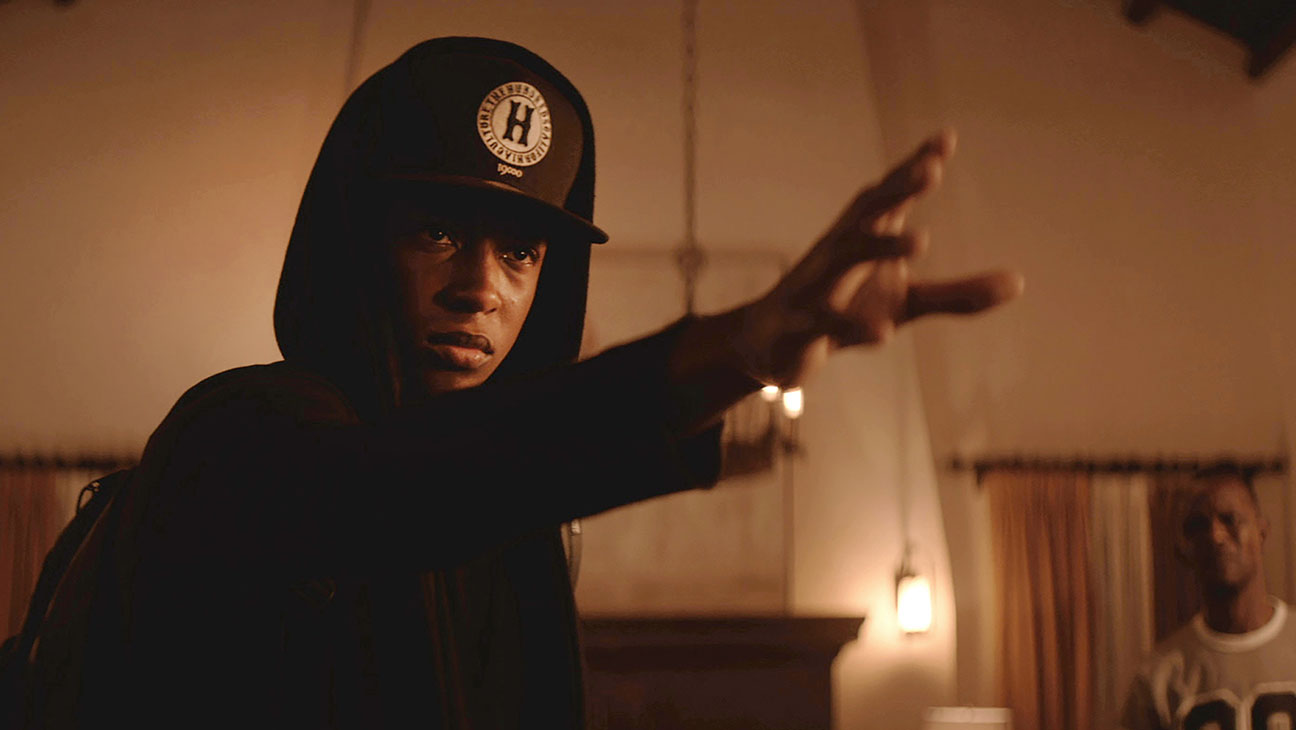 After going to visit his old teacher, Latimore amps the current in his battery such that it allows him to go and take on the gang members. Here we see him being able to pull a car towards himself, wrench out the jaw of one gang member coming towards him (presumably by affecting his fillings), create a strong enough electrical field to blow out all the lights in the house and stop bullets fired at him in mid-air and propel them back towards Dulé Hill with equal force a la Magneto in X-Men (2000). This is the novelty of something being presented as science-fiction that actually exists – the use of an electrical field as a magnet – but in a way that is completely fantastical.
Of course the most fantastical thing in all of this is the science. In actuality, Jacob Latimore would have difficulty levitating bullets as the lead in them is near-inert in terms of electrical conductivity. Not to mention the small issue that the amount of electricity required to create a field strong enough to pull a car and stop bullets would require a massive number of copper or iron coils hidden somewhere on Latimore's body and a powerful battery. It is questionable which would have killed him first – the fact that he is using the skin of his own arms to conduct the charge, which would electrocute him, or that the amount of electrical current required would be enough to fry his skin the moment he turned it on.
---
---