---
Crew
Director – Matt Peters, Screenplay – Ernie Altbacker, Based on the Videogame Injustice: Gods Among Us by Neatherealm Studios and the Graphic Novel Injustice: Gods Among Us: Year One by Tom Taylor, Producers – Jim Krieg & Pedro Rick Morales, Music – Robert J. Kral, Animation – NE4U, Inc. (Animation Directors – Hae Ran Ha, Jae Hoo Lee & Joo Young Kim). Production Company – Warner Bros. Animation.
Voices
Justin Hartley (Superman/Clark Kent), Anson Mount (Batman), Janet Varney (Wonder Woman), Gillian Jacobs (Harley Quinn), Laura Bailey (Lois Lane), Kevin Pollak (The Joker/The President/Jonathan Kent), Anika Noni Rose (Catwoman), Reid Scott (Green Arrow/Victor Szasz), Faran Tahir (Ra's Al Ghul), Zach Callison (Damian Wayne/Jimmy Olsen), Oliver Hudson (Plastic Man), Brandon Michael Hall (Cyborg), Brian T. Delaney (Green Lantern), Derek Phillips (Nightwing/Deadwing/Aquaman), Edwin Hodge (Mr Terrific/Killer Croc), Yuri Lowenthal (Mirror Master/The Flash/Shazam), Fred Tatasciore (Captain Atom)
---
Plot
Lois Lane announces to Superman that she is pregnant. The Joker turns up in Metropolis and abducts Lois. As Superman and Batman track The Joker down, The Joker unleashes stolen Kryptonite mixed with The Scarecrow's fear gas. As a result, Superman mistakenly thinks Lois is a monster and carries her up into orbit, killing her. This also triggers a nuclear weapon that wipes out Metropolis. The Joker calls this his greatest gag just before Superman snaps and kills him. Superman then goes on a rampage, declaring that all nations are forbidden from engaging in war and using his abilities to stop those that do. Under the guidance of Ra's al Ghul, Superman turns the entire world into a police state, using drones to patrol and stamp out crime. The Justice League as some leave and others side with Superman. Batman decides that Superman has gone too far and rallies various superheroes to stop him.
---
Injustice: Gods Among Us (2013) was a popular videogame from Neatherealm released to PlayStation and Xbox. In the game, as here, Superman creates a totalitarian regime after snapping at being tricked into killing Lois Lane by The Joker, while other superheroes align to support or stop him. A wide range of DC Comics characters were turned into playable characters. The plot of the game involves a good deal more toing and froing between alternate timelines than there is in the film. The popularity of the videogame led to a comic-book series Injustice: Gods Among Us (2013-6), which leads up to the events of the game and follows their aftermath.
This was another film among the DC Original Animated Movies. The others have included Superman: Doomsday (2007), Batman: Gotham Knight (2008), Justice League: The New Frontier (2008), Green Lantern: First Flight (2009), Superman/Batman: Public Enemies (2009), Wonder Woman (2009), Batman: Under the Red Hood (2010), Justice League: Crisis on Two Earths (2010), Superman & Batman: Apocalypse (2010), All-Star Superman (2011), Batman: Year One (2011), Green Lantern: Emerald Knights (2011), Batman: The Dark Knight Returns Part I (2012), Justice League: Doom (2012), Superman vs. The Elite (2012), Batman: The Dark Knight Returns Part II (2013), Justice League: The Flashpoint Paradox (2013), Superman Unbound (2013), Batman: Assault on Arkham (2014), Justice League: War (2014), Son of Batman (2014), Batman vs. Robin (2015), Justice League: Gods and Monsters (2015), Justice League: Throne of Atlantis (2015), Batman: Bad Blood (2016), Batman: The Killing Joke (2016), Justice League vs Teen Titans (2016), Batman and Harley Quinn (2017), Justice League Dark (2017), Teen Titans: The Judas Contract (2017), Batman: Gotham By Gaslight (2018), Suicide Squad: Hell to Pay (2018), Batman: Hush (2019), Justice League vs The Fatal Five (2019), Reign of the Supermen (2019), Wonder Woman: Bloodlines (2019), Justice League Dark: Apokolips War (2020), Superman: Man of Tomorrow (2020), Superman: Red Son (2020), Batman: Soul of the Dragon (2021), Batman: The Long Halloween Part One (2021), Batman: The Long Halloween Part Two (2021), Justice Society: World War II (2021), Batman and Superman: Battle of the Super Sons (2022), Catwoman: Hunted (2022) and Green Lantern: Beware My Power (2022). This is not the first time a videogame has been adapted as one of the DC Universe Original Animated Movie, the previous occasion being Batman: Arkham Asylum.
It only becomes apparent towards the end of the show that this is taking place in an Alternate Timeline, nevertheless the brutal and abrupt changes to continuity that the film conducts makes it more than evident that what we have majorly departs from established DC Comics canon. In the opening scenes alone, we have Lois Lane, Jimmy Olsen, The Joker and The Flash killed, Superman snapped and gone rogue and Metropolis obliterated with a nuclear weapon. Quite a sizeable number of established heroes (and villains) are killed throughout – sometimes in shocking and abrupt ways.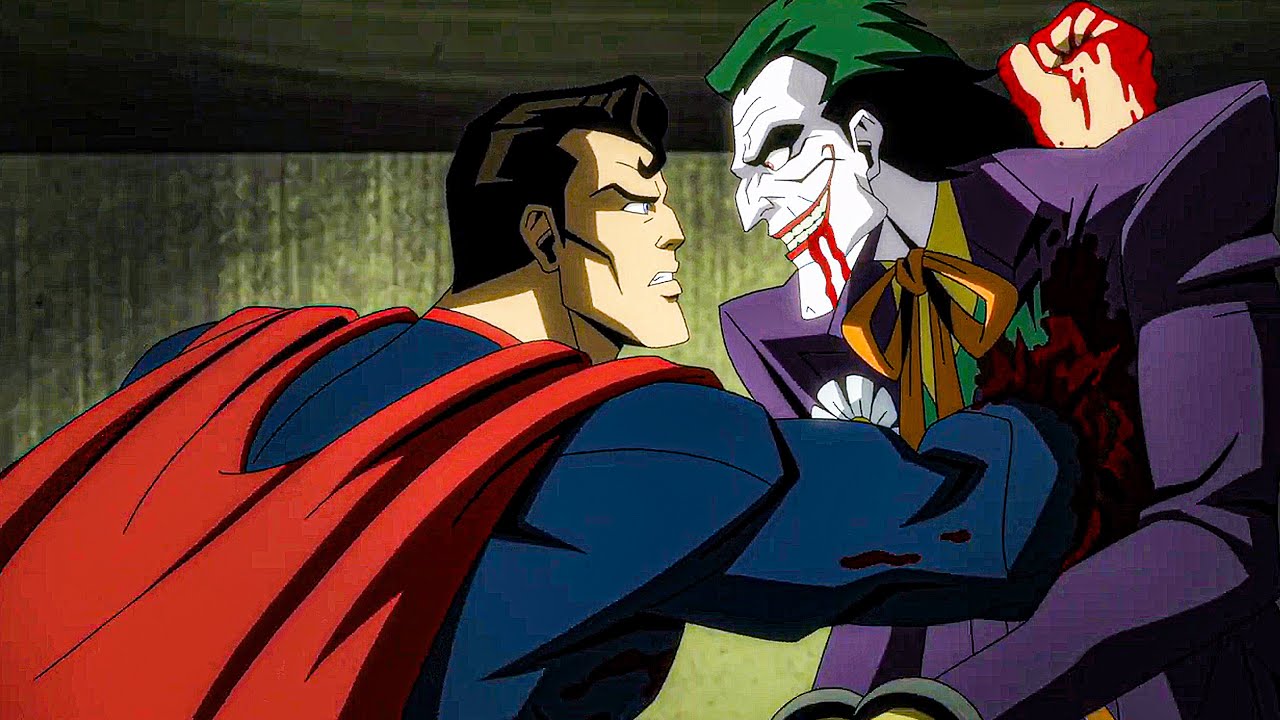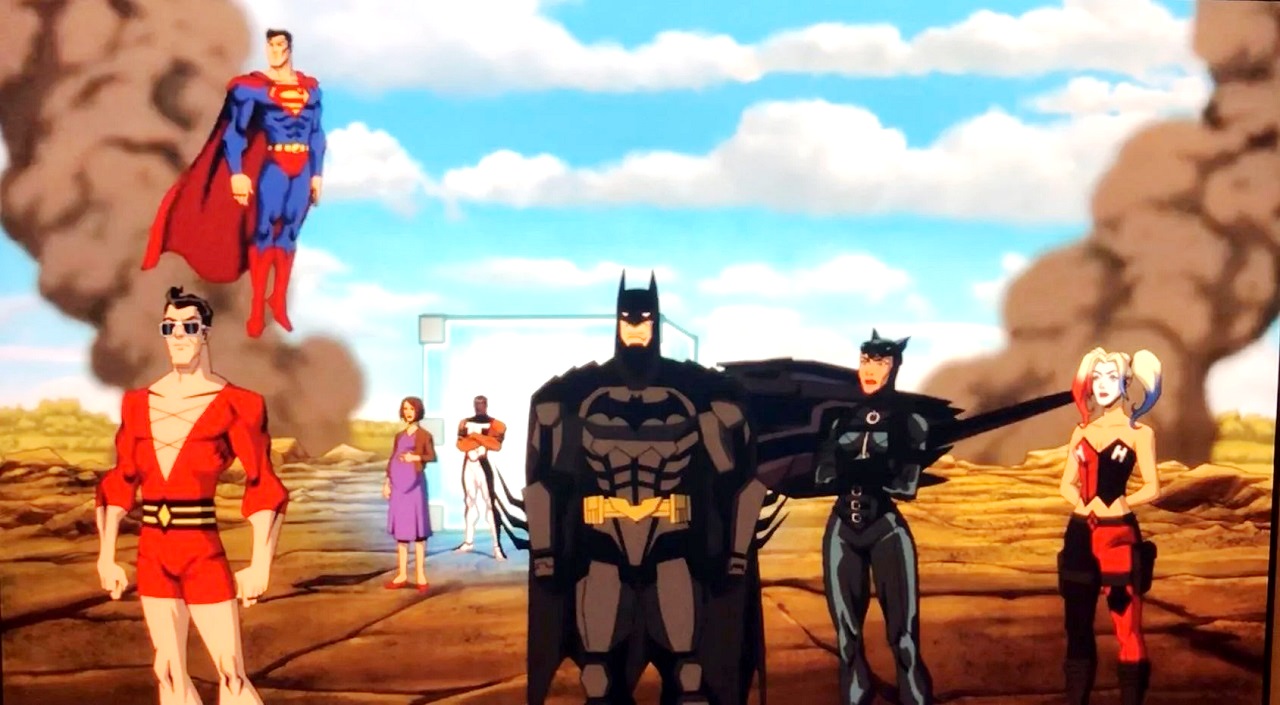 The film is directed by Matt Peters who co-directed Scooby Doo: Shaggy's Showdown (2017) and Justice League Dark: Apokolips War. Peters does fairly well and I would certainly be interested to see more entries from him in the DC Universe Original Animated Movies. Whereas the other films have softer, more pastel colours and lines, Peters has all the characters drawn in bold lines and with much more vivid primary colours. He creates great action scenes, in particular the climactic ones battling Amazo and Superman.
In many ways, particularly when it comes to the various superheroes aligning either on the side of Superman or against him, the film resembles Marvel's Captain America: Civil War (2016) and before it the classic comic-book Civil War (2006-7). I do have issue with some of the characterisations – the Superman who snaps and institutes a ruthless police state seems a far cry from the upholder of "Truth, Justice and the American Way" we usually have. While Zack Snyder has certainly gone out of his way to give us a Superman who kills in Man of Steel (2013), this seems to jar with the Superman I have always known. Likewise, would Wonder Woman really support such an authoritarian regime? On the other hand, there are some aspects that work well – in particular Harley Quinn (who is back more as the character's original conception than the softened live-action version we have had of recent) and her quite hilarious banter as a captive of Green Arrow.
The film reaches an end where [PLOT SPOILERS] in almost a deus ex machina piece of plotting Mr Terrific snatches an alternate world double of Superman and brings him through the portal to fight the amok one, followed by Lois who causes this Superman to abruptly see the error of his ways and fall repentant. This seems a false ending grafted on simply to bring the conflict to an end.
---
Trailer here
---