---
Crew
Director – Chris Wedge, Screenplay – Derek Connolly, Story – Jonathan Aibel, Glenn Berger & Matthew Robinson, Producers – Mary Parent & Denis L. Stewart, Photography (3D) – Don Burgess, Music – David Sardy, Visual Effects – MPC (Supervisor – Nicholas Aithadi), Special Effects Supervisor – J.D. Schwalm, Creature Prosthetics – Reign FX, Inc., Production Design – Andrew Menzies. Production Company – Paramount/Nickelodeon Movies/Disruption Entertainment.
Cast
Lucas Till (Tripp Coley), Jane Levy (Meredith), Rob Lowe (Reece Tenneson), Thomas Lennon (Jim Dowd), Holt McCallany (Burke), Barry Pepper (Sheriff Rick), Danny Glover (Mr. Weathers), Frank Whaley (Wade Coley), Tucker Albrizzi (Sam Geldon), Any Ryan (Cindy Coley), Samara Weaving (Brianne), Jebediah Goodacre (Jake)
---
Plot
In the small town of Anderson, North Dakota, the Terravex energy company is drilling deep underground for oil. The drilling hits a pocket and Terravex CEO Reece Tenneson is warned that it could contain biological matter whereupon the drilling would be environmentally prohibited. Reece orders them to drill on anyway, only for the pocket to cause an explosion. In the aftermath, tentacled creatures are seen scurrying across the site. Two are caught but one gets away. Tripp Coley, a teenager in high school, is working after hours at the junkyard of Mr Weathers when he sees one of the creatures. The creature hides inside the body of a truck that Tripp is rebuilding and he discovers that it is capable of powering and driving the vehicle. When Terravex security men come searching for the creature, Tripp escapes in the truck with Meredith, the girl in his class who is tutoring him, and they hide at her farm. Rebuilding that the truck so the creature, which he nicknames Creech, can better hide inside its body, they try to avoid the Terravex security heavies while rescuing the other two creatures. They then set out to stop Reece's plan to dump poison down the borehole to kill the rest of the creatures off so that he can resume drilling.
---
Chris Wedge started out working in visual effects but rose through the ranks to make his directorial debut with Ice Age (2002), the first film from Blue Sky Studios and the one that became the cornerstone of their growing animation empire throughout the 2010s. Staying at Blue Sky, Wedge also made the animated Robots (2005) and Epic (2013). Monster Trucks was his first live-action action film and first film he has made outside of Blue Sky.
Prior to its release, Monster Trucks was already being touted as a financial flop for Paramount. Though the film was released in international territories in December 2016, US release was dumped in the winter dead zone of mid-January 2017 where it only earned $33 million back on a $125 million budget (which was more than had been initially anticipated).
In watching Monster Trucks, it was some surprise that it was not actually based on a line of toys as I was half-expecting. A little bit of Googling realised I was thinking of the Weird Wheels trading cards that I grew up with, which offered up strange combinations of vehicles and classic movie monsters (something that would make for a great concept for a film sometime). That said, you have the feeling that Monster Trucks should have been a line of toys. It feels it is more a marketing spinoff than an original film.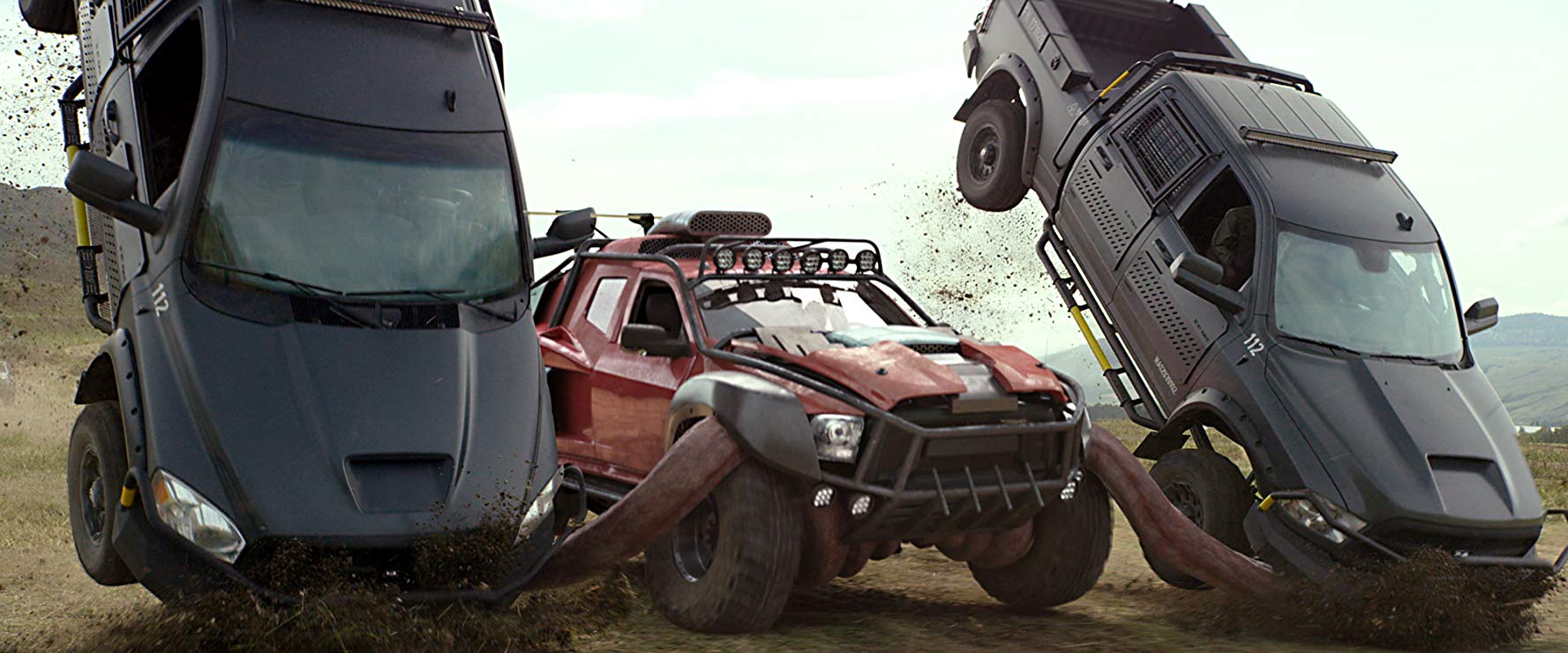 You can almost guess the process whereby Monster Trucks was conceived. The writers almost certainly attended or watched a video of one of the Monster Truck rallies – where standard pickup trucks are rebuilt with giant oversized wheels and audiences enjoy watching them drive over the top of other vehicles. You can almost see the light that went off in their head "Hey what about if we make a film with monster trucks where the trucks are actual monsters?" and then went and sold the concept in about five minutes flat.
Monster Trucks has been aimed fairly much at the fourteen year-old boy demographic – the same one that finds Monster Truck rallies the height of cool. That said, the film has a certain goofy enjoyability after a time. There is fun to watching the various scenes of trucks driving about with tentacles and eyes popping out from under hoods and wheel rims; of watching Creech get drunk on premium gasoline; and especially in the chase around the town with Creech scaling up walls, driving along and jumping across rooftops, and moving along the walls of an alley twenty feet off the ground.
The script kicks in with some easy arcs – boy meets girl, an evil corporation that is tied to environmental despoliation (with Rob Lowe chewing the scenery as its CEO), a bunch of cute/adorable creatures that need rescuing – but these play out in ways that make the show far more engaging than you ever expect it to be.
---
---