---
Canada. 2009.
Crew
Director – Mark A. Lewis, Screenplay – Mark A. Lewis & Michael W. Lewis, Producers – Trent Carlson, Rob Neilson & Mary Anne Waterhouse, Photography – Jan Kiesser, Music – Michael Neilson, Visual Effects Supervisor – James Tichenor, Visual Effects – Atmosphere Visual Effects (Supervisor – Andrew Karr), Special Effects Supervisor – Rob Paller, Makeup Effects – Mastersfx, Inc. (Supervisor – Todd Masters & Dan Rebert), Production Design – Michael Norman Wong. Production Company – Anagram Pictures/Etch Media/Artifact Films/Brightlight Pictures/Telefilm Canada/Corus Entertainment Inc.,/Astral Media/Thaw Productions Inc.
Cast
Martha MacIsaac (Evelyn Kruipen), Val Kilmer (Dr David Kruipen), Aaron Ashmore (Atom Galen), Kyle Schmid (Federico Fulce), Viv Leacock (Bart), Steph Song (Ling Chen), Anne Marie DeLuise (Jane), John Callender (Edward), Lamech Kadloo (Nuti)
---
Plot
At a remote research station on Banks Island in the Canadian Arctic, noted scientist and environmental activist David Kruipen makes the discovery of a prehistoric mammoth buried in the ice, which has been thawed out due to increased global warming. Three students have been chosen to join Kruipen and fly up to Banks Island. Kruipen has also called to beg his estranged teenage daughter Evelyn to join him but then changes his mind and tells the helicopter pilot to send her back. When she arrives, Evelyn ignores this and insists on coming. They arrive to find the station deserted and everybody missing. Out at the camp, one of Kruipen's associates Jane shoots the rest of the party and then travels back to the station, collapsing violently ill and dying not long after. The others realise that the uncovery of the mammoth has unleashed a horde of deadly insect-sized prehistoric vertebrates that breed inside flesh and devour the host body. As the vertebrates infect the members of the party and overrun the station, the group try to find a means of destroying them.
---
The Thaw is a modestly budgeted direct-to-cable and dvd film from several Canadian production companies. It was the second feature film from Canadian director/co-writer Mark A. Lewis.
The undeniable influence on The Thaw is the classic alien invader film The Thing from Another World (1951) and its equally classic remake The Thing (1982). From these, The Thaw borrows, as a variety of films have done, the setting of a base in the Arctic where a group of people are isolated and have to face off against a monster that is eliminating their numbers. The Thaw joins a number of other films of recent such as The Last Winter (2006) and Nine Miles Down (2009) that ties its borrowings from The Thing to contemporary environmental concerns. Although, perhaps more so than either version of The Thing, the work that The Thaw comes the closest to is the Thing-influenced The X Files episode Ice (1993) where a research team at an Arctic base is infected by a species of prehistoric worm they dig out of the ice.
The main problem with The Thaw is that it is a lesser version of The Thing – when you have a predatory alien monster, not to mention the 1982 The Thing's phantasmagoric shape-changing nasty, the idea of a horde of prehistoric flesh-eating bugs seems a little ordinary. Moreover, the film is slow in the build-up of tension and there is not a huge amount of payoff. There is however one excellent scene where Viv Leacock realises that his arm has become infected, asks the others to cut it off at the elbow and while they are debating about doing so, a paranoid Kyle Schmid enters wielding a shotgun and orders them to stop, Aaron Ashmore makes the cut anyway, only for the cleaver to get stuck halfway through the bone.
One part about the film did get me – we have a group of elite science students at the base, realising they are dealing with an infection, despite which (and they never yet having determined how it is spread) they insist on touching dead bodies, animal carcasses and open wounds with their bare hands rather than putting on rubber gloves and facemasks.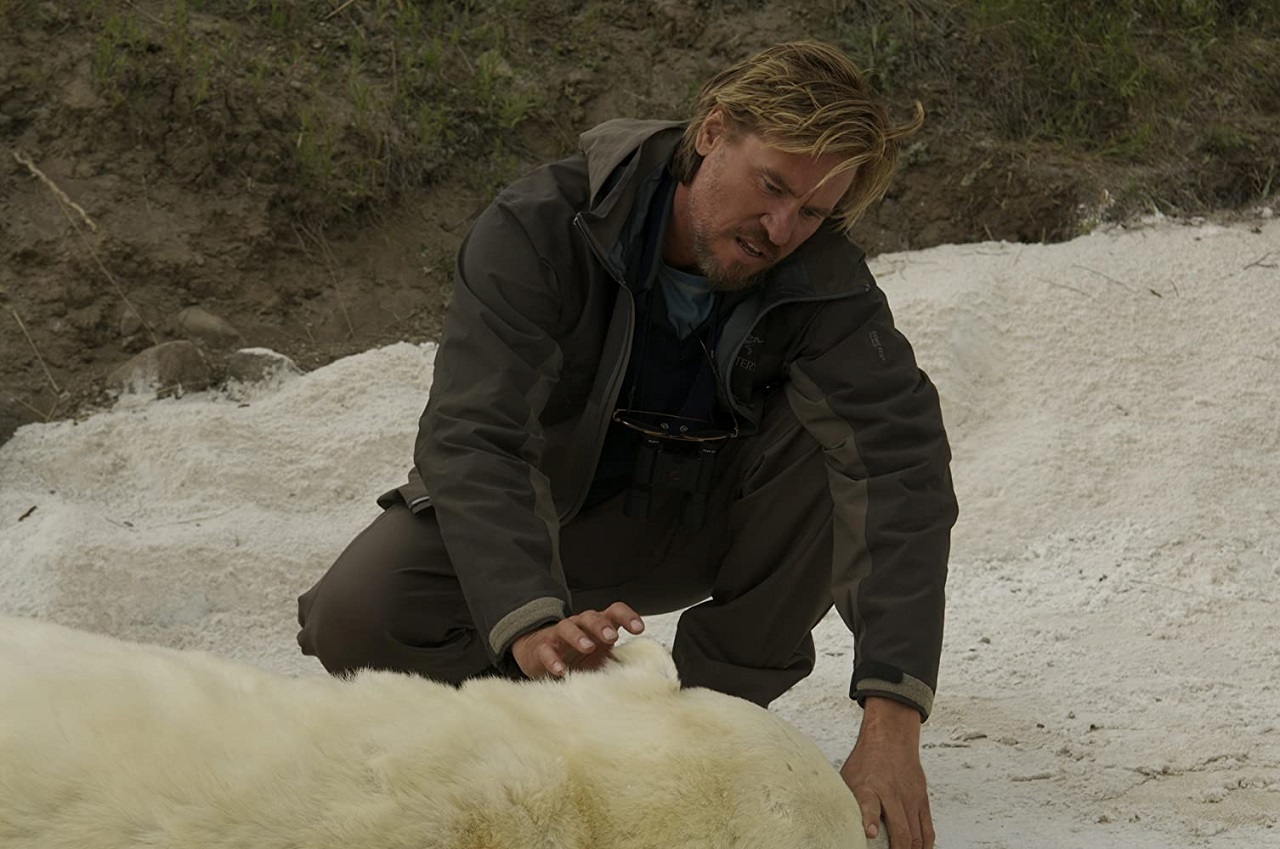 There is a reasonable cast line-up who provide a range of fairly well-drawn characters. Aside from Val Kilmer, the rest of these are unknowns. Despite his headline name, Kilmer remains off-screen for a large part of the film – it is the character of his daughter played by Martha MacIsaac who emerges to take the lead rather than he. It becomes puzzling when Val Kilmer is killed off early in the show as you suspect that the film is wasting his name – not to mention that the script refuses to give us any clear indication what happened to him. You keep wondering if maybe the production had only contracted Kilmer for so many days and then run out of money or even if he ended up being fired and the part written out perhaps due to the much reported problems of Kilmer being difficult to deal with on set that derailed his star during the 1990s.
[PLOT SPOILERS] Val Kilmer does make a return in the climactic scenes. Here though The Thaw starts to go off the deep end from a realistic and convincing drama and introduces some improbable motivation where we learn that Kilmer apparently infected himself with the insects (although remains remarkably normal looking while those infected after he has are turning into putrescent goo) in order to make a big statement to the world about global warming.
Aside from the suicidally hare-brained nature of the scheme, this becomes a particularly annoying twist in that it makes the build-up into frustrating misdirection. In the early scenes, for instance, Val Kilmer begs and even bribes daughter Martha MacIsaac to come up and join him but then tells helicopter pilot Viv Leacock to send her back home where you get the impression he is trying to prevent her from being infected. When it is known that he did this in full knowledge of being infected, it makes these actions seem erratic – he calls her to join him after the point that he has infected himself, for instance. The scenes among the group at the encampment are also selectively presented in a way to make us think that everybody is dealing with a straightforward infection and that Anne Marie DeLuise simply went crazy with a gun.
---
Trailer here
---