---
Crew
Director/Story/Producer – Jeff Chan, Screenplay – Chris Paré, Photography – Alex Disenhof, Music – Ryan Taubert, Visual Effects – PlayFight VFX (Supervisor – William Chang), Special Effects Supervisor – Michael Innanen, Prosthetics Designer – Chris Bridges, Production Design – Chris Crane. Production Company – Colony Pictures/The Fyzz Facility/Ontario Creative/Lane E Productions/XYZ Films/Blue Ice Pictures/Telefilm Canada.
Cast
Robbie Amell (Connor Reed), Stephen Amell (Garrett Kelton), Greg Bryk (Marcus Sutcliffe), Kari Matchett (Mary Reed), Kyla Lane (Nia), Sung Kang (Officer Park), Aaron Abrahms (Officer Davis), Jai Jai Jones (Travis), Matthew Gouveia (Dave), Simon Northwood (Rhino), Laysla De Olivera (Maddy), Vlad Alexis (Freddie), Martin Roach (Captain Milltown), Peter Outerbridge (Wesley Cumbo), Sarah Hoedlmoser (Copperhead)
---
Plot
It is the fairly near future. People with superpowers have emerged but have been shunted to the edges of society where their powers are only employed in menial labouring jobs. There is also an illicit market in Psyke, a drug taken from psychics. Connor Reed lives with his mother Mary who works a menial job in a supermarket but is being killed by her powers. Connor has the power to generate electricity but is forced to work cash day jobs to try and make ends meet for the two of them. One day, he is selected by a group of criminals led by Garrett Kelton who want his powers to help with an industrial break-in. Connor is drawn in as part of Garrett's gang as they prepare to conduct a bank robbery and the heist of a shipment of Psyke.
---
Code 8 was a feature-length directorial debut for Canadian director Jeff Chan. Chan first made the basics of the film as a 10 minute short film Code 8 (2016) starring Robbie Amell as a super-powered man seeking work who gets into an altercation with police. Because of the attachment of Robbie Amell and in particular his older brother Stephen, who was riding high on success as the lead on tv's Arrow (2012-20), Chan was able to mount an Indiegogo campaign to expand the short as a film. The campaign drew an impressive $3.4 million and Chan expanded the basics as a feature-length film, while attracting international funding. The film even played a series of theatrical premieres.
Ever since the 2000s, the Superhero Film has grown in ascendancy to take over the box-office. This has been almost completely dominated by Marvel and to a lesser extent various DC Comics offerings. The air has been so strangled by these two industry titans that anything outside their domain has rarely found room to breathe a gasp of air (and has usually been greeted with audience ennui). There have been a few brave original takes on the superhero film, as well as several parodies and comedies, although almost none that have had any lasting power alongside the MCU and DC offerings.
Code 8 is one of the few original, non-comic-book adapted superhero films to be made during this period. It takes the interesting step of stripping out the capes, costumes and secret identities and offering a film about regular people with superpowers. If you could look to comparisons there might be the tv series Heroes (2006-10) and films such as Push (2009) and the subsequent Project Power (2020).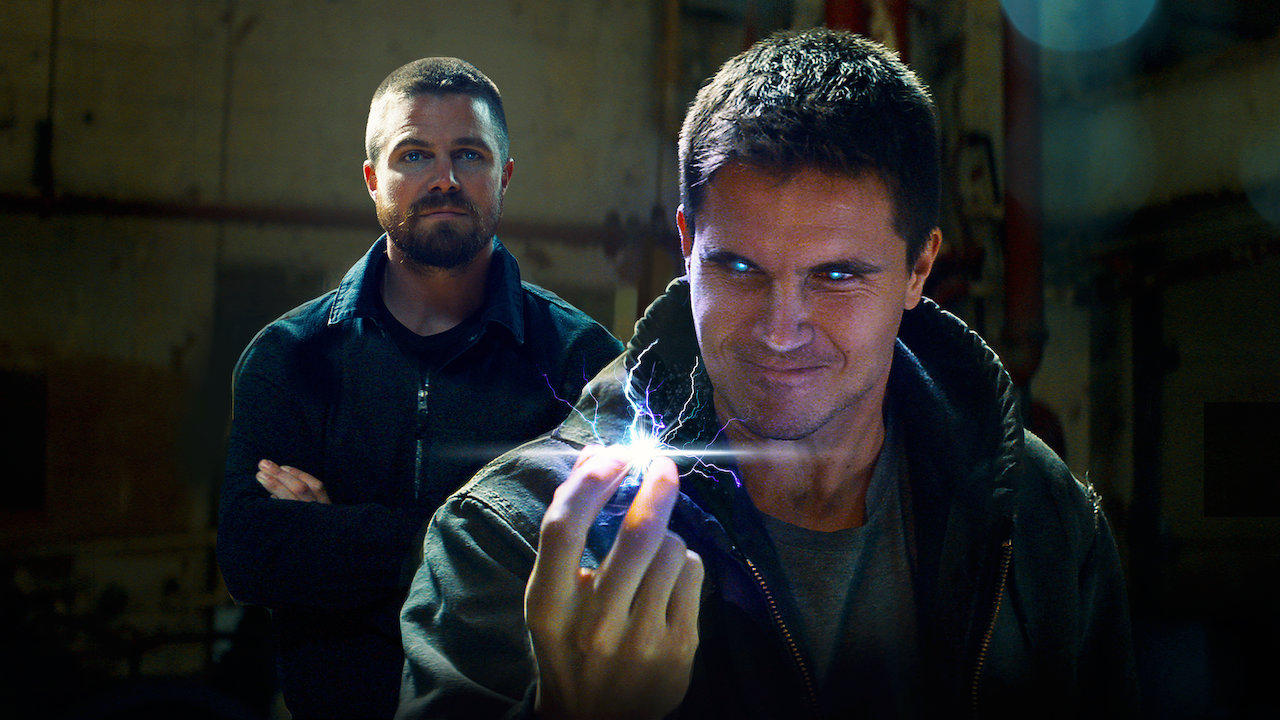 The interesting idea that Code 8 has is that the film plays out less as a superheroic battle against super-villains or fighting to save the world but as a heist film with the addition of superpowers. It takes place in a slight Near Future Setting where the super-powered are regarded as a minority and shunted to the fringes of society. Here the film tries to make strained allusions between the super-powered as a downtrodden minority akin to undocumented immigrants – we see them in service jobs and queueing up for cash-in-hand day labour jobs.
In these scenes, I felt that Code 8 missed all of its potential. We have had superheroic caper films before – the aforementioned Push and Project Power or the scenes in Deadpool 2 (2018) where Ryan Reynolds assembles a crew to conduct a heist on an armoured truck. On the other hand, Code 8 is stuck down at being a far too mundane film due to in all probability to budgetary reasons – all we get is a few scenes with Robbie Amell using his electrical power to break through an electric fence or down police robots and drones, of other people melting holes in the door of the armoured van and a few fights but not much more than that. There's not the sense of fun you get in films like Deadpool 2, Project Power and in particular Push where you see people coming together and combining their powers in ingenious ways to pull the scheme off.
Code 8 plays out fairly much by the cliches of the heist film – the underworld caper; the big scheme that hangs on an all-or-nothing gamble; the threat from the violent mobster/club owner; the innocent girl caught up in the middle of the scheme. One of the worst clichés is the hero who is doing everything for his ailing mother's medical bills, a cliché where the film plays all the violin strings it can.
---
Trailer here
---