---
Crew
Director/Screenplay – John Hughes, Producer – Joel Silver, Photography – Matthew F. Leonetti, Music – Ira Newborn, Visual Effects – R. Greenberg Associates (Supervisor – Joel Hynek), Special Effects – David M. Blistein, Doug Hubbard, Roger Lifsey, Henry & Mike Millar & Richard Thompson, Computer Animation – Rhonda Gunner, Richard Hollander, Gregory I. McMurray, Video Image & John Wash, Makeup Effects – Craig Reardon, Art Direction – James Allen. Production Company – A Hughes/Silver Production.
Cast
Anthony Michael Hall (Gary Wallace), Ilan Mitchell-Smith (Wyatt Donnelly), Kelly LeBrock (Lisa), Bill Paxton (Chet Donnelly), Suzanne Snyder (Deb), Judy Aronson (Hilly), Robert Downey (Ian), Robert Rusler (Max)
---
Plot
Two sexually frustrated nerds Gary and Wyatt come up with the idea of creating a computer simulation of the perfect woman. They feed the pertinent data into their home computer but a freak electrical storm then hits the computer and causes the tantalisingly gorgeous Lisa to emerge in the flesh. She insists that they created her and that she is there to do their bidding in all ways. She is blessed with an amazing array of powers, which she uses to provide Ferraris, money, to transform their lives and stand up against tormenting bullies. Gary and Wyatt decide to hold a party when their parents go away but things go wrong and the computer starts causing mishaps.
---
Writer-director John Hughes's main claim to fame was as the man who introduced angst to the teenage film in items such as The Breakfast Club (1984) and Pretty in Pink (1986) and as the man behind the mildly subversive teen film Ferris Bueller's Day Off (1986). Into the 1990s, Hughes started to move into family entertainment and was the producer behind the nauseatingly cute Home Alone (1990) and sequels and director of Curly Sue (1991), as well as a whole host of remakes of family classics. Not withstanding, John Hughes is also a creator of some decidedly offbeat teen comedies, notably She's Having a Baby (1988) and the charmingly nutty 16 Candles (1984).
Weird Science was somewhat of a misstep for John Hughes. It is hard to know how to take Weird Science – indeed, feminist groups picketed theatres it was showing at in my city when the film came out, objecting mainly it seemed to the film's tagline "Gary and Wyatt have created the perfect woman – and she'll do anything they say in the name of science".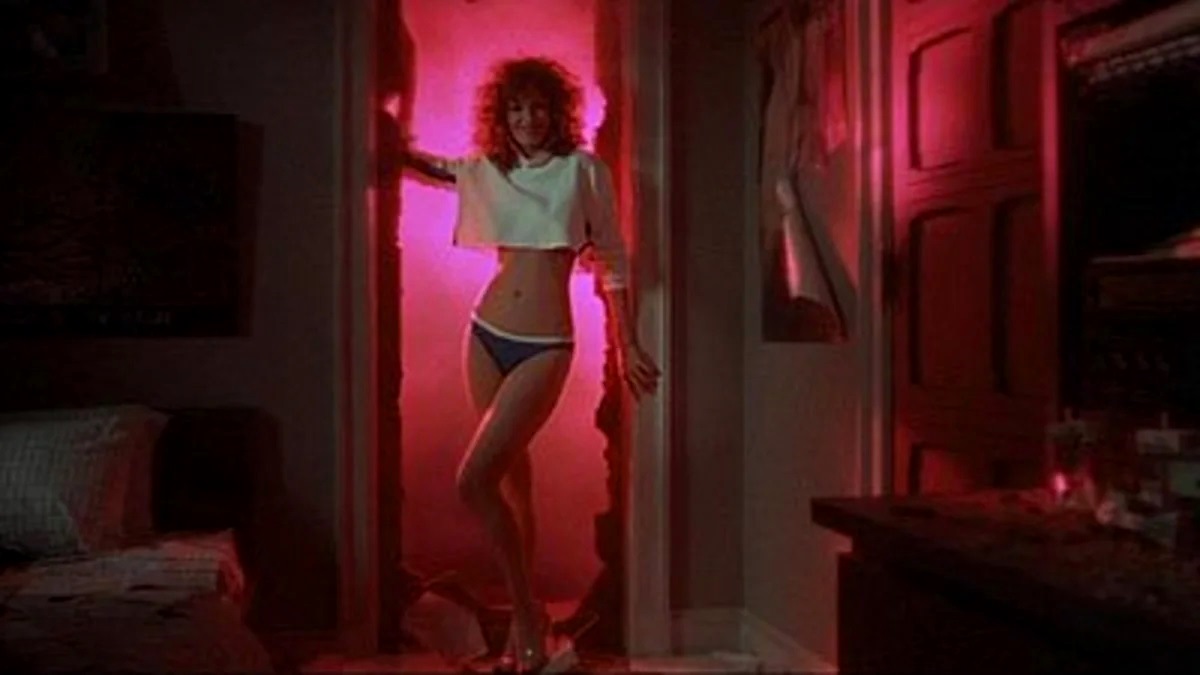 The film is suggestive of maybe the multiple filmed German novel Alraune (1911) – see Alraune (1928). – rewritten for the generation reared on Meatballs (1979) and Porky's (1982). However, John Hughes' approach to the material is certainly eccentric – whereas most other filmmakers would play it for all the vulgar and softcore potential it was worth, Hughes instead takes it totally over-the-top and causes it to emerge more like a gonzo version of I Dream of Jeannie (1965-70).
The latter half of the film, which is taken up by the party scene, is downright weird – grand pianos and nude females get sucked up and go flying out of chimneys; the people in a family photo inexplicably come to life and start dancing; Bill Paxton, playing Ilan Mitchell-Smith's bullying brother, is turned into a giant turd; and the party is invaded by nuclear missiles and futuristic mutant bikers led by Michael Berryman who backs off after an armed showdown and asks Anthony Michael Hall to forget the whole situation "lest he lose his job as a teacher." If nothing else, Weird Science is a very busy film, which helps somewhat to hide how moronic it is when it gets to its sentiments.
Kelly LeBrock, who had briefly come to fame as an equal object of fantasy in Gene Wilder's The Woman in Red (1984), plays the provocative fox role well, even if her facial expressions seem overly emphatic and she maintains an out-of-place upper-class British accent. The great mystery is how she could be attracted to such a whining character as Ilan Mitchell-Smith, inelegantly but essentially correctly, referred to by his brother as a 'monkey-dick'. Bill Paxton proves somewhat of a scene-stealer as the bullying militaristic brother.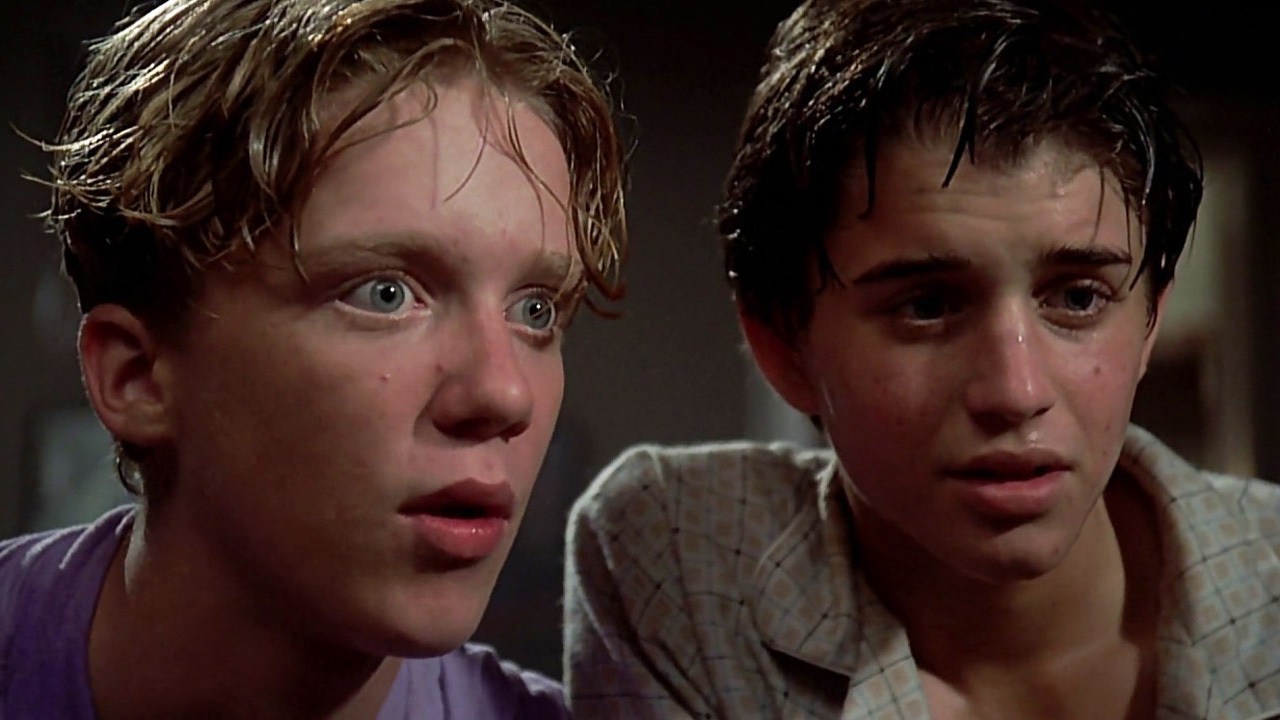 Despite its slightness as a concept, the film was later expanded out into a tv series Weird Science (1994-7) starring Vanessa Angel as the fantasy woman and John Mallory Asher and Michael Manasseri as the two teenagers. It proved vaguely less surreal than the film but never amounted to anything more than a geek fantasy.
John Hughes never ventured back into the fantasy genre as director, although he did write and produce a number of genre films for other people, including Miracle on 34th Street (1994), 101 Dalmatians (1996), Flubber (1997) and Just Visiting (2001), which are all remakes of other films. One of Hughes's first jobs was the screenplay for the slasher movie spoof National Lampoon's Class Reunion (1982). Producer Joel Silver went onto produce The Matrix (1999) and a number of high profile action films.
---
---