---
Crew
Director/Screenplay/Producer – Arthur Rankin Jr, Additional Material Written by Lon Korobkin, Music – Edward Thomas, Songs – Edward Thomas, Gene Farrell & James Polack, Animation Supervisor – Tad Moohinga. Production Company – Videocraft International/Dentsu.
Voices
Billie Richards (Willy McBean), Larry Mann (Professor Rasputin Von Rotten), Alfie Scopp, Paul Kligman, Bunny Cowan, Paul Soles, Peggi Loder, Claude Ray, Corinne Connely, James Doohan
---
Plot
Professor Rasputin Von Rotten is insanely jealous over the fact that his name is not in history books. He builds a time-belt with which he plans to travel back in time and change history, with the intention of beating Buffalo Bill Cody in a gunfight, discovering the New World before Christopher Columbus, pulling Excalibur from the stone before King Arthur, redesigning the Sphinx with his own face, and discovering fire and the wheel first. However, his pet monkey Pablo escapes with the plans and convinces schoolboy Willy McBean to build a time-belt of his own to go back and stop Von Rotten.
---
This Japanese puppet-animated feature is a film of light but undeniable charm. The score in particular jumps in with some lively songs at every opportunity. The animation with its patchwork dinosaurs, bouncing dragons and cheerful Hispanic monkeys, which all come amid some enchantingly scaled miniature sets, is most appealing.
One might get picky about its prehistoric anthropology, some of the time travel logic or the fact that Tutankhamun did not actually build any pyramids but it proves much too disarming for one to want to launch into historical pedant mode. At least, the Buffalo Bill and Columbus segments show that someone has done a moderate amount of reading on their historical dates.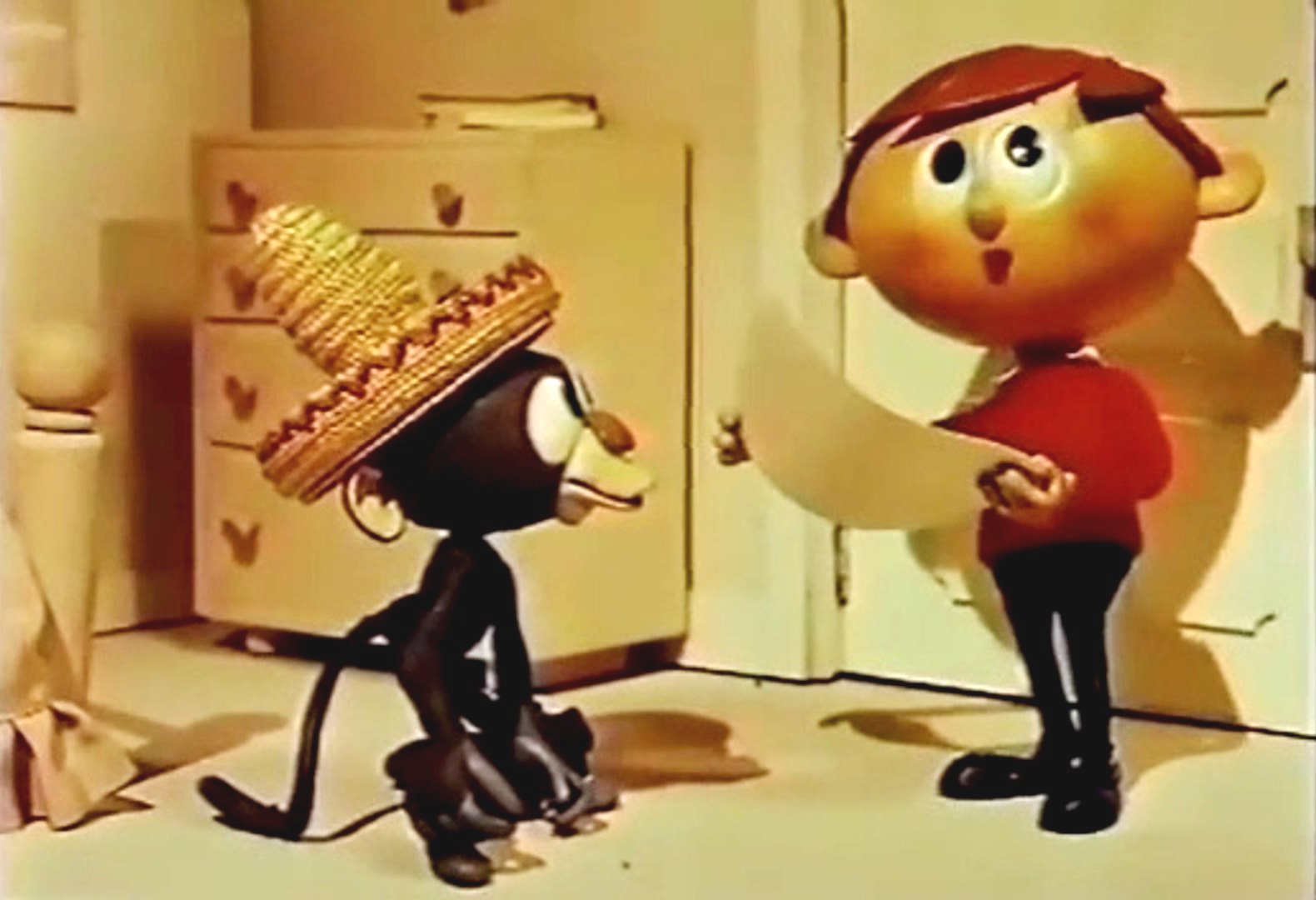 Despite having credits that list all American names, Willy McBean and His Magic Machine was in fact a Japanese production. It was merely picked up for distribution by Arthur Rankin Jr who typically wrote his own name and those of his collaborators all over the credits to give the impression that he had made the film. The names of the original creative personnel are regrettably not a matter of record.
Jules Bass and Arthur Rankin, Jr emerged during the 1960s with stop-motion animated seasonal holiday tv specials like Rudolph the Red Nosed Reindeer (1964), Frosty the Snowman (1969) and The Year Without a Santa Claus (1974). They also made the occasional cinematic outing such as this and Mad Monster Party (1967). They hit their creative peak towards the end of the 1970s/early 80s with a string of animated films usually made for television, with the likes of The Hobbit (1977), The Return of the King (1980), The Flight of Dragons (1982) and the excellent and underrated The Last Unicorn (1982). Most of their output was animated and for television but towards the end of the 1970s they branched out to make several live-action tv movies with works like The Last Dinosaur (1977), The Bermuda Depths (1978) and The Sins of Dorian Gray (1981). They eventually closed up shop in 1987.
---
---