---
Crew
Director/Screenplay – Val Guest, Story – J.G. Ballard, Producer – Aida Young, Photography – Dick Bush, Music – Mario Nascimbene, Music Supervisor – Phillip Martell, Visual Effects – Jim Danforth, Special Effects – Allan Bryce, Roger Dicken & Brian Johncock [Johnson], Art Direction – John Blezard. Production Company – Hammer.
Cast
Victoria Vetri (Sanna), Robin Hawdron (Tara), Patrick Allen (Kingsor), Drewe Henley (Khaku), Sean Caffrey (Kane), Magda Konopka (Ulido), Imogen Hassall (Ayak), Patrick Holt (Ammon)
---
Plot
A tribe of sun-worshippers are about to sacrifice a beautiful blonde virgin Sanna. She is saved when powerful winds sweep her over a cliff and away to sea. She is then found by Tara, a man from a fishing tribe. He welcomes her into his tribe and they fall in love. This makes Ayak, who desires Tara, jealous. When a moon appears in the sky for the first time and the tribe panics, Ayak accuses Sanna of witchcraft. Sanna flees into the jungle where she is forced to survive on her own amid the dinosaurs.
---
Hammer Films gained considerable fame in the late 1950s and 60s with their various horror films. Amidst this, they combined with American stop-motion animator Ray Harryhausen to create One Million Years B.C. (1966), which revived the creaky old cavemen vs dinosaurs genre. After the success of One Million Years B.C., Hammer instituted an antediluvian exotica cycle, making the likes of Slave Girls/Prehistoric Women (1967), When Dinosaurs Ruled the Earth and finally Creatures the World Forgot (1971).
Some regard When Dinosaurs Ruled the Earth as the best of the entries in Hammer's exotica cycle. The film had a screen treatment commissioned from cult science-fiction writer J.G. Ballard, although this was substantially rewritten by director Val Guest. J.G. Ballard was responsible for some of the most experimental and out-there works of the 1960s New Wave movement in literary science-fiction, including the novel that became David Cronenberg's Crash (1996) and Ben Wheatley's High-Rise (2015), while his semi-autobiography was adapted to the screen by Steven Spielberg as Empire of the Sun (1987).
How much of the finished film is Ballard's could be anybody's guess. Certainly, it is difficult to believe that a respectable writer like J.G. Ballard could involve himself with a film like this that manages gets its geological epochs mixed up by between 64 million and 4.6 billion years (respectively how long before mankind the dinosaurs and the origin of the Moon were). Although, when a film is so anthropoloigically mixed-up that it has dinosaurs and cavemen co-existing in the same era this hardly seems to matter.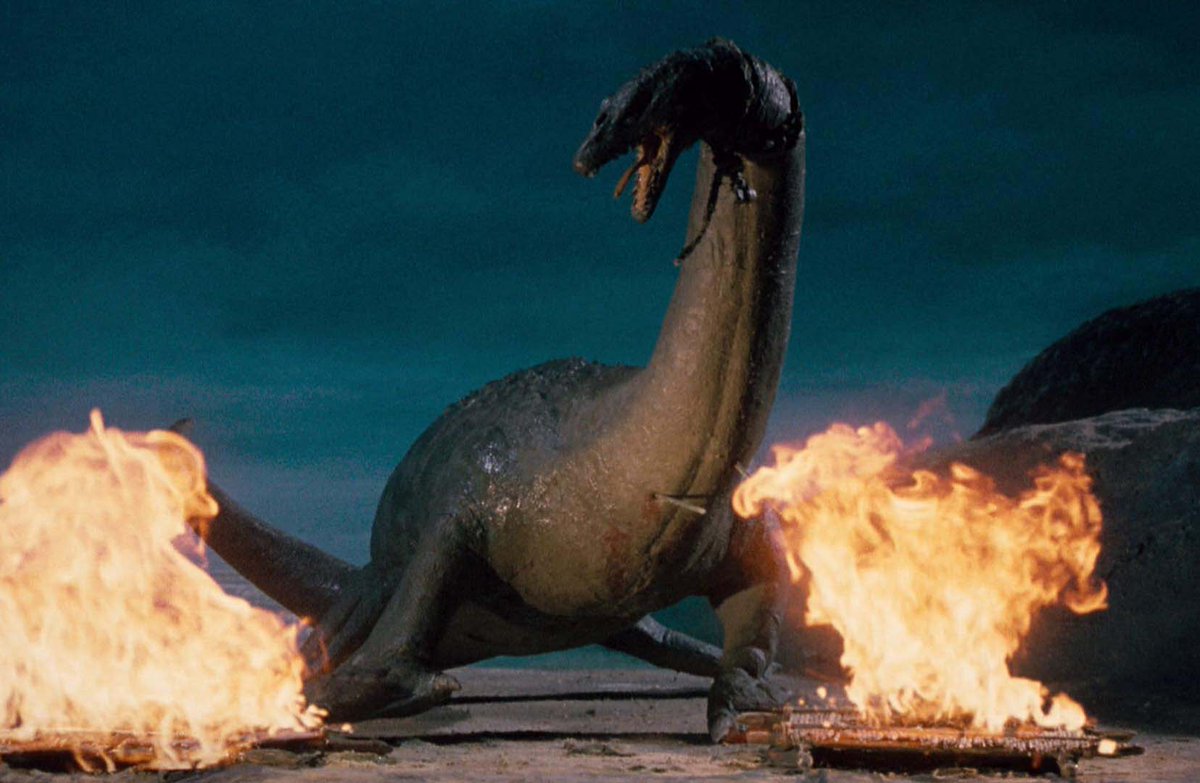 The plot rambles in a pedestrian way. There is a love story going on but most of the time that takes backseat to the dinosaurs. (It must be hard to write multi-level stories in films like this where the actors are delivering their lines in grunts). Hammer clearly made When Dinosaurs Ruled the Earth much more cheaply than One Million Years B.C. and went to Jim Danforth, then known for work on films like Jack the Giant Killer (1962), The Wonderful World of the Brothers Grimm (1962) and 7 Faces of Dr Lao (1964), to deliver the dinosaur effects at cut-price rates.
Despite suffering variable perspective, the animated dinosaurs are good. There is an exciting scene with the villagers fighting off a rampaging dinosaur with flames, some cute scenes with Victoria Vetri befriending the baby dinosaur, and other fine set-pieces with a pterodactyl and giant crabs. That said, Jim Danforth never invests them with the same kind of detail and character that Ray Harryhausen did in One Million Years B.C..
The film goes on location in the Canary Islands, which provides a considerable expansive beauty. Special effects supervisor Brian Johncock understandably changed his surname to Johnson and later supervised effects for Space: 1999 (1975-7), Alien (1979) and even headed Industrial Light and Magic for The Empire Strikes Back (1980) and Dragonslayer (1981).
Val Guest's other genre films include:- the comedy Mr Drake's Duck (1951) about a duck that lays radioactive eggs; Hammer's Nigel Kneale adaptations The Quatermass Xperiment/The Creeping Unknown (1955), Quatermass 2/The Enemy from Space (1957) and The Abominable Snowman (1957); The Full Treatment (1960) about a racing driver suffering psychopathic impulses; Life is a Circus (1960), a comedy involving a genie; the end of the world film The Day the Earth Caught Fire (1961); some scenes of Casino Royale (1967); and the sf pop music film Toomorrow (1970).
---
---