aka Home
---
USA. 2014.
Crew
Director/Screenplay – Nicholas McCarthy, Producer – Sonny Mallhi, Photography – Bridger Nielson, Music – Ronen Landa, Visual Effects – Local Hero VFX (Supervisor – Worth Bjorn Walters) & Locktix VFX (Supervisor – Matthew Bramante), Special Effects – Autonomous FX (Supervisor – Jason Collins), Production Design – Walter Barnett. Production Company – Candlewood Entertainment/Varient Pictures
Cast
Catalina Sandino Moreno (Leigh Moreno), Naya Rivera (Vera Moreno), Ashley Rickards (Hannah White), Wyatt Russell (Sam), Ava Acres (Girl), Daniel Roebuck (Chuck), Olivia Crocicchia (Charlene), Jennifer Aspen (Lori), Michael Massee (Uncle Mike), Nick Eversman (Calvin), Tara Buck (Yolanda)
---
Plot
In 1987, Hannah White is persuaded by the guy she has run away with to make a deal for money by going to the crossroads and saying her name three times. As she returns home, occult forces come for her. In the present-day, realtor Leigh Moreno is given a house to sell and finds the wad of cash that Hannah received hidden in the house. She then sees a figure in a red raincoat and thinks it the owners' runaway daughter, before discovering that it is Hannah who committed suicide. The occult forces that Hannah gave herself to now start coming for Leigh and her sister Vera.
---
This was the second feature film from Nicholas McCarthy. McCarthy previously made the ghost story The Pact (2012), based on his earlier short film, which showed a highly accomplished aptitude for genre material. The title of this film seems to have wavered about between Home and At the Devil's Door during production with it being screened at festivals under both titles. US dvd releases have gone out under the title At the Devil's Door so one will stay with that.
As witness the alternate title Home, the recurrent theme in Nicholas McCarthy's films so far seems to be that of homes in which their  placid and ordinary appearance houses the presence of dark forces hiding beneath the facade. At the outset, At the Devil's Door appears to be a film about a diabolic pact. However, this is not the usual deviltry story. What is happening is elliptical, vague – McCarthy tantalises us with clues but also adopts a triple act structure that each follows a different girl into the house as they react with what happens. It eventually becomes apparent that what we are watching is a Satanic impregnation film, although the clues about what is happening are so oblique that this is not something that is clear until the last quarter of the film.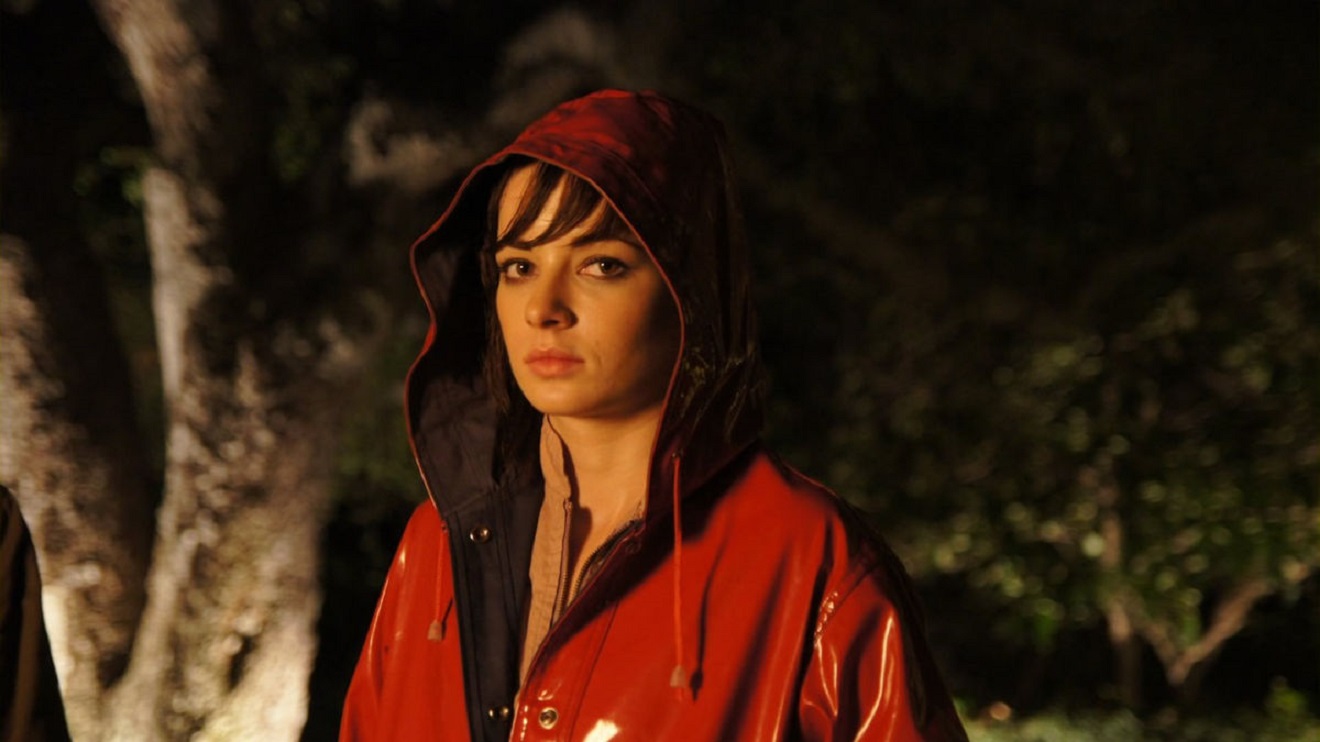 At the Devil's Door is a slow burner. You have to go with Nicholas McCarthy's slowness and cryptically withheld explanations. As you absorb into the film, things become increasingly eerie – Catalina Sandino Moreno calling the previous owners to say that she has just seen their missing daughter only to be told that the police picked the daughter up two hours ago whereupon comes the spooky question of just who was in the house as the camera cuts away to a news clipping of the suicide; where the power goes off and there briefly appears, almost too indistinct to be certain, two red glowing dots that could be eyes in the dark behind her.
From there, McCarthy's visions become increasingly more unearthly and way out – like where Catalina falls to the floor in convulsions after touching Ashley Rickards and, as she lies there, we see in the background Ashley's out of focus form appearing to split open and become a black figure. Or Naya Rivera having a dream vision of her sister floating in mid-air with her back arched. There are appearances of shadowy peripheral figures throughout with McCarthy getting another good start off when one of these appears behind Naya Rivera in the mirror. I'm a jaded genre viewer when it comes to being able to be jumped but the film managed to get one helluva jolt out of me when Naya Rivera looks under the kitchen sink and something abruptly appears.
Nicholas McCarthy subsequently went on to make the evil child film The Prodigy (2019), as well as the Easter episode, the best segment of the horror anthology Holidays (2016).
---
---