---
Crew
Producers – Tim Connors, Kyle Franke, John Hegeman, Adam Egypt Mortimer & Aram Tertzakian. Production Company – Distant Corners Entertainment/XYZ Films
Valentine's Day
Crew
Directors/Screenplay – Kevin Kölsch & Dennis Widmyer, Photography – Adam Bricker, Music – Jonathan Snipes, Visual Effects Supervisor – Darren Roark, Production Design – Adam Stilwell. Production Company – Parallactic Pictures.
Cast
Madeleine Coghlan (Maxine), Rick Peters (Coach Rockwell), Savannah Kennick (Heidi)
St. Patrick's Day
Crew
Director/Screenplay – Gary Shore, Producers – Jonathan Loughran, Gary Shore & Louise Shore, Photography – David Grennan, Music – Leo Pearson, Visual Effects Supervisors – Ed Bruce & Nicholas Murphy, Special Effects – Brendan Byrne Film FX (Supervisor – Aidan Byrne), Production Design – Tom Conroy. Production Company – Bord Scannan na Heireann (The Irish Film Board)/XYZ Films/Artcastle.
Cast
Ruth Bradley (Elizabeth Cullen), Isolt McCaffrey (Grainne), Peter Campion (The Man)
Easter
Crew
Director/Screenplay – Nicholas McCarthy, Producer – Stephanie Paris, Photography – Bridger Nielson, Visual Effects Supervisor – Padraic Culham, Makeup Effects – Jason Collins, Production Design – Walter Barnett.
Cast
Ava Acres (Girl), Petra Wright (Mom), Mark Steger (Bunny Man)
Mother's Day
Crew
Director/Screenplay – Sarah Adina Smith, Producer – Jonako Donley, Photography – Shaheen Seth, Music – Mark Degliantoni, Visual Effects – Oliver Zeller, Production Design – Alexis Rose.
Cast
Sophie Traub (Kate), Aleksa Palladino (Persian), Sheila Vand (Lily), Jennifer LaFleur (Dr Harding), Sonia Kinski (Crystal)
Father's Day
Crew
Director/Screenplay/Visual Effects – Anthony Scott Burns, Producer – Nicholas Bechard, Music – Pilotpriest.
Cast
Jocelin Donahue (Carol), Michael Gross (Voice of Father)
Halloween
Crew
Director/Screenplay – Kevin Smith, Producers – Josh Bachove & Jordan Monsanto, Photography – James Laxton, Music – Christopher Drake, Makeup Effects – Seana Gorlick, Production Design – Fernando Marroquin.
Cast
Harley Morenstein (Ian), Ashley Greene (Bree), Olivia Roush (Serena), Harley Quinn Smith (Holly)
Christmas
Crew
Director/Screenplay – Scott Stewart, Producers – Gabriela Revilla Lugo & Amanda Mortimer, Photography – Stuart Brereton, Music – Robert Allaire, Visual Effects – Zachary Nussbaum & Scott Stewart, Special Effects – John Russell & Sierra Russell, Production Design – Stephanie Hass. Production Company – Robotproof, Inc/Destroy All Entertainment/Revek Entertainment.
Cast
Seth Green (Pete Gunderson), Clare Grant (Sara Gunderson), Shawn Parsons (Businessman), Kalos Cluff (Bobby Gunderson), John C. Johnson (Proprietor), Karina Noelle (Submissive)
New Year's
Crew
Director – Adam Egypt Mortimer, Screenplay – Kevin Kölsch & Dennis Widmyer, Producers – Georg Kallert, Peter J. Nieves & Rob Schroeder, Photography – Benji Bakshi, Music – Robert Allaire, Visual Effects – Robert Schober, Special Effects – Hugo Villasenor, Production Design – Brian Mayfield. Production Company – Destroy All Entertainment/XYZ Films/Distant Corners Entertainment.
Cast
Andrew Bowen (Reggie), Lorenza Izzo (Jean)
---
Plot
Valentine's Day:– Young Maxine is bullied by the other girls at school. She has a crush on Coach Rockwell, the school's swimming instructor but he needs a heart transplant. As Valentine's Day comes and fundraiser is held for his operation, Maxine has an idea. St. Patrick's Day:– Schoolteacher Elizabeth Cullen teaches the legend of how St Patrick drove the snakes out of Ireland. She then wakes to discover that is pregnant with what doctors identify as some kind of snake. Easter:– It is the evening before Easter. As she is sent to bed, a young girl puzzles over what Easter means. She wakes in the middle of the night to see an unearthly creature in the house that is part Jesus, part Easter Bunny. Mother's Day:– Kate believes that she gets pregnant every time she has sex. Her doctor sends her away to a retreat in the desert where the women engage in shamanistic rituals to aid their pregnancies. Instead, Kate becomes pregnant again and is held there for a sinister purpose. Father's Day:– Carol receives a package that contains a tape recorder with a message from her father who disappeared when she was a child. The tape urges her to follow the directions it gives her so that she can see him again. Halloween:– Ian maintains three girls running a cam show porn site from an apartment and treats them badly. When he refuses their request for the night off on Halloween, they turn the tables on him and force him to undergo the indignities they are required to perform. Christmas:– On Christmas Eve, Pete Gunderson is desperate to buy the new UVU Virtual Reality headset for his son's Christmas present but the store has just sold the last one. He offers to buy the headset from the businessman who took the last one but is refused. Pete then finds the businessman collapsed and takes the headset rather than give the man his pills that will save him. On Christmas morning, Pete then discovers that the headset attunes itself to the user's identity and plays what is in their head. New Year's:– Reggie and Jean hook up for a date via the internet on New Year's Eve. She is unaware that he is a serial killer. However, when she invites him back to her apartment, things are not as clearcut as he expects.
---
Holidays is another of the horror anthologies that have taken off in the 2010s. While the horror anthology goes all the way back to the silent era, the 2010 have seen the rise of anthologies where each of the episodes have come from a different directorial hand. See also the likes of Chillerama (2011), The Theatre Bizarre (2011), The ABCs of Death (2012) and sequels, V/H/S (2012) and sequels, The Profane Exhibit (2013), Southbound (2015), Tales of Halloween (2015), Grindsploitation (2016), XX (2017), The Field Guide to Evil (2018), Nightmare Cinema (2018) and Isolation (2021).
The first segment Valentine's Day comes from the duo of Kevin Kölsch and Dennis Widmyer who had the breakout genre hit of Starry Eyes (2014) a couple of years earlier and the subsequent remake of Pet Sematary (2019). This is an okay tale of the underdog's comeuppance that reminds somewhat of Carrie (1976) in its setting. You suspect that the segment needed a longer running time – as it is, the balance between a downbeat story of teenager being bullied and cornball romantic fantasies seems forced at times. The film does reach a grisly ending reminiscent of the Poetic Justice segment of Tales from the Crypt (1972).
St Patrick's Day comes from Irish filmmaker Gary Shore who had previously only made the high-profile flop of Dracula Untold (2014). This is a real WTF entry. The segment captures your interest with some of the dialogue early on like where the gynaecologist asks Ruth Bradley "Have you been with anybody lately? Some kind of animal?" or "Have you ever seen the Hollywood film Rosemary's Baby [1968]? If you replace the baby with a reptile …" On the other hand, one has no clear idea what is going on – something to do with Ruth Bradley teaching the legend of how St Patrick drove the snakes out of Ireland and then waking up impregnated with a snake because one of her pupils looked at her intensely, before arriving at an ending where someone (possibly St Patrick himself) appears to have arranged this for unclear purpose.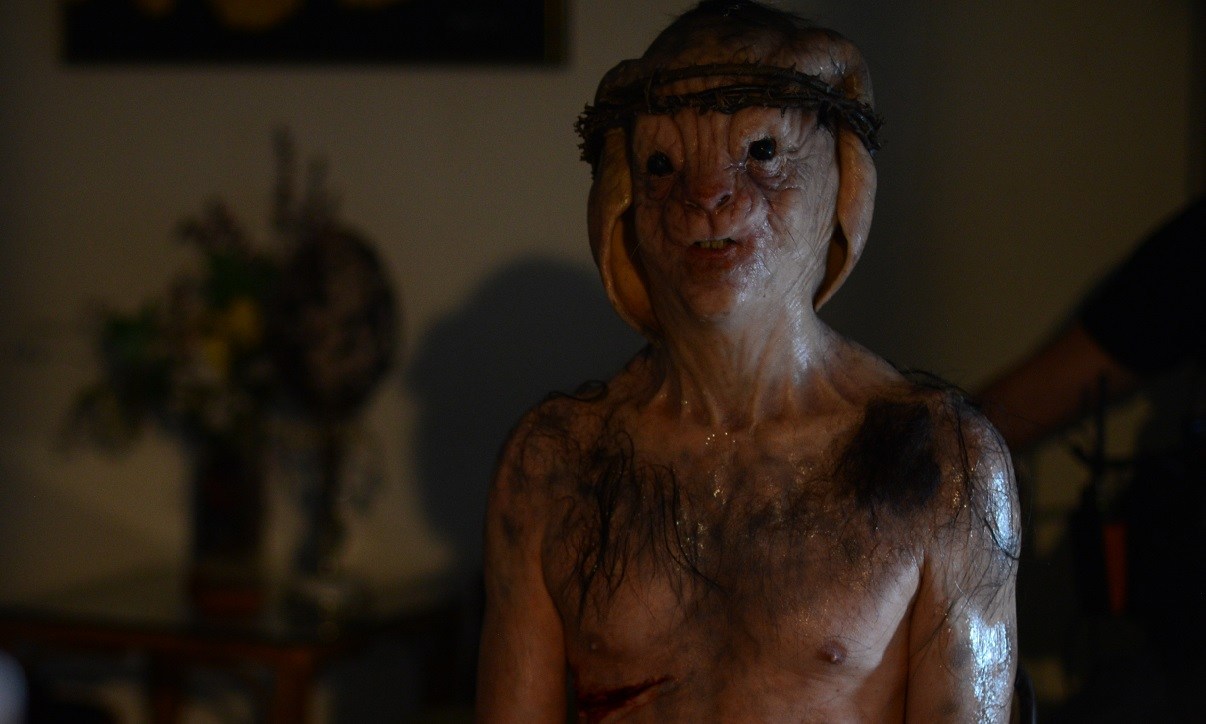 Easter comes from Nicholas McCarthy, who has been pegged as a director worth watching out for on my radar as a result of films such as The Pact (2012) and At the Devil's Door (2014) and the subsequent The Prodigy (2019). Not unexpectedly, McCarthy delivers a segment that even in its brief time seems out of this world. Particularly unsettling is the creature that is designed as an amalgam of Jesus Christ and the Easter Bunny – appearing with a crown of thorns on its bunny-shaped head and causing tiny chicks to appear out of the crucifixion wounds on its hands. Not to mention the somewhat blasphemous image of it asking Ava Acres to place her finger inside the spear wound on its side and sighing in ecstasy as she does.
Mother's Day comes from Sarah Adina Smith, who previously attained acclaim with her indie mystery film The Midnight Swim (2014) and the subsequent Buster's Mal Heart (2016). I really liked the start of the segment where Sophie Traub makes cryptic comments about not being able to have sex without getting pregnant – Holidays being what it is, this is something you are not entirely sure whether you should be taking seriously. The segment dives off into some seriously out there territory as it gets Staub to the retreat and we next see her in a hot tub with a host of other naked women amid a drug trip in which a shaman woman also enters the tub and fixates on Traub with intent. Thereafter though, Smith doesn't seem to know where to go with the piece and it turns into something about Staub becoming pregnant again and being held a prisoner by the other women. We never find out why and the segment arrives at a baffling ending where she gives birth to something clearly not human with possibly apocalyptic results.
Father's Day is the only segment to come from someone who has had no prior directorial credits – Anthony Scott Burns who had previously worked as a visual effects artist, although he did subsequently go on to direct the horror films Our House (2018) and Come True (2020). I liked the mood that Burns creates in the episode with Jocelin Donahue receiving the tape from her father and following the trail to where he disappeared. However, while the whole segment is a build-up to what she will find when she gets there, the payoff only produces a puzzled "huh".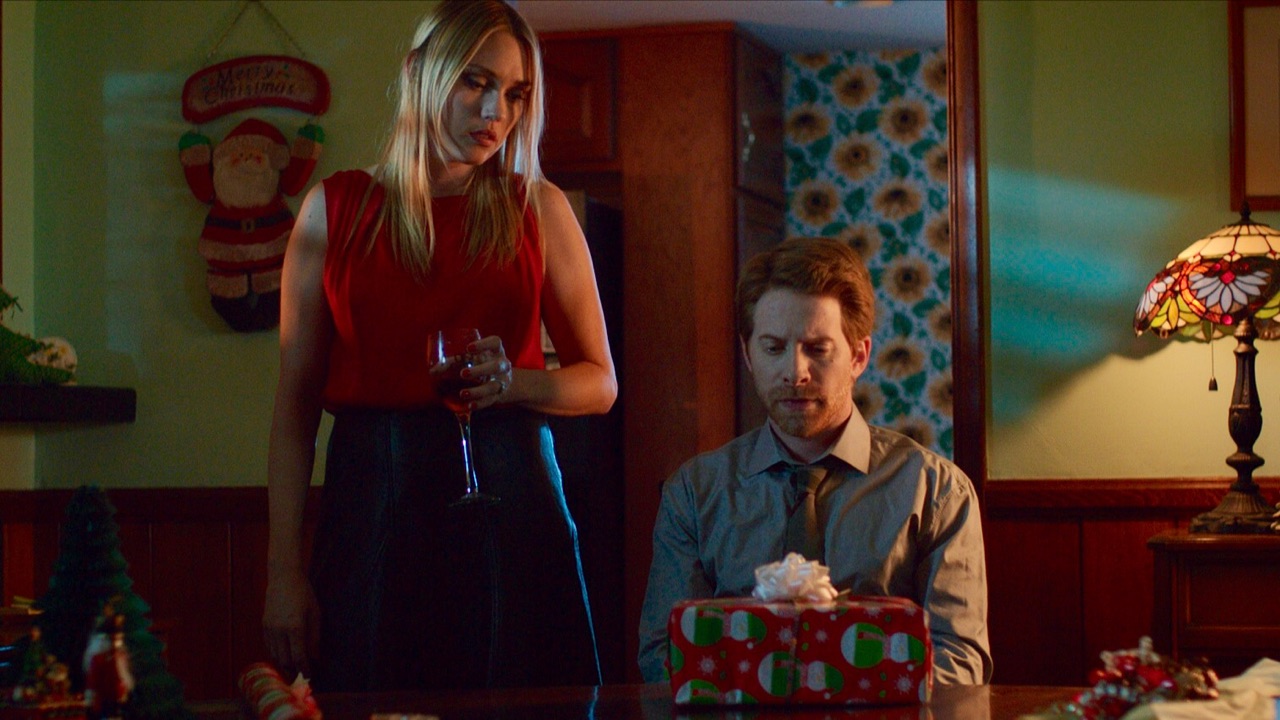 Halloween comes from Kevin Smith, who has had a high-profile career since Clerks. (1994) and a host of other independent comedies with the likes of Mallrats (1995), Chasing Amy (1997), Dogma (1999) and Jay and Silent Bob Strike Back (2001). In more recent years, Smith has been turning to horror subjects with Red State (2011), Tusk (2014) and Yoga Hosers (2016). I anticipated this episode as it kicks in. The camgirl setting is a unique one that you suspect that Smith, given his wry hand with dialogue, would have a field day with. Not too unexpectedly, he does. The segment plays out as a nasty underdog comeuppance piece with strong feminist sympathies.
Christmas comes from Scott Stewart, the only director other than Kevin Smith to have had multiple A-list release with films such as Legion (2010), Priest (2011) and Dark Skies (2013). Stewart, a former visual effects artist, has failed to do much to impress with his theatrical films. Likewise, Christmas is a negligible piece of Virtual Reality fodder that feels like it might have been novel in the 1990s but now old hat and fails to add up to anything interesting.
New Year's comes from Adam Egypt Mortimer who made the modest horror film Some Kind of Hate (2015) and the subsequent Daniel Isn't Real (2019). Mortimer hits in with a certain dark relish in what initially seems a stalker fixation tale only to have it turned on its head with amusing results. It is appealing to see Eli Roth's wife Lorenza Izzo in a role that allows her to go nuts with an axe. Although you also feel that this is a segment that would have worked at much longer length, which would have allowed its black humour to play out in more protracted ways.
---
---