---
Crew
Director – Kevin Lima, Screenplay – Kristen Buckley, Brian Regan, Bob Tzudiker & Noni White, Story – Kristen Buckley & Brian Regan, Based on the Novel The One Hundred and One Dalmatians by Dodie Smith, Producer – Edward S. Feldman, Photography – Adrian Biddle, Music – David Newman, Visual Effects Supervisor – Jim Rygiel, Visual Effects – The Secret Lab (Supervisor – Dan Deleeuw), Animatronics – Neil Scanlan Studio (Supervisor – Neil Scanlan), Special Effects Supervisor – Chris Corbould, Production Design – Assherton Gordon. Production Company – Disney.
Cast
Glenn Close (Cruella De Vil), Alice Evans (Chloe Simon), Ioan Gruffud (Kevin Shepherd), Tim McInnerny (Alonzo), Gerard Depardieu (Jean-Pierre Le Pelt), Eric Idle (Voice of Waddlesworth), David Horovitch (Dr Pavlov), Ian Richardson (Torte)
---
Plot
Cruella DeVil is released from prison after Dr Pavlov's experimental psychological conditioning techniques have turned her into a nice person who now likes puppies. Her probation officer Chloe Simon is suspicious, believing people like Cruella never change. She appears to be wrong as Cruella puts her money into helping the financially beleaguered 2nd Chance dog pound run by Kevin Shepherd. However, after the chimes of Big Ben cause the conditioning to become undone, Cruella, with the aid of French furrier Jean-Pierre Le Pelt, revives her plans to make a dalmatian fur coat.
---
Disney was a corporate success story of the 1990s. After being caught in a creative cul-de-sac between the late 1960s and the 1980s, they regained their lead with a series of artistically boundary-pushing high-quality animated features that returned to their classic name. However, beneath the wholesomeness of the family name, there seemed a greedy corporation that was increasingly trying to milk everything it could from the public's love of its characters. In the 1990s and 00s, almost all of Disney's past successes were recycled in tv movie remakes of their 1960s and 70s live-action films, live-action remakes and direct-to-video sequels to most of their animated films, not to mention a series of chain stores across the world devoted to selling Disney merchandising product and the increasingly unpleasant revelations that much of it was being made using Third World sweatshop labour.
101 Dalmatians (1996) was a live-action remake of their animated classic One Hundred and One Dalmatians (1961). The remake was critically slammed for turning the animated classic into a clone of Home Alone (1990), although it proved a reasonable box-office success. 102 Dalmatians is a sequel to the live-action remake of the animated film – which must surely represent Disney taking their creative self-cannibalisation to an extreme. For such a throwaway, zero expectation effort, 102 Dalmatians proves surprisingly likable – in fact, is a far better film than its 1996 predecessor. Disney subsequently made Cruella (2021), a live-action origin story with Emma Stone as a young Cruella.
The plot follows essentially the same pattern as the 1996 story – a young couple who each raise dogs become romantically involved; Cruella plans to create a fur coat using dalmatian fur; the goons abduct the dalmatians; and there is a climax featuring the rescue of the dalmatians from a rickety building in the countryside. When it comes to the climactic scenes, 102 Dalmatians is considerably more palatable than 101 Dalmatians 1996, which essentially conducted half-an-hour of slapstick torture on its villains. The violence here is much more cartoony – Cruella's demise, being cooked alive in a giant cake, seems perfectly appropriate to a Disney animated witch – and there is only a single goon and he is allowed a redemption rather than made into the butt of endless pratfalls.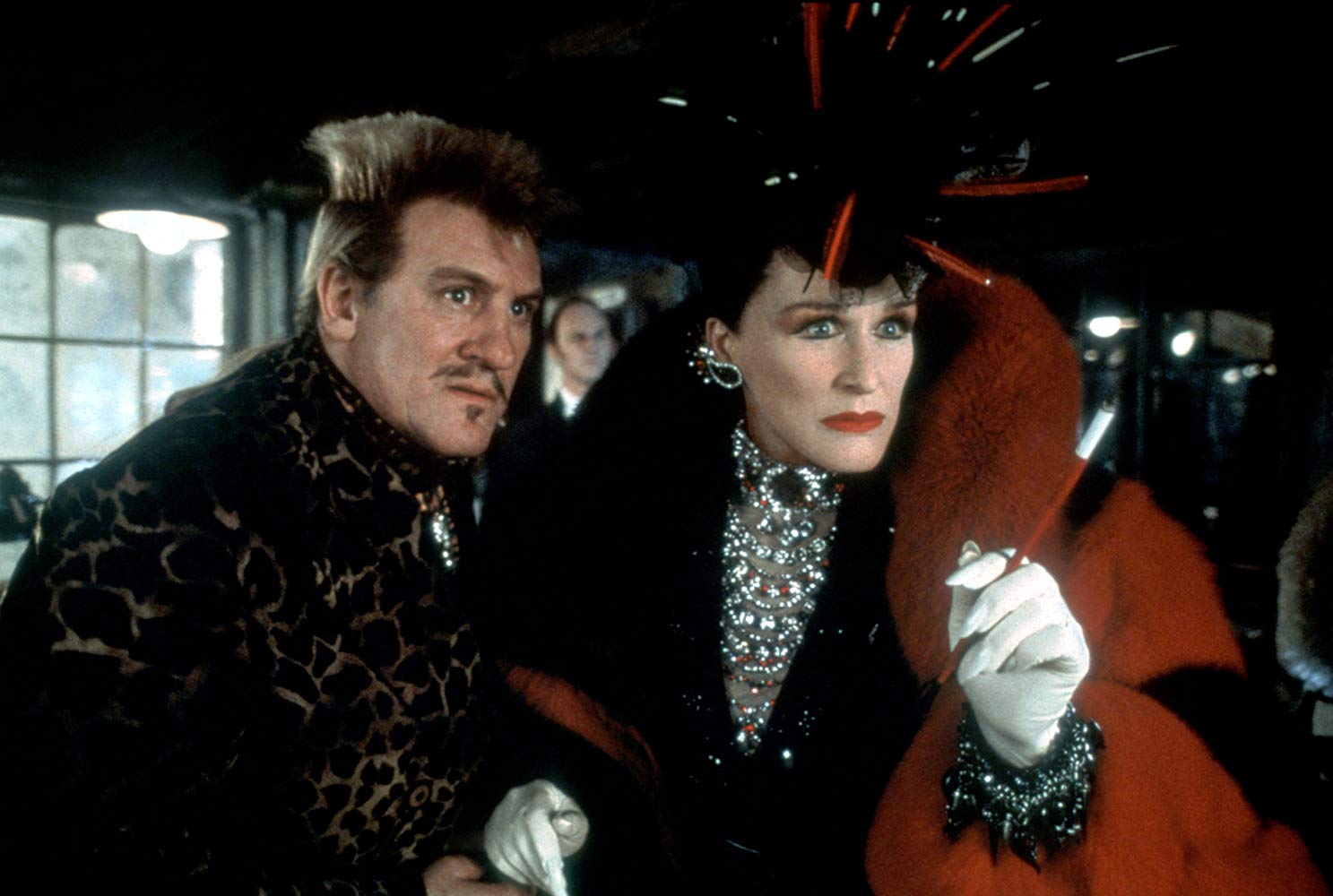 101 Dalmatians 1996's failing was in trying to turn a cartoon into a realistic film; 102 Dalmatians reverses that and makes the film deliberately unrealistic just as though it were a cartoon in live-action. Disney have even placed an animation director at the helm – Kevin Lima who previously directed A Goofy Movie (1995) and co-directed Tarzan (1999) and subsequently went onto make Enchanted (2007).
Glenn Close – the only returnee from the first film – goes into full OTT flight as Cruella DeVil. The film outfits her with an eye-popping series of costumes – the sheer boldness of the colour schemes and extravagance of the ornamentation almost jumps right off the screen to physically assault one's sensibilities. Her home is less a mansion than the type of Gothic cavern that Conan the Barbarian would have been proud to claim as his throne room.
The animals don't talk – as they did in the 1961 film but not the 1996 version – but are much more anthropomorphised. The scene stealer of the show proves to be the Eric Idle-voiced macaw that believes it is a rottweiler. The cutest moment is the scene that 'quotes' the classic spaghetti eating scene from Lady and the Tramp (1955) but recreates it with humans instead of dogs.
---
---