---
Crew
Directors – Clyde Geronimi, Wilfred Jackson & Hamilton Luske, Screenplay – Milt Banta, Ed Penner & Joe Rinaldi, Based on the Novel by Sir James N. Barrie, Animation Supervisor – Frank Thomas, Music – Oliver Wallace, Special Effects – Ub Iwerks. Production Company – Disney/RKO.
Voices
Bobby Driscoll (Peter Pan), Kathryn Beaumont (Wendy Darling), Hans Conreid (Captain Hook/George Darling), Bill Tompson (Smee), Tommy Luske (John Darling)
---
Plot
The eternal adolescent Peter Pan and the fairy Tinkerbell appear in the bedroom of Wendy Darling in search of Peter's missing shadow. Wendy sews Peter's shadow back on and Peter agrees to take her and her two brothers with him to Never-Never Land in search of adventure. He teaches them how to fly with the aid of Tinkerbell's fairydust. There the evil pirate Captain Hook plots revenge against Peter who cut off his hand and fed it to a crocodile. Hook succeeds in capturing Tinkerbell and Wendy's brothers in a determination to find Peter's hideout.
---
Walt Disney produced the first ever feature-length animated with Snow White and the Seven Dwarfs (1937) and then went onto make the studio's name with classic works like Fantasia (1940), Pinocchio (1940), Dumbo (1941) and Bambi (1942). However, the coming of the Second World War swept up much of the talent that created Disney's classic films and the period between 1943 and 1950 proved a barren time for the studio. Come the 1950s and Disney began a concerted attempt to regain that name and during that decade made a number of other classics, including Cinderella (1950), Alice in Wonderland (1951), Peter Pan, Lady and the Tramp (1955) and Sleeping Beauty (1959), as well as launching their live-action division and venturing into television.
Peter Pan is certainly one of the genuine Disney classics. However, coming to see Peter Pan with such in mind, one finds it disappointing. A classic Peter Pan may be but it seems to lack the je ne sais quoi of the great Disney films. It is certainly an entertaining film with its wall-to-wall barrage of slapstick and juvenile derring-do. However, that is ultimately it, it tires and leaves one waiting for it to rise above the business of titillating the juveniles with the pratfalls and custard-pie stuff to get on with the film and show us the emotive beauty that the great Disney films rose to, which it never does.
The characters are of variable appeal. The best of them is Wendy who, in Kathryn Beaumont's sweetly recognisable English accent, attains just the right balance of prim snobbery and plaintive vulnerability. Other characters irritate though – the Lost Boys look more like anthropomorphised fluffy bunnies and Smee looks like he has strayed in from a casting call for one of the Seven Dwarves. Hook is played with a certain degree of threat but the constant buffoonery and his craven wailing undermines this. Peter is stocky but comes with enough sprightly energy for this not to matter.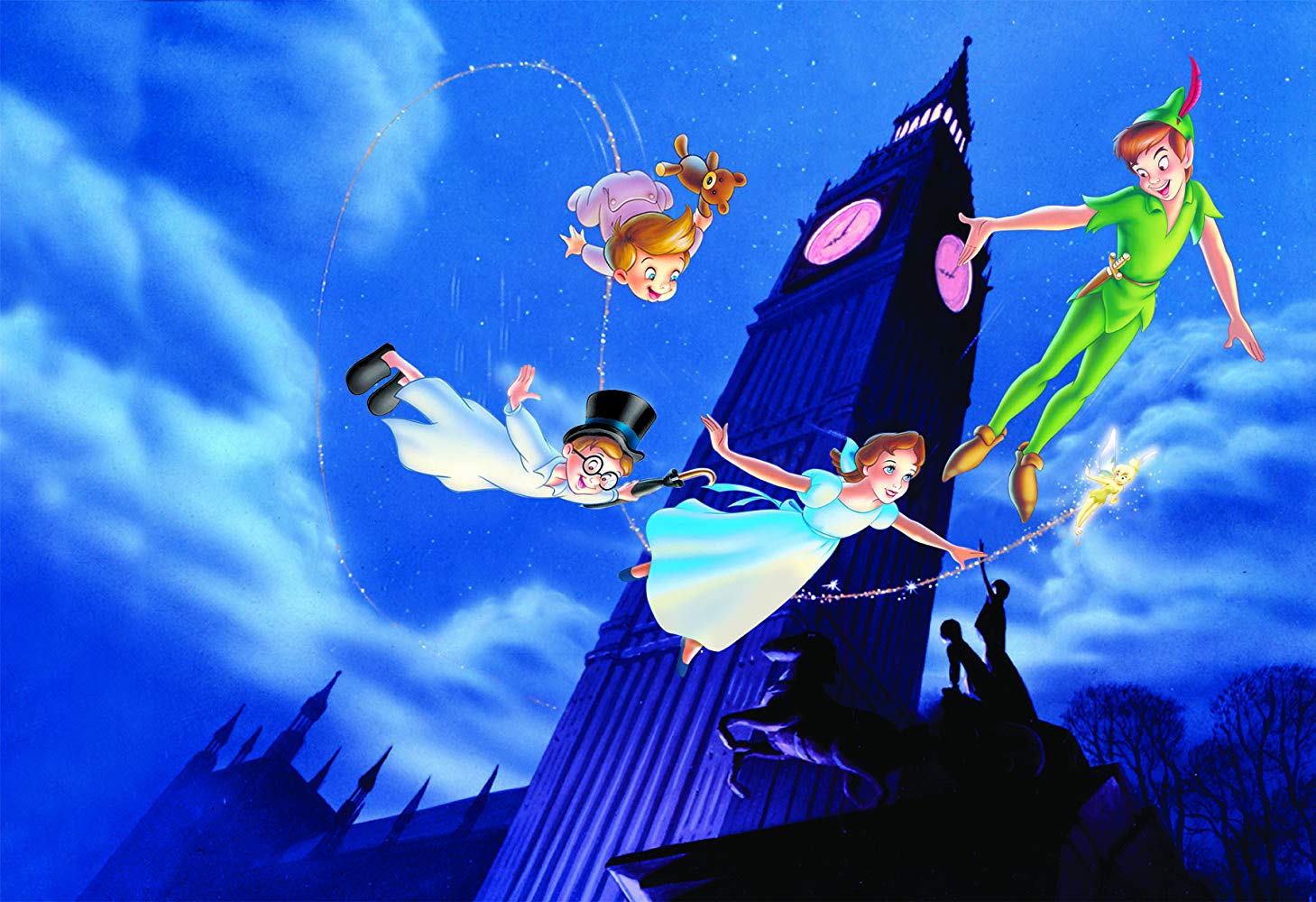 The other likeable character is that of Tinkerbell who is played with enough sass and peeved sweetness to charm. It is here that the film fudges the issue of preadolescent romance and only cautiously skims the top of the emotions raised by Peter and Wendy's affection and Tinkerbell, Princess Tiger-Lily and the mermaids' singular attraction to Peter.
The J.M. Barrie story, originally produced as a play in 1906 and later turned into a novel, is a children's classic, with its fantasy of unalloyed childhood innocence. It had earlier been filmed in live-action as the silent Peter Pan (1924), although it is this Disney interpretation in particular that has found an enduring appeal within public consciousness. Steven Spielberg attempted to conduct a remake for many years and eventually mounted the live-action sequel Hook (1991), which concerns itself with a grownup Peter's return to Never-Never Land. Disney made their own animated theatrical sequel Return to Never Land (2002), as well as a series of Tinkerbell dvd-released films with TinkerBell (2008), Tinker Bell and the Lost Treasure (2009), Tinker Bell and the Great Fairy Rescue (2010), Secret of the Wings (2012), The Pirate Fairy (2014) and Tinker Bell and the Legend of the Neverbeast (2014); and the live-action prequel Pan (2015). Other versions of the story include Peter Pan (1955), a live tv play; Peter Pan (1976), a tv movie version with Mia Farrow!!! playing Peter; the animated tv series Peter Pan and the Pirates (1990); Peter Pan (tv movie, 2000); and the big-budget live-action Peter Pan (2003); while there was the fascinating but little-seen Neverland (2003), which gave Peter Pan a modernised interpretation with Peter a kid suffering from bipolar disorder; the tv mini-series Neverland (2011), which offered a science-fictional rationalisation set on an alien planet; and the modernised Wendy (2020), which relocates the story in the Mississippi Delta. Finding Neverland (2004) was a biopic about J.M. Barrie and offered a heavily fictionalised account of the writing of Peter Pan.
---
---