---
USA. 1998.
Crew
Directors – Tony Bancroft & Barry Cook, Screenplay – Eugenia Bostwick-Singer, Rita Hsiao, Phil LaZebnik, Chris Sanders & Raymond Singer, Story – Robert D. San Souci, Based on the Poem, Producer – Pam Coats, Music – Jerry Goldsmith, Songs – Matthew Wilder & David Zippel, Production Design – Hans Bacher. Production Company – Disney.
Voices
Ming-Na Wen (Fa Mulan), Eddie Murphy (Mushu), B.D. Wong (Captain Li Shang), James Hong (Chi Fu), Harvey Fierstein (Yao), Jerry Tondo (Chien-Pao), Gedde Watanabe (Ling), Miguel Ferrer (Shan-Yu), Soon-Tek Oh (Fa Zhou), Pat Morita (The Emperor), Miriam Margolyes (The Matchmaker), George Takei (First Ancestor)
---
Plot
When the Huns invade China, the emperor puts out a general conscription calling for one man from each family to join the army to repel the invasion. The aging and crippled Fa Zhou is called up. To spare him, his daughter Mulan cuts her hair, dresses as a man and goes off to join the army in his place. This defiance of tradition upsets the ghosts of her ancestors who decide that she must be stopped. A demoted temple dragon goes to offer assistance, deciding the only way it can regain its position is to help Mulan triumph against The Huns.
---
I may have been one of the few to have been relatively disappointed with the 1990s renaissance of Disney animation. Both Beauty and the Beast (1991) and The Lion King (1994) were impressive. While some hastily rushed to make comparisons to the great Disney classics, many other Disney films of this period pale in contrast. Aladdin (1992) was a bland effort only founded on Robin Williams being a funny man; Pocahontas (1995) seemed more constructed to toe a PC line than actually be a film; The Hunchback of Notre Dame (1996) failed to be the epic it artistically strove to be due to a flat, mawkish story; and Hercules (1997) took its in-jokey self-referentiality to the point of annoyance. I did not approach Mulan with any great expectations and, as a result, ended up being pleasantly surprised.
Mulan is an adaptation of a Chinese legend of uncertain original date. In some regards, Mulan is like a variation on Pocahontas – strong heroine stands against odds to singlehandedly end a war – but with a stronger story and less of a feeling that it is tip-toeing on eggshells in order not to offend any minority group. Certainly, the PC values are still there – despite being an animated film in English, Mulan is scrupulous enough to cast most of the Chinese character parts with Asian-American actors – but not to the point it gets in the way of the story.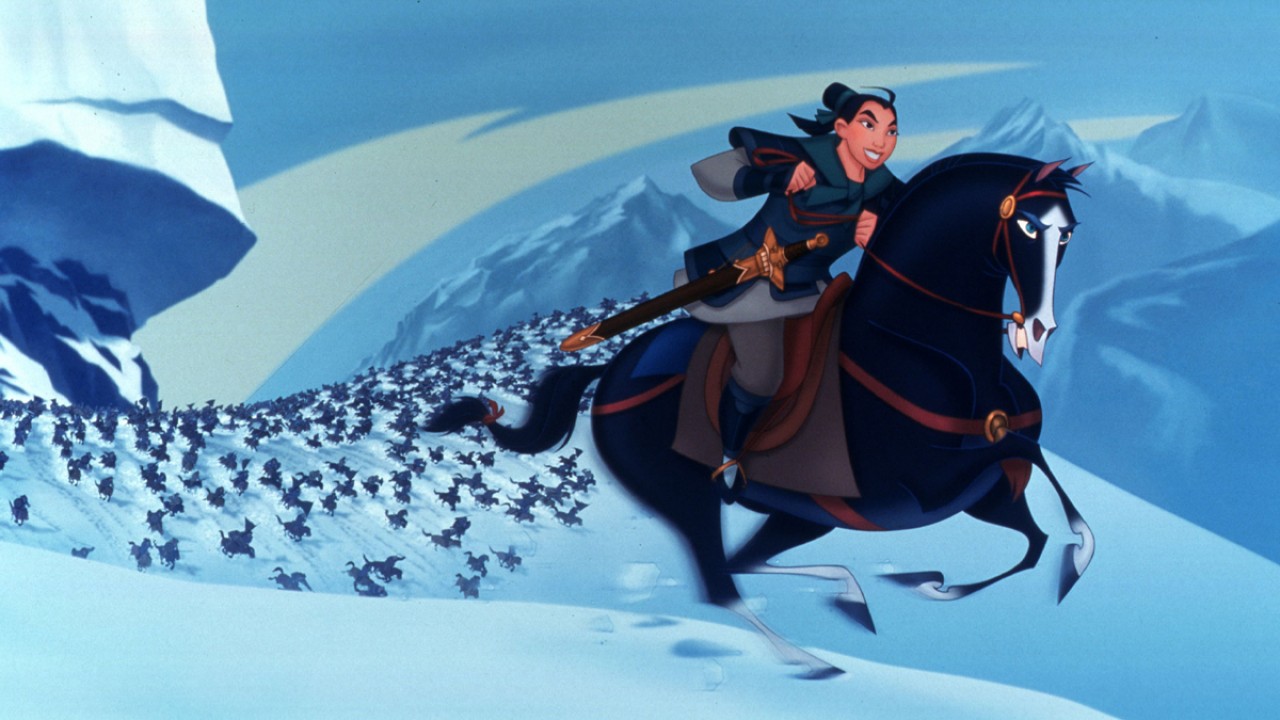 In all other regards, Mulan is a satisfyingly well-rounded film – a warm balance of humour, a likeable obligatory supporting cast of small talking animal sidekicks, a strong female lead (something that is also requisite for the new PC Disney these days). The artwork is modelled on traditional Chinese lithographs and all drawn in pastel colours. While economically drawn, there is at least one artistically (and dramatically) dazzling sequence where Mulan brings an avalanche down on an advancing army and is forced to ride the crest of the wave on her horse.
Among the characters, Eddie Murphy does a standout piece as a fast-talking dragon. Murphy has an absolute ball and makes it the most memorable of the talking animal mentor/sidekick parts that Disney has done in recent years – far better in fact than Robin Williams's overrated, anachronism-spouting turn in Aladdin.
Disney later produced a direct-to-dvd sequel Mulan II (2004). Mulan (2020) was a live-action remake starring Yifei Liu in the title role. Mulan also makes a cameo appearance as one of the Disney princesses in Ralph Breaks the Internet (2018).
(No. 8 on the SF, Horror & Fantasy Box-Office Top 10 of 1998 list).
---
---