---
Crew
Director – Kevin Lima, Screenplay – Bill Kelly, Producers – Barry Josephson & Barry Sonnenfeld, Photography – Don Burgess, Music – Alan Menken, Songs – Alan Menken & Stephen Schwartz, Music Supervisor – Dawn Soler, Visual Effects Supervisor – Thomas Schelesny, Visual Effects – Tippett Studio, Additional Visual Effects – CIS Hollywood (Supervisor – Bryan Hirota), Reel FX Creative Studios (Supervisor – Dale Carman) & Weta Digital (Supervisor – Dan Lemmon), Special Effects Supervisor – Steve Kirshoff, Animation Supervisor – James Baxter, Old Hag Makeup – Rick Baker, Production Design – Stuart Wurtzel. Production Company – Disney/Josephson Entertainment.
Cast
Amy Adams (Giselle), Patrick Dempsey (Robert Philip), James Marsden (Prince Edward), Timothy Spall (Nathaniel), Rachel Covey (Morgan Philip), Susan Sarandon (Queen Narissa), Idina Menzel (Nancy Tremaine), Kevin Lima (Voice of Pip in New York), Jeff Bennett (Voice of Pip in Andalasia), Tonya Pinkins (Phoebe Banks), Isiah Whitlock, Jr (Ethan Banks)
---
Plot
In the magical kingdom of Andalasia, Giselle lives in the woods tended by various animals and pining for her true love. This is Prince Edward. However, Edward's mother, the evil Queen Narissa, is constantly preventing him from finding his true love, knowing that when he marries she will be forced to abdicate the throne to him. Despite her best efforts, Edward and Giselle meet when he pursues a troll into the forest. Edward announces that he and Giselle will be married the next day. Narissa then appears to Giselle disguised as an old hag and pushes her into a magical well. The well transports Giselle through space to emerge out of a manhole in Times Square in New York City. The innocent Giselle proves quite out of place in the modern world. She is found and taken home by divorce lawyer Robert Philip. There her blithe cheer, her constant bursting into song and ability to control animals proves of great upset to Robert's home and work life and causes his girlfriend Nancy to walk out. Meanwhile, Prince Edward has dived through the well, accompanied by the talking chipmunk Pip, and comes searching for Giselle. The calculating Narissa also sends her loyal servant Nathaniel to ensure that Edward does not find Giselle.
---
Enchanted was a huge end of year 2007 family success, one of the biggest hits that Disney have enjoyed in recent years. Enchanted is very much a traditional Disney animated fairytale film that has been reworked for the post-Shrek (2001) crowd. Shrek popularised the deconstructed fairytale, which saw traditional fairytales modernised or put through an ironic wringer. In the aftermath of Shrek, a number of films – A Cinderella Story (2004), Ella Enchanted (2004), Hoodwinked! (2005), Happily N'Ever After (2006) – threw the fairytale into contemporary idiom (or vice versa – placed contemporary idiom into the fairytale universe).
You could capsule describe Enchanted as being Shrek by way of Who Framed Roger Rabbit? (1988) – or perhaps even more so the Roger Rabbit copy The Adventures of Rocky and Bullwinkle (2000), which dragged characters out of the animated and into the real world. There are also a number of similarities to the tv movie Prince Charming (2000), which likewise spoofed the fairytale in having an unworldwise fairytale prince turning up in New York City and becoming involved with a modern girl.
Enchanted has clearly set out to puncture the naivete of classic Disney animated fairytales – in particular, Snow White and the Seven Dwarfs (1937) and Sleeping Beauty (1959). There are many homages to the Disney Snow White in the film – poison apples, the queen disguised as a hag and especially the scenes of Giselle singing and being aided in the housework by a horde of frolicking woodland animals. The animated sequences use the same stylised look of Sleeping Beauty, while the witch and especially her climactic transformation into a dragon is clearly modelled on Sleeping Beauty's Maleficent. The film even credits its source openly by including cameos from actresses who have voiced various Disney heroines and throwing in a number of in-jokes.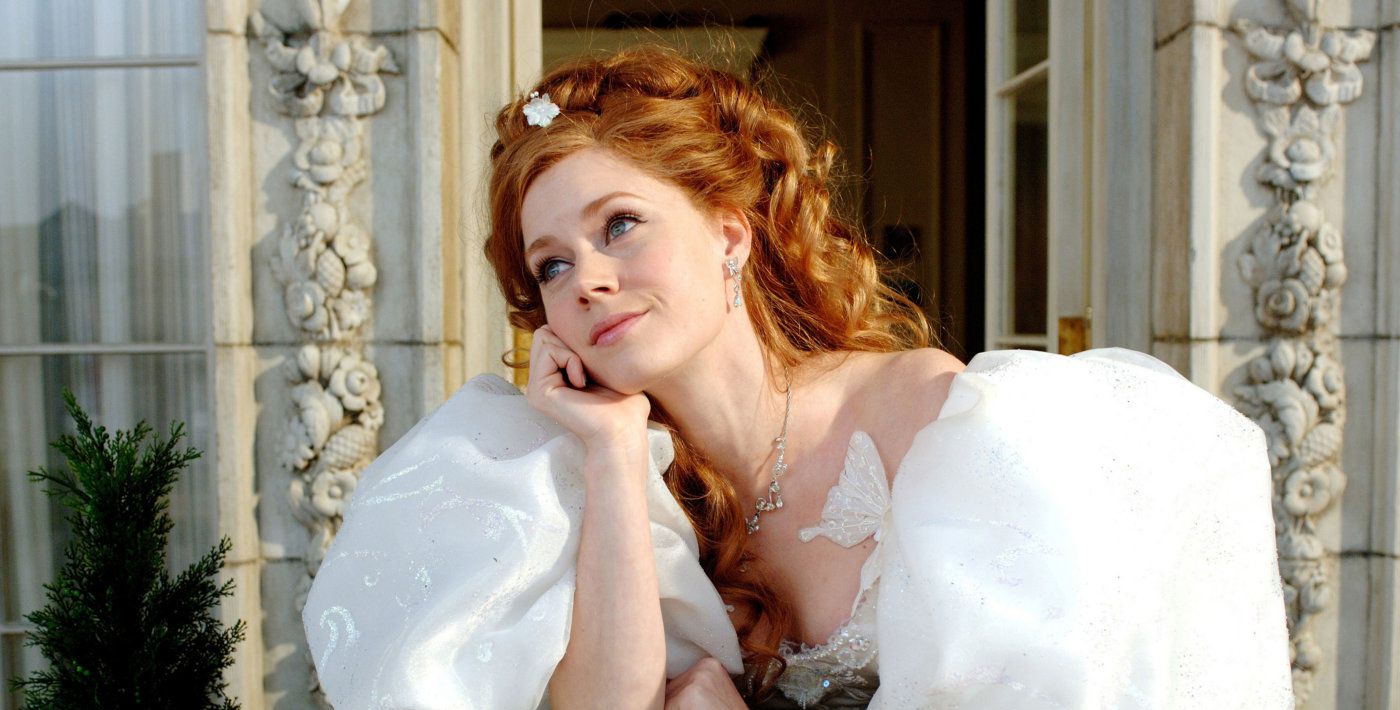 Enchanted is often not much more than a single gag film but it does generate some amusement from its basic concept. There is an especially appealing scene where Amy Adams wakes up in Patrick Dempsey's apartment and calls various animals to her for their help in cleaning up, a la the famous scene in Snow White. This is promptly satirically skewered by Patrick Dempsey's reactions as he enters to see birds, cockroaches and rodents having taken over his lounge.
There are some nice contrasts between fairytale idealism and the real world – of seeing the concept of true love coming up against the notion of a date; or an earthbound Patrick Dempsey trying to deal with Amy Adams' constant bursting into song while out in public. There is the ever-so-delightful moment where young Rachel Covey tries to deal with Amy Adams' anxiety about lack of fairy godmothers: "I have something better than a fairy godmother" and whipping out an American Express card.
Enchanted is an eminently predictable film. You can see every gag that Kevin Lima sets up being wheeled into place from the other side of Central Park. You know from about the point that Patrick Dempsey is introduced that Giselle is going to end up with him rather than her supposed true love Prince Edward. You know from the point they meet that Edward is going to end up with Patrick Dempsey's fiancee Irina Menzel. But then Enchanted is one of those films where you expect there to be a high degree of predictability about the way that things turn out. That said, there is a surprising lack of drama when it comes to the climactic scenes and especially the death of Susan Sarandon's wicked queen (not to mention some decidedly spotty CGI effects in the creation of the dragon).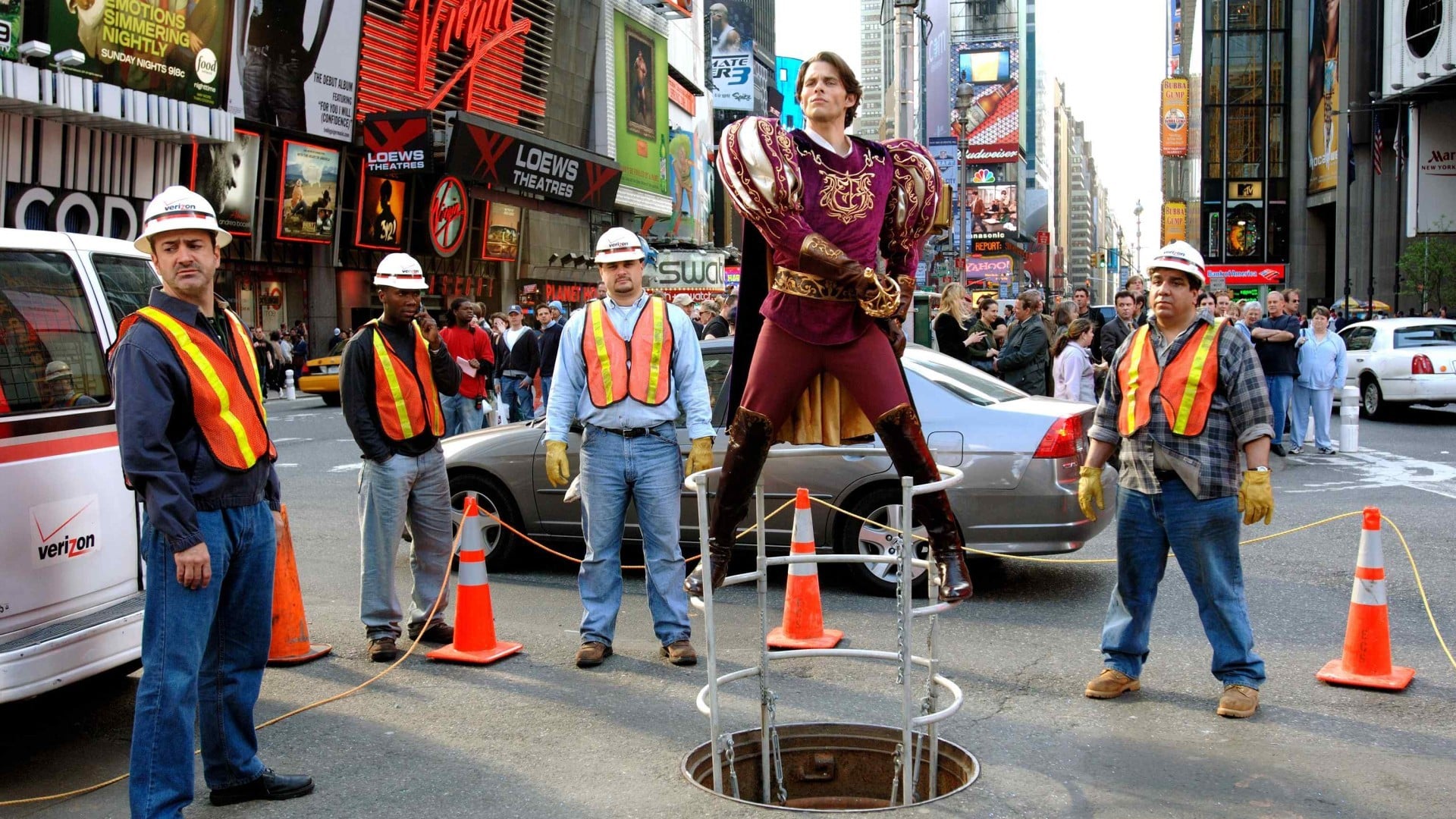 There was a considerable degree of buzz surrounding Amy Adams' performance even before Enchanted opened. Watching the film, you end up scratching your head. Amy Adams' performance almost entirely consists of a series of face wide-open gee-gosh expressions. Undeniably, she has a bubbly frothiness that carries the film and without question the film would be a good deal the lesser without her but what so many people saw in all the manic cheer that they were calling worthy of an Academy Award leaves one puzzled. Opposite her is Patrick Dempsey, the former 1980s teen actor – see embarrassments like Meatballs III: Summer Job (1987) – who recently successfully reinvented himself as a sex symbol as a result of tv's Grey's Anatomy (2005– ).
A sequel was planned for many years to finally emerge with Disenchanted (2022) containing return performances from Amy Adams, Patrick Dempsey, James Marsden and Idina Menzel. Enchanted was parodied in Disaster Movie (2008).
Director Kevin Lima was a former Disney animator who co-directed two animated films with A Goofy Movie (1995) and Tarzan (1999), before making his live-action debut with 102 Dalmatians (2000). Lima has also directed two live-action Disney tv movies Eloise at Christmastime (2003) and Eloise at the Plaza (2003).
---
---