---
Crew
Directors – Eric Darnell & Simon J. Smith, Screenplay – John Aboud, Michael Colton & Brandon Sawyer, Story – John Aboud, Michael Colton, Alan Schoolcraft & Brent Simons, Producers – Lara Breay & Mark Swift, Music – Lorne Balfe, Visual Effects Supervisor – Philippe Gluckman, Animation Supervisor – Jamaal Bradley, Production Design – Shannon Jeffries. Production Company – DreamWorks Animation.
Voices
Tom McGrath (Skipper), Chris Miller (Kowalski), Christopher Knights (Private), Conrad Vernon (Rico), John Malkovich (Dave/Dr Octavius Brine), Benedict Cumberbatch (Classified), Annet Mahendru (Eva), Peter Stormare (Corporal), Ken Jeong (Short Fuse)
---
Plot
The penguins, Skipper, Kowalski, Rico and Private, conduct a raid on Fort Knox to obtain a rare packet of chips from the dispensing machine, only to be captured. They are taken to Venice aboard the submarine of Dr Octavius Brine who reveals he is in fact the octopus Dave who adopts a disguise as a human. Dave has a deep-seated resentment from when was a zoo animal and his being the star of the show was always upstaged by the cuteness of penguins. He has now developed a ray with which he intends to change all of that. The penguins manage to escape with a canister of Dave's Medusa Serum. Pursued through the canals by octopus henchmen, they are rescued by a team of highly trained agents from North Wind. North Wind's leader Classified reveals that Dave is planning to abduct all the penguins worldwide and use the Medusa Serum to turn them into something no longer cute. The penguins are despatched out of North Wind's way but they make an escape and decide to return and stop Dave in their own way.
---
Penguins of Madagascar is a spinoff film from DreamWorks' popular Madagascar series of animated films, Madagascar (2005), Madagascar: Escape 2 Africa (2008) and Madagascar 3: Europe's Most Wanted (2012). The Madagascar series feels like it has come to a natural end – there can only be a limited number of plots you can keep doing set around the antics of a group of animals escaped from a zoo – so it seems a logical choice to give the scene-stealing Penguins their own film. The idea of them as spies has an irresistible appeal that you could easily see spun out as another series. (Although you cannot help but think in terms of geography and fauna, the title the film has ended up with seems a bizarrely mismatched incongruity). The Penguins had previously been spun out in the animated tv series The Penguins of Madagascar (2008-13).
In that 20th Century Fox (the distributor for DreamWorks' films) refuses to recognise Moria as a press outlet and allow us to their advance screenings – and as part of my refusal to pay good money to an organisation that puts out bile like Fox News – I made a point of waiting until a reasonable copy of Penguins of Madagascar was available to download before reviewing it. It received only mediocre reviews from most other press outlets meaning that by the time I came around to watching it, I didn't have too many high expectations. I have to say I was pleasantly surprised and enjoyed Penguins of Madagascar far more than I was anticipating doing.
The opening scenes introducing the penguins remind of something out of Happy Feet (2006), while the chase for the dropped egg that keeps going awry makes you think of Scrat and his acorn from Ice Age (2002) and sequels – not to mention that for the sake of sheer eccentricity the sequence manages to get a voice cameo from of all people Werner Herzog as a documentary-maker happy to kick the penguins off the cliff for the sake of his film.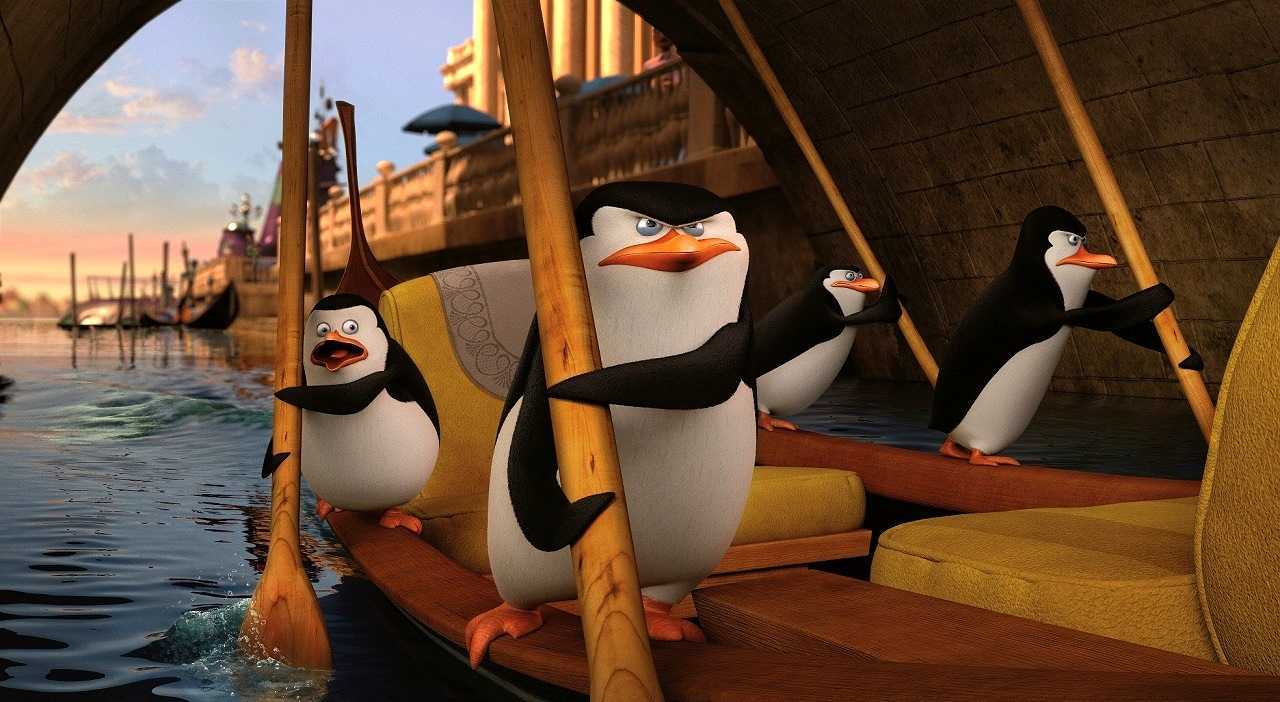 From there, Penguins of Madagascar hits in with a manic delirium. The penguin spy capers make you think of one of the Austin Powers clones that came out in the early 2000s – in particular, Cats & Dogs (2001), which similarly conducted a wacky spy film parody as enacted by talking animals. Penguins of Madagascar comes a gonzo insanity – I mean, how impossible would it be to dislike a film that casts John Malkovich as an evil genius octopus bent on world domination. Or who is constantly giving his subordinates orders that are contrived to sound like Hollywood actors names: "Nicolas, cage them … Helen, hunt them down … Hugh, Jack! Man the battle stations! … Kevin! Bake on! … Drew, Barry! More power!"
The film hits its heights during a madcap chase through the canals of Venice aboard a gondola pursued by octopi henchmen where the penguins command their gondolier musician "Play something chasey" and involves them stilt walking on their paddles, the octopi catapulting themselves in pursuit and the gondola inevitably taking to the air, as well as a truck of melons thrown into the mix.
The zany energy continues right throughout every sequence – to the scenes of the penguins fooling around with spy gadgets to their hilarious dive out of a plane without parachutes that involves jumping between multiple planes, even invading an airliner and riding the food cart down the aisle and the perfect ending landing on an inflatable beach toy. You get the feeling that someone in the film is a fan of the James Bond film Moonraker (1979) as the both the Venetian sequence and the penguins dive out of a plane without parachutes seem very similar to set-pieces in that film.
---
---