USA. 2000.
Crew
Director – Jim Kammerud, Co-Director – Brian Smith, Screenplay – Elizabeth Anderson & Temple Mathews, Producers – Leslie Hough & David K. Lovegren, Music – Danny Troob, Songs – Michael & Patty Silversher, Animation – Character Builders, Walt Disney Television Animation (Australia), Walt Disney Animation Canada Inc & Wang Film Productions, Art Direction – Fred Cline. Production Company – Disney.
Voices
Tara Chardenorff [Strong] (Melody), Jodi Benson (Ariel), Pat Carroll (Morgana), Samuel L. Wright (Sebastian), Clancy Brown (Undertow), Max Casella (Trip), Stephen Furst (Dash), Kenneth Mars (King Triton), Buddy Hackett (Scuttle), Rob Paulsen (Prince Eric), Cam Clarke (Flounder), Rene Auberjonois (Chef Louis)
---
Plot
The mermaid Ariel gives birth to a daughter Melody. When Ursula's evil sister Morgana tries to snatch Melody, Ariel decides that it would be in Melody's best interests to keep her away from the sea and ignorant of the mermaid half of her nature. As she grows up, Melody inadvertently strays away and discovers the sea. Morgana quickly exploits this, magically transforming Melody into a mermaid and then tricking her into going and stealing King Triton's trident.
---
In the 1990s, Disney underwent a radical remarketing of their image. At the top of the line have been the dazzling, high-quality boundary-pushing likes of films such as Beauty and the Beast (1991), The Lion King (1994) and Dinosaur (2000). However, the lower end of the spectrum revealed a cynical attempt to market everything possible from their brand name with a line of Disney stores that sell solely Disney merchandise and an endless number of video-released sequels to successful cinematic product.
These have included the likes of The Return of Jafar (1994), Aladdin and the King of Thieves (1996), Beauty and the Beast: The Enchanted Christmas (1997), Pocahontas II: Journey to the New World (1998), The Lion King II: Simba's Pride (1998), Lady and the Tramp II: Scamp's Adventure (2001), Cinderella II: Dreams Come True (2002), The Hunchback of Notre Dame II (2002), Atlantis: Milo's Return (2003), 101 Dalmatians II: Patch's London Adventure (2003), Stitch! The Movie (2003), Mulan II (2004), The Emperor's New Groove 2: Kronk's New Groove (2005), Lilo & Stitch II: Stitch Has a Glitch (2005), Tarzan 2 (2005), Brother Bear II (2006), The Fox & the Hound 2 (2006), Leroy & Stitch (2006), Cinderella III: A Twist in Time (2007) and TinkerBell (2008), and theatrical releases such as Fantasia 2000 (1999), Return to Never Land (2002), The Jungle Book 2 (2003) and Bambi II (2006). This creative strip-mining has extended even further with a series of tv movie remakes of their 1960s and 70s live-action films and a series of live-action remakes of their animated films.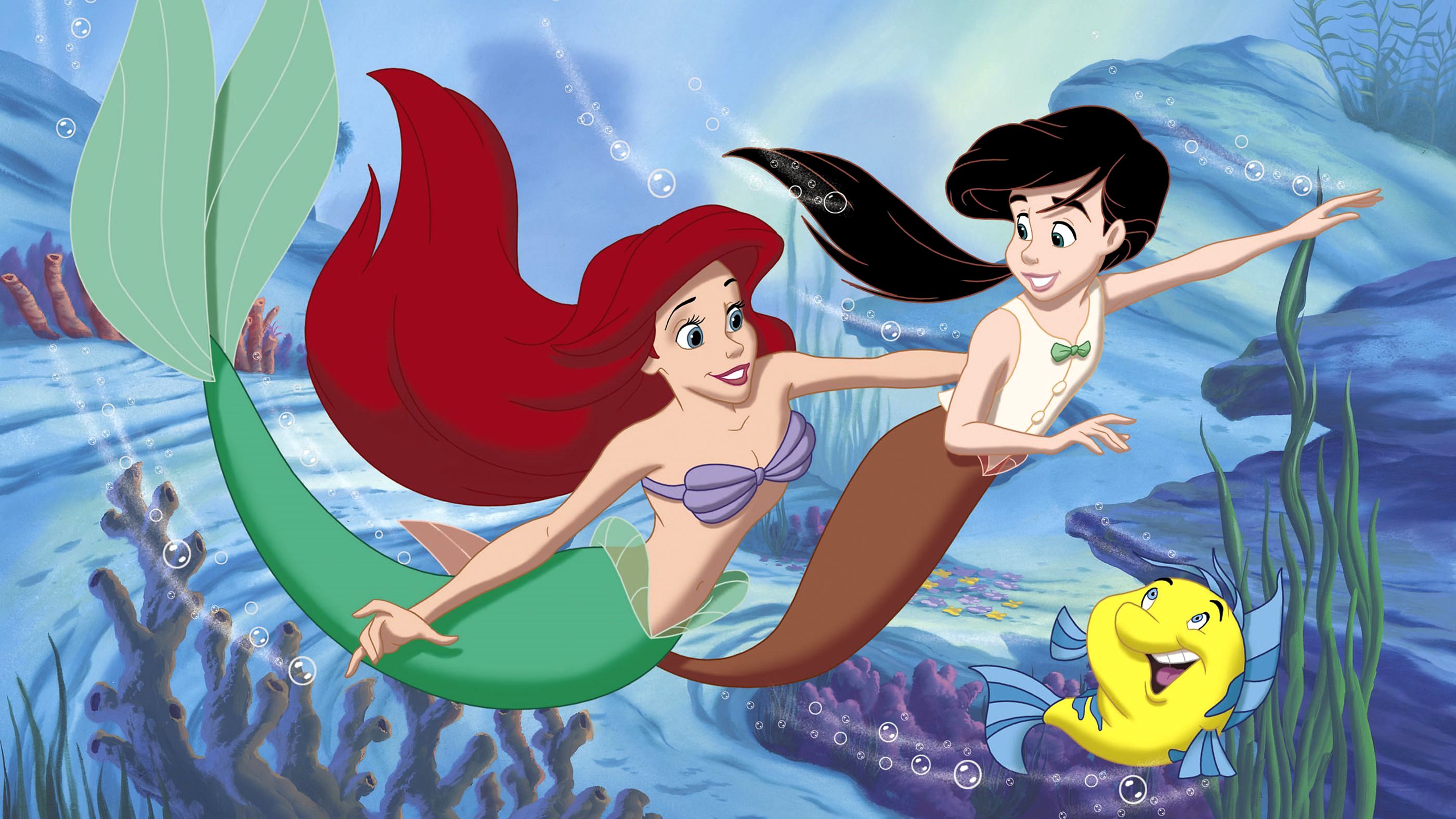 This sequel to The Little Mermaid (1989) comes with a sense of creative futility. Children's films play upon simple, plaintive emotions – that a story is absolute and ever after. A sequel to a fairytale cheats – it can only tell a lesser tale, one that by implication means the purity of the mythic arc and innocence in the original were less than they were painted to be, and one that is clearly cynically exploiting the love of young children for the characters with the sole intention of milking more money out of them.
The Little Mermaid II: Return to the Sea imitates its original in banal ways – the new mermaid is a carbon copy of her mother; the sole difference between the new villainness Morgana and her mother Ursula is a name change; and the same supporting characters are back. The songbook no longer has Alan Menken and Howard Ashman writing and is only a series of trite show tunes belted out without any feeling.
On the other hand, The Little Mermaid II: Return to the Sea is often hard to dislike. While the lead characters (the heroine and villainness) are bland, the supporting characters are a good deal of fun. The returning characters of Scuttle and Sebastian are a delight and the film adds an appealing new line-up of characters including the villainness's bumbling sidekick who is a miniaturised shark and the characters of two explorers, a penguin and a walrus. It is these characters that eventually allow the latter half of The Little Mermaid II: Return to the Sea to emerge in a balance of adventure and comedy that never outwears its welcome.
This was followed by a direct-to-dvd prequel The Little Mermaid: Ariel's Beginning (2008). There was also an animated tv series The Little Mermaid (1992-4).
---
---