France/Canada/Germany. 2008.
Crew
Director – Gilles Bourdos, Screenplay – Gilles Bourdos & Michel Spinosa, Based on the Novel by Guillaume Musso, Producers – Olivier Delbosc & Marc Missonnier, Photography – Mark Ping Bing Lee, Music – Alexandre Desplat, Visual Effects – Duboi (Supervisor – Alain Carsoux), Makeup Effects – Maestro Studio (Supervisor – Adrien Morot), Production Design – Anne Pritchard. Production Company – Fidelite/Christal Films/Akkord Film Produktion/Wild Bunch/M6 Films/Canal +/TPS Star/Mr. Mudd.
Cast
Romain Duris (Nathan), John Malkovich (Dr Joseph Kay), Evangeline Lilly (Claire), Pascale Bussieres (Anna Rachefsky), Sara Waisglass (Tracey), Reece Daniel Thompson (Jeremy)
---
Plot
Nathan is a successful French-born lawyer living in New York City. He is visited by the mysterious Dr Kay. Kay then asks Nathan to accompany him down into the subway where he point out a man and claims he is about to commit suicide. Nathan thinks the idea ridiculous and walks away, only to see the man shoot himself. Kay explains that he is a Messenger and can see light surrounding those who are about to die. In his role as a hospice head, he offers succour to the dying and helps bring people together so that they can die in peace. Nathan realises that this means that he is about to die. Kay directs Nathan to visit an old flame Anna and offer her help before she dies. Nathan tries to prevent her death from occurring but is unable. As Nathan becomes accepting of his nearing death, he sets out to reconcile with his ex-wife and daughter.
---
Afterwards is an English-language debut for French director Gilles Bourdos who had previously made the historical drama Bring Me (1994), Disparus (1998) and the thriller Inquietudes (2003), none of which wildly set the world alight. He subsequently made the luscious festival-acclaimed biopic Renoir (2012) and the ensemble drama Endangered Species (2017). He bases the film here on a popular novel Et Apres (2004), which was translated to English as Afterwards, by Guillaume Musso. Musso became interested in afterlife matters and the ways that people confront death following a near-fatal car accident. Afterwards was his second book and he is now the No 1 best-selling contemporary French author. Bourdos co-writes the screenplay with Michel Spinosa who directed the superb stalker film Anna M. (2007).
Afterwards is exquisitely filmed. It immediately captivates from the very first image of a swam flying across a lake in slow-motion with its wing tips brushing the water. Gilles Bourdos shoots with a modern photographer's eye (more so than necessarily a cinematographer's eye), taking delight in such things as the play of light as it moves across the reflection of New York City high rises dancing like a will of the wisp. Or of climactic scenes shot in the middle of a New Mexico desertscape that is pure white, looking as though the characters are walking through snow.
Bourdos creates a sense of sophisticated allure. The central figure of mystery is John Malkovich who plays at his most aloof but also, uncharacteristically for Malkovich, his most empathic. Malkovich's character becomes immediately fascinating in the scenes when he takes Romain Duris down into a subway and predicts how a man opposite is about to commit suicide. Exactly who or what Malkovich's Messenger is becomes the central enigma that plays throughout the film.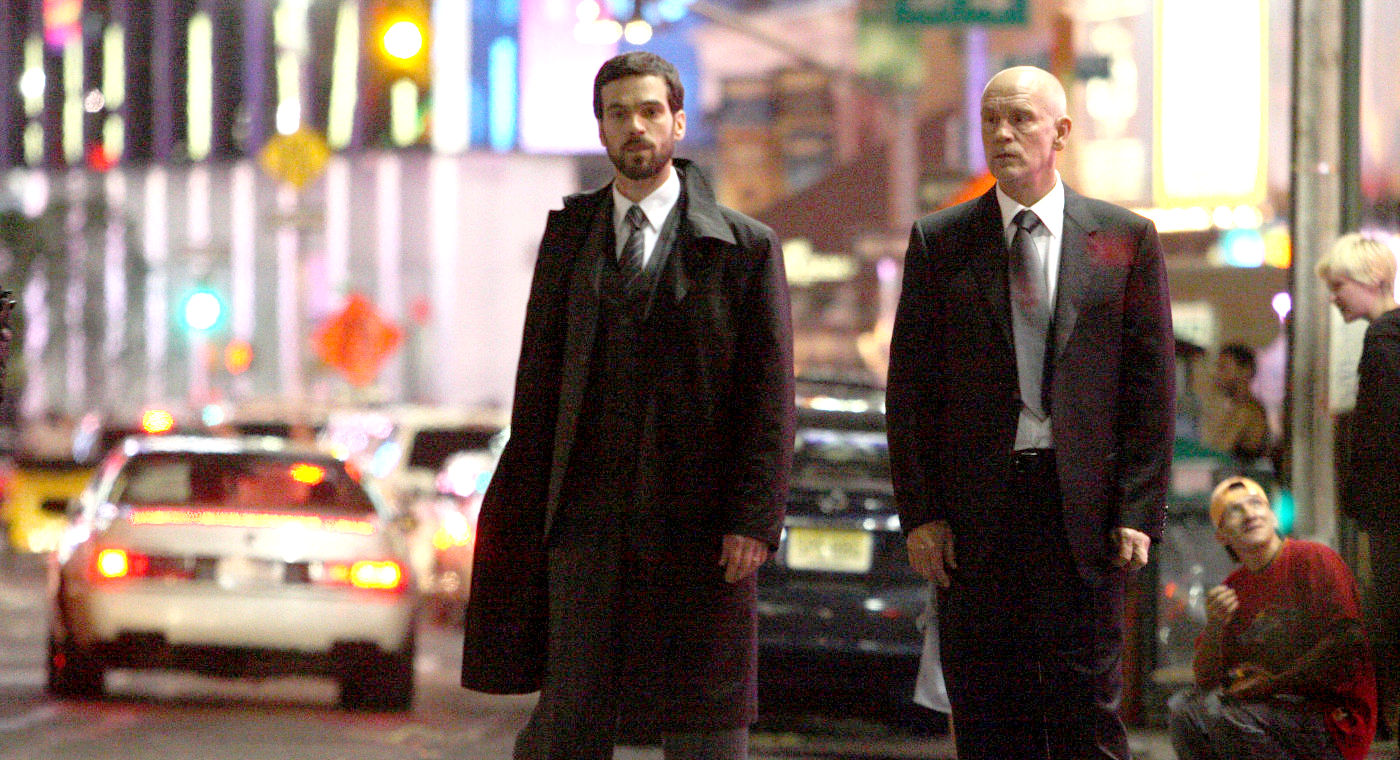 Everything hovers on a M. Night Shyamalan-esque sense of a protagonist about to discover his destiny. The script does an excellent job of building up the idea of what a man would do if he knew he were about to die and wheeling the play of fate out – in some ways, the film almost comes to represent an arthouse version of Final Destination (2000). Maybe by way of say a film like Fearless (1993). Malkovich's character is also named Joseph Kay, which surely becomes a tipping of the hat to the existential mazes of Franz Kafka – a Joseph K was the central character of Kafka's most famous work The Trial (1925).
Where the film does fall down is in its latter third. The script does an excellent job of building up the mystery and fascination surrounding John Malkovich. However, the latter section slows down and simply becomes about Romain Duris reconnecting with his ex (Evangeline Lilly) and daughter (Sara Waisglass). This is less interesting and the film peters out by the time of a weak twist ending.
Romain Duris plays with a certain handsomeness and is well suited to the part. The problem the film faces is that it is trying to be an American-set work and has cast a French actor where Romain Duris's intonation of the English-language dialogue tends to come out as a clipped, suppressed monotone and is flatly robotic at times. Evangeline Lilly, then riding on the success of tv's Lost (2004-10), is appropriately lovely in her first film role.
---
---