---
Crew
Director – Marc Caro, Screenplay – Pierre Bordage & Marc Caro, Producer – Richard Grandpierre, Photography – Jean Poisson, Music – Raphael Elig & Eric Wenger, Visual Effects – Buf Compagnie (Supervisor – Pierre Buffin), Special Effects Supervisor – Nicolas Chevallier, Makeup Effects – Denis Gastou & Jean-Christophe Spadaccini, Production Design – Bertrand Seitz. Production Company – Wild Bunch/Eskwad/Sofica Cinemage/Canal +/Cinecinema.
Cast
Lambert Wilson (Saint-Georges), Gerald Laroche (Charon), Simona Maicanescu (Persephone), Linh-Dan Pham (Elisa), Dominique Pinon (Cesar), Bruno Lochet (Bouddha), Francois Hadji-Lazaro (Moloch), Francois Levantal (Lazare), Yann Collette (Attila), Lofti Yahya-Jedidi (Raspoutine), Dominique Bettenfeld (BR), Antonin Maurel (CR)
---
Plot
Orbiting the hellish planet Dante is the space station Dante 01, a prison for the criminally insane. Elisa arrives on the latest shuttle, under orders to conduct a series of nanotech experiments on the inmates. Arriving with her is the latest inmate, an unspeaking giant who is nicknamed Saint-Georges by the others for the tattoo of Saint George fighting the dragon on his shoulder. As the other inmates attack him, Saint-Georges demonstrates the miraculous ability to heal them, even bring them back from the dead, and take away the violent and disturbed parts of their personalities.
---
Whatever happened to Marc Caro? Caro was a hot name during the early half of the 1990s where along with Jean-Pierre Jeunet he co-directed the two uniquely quirky and unclassifiable international arthouse hits of Delicatessen (1991) and The City of Lost Children (1995). Jean-Pierre Jeunet subsequently went solo for one US venture with Alien: Resurrection (1997) and then returned to France for the hit Amelie (2001) and the subsequent likes of A Very Long Engagement (2004) and Micmacs (2009), all made on his own. Marc Caro however disappeared from sight. He was still around in various production design/art direction capacities on films such as Alien: Resurrection, Vidocq (2001) and Enter the Void (2009). However, the only other film that Caro has ever stepped back into the director's chair for was Dante 01 here – and that disappeared fairly much without a trace.
Dante 01 gives the impression of being a film that has been latched onto by Marc Caro because of his primary interest in production design and art direction. Almost the entire film is dominated by the look and sets. Here Caro seems to have borrowed much from the Alien (1979) playbook – all dark, cramped industrial sets filled with fractured lighting and flickering graphic displays. Indeed, Dante 01 seems to go overboard on the Alien look and lets the darkly lit, grimy industrial sets dominate the entire show. It does this to the point where the film becomes so dark in tone that it becomes almost impossible to see what is going on for long stretches of the action while watching it on the dvd screen.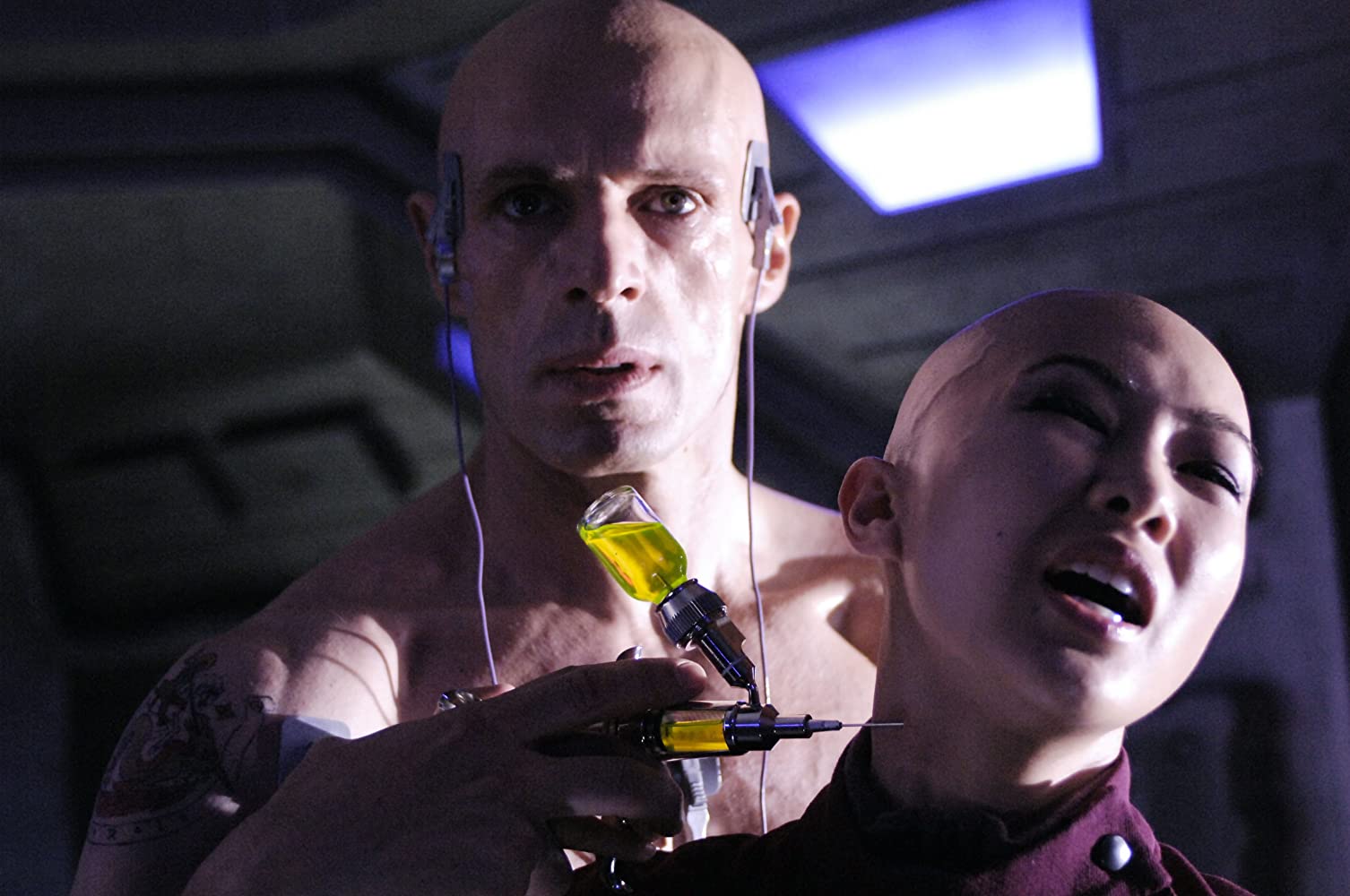 I hate films that never give you any easy clues as to what they are about – Dante 01 is a film where it is frequently difficult to decipher what is happening – something about a series of psychological experiments being conducted on the inmates of the asylum involving nanotechnology (the film never deigns to clarify anything more about the experiments than that) and a mystery prisoner who has the never explained ability to miraculously heal others of their wounds and change their damaged personalities (something that seems to involve him seeing inside their bodies and then eating handfuls of glowing digitally-rendered worms).
When it eventually comes to an explanation for all of this, Dante 01 reveals itself as what would appear to be The Green Mile (1999) located on a space station. Or perhaps more so than The Green Mile, a film like Man Facing Southeast (1986) or its unofficial US remake K-PAX (2001) about a messianic mystery visitor in an asylum – but set in space.
The film arrives at an ending where the space station is on a collision course with the planet below, there is the need for someone to pass through the overheating water tanks to affect emergency repairs and stop this, the mystery stranger comes in and then appears to exit into the void in a spacesuit where we get a psychedelic light show with the stranger caught in the midst of this in a crucifixion-like pose, before the final image where the planet below has been transformed from inhospitable into an Earth-like world. Quite what this means, other than some vague play on messiah and Christian themes, added to much in the way of trippily transcendental psychedelics left over from 1970s post-2001: A Space Odyssey (1968) science-fiction is a scratch of the head.
---
---