(Dolfje Weerwolfje)
---
Netherlands/Belgium. 2011.
Crew
Director – Joram Lürsen, Screenplay – Tamara Bos, Based on the Book by Paul van Loon, Producers – Burny Bos & Ruud Van der Heyde, Photography – Lex Brand, Music – Fons Merkies, Visual Effects Supervisor – Jan van de Laar, Production Design – Harry Ammerlaan. Production Company – BosBros/Cine Cri de Coeur/uFilm/Algemene Vereniging Radio Omroep (AVRO).
Cast
Ole Kroes (Dolfje/Alfie), Maas Bronkhuyzen (Timmie Vriends), Remko Vrijdag (Mr Vriends), Kim van Kooten (Mrs Vriends), Joop Keesmaat (Grandfather Werewolf), Trudy Labij (Mrs Kritjes), Nick Geest (Nico Pochmans), Lupa Ranti (Noura), Kees Hulst (Headmaster Rutjes), Barbara Pouwels (Mrs Pochmans), Pim Muda (Mr Frans), Sieger Sloot (Mr van Dale)
---
Plot
A young child is abandoned in a basket on the doorstep of the Vriends household. The child Alfie is taken in welcomed and by the Vriends family. As Alfie grows up, his older brother Timmie becomes his best friend. As his seventh birthday comes, Alfie suddenly sprouts fur, ears and a snout. Transformed into a wolf, he runs out into the town, devouring the neighbour Mrs Kritjes's chickens. With only Timmie aware of what has happened, Alfie is fearful and afraid of what he has become. The new wolf nature allows him to stand up against the bully Nico but also creates a number of problems, the least of which is that Mrs Kritjes is determined to prove his existence and capture him. It also makes Alfie feel he is unwanted by his adopted family and want to set out to find his real parents.
---
Dolfje Weerwolfje is a popular series of children's books from Dutch writer Paul van Loon who has put out more than a hundred books since the 1980s. Van Loon published the first of these with Dolfje Weerwolfje (1996) and it is followed by a further twelve books. These have enjoyed a great deal of popularity and have been translated into multiple languages and with much spinoff merchandising. In English, they are known as Alfie the Werewolf, although these do not enjoy as quite a popularity as they do in European markets. This is a film adaptation based on the first of the books.
I went into Alfie the Little Werewolf, which was screening at Vancouver's R2R International Film Festival for Youth, with little expectation. The nearest point of comparison I could think of was The Little Vampire (2000), which was similarly based on a popular series of children's books and did an okay job of taking a classical horror figure and writing it down to the children's market. (Indeed, this film's werewolf boy Ole Kroes bears an uncanny resemblance to a younger version of The Little Vampire's Jonathan Lipnicki). On the other hand, I had also recently seen another children's movie attempt to riff off the vampire film with the excruciating Vampire Dog (2012), which is a strong contender for the worst vampire film ever.
You keep expecting Alfie the Little Werewolf to be a piece of formula children's entertainment. In an American film or something like Vampire Dog, the characters of the paranoid neighbour (Trudy Labij) or the school bully (Nick Geest) would be over-the-top one-note caricatures played for maximum slapstick and made into the butt of constant pratfalls and humiliations at every opportunity. The great surprise is that Alfie the Little Werewolf resists every opportunity for the cutsie and to go for cliche cues.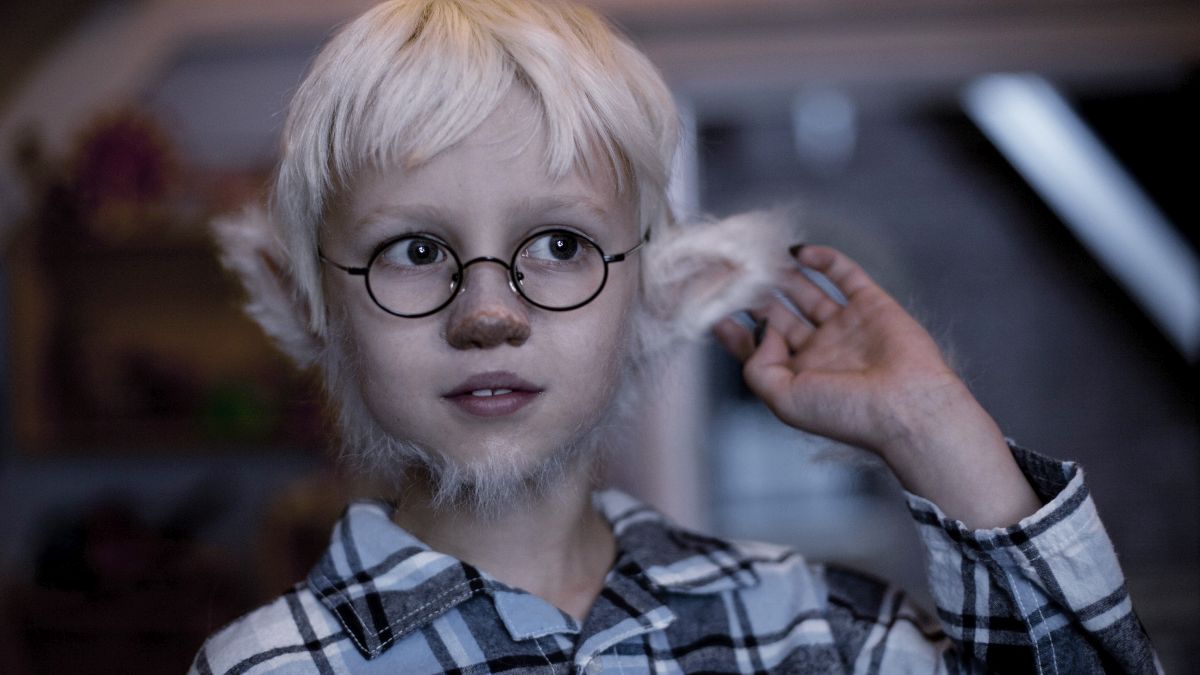 It has a genuine sweetness and an endearingly warm sense of humour. Its parable of loneliness and a desire for inclusion is well told, nothing laid on with a trowel and the film earns its eventual emotional uplift without the feeling that it has signposted everything with cue cards for its audience. Perhaps the oddest part is the scenes where the film seems to want to make some point about non-traditional parenting roles and the father (Remko Vrijdag) goes from wearing an apron in the kitchen to turning up to do the plumbing wearing his wife's bathing suit.
The werewolf effects are surprisingly well achieved. The image of the white fluffy werewolf running around with a pair of glasses or forlornly sitting on a park bench is one of the most adorable sights in the world. The initial transformation effects work rather well and the makeup effects on the actors look fine, even if it does take you aback somewhat seeing a fully transformed werewolf that looks more like a sheepdog. Particularly good are the scenes where we see Alfie loping about the town. Here the film makes an accomplished shift between two-legged and Alfie running four-legged like a dog and in a way that keeps you constantly guessing how they did it – at what point it is a human actor and which the move has been made to CGI replacement.
(Screening courtesy of the R2R International Film Festival for Youth)
---
---