---
Crew
Director/Screenplay – Woody Allen, Producers – Letty Aronson, Jaume Roures & Stephen Tenenbaum, Photography – Darius Khondji, Production Design – Anne Seibel. Production Company – Mediapro/Versatil Cinema/Gravier Productions/Ponchartrain Productions/Television de Catalunya.
Cast
Owen Wilson (Gil Pender), Marion Cotillard (Adriana), Rachel McAdams (Inez), Corey Stoll (Ernest Hemingway), Michael Sheen (Paul Bates), Kathy Bates (Gertrude Stein), Kurt Fuller (John), Mimi Kennedy (Helen), Lea Seydoux (Gabrielle), Carla Brunei (Museum Guide), Tom Hiddleston (F. Scott Fitzgerald), Alison Pill (Zelda Fitzgerald), Marcial Di Fonzo Bo (Pablo Picasso), Adrien Brody (Savador Dali), Nina Arianda (Carol Bates), Adrien de Van (Luis Buñuel), Tom Cordier (Man Ray), Yves Heck (Cole Porter), Vincent Menjou-Cortes (Henri Toulouse-Lautrec), Gad Elealeh (Detective Tisserant), Serge Bagdassarian (Detective Duluc)
---
Plot
Gil Pender, a screenwriter who desires to make it as a serious novelist, is visiting Paris with his fiancee Inez and her conservative parents. Inez does not get Gil's desire to be a serious writer or his idolisation of Paris as the place where many of the literary and artistic greats lived during the 1920s. After Inez goes dancing with friends, Gil wanders the streets alone. As midnight strikes, an old-fashioned saloon car comes by and takes him to a party. Gil realises that he is back in the 1920s in the company of the likes of F. Scott Fitzgerald, Cole Porter, Ernest Hemingway and other artistic greats of the era. Amazed by this, Gil returns the next night and takes his novel to Gertrude Stein for feedback. He is also attracted to Adriana, a mistress of Pablo Picasso, after meeting her at Gertrude's place. His attraction to Adriana leaves him torn between her and Inez, between Paris of the 1920s and the present-day.
---
Woody Allen is a director, writer and star who has carved out a pre-eminent position in cinema, essentially mining the same territory of awkwardness and angst for the last five decades. Beginning in stand-up comedy in the 1960s, Allen moved onto film by the middle of the era, directing, writing and starring in slapstick comedies such as What's Up Tiger Lily? (1966), Take the Money and Run (1969), Bananas (1971), Everything You Always Wanted to Know About Sex * But Were Afraid to Ask (1972), Sleeper (1973) and Love and Death (1975). By the late 1970s, these had evolved into serious comedies driven by a quest for the meaning of it all – Annie Hall (1977), Manhattan (1979), Stardust Memories (1980), Hannah and Her Sisters (1985) – and weighty dramatic films – Interiors (1978), September (1987), Another Woman (1988).
Woody Allen's films of the 1990s and beyond tend to be less well regarded – it is as though every second film is now greeted with 'Woody Allen's best since ___,– which is surely evidence of an artist whose best work is generally perceived as being behind them. These films are altogether happier for the greater part but mostly seem to concern themselves with the marital and family problems of New York's upper classes – Crimes and Misdemeanors (1990), Husbands and Wives (1992), Melinda and Melinda (2004), Whatever Works (2009) – be light throwaway whimsies – Alice (1990), Shadows and Fog (1991), The Curse of the Jade Scorpion (2001), Scoop (2006), You Will Meet a Tall Dark Stranger (2010), Magic in the Moonlight (2014) – or both – Mighty Aphrodite (1995), Everyone Says I Love You (1996). This era has also produced some excellent all-out comedies from Allen – Manhattan Murder Mystery (1993), Bullets Over Broadway (1994), Small Time Crooks (2000) – and other fine works such as Match Point (2005) and Vicky Cristina Barcelona (2008).
Woody Allen's films of the 00s have received a huge boost due to his venturing off US shores, away from his home ground of New York City and to Europe, both in terms of receiving funding from there and using Europe as a location. Allen went to the UK to make Match Point, Scoop, Cassandra's Dream (2007) and You Will Meet a Tall Dark Stranger; You Will Meet a Tall Dark Stranger, Midnight in Paris and Vicky Cristina Barcelona take funding from a variety of Spanish companies, while Allen also shot the latter in Spain; and the subsequent To Rome with Love (2012) has funding from Italian sources and was shot in Italy. All of these make a virtue of their picture postcard locations. Midnight in Paris is Allen again taking advantage of European backing and this time shooting the entire film in France. The film begins with a picture postcard tour of the landmarks of Paris that goes on for several minutes, which have never looked more gorgeous thanks to Darius Khondji on camera.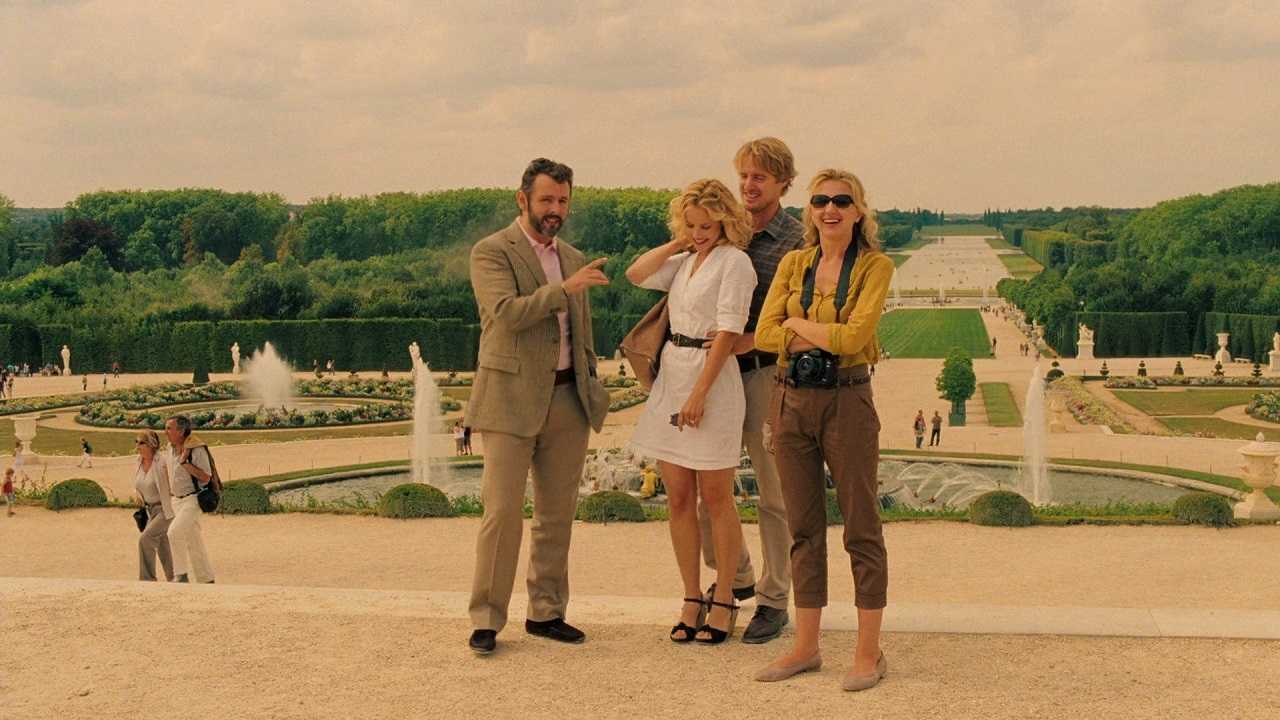 Midnight in Paris is Woody Allen back in a full flight of whimsy. Allen touched base with the Parisian fantasy before at the end of Everyone Says I Love You where he and ex-wife Goldie Hawn sing a number on the banks of the Seine and she takes off into the air. The film is a renaissance of familiar themes from Allen's works. Owen Wilson is Allen's stand in – a slightly awkward modern man who feels out of step with the people around him. (Like Owen Wilson's character, Allen hankers for the Jazz Age era and his films are always scored with music from this period). As with most of Allen's films from the 1990s onwards, the plot has the central character anguishing about the desire to commit adultery.
Corey Stoll's highly amusing incarnation of Ernest Hemingway is surely a variant on the ghost of Humphrey Bogart that turns up to offer romantic advice in Play It Again Sam (1972) where in both cases Allen is poking fun at the resolute macho solidity of such men's men. The ending that Midnight in Paris reaches is also reminiscent of the bittersweet contrast of reality and fantasy and the dashed illusion of romantic fulfilment at the end of Allen's The Purple Rose of Cairo (1985) – the overriding theme of the film here seems to be that no matter when they come from, everybody idealises a certain era in the past as a Golden Age that was the height of art and romanticism while regarding the present as dull and mundane.
Midnight in Paris acts not unlike a film such as The League of Extraordinary Gentlemen (2003), which imagined the meet-up between fictional characters of a certain era, or perhaps more so tv's The Young Indiana Jones (1992-3), which had the hero encountering various famous historical personages each week. The works of authors such as Philip Jose Farmer and Kim Newman invent worlds where almost every historical and fictional character has some shared background that weaves together into an imagined alternate history.
Woody Allen plays the same type of game here with the literati and artistic elite of 1920s Paris where we get appearances of or namedrops to everybody from Ernest Hemingway, F. Scott Fitzgerald and wife Zelda, Salvador Dali, surrealist artist/photographer Man Ray, film director Luis Buñuel – to whom Owen Wilson at one point suggests the idea for the film The Exterminating Angel (1962) – director/poet Jean Cocteau, Gertrude Stein, Pablo Picasso, Cole Porter, T.S. Eliot, dancer Josephine Baker, Coco Chanel and Henri Matisse, while the sojourn back to the Belle Epoque features cameos from artists Henri Toulouse-Lautrec, Edgar Degas and Paul Gauguin. Woody Allen has a good deal of fun with these – Adrien Brody's appearance as Salvador Dali in particular is side-splitting. (The same year as Midnight in Paris came out also saw Martin Scorsese's Hugo (2011) set in Paris a few years later and very similarly containing a number of different historical personages in background cameos).
Midnight in Paris is charmingly edible. It is Woody Allen in whimsy mode and he whips up an amusing concoction. On the other hand, Allen's whimsies are usually among his more lightweight works and Midnight in Paris brings a smile but lacks any genuine laugh-out-loud moments. Many of the 1920s jokes are amusing if one has knowledge of the artists/writers being namedropped. In the present-day scenes, Allen makes a few digs at class culture – snipping at Rachel McAdams and her conservative parents, with a few lines in the direction of the Tea Party and the US's resentment of France over the Iraq War. On the whole though, Allen lets these characters off lightly and saves his greatest ire for the pseudo-intellectual self-importance of the character played by Michael Sheen (in a fine performance).
The one moment where we get a flair of good old Woody Allen humour that digs into uncomfortable places is the scene when Owen Wilson steals a pair of Rachel McAdams's earrings to take to Marion Cotillard, only to be caught as he goes out and having to fend off the family wanting to call hotel security.
At the 2011 Academy Awards, Midnight in Paris was nominated for Best Picture and Woody Allen for Best Director and Best Original Screenplay.
Woody Allen's other genre films are: Play It Again Sam (1972), Everything You Always Wanted to Know About Sex * But Were Afraid to Ask (1972), Sleeper (1973), Love and Death (1975), A Midsummer Night's Sex Comedy (1982), Zelig (1983), The Purple Rose of Cairo (1985), New York Stories (1989), Alice (1990), Shadows and Fog (1991), Mighty Aphrodite (1995), Everyone Says I Love You (1996), Deconstructing Harry (1997), Match Point (2005), Scoop (2006), To Rome with Love (2012) and Magic in the Moonlight (2014).
(Winner for Best Cinematography, Nominee for Best Original Screenplay at this site's Best of 2011 Awards).
---
---