---
Crew
Directors – Sam Liu & Lauren Montgomery, Screenplay – Tab Murphy, Based on the Graphic Novel by David Mazzucchelli & Frank Miller, Producer – Lauren Montgomery, Music – Christopher Drake, Animation – Moi Animation Studios (Animation Directors – Kyung-Ho Choi, Hyung-Ho Jung & Hyung-Ki Ki). Production Company – Warner Bros. Animation.
Voices
Bryan Cranston (Lieutenant Jim Gordon), Ben McKenzie (Batman/Bruce Wayne), Jon Polito (Commissioner Gillian Loeb), Eliza Dushku (Selina Kyle/Cat Woman), Fred Tatasciore (Detective Albert Flass), Katee Sackhoff (Detective Sarah Essen), Grey DeLisle (Barbara Gordon), Alex Rocco (Carmine Falcone), Jeff Bennett (Alfred Pennyworth), Keith Ferguson (Jefferson Skeevers), Robin Atkin Downes (Harvey Dent), Stephen Root (Brendon)
---
Plot
Lieutenant James Gordon arrives in Gotham City, accompanied by his wife Barbara, to take up a position on the Gotham Police Department. At the same time, Bruce Wayne returns to Gotham City after a twelve-year absence. Gordon soon finds the Police Department to be deeply corrupt with Commissioner Loeb in bed with mobsters and most of the force acting as little more than thugs. Disgusted at this, he takes his own stance and this starts to attract headlines. Meanwhile, haunted by the murder of his parents, Bruce Wayne desires to fight crime but fails badly when he tries to do so out on the streets in regular clothes. In despair, he pleads for inspiration from a bust of his father, just as a bat crashes through the window. Soon Gordon is ordered to investigate reports of a Batman of reputedly supernatural ability engaged in a series of vigilante attacks across the city. As these become more high profile, Commissioner Loeb demands increasingly heavier firepower be brought in to tackle Batman. Despite this, Batman manages to outwit Loeb's forces. In the midst of this, Gordon finds a strange affinity for Batman and realises that they are both seeking to fight the same thing.
---
In the 1990s and early 00s, producer Bruce W. Timm gained a name producing a series of excellent animated series based around DC superheroes with the likes of Batman (1992-4), Superman (1996-2000), Batman Beyond/Batman of the Future (1999-2001), Justice League/Justice League Unlimited (2001-6) and Green Lantern: The Animated Series (2011-3). These evolved into the DC Universe Animated Original Movies – a series of standalone animated films released to dvd, most of which have been adapted from acclaimed graphic novels. Batman: Year One now joins other DC Universe Animated Original Movies that include Superman: Doomsday (2007), Batman: Gotham Knight (2008), Justice League: The New Frontier (2008), Green Lantern: First Flight (2009), Superman/Batman: Public Enemies (2009), Wonder Woman (2009), Batman: Under the Red Hood (2010), Justice League: Crisis on Two Earths (2010), Superman & Batman: Apocalypse (2010), All-Star Superman (2011), Green Lantern: Emerald Knights (2011), Batman: The Dark Knight Returns Part I (2012), Justice League: Doom (2012), Superman vs. The Elite (2012), Batman: The Dark Knight Returns Part II (2013), Justice League: The Flashpoint Paradox (2013), Superman Unbound (2013), Batman: Assault on Arkham (2014), Justice League: War (2014), Son of Batman (2014), Batman vs. Robin (2015), Justice League: Gods and Monsters (2015), Justice League: Throne of Atlantis (2015), Batman: Bad Blood (2016), Batman: The Killing Joke (2016), Justice League vs Teen Titans (2016), Batman and Harley Quinn (2017), Justice League Dark (2017), Teen Titans: The Judas Contract (2017), Batman: Gotham By Gaslight (2018), The Death of Superman (2018), Suicide Squad: Hell to Pay (2018), Batman: Hush (2019), Justice League vs The Fatal Five (2019), Reign of the Supermen (2019), Wonder Woman: Bloodlines (2019), Justice League Dark: Apokolips War (2020), Superman: Man of Tomorrow (2020), Superman: Red Son (2020), Batman: Soul of the Dragon (2021), Batman: The Long Halloween Part One (2021), Batman: The Long Halloween Part Two (2021), Injustice (2021), Justice Society: World War II (2021), Batman and Superman: Battle of the Super Sons (2022), Catwoman: Hunted (2022), Green Lantern: Beware My Power (2022), Batman: The Doom That Came to Gotham (2023), Justice League: Warworld (2023) and Legion of Super-Heroes (2023).
The film adapts Batman: Year One (1987), a four-part story arc that was originally published by DC in Batman and subsequently as a graphic novel. This came from celebrated comic-book writer Frank Miller, who has become famous in recent years for works adapted from his graphic novels such as Sin City (2005) and 300 (2007) and sequels to either, as well as the film adaptations of Daredevil (2003) and Elektra (2005) that were substantially based on his comic-book interpretations of the characters. Miller has also directed the adaptation of The Spirit (2008) and wrote the screenplays for Robocop 2 (1990) and Robocop 3 (1993).
At the time of the Batman: Year One graphic novel, Frank Miller had just written The Dark Knight Returns (1986), a sensation that succeeded in redefining the brooding, psychologically tormented vision of Batman as dark avenger and held great influence over the modern graphic novel. Batman: Year One was Frank Miller's immediate successor to this. Batman: Year One definitively retconned many of the details of the Batman origin story and has widely become regarded as a classic Batman graphic novel. It certainly had influence on other Batman films, in particular Christopher Nolan's Batman Begins (2005) and The Dark Knight (2008) and was rumoured to be adapted as a live-action movie at one point, which would have been Joel Schumacher's third Batman film outing, before being more seriously revived as a potential Darren Aronofsky Batman film in the early 2000s.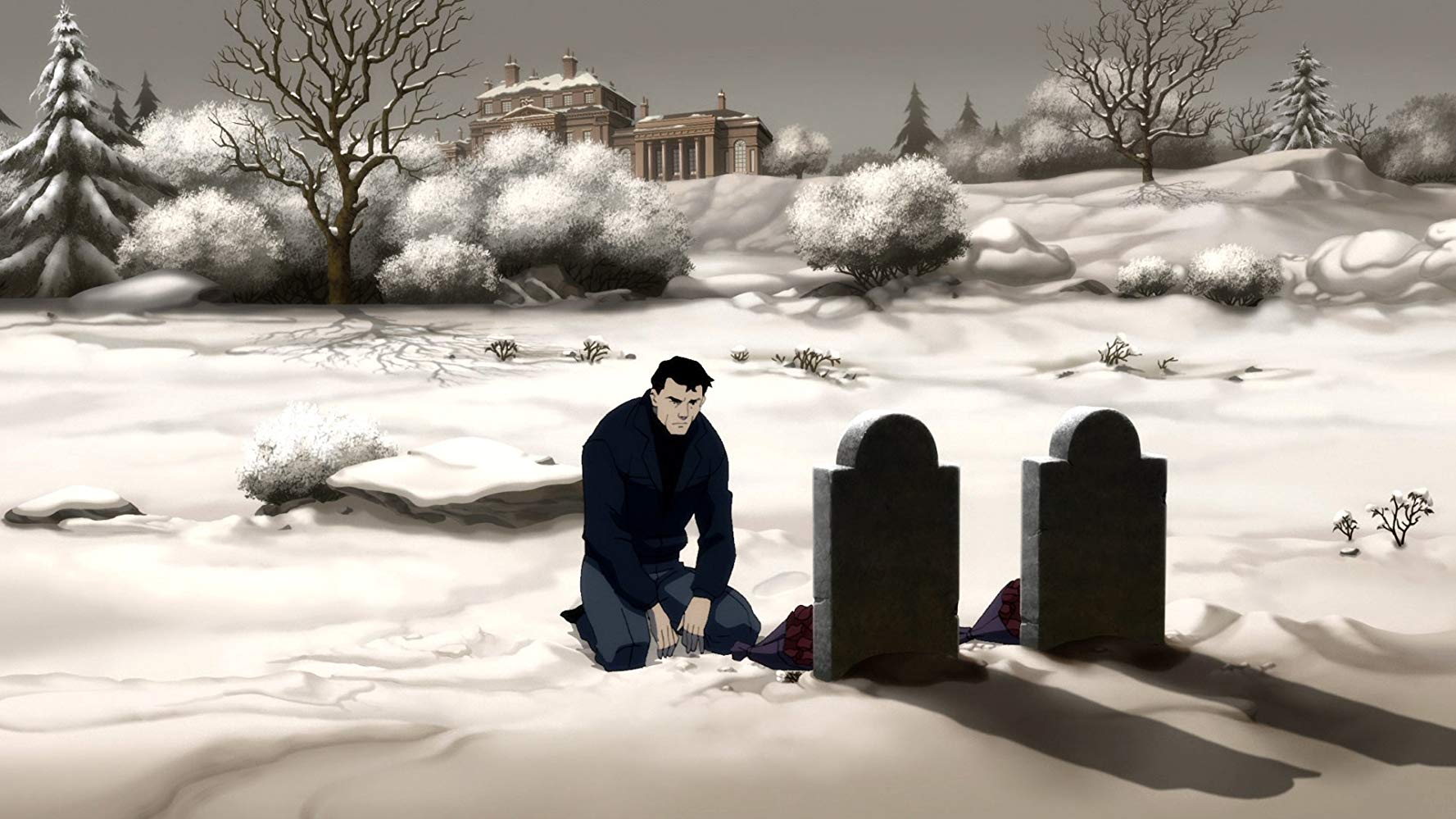 Batman: Year One immediately has a far darker, grittier edge than any of the other animated Batman films. Indeed, there is much about it that makes you question whether Bruce Timm and co are making these animated films for adults or children any longer – the film was released to dvd with a PG-13 certificate, for instance. We get far more adult scenes than usual like where Bruce Wayne is hanging out in the red light district of Gotham City or Jim Gordon is seen repeatedly beating in the head of the downed Flass. Gordon is even shown engaged in affair with co-worker Sarah Essen while still married, which certainly introduces something far less black-and-white into the usually anodyne world of animation.
The film is extremely faithful to Frank Miller's original comic-book story, even down to replicating many of the visual details of the drawn panels (some of these are shown over the end credits as contrast). Interestingly, Batman: Year One serves as more of a Commissioner Gordon origin story than it does a Batman origin story – the film is largely told through the eyes of Gordon more so than Bruce Wayne. It is certainly the most in-depth dealing with Commissioner Gordon as a character than we have seen in any of the animated (and live-action) films and tv series at least up until the subsequent tv series tv series Gotham (2014-9), which essentially dragged Miller's Year One one out to five years. (In an interesting trivia note, Ben McKenzie who voices the role of Batman here played the young Commissioner Gordon in that show).
The story tells of Gordon's dealings with a corrupt Gotham Police Department and rise as a detective of principles to eventually root out the corruption and be appointed commissioner. Although we do see Bruce Wayne becoming Batman, Batman is surprisingly peripheral to much of the action. The film does tie in continuity with other aspects of the Batman mythos – we see Selina Kyle (working as a dominatrix in the original Frank Miller graphic novel but it not being specified as such in the film) and putting on the Catwoman suit, as well as crusading attorney Harvey Dent before he became Two-Face.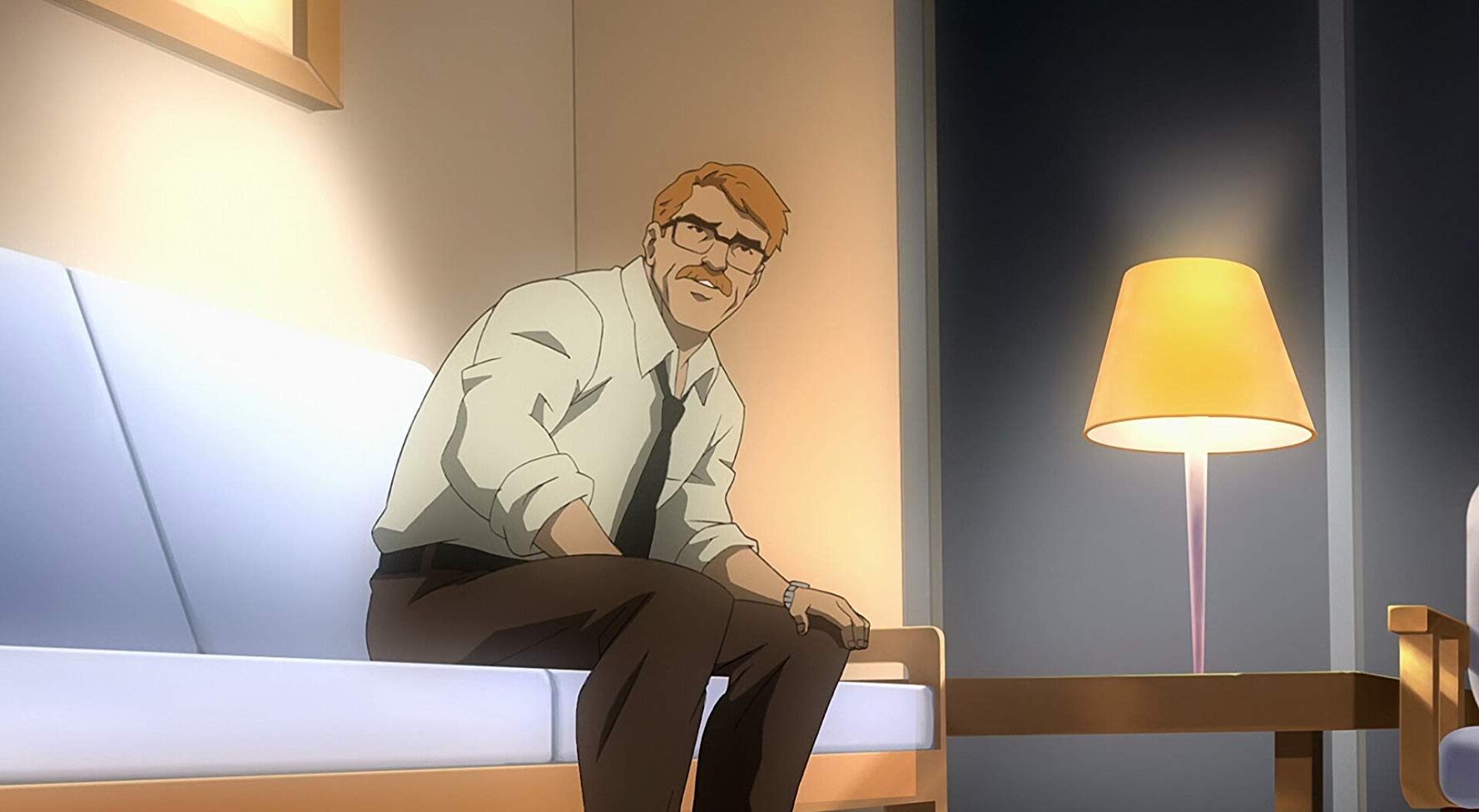 The complaint one would make of Batman: Year One (and most of the DC Universe Animated Original Movies) is their short running time – Batman: Year One comes in at only 64 minutes. One is not sure if this is in order to sell the films to children's audiences – where traditionally dvd sold animated films come in around such running time – or not. Certainly, all of these truncated films could easily handle being at around a more standard 90 minute length (although most of these are now going into dvd release accompanied by a short film of around 30 minutes based on one of the lesser DC superheroes such as The Spectre, Green Arrow and Captain Marvel). This does lead to a number of the earlier scenes following the dual progression of Commissioner Gordon and Bruce Wayne through their career arcs feeling shortened and not fully satisfying.
Batman: Year One rises to find its strength particularly when it comes to the action element – there is a fantastic sequence with Loeb's police cornering Batman in a ghetto tenement house and bombing it to the ground before Batman makes a getaway by drawing a cloud of bats to his aid. The action sequences have always been the highlight of the Bruce Timm films, even if Batman: Year One is a far more character and psychology driven film than most of the others.
(Nominee for Best Adapted Screenplay at this site's Best of 2011 Awards).
---
---