(Long Men Fei Jia)
---
China. 2011.
Crew
Director/Screenplay – Tsui Hark, Producers – Nansun Shi, Tsui Hark & Yu Dong, Photography (3D) – Choi Sung Fai, Music – Gu Xin, Li Han Chiang & Wu Wai Lap, Visual Effects Supervisors – Frankie Chung, Josh Cole & Wook Kim, Visual Effects – Crataegus BK (Supervisor – Loo Yee Kong), Crystal CG (Supervisors – Pan Jie & Zhang Qing), Digital Idea, Eclipse Studio, Part 3 Digital Art Design (Shanghai) Ltd, SK Independence (Supervisor – Kim Dong Soo) & The WindSide Visual Effects (Supervisor – Sun Yu), Production Design – Yee Chung Man. Production Company – Film Workshop Co Ltd.
Cast
Jet Li (Zhao Huai'an), Chen Kun (Yu Huatian/Pu Cangzhou 'Wind Blade'), Zhou Xun (Ling Yanqui), Gwen Lun Mei (Chang Xiaowen/Bu Ludu), Li Yuchun (Gu Shaotang), Mavis Fan (Su Huirong), Chia Hui Liu (Wan Yulou), Han Fiexing (H'Gangta), Siu-Wong Fan (Ma Jinliang), Jiankui Sun (Liang Cai)
---
Plot
During the Ming Dynasty, the Emperor's two main imperial bureaucratic arms, the East Bureau and the West Bureau, gain great power. Under the eunuch Wan Yulou, the West Bureau wields fear and terror, fabricating charges against their rivals and swiftly executing them. Zhao Huai'an of the East Bureau attempts to assassinate Wan Yulou but is forced to flee after the attempt fails. Meanwhile, the West Bureau hunts for Su Huirong, an imperial handmaiden that the emperor has gotten pregnant, so that they can execute her. She is found by guards but saved by a swordsperson who claims to be Zhao Huai'an. The two of them seek refuge at the Dragon Gate Inn in the Mongolian desert just as a massive storm nears. They are forced to hide as bureau troops arrive. Su's rescuer, who is in fact a woman named Ling Yanqui, reveals knowledge of the hidden cellars beneath the inn and may be the previous owner. Various other parties also arrive, including several searching for the whereabouts of the treasure of Black Water City buried beneath the desert, the location of which will be revealed by the legendary black sandstorm that returns every sixty years. Among the group is Pu Cangzhou, a double for West Bureau deputy leader Yu Huatian. Arriving too is the real Zhao Huai'an and his bitter rival Yu Huatian, along with Wan Yulou and his troops. All of the parties are forced to make allegiances to fight one another off, as well as enter the lost city and find their way through its deadly traps to get the gold.
---
Tsui Hark is one of the legendary figures of Hong Kong fantasy cinema, the backbone of the Wu Xia cycle. Tsui emerged as a director with The Butterfly Murders (1979) and a handful of other works. His success came with the hit of Zu: Warriors from the Magic Mountain (1983), which set the style for the modern Wu Xia film and its entertainingly gonzo images of martial artists flying through the air, employing over-the-top combat moves and its blend of elements from Eastern religion.
It was with the establishment of his Film Workshop production company in 1984 that Tsui Hark became a key figure – it was here that he produced A Better Tomorrow (1986) that launched John Woo as a director and the highly influential Wu Xia classic A Chinese Ghost Story (1987) and other classic works, while also directing the hit historical epic Once Upon a Time in China (1991) and sequels. Around the time of the Hong Kong handover to the Chinese in 1997, Tsui Hark made an unsuccessful venture to America where he directed two weak action films Double Team (1997) and Knock-Off (1998). He returned to Hong Kong in the 00s where he has more slowly regained the prominence he once held. (See below for a full list of Tsui Hark's other genre films).
During the late 1990s (following the 1997 handover), Hong Kong cinema went into a period of uncertainty and the traditional Wu Xia cycle died away. It was revived in China a few years later. Successes such as Crouching Tiger, Hidden Dragon (2000), Hero (2002) and House of Flying Daggers (2004) paved the way towards a series of lushly extravagant CGI-enhanced showcase dramas where the pulp energy of the originals was mounted with all of the budgetary resource that mainland China could muster. During this arthouse Wu Xia boom, Tsu Hark was one of the directors from the original fad to return to work in the genre with works like Seven Swords (2005), Detective Dee and the Mystery of the Phantom Flame (2010) and Journey to the West: Demon Chapter (2017).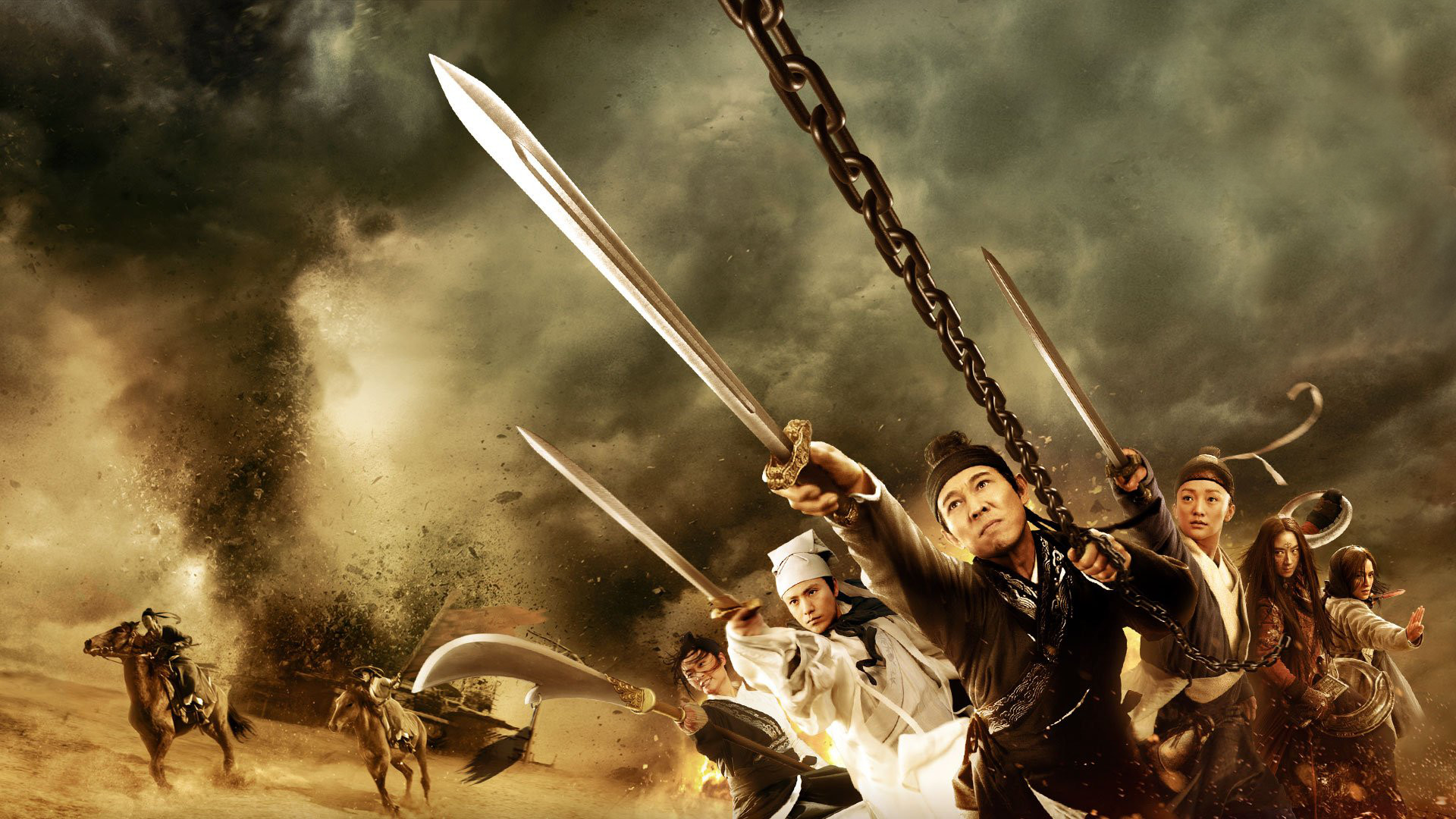 Flying Swords of Dragon Gate is the first of these new Wu Xia films to remake an older work. In this case, it works over New Dragon Gate Inn/Dragon Inn (1992), which Tsui Hark produced for director Raymond Lee. This in turn was a remake of an earlier film Dragon Gate Inn (1967) by King Hu, which is regarded as a classic of the original embryonic Wu Xia cycle.
The story in both of these films features a divers group of swordsmen, outlaws, imperial bureaucrats and gender-disguised arriving at an inn in the desert as it is beset by a storm whereupon ensues much skulking about the inn and its hidden passageways. Flying Swords of Dragon Gate keeps a similar mix – there are now two competing houses of the imperial bureaucracy and the addition of a city beneath the desert that contains a great treasure – albeit rewritten with a new cast of characters.
Tsui Hark is a director who tends to be somewhat cavalier-like when it comes to matters like plots. The Zu films, for instance, are impossible to make any sense of. The same problem settles in as Flying Swords of Dragon Gate begins. The film has a wide canvas of characters where it is not always clear who is who, which side they are on and how things tie together. None of this is made any clearer through reading the film in subtitles, not to mention that we have several characters imposting others and one character and his double running about.
To Tsui's credit, things clear up considerably when the film arrives at the Dragon Gate Inn. From about this point, the disparate character strands suddenly gain an enormous life as the film starts playing the various factions and their shiftings of allegiance off against one another. The whiplash twists and turns and comic permutations prove highly entertaining. And eventually the plot does work far better than you initially expected it to.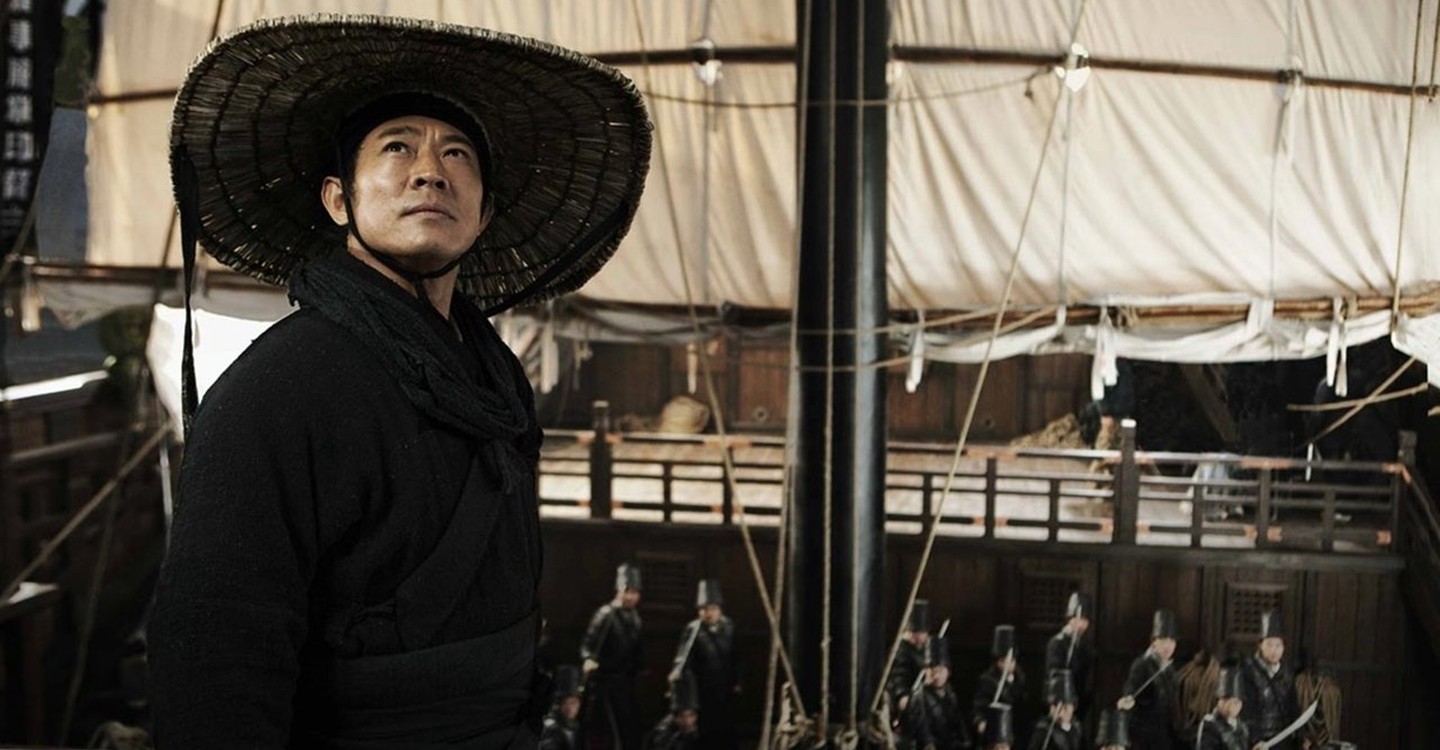 Tsui Hark is one of the few directors from the original Wu Xia cycle of the 1980s/90s to have flourished in the new Chinese-run Hong Kong. He has readily adapted to the new CGI-driven Wu Xia. Flying Swords of Dragon Gate is written across an epic-sized canvas and comes with an extraordinary richness of colour. It also makes the boast of being the first Wu Xia film shot in 3D – although technically it was beaten by Sex and Zen: Extreme Ecstasy (2011), which had some Wu Xia elements.
I am in the position of only seeing it flat, nevertheless we get various shots with swords, knives and nunchukas being thrown into the screen, of the camera passing through scenery or fights conducted in narrow spaces such as caves and the pilings under a stand. Where the film finds its strengths are when it comes to the climactic battle scenes between arrayed armies and insurgents with people engaged in sword and martial combat in the middle of the desert, around the inn and the final confrontations in the midst of the lost city, which comes with much mid-air flipping and twirling, even combatants fighting on the back of a horse, and in particular Jet Li and his enemy Chen Kun being swept up into the midst of the storm fighting with swords in mid-air while bound together with a chain wrapped around their wrists.
Tsui Hark's other genre films as director are:- The Butterfly Murders (1979), We're Going to Eat You (1980), Zu: Warriors from the Magic Mountain (1983), Aces Go Places III: Our Man from Bond Street/Mad Mission III: Our Man from Bond Street (1984), Green Snake (1993), Butterfly Lovers (1994), Zu Warriors/The Legend of Zu (2001), Black Mask 2: City of Masks (2002), Missing (2008), Detective Dee and the Mystery of the Phantom Flame (2010), Young Detective Dee: Rise of the Sea Dragon (2013), Journey to the West: Demon Chapter (2017) and Detective Dee: The Four Heavenly Kings (2018). Tsui Hark has also produced A Chinese Ghost Story (1987), The Laser Man (1988), Roboforce/I Love Maria (1988), A Chinese Ghost Story II (1990), Swordsman (1990), A Terracotta Warrior (1990), A Chinese Ghost Story III (1991), The King of Chess (1991), New Dragon Gate Inn/Dragon Inn (1992), Swordsman II (1992), Iron Monkey (1993), The Magic Crane (1993), Swordsman III: The East is Red (1993), Wicked City (1993), Burning Hell in Paradise (1994), Black Mask (1996), A Chinese Ghost Story: A Tsui Hark Animation (1997), Master Q (2001), Vampire Hunters/The Era of Vampires (2002), Sword Master (2016) and The Thousand Faces of Dunjia (2017).
---
---