---
Crew
Directors – Paolo Taviani & Vittorio Taviani, Screenplay – Paolo Taviani, Vittorio Taviani & Tonino Guerra, Based on Short Stories by Luigi Pirandello, Producer – Giuliani de Negri, Photography – Giuseppe Land, Music – Nicola Piovani, Art Direction – Francesco Branzi. Production Company – Filmtre/Rai Uno Radiotelevisione Italiana.
Cast
The Other Son: Margarita Lozano (Mother), Carlo Cartier (Doctor). Moonstruck: Enrica Maria Modugno (Sidora), Claudio Bigagli (Bata), Massimo Bonetti (Saro). The Jar: Ciccio Ingrassia (Don Lollo). Requiem: Franco Franchi (Zi Dima), Bigro Barone (Salvatore), Salvatore Rossi (Patriarch). Epilogue – Omero Antonlutti (Luigi Pirandello), Regina Bianchi (Pirandello's Mother)
---
Plot
The Other Son:– An aging peasant woman tries to get emigrants to take letters to her sons who left for America and from whom she has never heard since. Moonstruck:– On the night of the full moon, Sidora finds her recently married husband Bata behaving oddly. He tells her that he is a werewolf. She flees to her mother but Bata persuades her to come back. When her handsome cousin comes to protect her on the next full moon, she is tempted and prays for a chance to make love to him. The Jar:– The greedy olive grower Don Lollo buys a large jar to store his olives in but it is broken. He hires an irascible potter to cement the jar back together. However, when the potter accidentally cements himself inside, the Don refuses to let him break the jar again to get out. Requiem:– A group of peasants march in protest against the landowner's refusal to allow them burial rights in their village. Epilogue – The author Luigi Pirandello returns to the Sicilian homestead of his youth where he asks the ghost of his mother to tell the story he could never put to paper.
---
Kaos is an anthology based on the stories of Luigi Pirandello (1867-1936), a popular and celebrated Sicilian writer of plays and short stories during the early decades of the 20th Century. Pirandello was one of the precursors of Theatre of the Absurd associated with writers such as Samuel Beckett and Eugene Ionescu. The most famous of Pirandello's works is Six Characters in Search of an Author (1921), an early work of meta-fiction in which rehearsals for a play are interrupted and taken over by characters from another play who refuse to follow directions.
This film adaptation of several Pirandello stories comes from brother directors Paolo and Vittorio Taviani, previously best known for The Night of San Lorenzo/The Night of the Shooting Stars (1982) and who would later go onto make most famously Good Morning Babylon (1987) and a host of other works. They were still going well into the 2010s with the death of Vittorio in 2018.
The tone of the various stories spans all of the way between psychological study, broad burlesque, to mood piece and horror. Some stories are more effective than others. The best in the show is the non-genre The Other Son, which is powerfully written, full of breathtaking revelations and especially with Margarita Lozano's acting, which is conducted entirely through her wonderfully pained eyes, carrying the story to nicely sober ends. Though the episode is non-horror, it does feature the wonderful shock image of a game of bowls being played with severed human heads.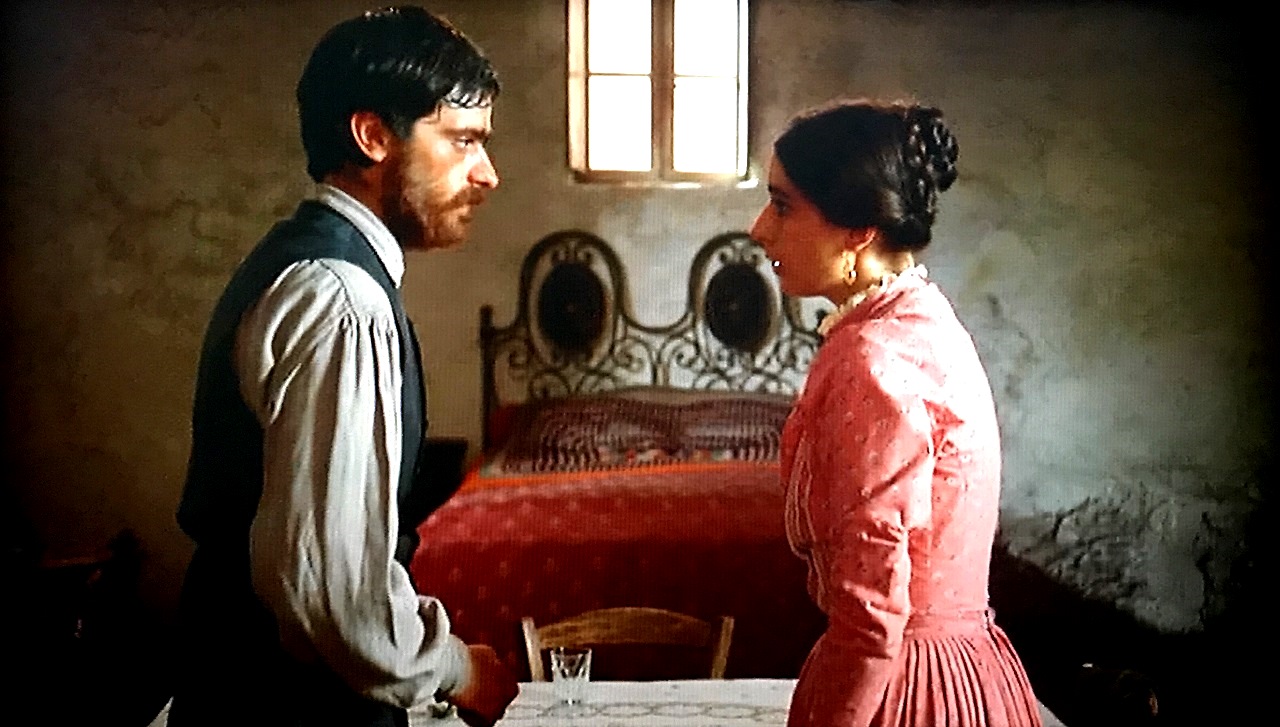 The Jar is a piece of broad humour, which comes with a good deal of charm, while Requiem is a slight piece that never amounts to much, although does feature one wonderfully atmospheric, almost haunted scene where the peasants conjure sound effects for the soldiers.
The two genre entries – Moonstruck and the epilogue – are actually the least effective. Moonstruck unfolds with a nicely ironic script and the Tavianis create some effective jolts as Erica Maria Modugno hides in the house from her husband. It is unusual to see a werewolf story done without any type of makeup appliance at all, which is commendable as doing so would have taken it into the realm of Hollywood B movie cliche and disrupted the delicate texture – but the Tavianis do not seem that interested in the horror aspect and this takes a backseat to the romance which arrives at a disappointingly routine honourable ending. The epilogue, although beautifully shot and scored, is forgettable.
Despite its unevenness, Kaos is an effective and often beautiful film, painting a gentle and wistful picture of Sicilian peasant life. Like the characters, the film is a little bit of everything, and from out of it, as much as it characters and landscape, there seeps an ebulliently human warmth. Nicola Piovani conducts a beautifully sweeping score.
---
---